"No more sleeping on the ground," says Acacia Outdoor, a new brand headquartered in the Bay Area. This ambitious startup is here to change the way you and yours take on glamping. The first of its kind, The Space Acacia is a 3-in-1 camping system consisting of a heavy-duty, inflatable air base, an easy-up tent, and a temperature-regulating canopy. 
Available in 2 sizes, the unique 5- or 6-sided design leaves lots of room toward the edges for younger kids, dogs, bags, pillows, coolers, you name it! The interior of this home-away-from-home is yours to make cozy – whatever cozy means to you. 
If you're into roughing it with an ultralight tent, pad, and sleeping bag, you might want to stop here. But, if you're here to maximize space, and comfort, and get your camping-resistant family out the door and in the woods, then keep on reading this in-depth Space Acacia review.
Key Features:
3-in-1 Design – Air Floor, Tent, Canopy

Heavy Duty 4-ply air floor

Wind & storm ready 

Highly waterproof

Easy pop-up setup

Versatile use as tent-only or full system

11 fun colors to choose from (at the time of review)

3 Year Warranty

4.9 ⭐ star rating at theacacia.com
Space Acacia Camping System Review Breakdown
Design
As the intro suggests, the Space Acacia is a truly one-of-a-kind camping system. First, it looks futuristic, with curb appeal like an Airstream. It has a certain wow factor; it simply stands out from the bunch at a campsite, both dispersed and paid campsites – especially when lit up at night!
The first thing many people notice is the height – I am 5'10" and I can stand up tall inside of it, which makes changing and setting up inside a breeze. The second is the design in general – the triangular vents, the air floor, the color (I have the vibrant pistachio), the whole package is totally unlike tents campers are accustomed to seeing. 
I actually had a fellow camper walk by me at a campsite and say something along the lines of, "They just keep coming out with crazier designs these days, don't they?" I laughed and went about my setup. While I'd personally replace crazy with cool, he has a point. Acacia Outdoor certainly has some built-in guerilla marketing. The Acacia reminds me of the head-turn nature of rooftop tents when they first gained popularity. That "what's that" moment. Kudos to the design team.
Futuristic, spacious, eye-catching – the Space Acacia lives up to its name – and it's not just a cool design—more on that next.
Inflatable Air Floor
Candidly, it is hard for me to decide which I like more – the air floor or the tent. If the only thing the Acacia brought to campers was the air floor + a standard tent, I would still think it is awesome. 
So why do I like the air floor so much? Aside from its weight, it nails just about everything. It offers built-in comfort. Stable and firm, but not hard. It completely hides any ground imperfections – rocks, roots, grass, weeds, you name it, you can't feel it. It also completely eliminates the worry of wet sleeping bags. You could set it up in a 3-4 inch puddle (not quite the depth we dealt with in Grand Teton National Park) and everything inside would be dry. Lastly, it has a decent level of insulation. I still lined a down quilt below us, but I think you could get by without it, especially in the summer.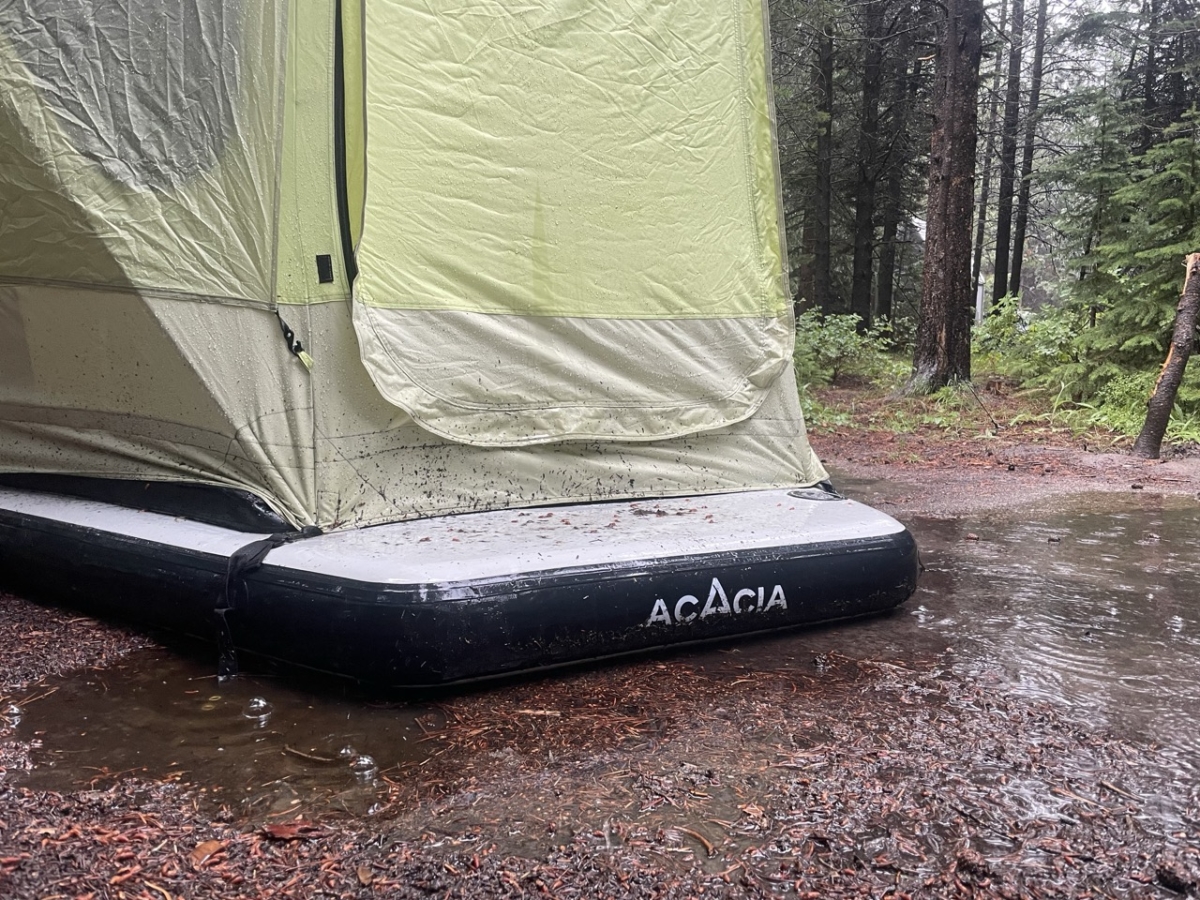 Built with 4 layers of heavy-duty PVC material and internal "space yarn" for stability, the air floor is just as durable as any of your inflatable stand-up paddle boards or kayaks. You know you can trust it. With the available Acacia air battery & electric air pump, the air floor inflates in less than 10 minutes (and does so relatively quietly). While it inflates, you don't have to sit idle… you can get going by popping up the tent and unpacking sleeping bags. Here's a quick look at the dimensions and a sample setup inside the Acacia.
Pop-up Tent
Now that you know about the air floor, let's talk about the tent – then maybe you can decide for yourself which component you'll like better. As the title of this section suggests, the tent component of the Space Acacia system is a quick-deploying, pop-up tent. 
"Just a few swift pulls and pops, and your tent is ready to go!" – theacacia.com
This marketing copy from the Acacia team accurately describes the experience of standing up the tent. From bag to fully standing can take as little as 2-3 minutes once you get the hang of it. 
A few tricks after more than a dozen setups are as follows: 
1) deploying the tent is easiest when all doors/windows/zippers are closed up (a great note to remember during tear down). If you have the door open, things can easily get twisted and turn your 2-minute launch into a 10-minute fight. 
2) Starting with the sides is the best approach. I was initially tempted to pop the top first in an effort to visualize my next move better, but you end up fighting the tension of the sidewall poles if you go that route. 
Following my pro tips, the process is hassle-free, fast, and easy. The process should look like this: unfurl the folded Acacia, pull out 4 sides, open the door, step inside, and give the top one final push to lock it all in place. 
From there, the Acacia tent can be carried over the base, velcroed down from the inside, door poles put into place (they run parallel to the front door), and then, finally, outside straps/clips secured to the base. 
The rainfly is super simple and easily attaches via dedicated hooks and loops on the tent. It is also easy to orient the fly on the non-XL version as you just match the shortest door side of the fly to the shortest door side of the tent. 
All-in-all, I would say I've had harder tents to set up – fussing with individual poles, flexing them into place, attaching the tent walls, etc. – but I've had easier rain flies to set up. Part of the difficulty with the rain fly is just the sheer height of the Acacia. Especially if you put the fly on after it's attached to the base. I've found myself rolling my Rovr around all the corners to attach it. 
That said, the height is remarkable. I mentioned this in the design section, but the fact that I can stand tall, stretch overhead, and get dressed all inside the tent is a true luxury experience. It is also especially excellent in unexpected bad weather as you end up spending a lot of time inside your tent – this happened to us in Grand Teton National Park, and the Acacia tent was cozy but didn't feel cramped for hours of waiting out the rain. 
Overall Usability
With all the positivity in this review, I do need to address the one major downside to the Acacia – and frankly, this should be expected by buyers as it is a "glamping" tent.
It is heavy, and there is really no other way to say it. 
The base is 43 lbs and the tent is 28 lbs. The saving grace for Acacia is the fact that you store and carry each of those components separately. That said, it is without a doubt, a car camping tent. You either want to be directly next to your car or a 10-20 yard walk from the car. 
Weight aside, the Acacia is a true home-away-from-home. It is comfortable, spacious, warmer than many tents when properly closed up, has great airflow when warmth isn't needed, and really stands up well to inclement weather when compared to the standard camping tent. 
I have had no concerns working it into my regular car camping packing list. I used the Acacia for all my camping trips in which I knew I'd have an extended setup period (2+ nights). 
Value
At $850 for the floor + tent, the Space Acacia certainly lands in "upgrade" territory. While I am sure it is targeted at the couple or family that wants to comfortably get into camping, it is one of many things a new camping family will need to invest in. 
I see it better positioned towards the family that wants to upgrade their camping game unless that family has a high level of disposable income. 
The short story is, the Space Acacia is an incredible, head-turning design that truly elevates the camping experience across many categories of camping needs. It does almost everything better than the standard tent, and if you car camp often (as in 10-15+ times a year), I find it hard to imagine you'd regret the investment. 
It is built to last decades of glamping in deserts, forests, fields, and even on water. Browse and configure yours now at https://theacacia.com/