Braven has been producing rugged speakers built for life's adventures for years. We first reviewed their products back in 2013 with the release of the BRV-1. Since then they've released many speakers large and small. After recently being acquired by Zagg Brands, the same company that owns Mophie, Invisible Shield and iFrogz, they relaunched the Braven brand and unleashed four new speakers and four new earbuds. As luck should have it, they reached out to us and asked us to test and review the new BRV-Mini. Before we get into the meat of this review, let's take a look at some of the key features that make this small yet mighty speaker an exciting piece of tech.
Key Features:
Waterproof IPX7: Fear no water with powerful IPX7 waterproof protection. It even floats!
12-Hour Playtime: Enjoy 12 hours of playback for a day's worth of activities on a single charge.
Wireless Pairing: Pair two units together for a powerful, immersive stereo experience.
Rich Audio: Surprisingly loud, room-filling acoustics with 5W output and boosted bass from the integrated passive radiator.
USB-C Charge-in: Replenish power to the speaker with the provided USB-C cable.
Speakerphone: Use the integrated microphone for noise-canceling, hands-free phone calls.Lanyard: The lanyard lets you loop or hang the BRV-MINI anywhere.
Floats: The BRV-MINI floats, making it perfect for watery adventures.
Braven BRV-Mini Review Breakdown
Design:
Small, portable and affordable, we found the BRV-Mini to be the perfect travel companion. Recently I took it on a 9 day trip to Ireland. Due to its baseball size (2.75″ x 2.75″ x 3.75″) it was easy to throw in my day pack for all of my adventures around the island. Its cylindrical shape and grippy rubber base provide a sturdy stance so it doesn't tip over easy. The speaker is covered by a fabric mesh that looks really nice. Similar to the JBL Charge 4 we recently reviewed.
All the buttons are labeled clearly, intuitively laid out and easy to manipulate. From the speaker, you have all the simple functions you need, including play, volume up/down, skip track and bluetooth pairing. Speaking of bluetooth paring, connecting to the BRV-Mini is really simple. Just hold down the play/bluetooth connect button for 4 second and you will hear the sound of several guitar strings being plucked. After that, simply use your device to discover the BRV-Mini. After you've connected once, whenever you turn the speaker back on, it will auto-connect to your device. The range on the bluetooth is great too. In open settings (free of walls or anything to impede the signal) the bluetooth range easily reaches 100ft.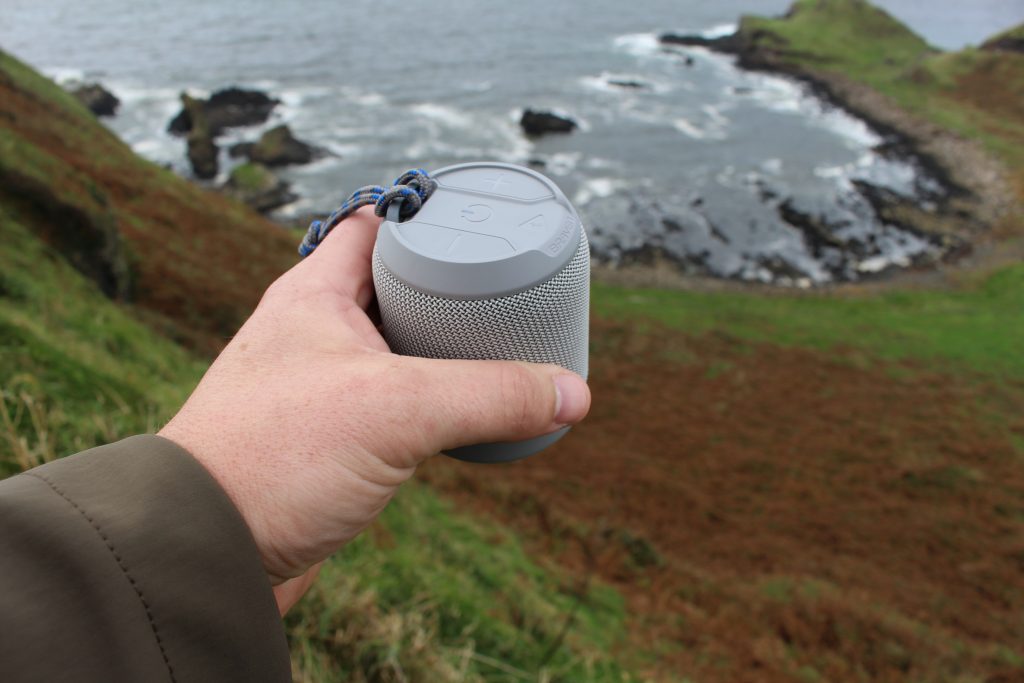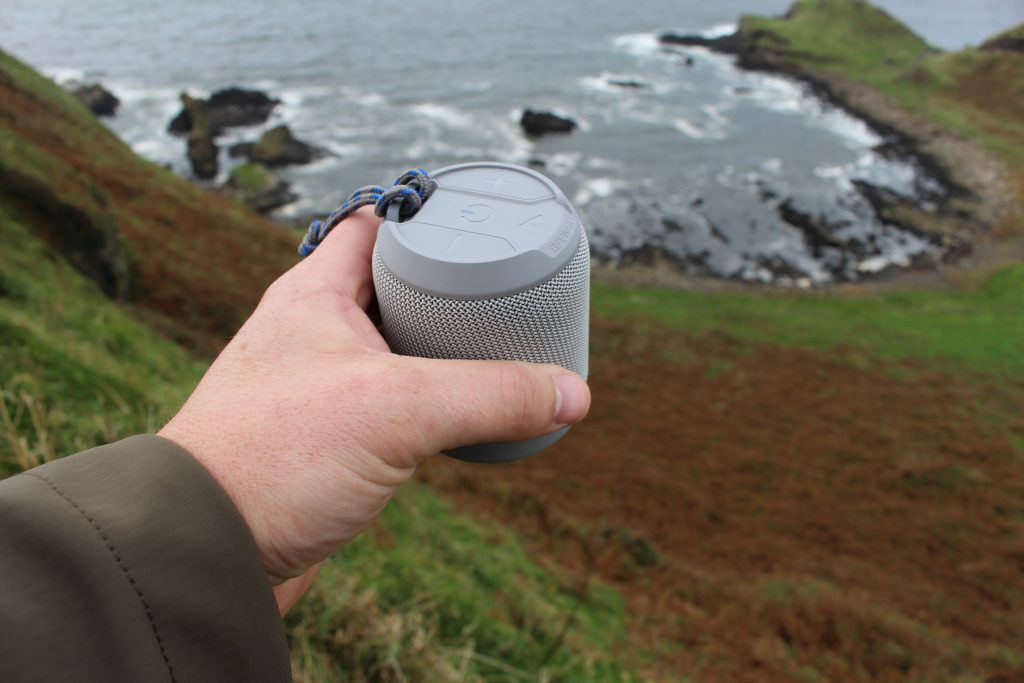 Another useful design feature we can't get enough of is the IPX7 rating, which means it is pretty much life-proof. We'll talk about this more in the durability section.
Acoustics:
For its small form factor, we were pleasantly surprised with the range this speaker delivered. For your average listening experience (in your office, home or backyard) the BRV-Mini provides plenty of acoustics. Obviously due to its small size, it isn't going to be waking up your neighbors or powering your next rave. However, our testing proved at full volume the BRV-Mini can produce a consistent decibel reading of 80 – 83dB at 2 meters. Moral of the story when it come to sound… if you're looking for a small speaker that produces nice mids and highs, with a bit of low-end bass as well, the BRV-Mini does a pretty good job considering its size.
The only thing we'd really complain about in this department is the speaker phone function. The microphone Braven used isn't all that great. While you can hear the person you're talking with fine, they will have trouble hearing you. It's not a huge issue for us. It is rare when a bluetooth speaker actually has a great speakerphone experience anyways.
If you need more sound, you can pair two BRV-Mini's together for stereo sound. A great option for covering more area. You'll just have to plop down another $40 for a 2nd speaker. Or you can take a look at Braven's other (larger) speaker options. 
Battery Life:
Braven touts a 12 hour battery life on the BRV-Mini spec sheet. As with all wireless speakers, battery life increases or decreases based on how you use it. If you plan on cranking the volume to the max for long periods of time, the battery life will fall short of the 12 hours stated. However, if you're listening at a mid to low level, we are happy to report that 12 hours is achievable. Given the size of this speaker, that's likely the general use.
Durability:
Given it's IPX7 rating, we put the BRV-Mini to the test. While in Ireland we had plenty of rain. We put the speaker out in the rain and left it over night. After a quick charge in the morning, it turned back on and resumed kicking out the jams. Short of throwing it off a cliff, we put this little speaker through the paces (drops, water, mud and dust). After 9 days of travel it shows very little wear and tear. With general care there's no reason this speaker won't last many years.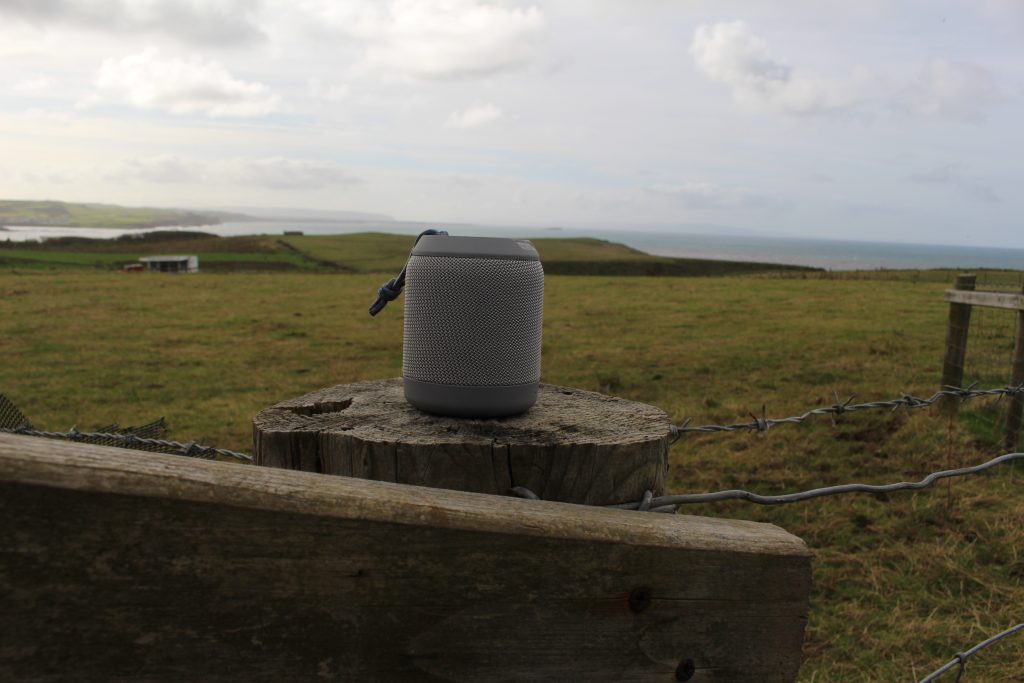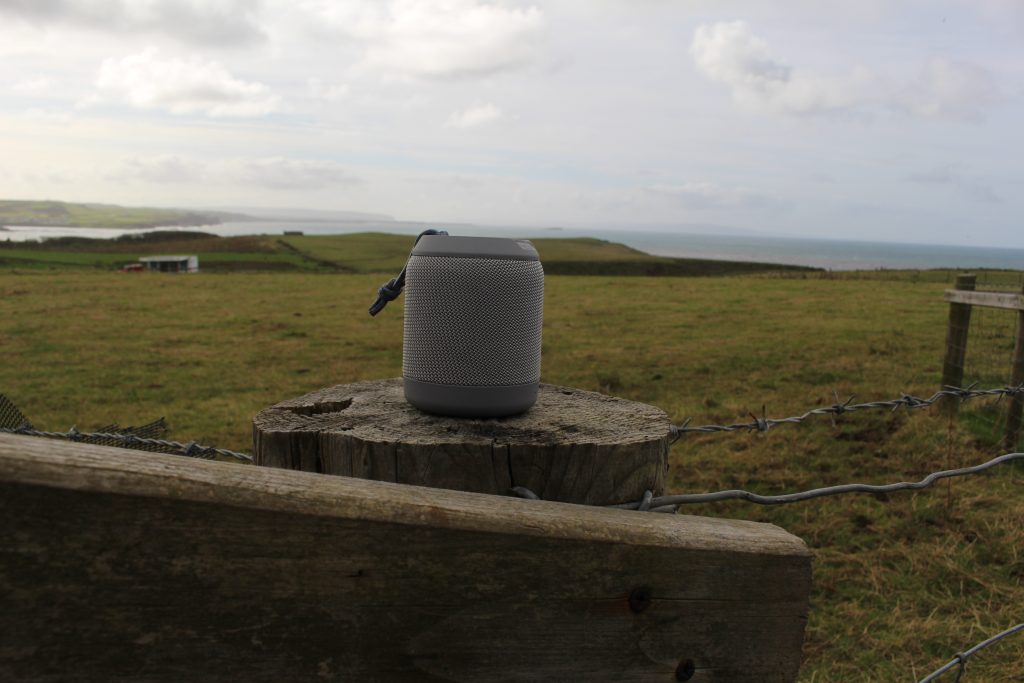 Value:
If you're looking for a small speaker that delivers some impressive audio for its size, an IPX7 rating and some serious battery life, we highly recommend the BRV-Mini. The price tag is just $39.99 and we believe it is worth every penny. Whether you're looking for a desk speaker, a backyard party starter or the perfect travel companion, the BRV-Mini is great choice.
Buy Now: $39.99; or to learn more, go to: Zagg.com/en_us/brv-mini
Braven BRV-Mini - Tech Review
If you're in the market for a small yet powerful bluetooth speaker, the BRV-Mini should be on your list. This speaker isn't meant to power your next rave, but it is the perfect companion for your desk, back yard or your next adventure.
The Good:
Small and portable, yet plenty of sound
IPX7 rated. Basically Life-Proof
Great value for the money
The Not so Good:
Speakerphone function leave something to be desired