Mustang Survival is a company that has been around for over 50 years, but they might not be the first to mind when you list common makers of high-end gear unless you are involved in commercial marine activities. In that case, you've likely seen a piece of their gear around the docks or maybe own a life vest of theirs. They are most well-known for extreme weather gear tailored to ocean-going activities and obsess on 3 pillars: Float. Dry. Enhance.
Makers of highest-end survival dry suits, extreme floatation vests, military combat gear and more, you're more likely to see your local Fire Department wearing Mustang Survival during a winter water rescue than a person at the grocery store. This has changed. With the Mustang Survival Taku Jacket, there now exists a jacket that takes decades of extreme design and works as a jacket you can wear anywhere for utility on inshore waters or maybe just around town on a stormy day.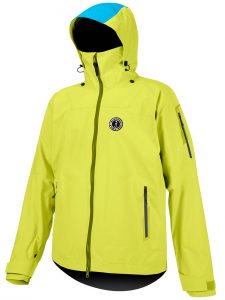 FEATURES
Streamlined design to reduce snag hazards
Marinespec™ 3-Layer fabric
Waterproof
Neoprene cuffs
Alpine style hood
Stealth reflection patches
Salt resistant pores for maximum breathability
Low profile pockets
Heavy-duty "D" Rings
Fleece lined collar
MUSTANG SURVIVAL TAKU REVIEW BREAKDOWN
Design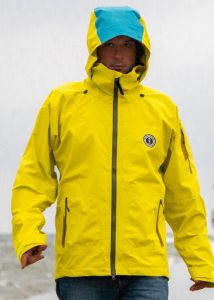 The Mustang Survival Taku jacket was designed first as an inland marine work jacket. The feature list touts various design choices to "keep water and fish guts out" and also reduce dangerous snag hazards.  But second to function is a definite design choice that was excellently executed.
The shell style jacket is made of a highly visible but not obnoxious yellow fabric called Marine-Spec 3-layer. This fabric has a nice outer feel that is salt-water, UV and abrasion resistant but still breathable.
The fit allows for excellent mobility and is very comfortable, with several large pockets in easy to reach locations. At the cuffs are my favorite feature. Aside from the normal jacket cuff system, there is a second, internal neoprene cuff that makes a snug seal around your wrist. This allows for a tight seal to keep water from running down your arm while you are out in wet weather or an environment where water is coming from several directions, like on a boat.
Up top, is a very tall collar that keeps your face out of the elements but also has a nice soft lining so it doesn't irritate your face. Above that is a hood that may be the best hood I've experienced. Hoods are a simple concept, but the reason the Taku's is so great is that these days so many outerwear companies are making hoods that fit over helmets. That's great for when I have a helmet on but when I don't, I'm left with a giant hood blowing in the wind or that needs to be cinched down so far that the folds allow water to come in and look pretty silly.  Not so with the Taku hood. It is just the right size to keep me dry without being bulky.
Performance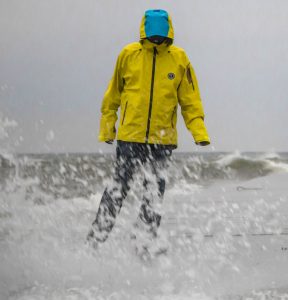 The Mustang Survival Taku jacket is built #1 to perform and that's what it does. This is a perfect jacket to protect you from conditions that you would find in a good fall storm. Heavy driven rain and elements flying around disappear under the Taku jacket.
The Marine-Spec 3-layer fabric is a great representation of the Mustang Survival way of doing things. This fabric is tuned for a saltwater environment where traditional "breathable" fabrics lose their breathability due to the pores becoming clogged with salt. The Marine-Spec 3-layer though thrives in this environment.
The neoprene cuff system keeps wind and water from coming in through the sleeves. Not only from rain and splashing water but even from water you would experience in places like reaching into your livewell or maybe dripping down from a paddle while kayaking. The cuff also really helps to keep the sleeves in place. The articulated fit and snug-fitting cuff mean that moving around in the jacket doesn't cause any performance drops.
For even greater performance, a matching pair of bibs are also available to turn this jacket into a full foul weather suit.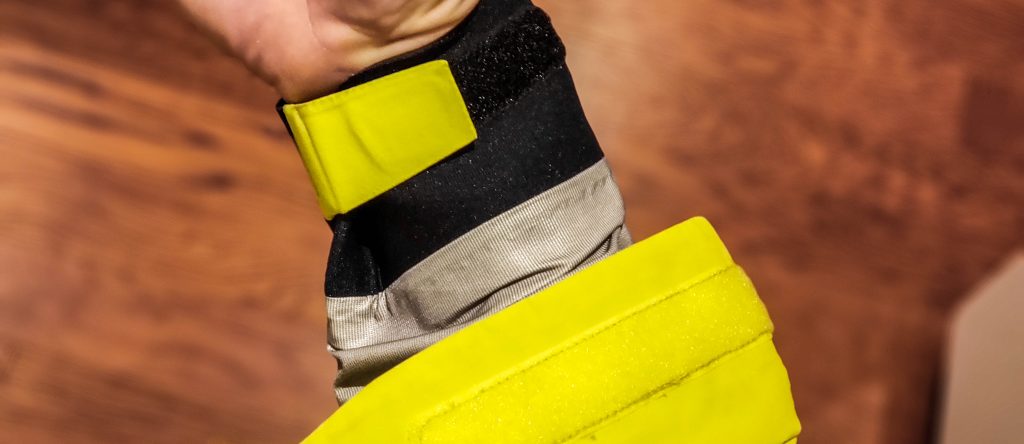 Comfort
Of all the foul weather jackets I've owned, I'm going to say this one seems to take top honors when it comes to comfort. Because it performs so well, comfort just comes naturally.
I've owned a lot of jackets that claim to breathe, but eventually, you start getting that feeling that the jacket is keeping in more moisture than its keeping out.  The Mustang Survival Taku jacket is one of the only that kept me dry and warm, but not stuffy and hot. It truly was a Goldilocks temperature in the middle of a storm.
The collar is wonderfully spacious, soft and provides just enough shelter and warmth for your face that it doesn't interfere with what you are doing. At the same time, you can easily tuck down into it like a turtle to quickly get out of the elements.
If I were to give one drawback to the awesome neoprene cuff system, it does come at a slight comfort cost, especially if you are wearing a watch. You will want to get the watch on the outside of the neoprene which isn't a big deal, but if you leave it underneath, the extra snugness is going to get a little uncomfortable.
Style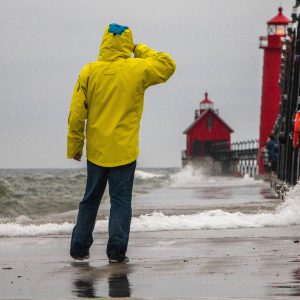 The yellow on the Taku is very bright. Which I like, but it might not be your cup of tea. If you like a more mellow look, there is a nice light blue color also available or if the color just isn't your thing, there is also a nice grey option.
All color options include stealthy reflective materials. While I first noticed a few areas I suspected maybe reflecting, I was pleasantly surprised to find that this jacket lights up great at night for something that looks good around town. An awesome safety feature but also great that you don't look like you're wearing a hi-viz jacket to stay safe.
The cut of the jacket is very casual and great for daily wear. There are ample pockets inside and out that lay flat, giving a nicely styled look.  I would call the length a mid-length jacket. It's a little below the waist and tapers at the rear to keep you covered even when bent over.
For a jacket that seems to have performance in mind first, the Mustang Survival team did a great job of keeping a standard alpine-style look to the Taku.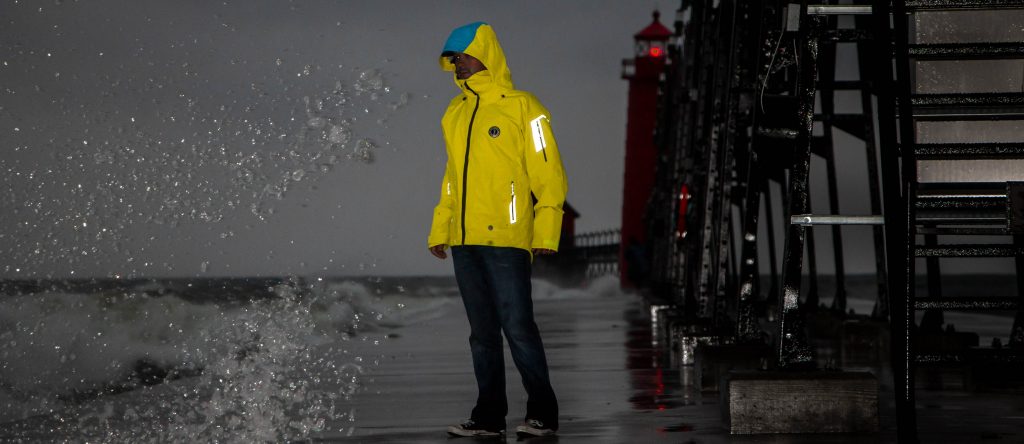 Durability
I wore this jacket in a few "rugged" conditions and I don't feel like I'm doing this jacket justice. Immediately after just touching the jacket you know that the Mustang Survival Taku jacket is designed for uses greater than any person's average day.
The area I was a bit skeptical about is that neoprene cuff. Neoprene is prone to rip, especially when bound to another fabric, but the seams are solid and I have no issues to report.
In short, I don't expect this jacket to wear out any time soon.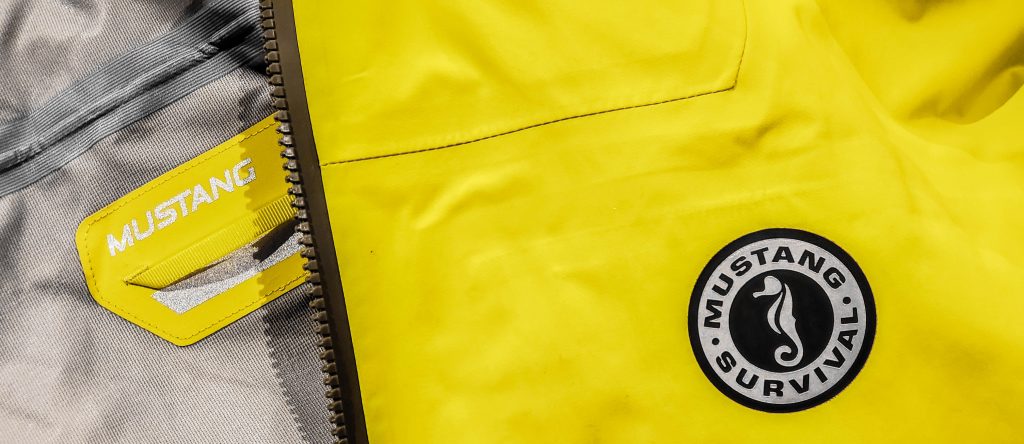 Value
This jacket is priced in the premium line of jackets where you would expect to see fabrics like GORE-TEX.  That means to expect higher prices, but maximum performance.  I think this jacket exceeds performance of others and is actually priced a little less than typical top of the line foul weather gear. That makes this jacket a great value.
Buy Now: $374.99 or, to learn more, go to: MustangSurvival.com
Mustang Survival Taku - Gear Review
Mustang Survival Taku Jacket is the ultimate foul weather gear mixed with a look you can wear around town or out on the lake.
The Good
Waterproof & super breathable
Very comfortable
Cuffs stop water & wind
The Not So Good
Cuff doesn't play well with watch