Bass Egg isn't your ordinary bluetooth speaker, oooh no no no – not by a long shot. In fact, Bass Egg actually holds the power to transform everyday objects like your desk, coffee table, or for that matter ANY surface into an omni-directional speaker by way of vibration conduction rather than traditional front-firing speakers. Based on looks alone i'm sure you could imagine that the Bass Egg was far from traditional at first glance, but we're finding it almost difficult to explain how extremely un-traditional this device really is.
You see, with the Bass Egg you won't find any speakers… at all. No tweeters, mids or subs – nadda! When it comes to producing acoustics the only portion of this device that emits any sound is its base (aka – the transducer), which in essence, is just a speaker coil. In-short, the base is powered and magnetically vibrated to create sound. Technology that was pioneered by the military. Alone the Bass Egg nothing special acoustically when held in your hand. It's only when the base plate is placed on any (and we mean any) flat surface does it truly come to life with a full spectrum of immersive sound, deep bass and impressive volume.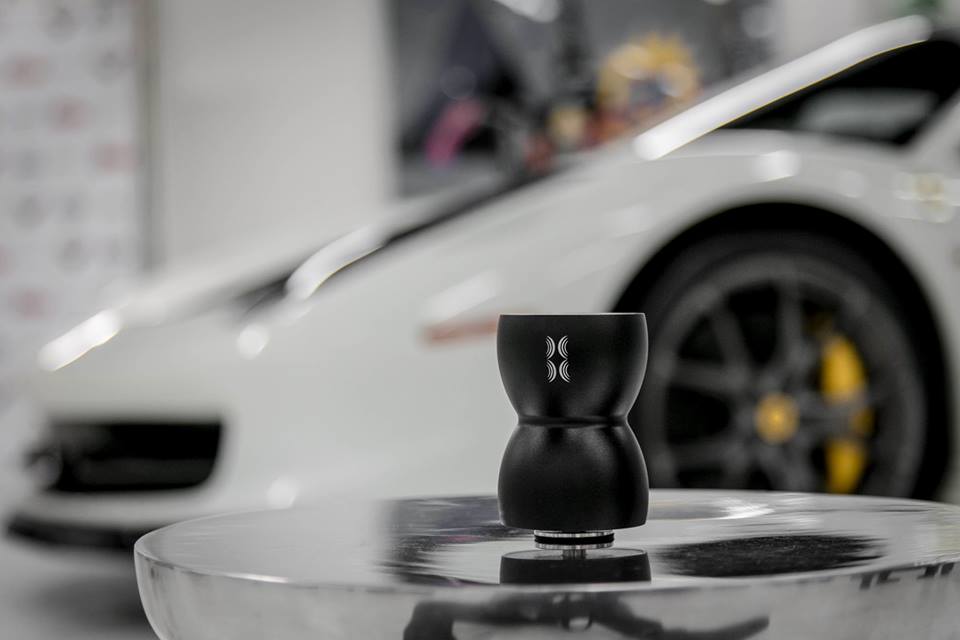 Since there's a very large chance that we're falling short on the technical side of explaining exactly how the Bass Egg fully functions to produce its acoustics… why don't you just kick back and check out the embedded video below where you can use your eyes and ears to see how Bass Egg does what it does.
The Bass Egg itself is quite diminutive (fits in the palm of your hand), but is capable of making anything a full-range speaker system. Bass Eggs have proven to be popular with music lovers who grew tired of traditional portable speakers that produced incomplete, unfulfilling sound. So when the creators of Bass Egg came knocking on our doors with one of the craziest wireless speakers we've ever seen we jumped at the chance to put this tiny wonder to the test.
Bass Egg Key Features:
Room Filling "Omni-Directional" Sound
Three simple modes (Off, Bluetooth and On)
Rubber Base Pad – Keeps surfaces scratch-free!
Specs:
Battery : Rechargeable Lithium Ion
Charging Time: 90 Minutes
Charge Life: 4-10+ hours (depending on vol.)
Connectivity:Bluetooth or 3.5mm audio jack
Audio Specs: 50Hz to 16kHz and over 100dB
Weight: 1 lb. 1 oz
Dimensions: Height: 3.62″ x Diameter: 2.40″
In the box:
1 Bass Egg Speaker
1 Mini-USB to 3.5mm audio & USB charging cord
1 Instruction Manual
– Egg Bass Review –
DESIGN: 
The design of the Bass Egg is rather baffling to me. It doesn't look anything like and egg, but does produce some monster bass. So why the name "Bass Egg?" Well, we asked and here's what they're running with…
"Bass" because we deliver robust bass response. "Egg" because our product is small, like an egg, but like an egg can "hatch" to produce big sound. To us, eggs represent small objects that are literally full of potential.
Works for me!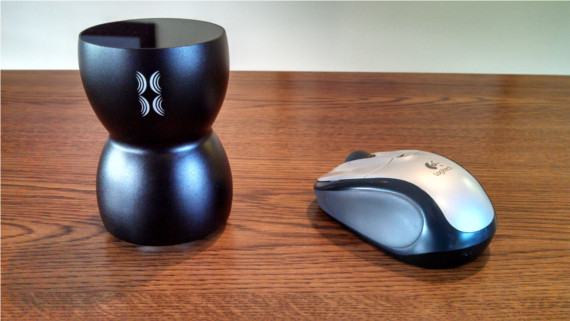 Though it is quite diminutive in stature, the Bass Egg actually has some surprising heft to it. Weighing just 1 lbs. 1 oz. might not seem like much, but let me assure you this thing feels heavy. And that weight isn't just all components and wiring either – it has to be heavy in order to create solid contact with surfaces for producing audio.
Overall we like the design of the Bass Egg because it's functional and very portable as well. The finishes are nice and the entire unit feels very solid. The rubber dampener does tend to get dirty even after a little use but is easy to keep with a damp cloth or napkin.
Functionality: 
The Bass Egg is actually very simple to use and operate despite its unconventional method of dispersing audio. With only three functions (Off, Bluetooth and On) tech-savvy audiophiles won't even need the instruction manual to get the beats pumping.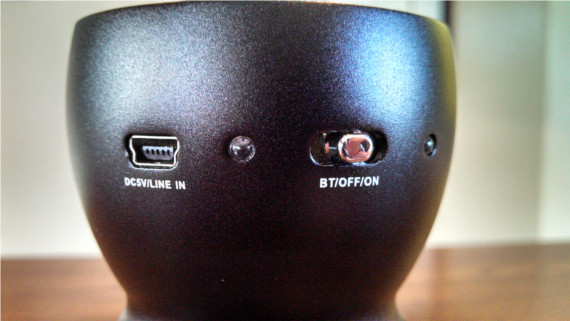 For those of you who maybe aren't so tech-savvy, here's a quick run-down of how to get started…
Bluetooth: If you're looking to stream music wirelessly via Bluetooth simply toggle the switch to "BT" mode at which point you'll hear an audible "beep beep" from the Bass Egg and a blue light will begin flashing. That means the device is ready to be paired with your phone, iPod, etc… at which point you can access your MP3 devices's setting and Bluetooth setup to search for the Egg Bass. Once paired, you'll never again have to pair with the Egg Bass as it will remember your device and your device it.
Line-In: For non-Bluetooth enabled devices there's an option as well. The Egg Bass engineers kindly added a Line-In port for older MP3 players too in the form of a Mini-USB to 3.5mm audio cord (included). Setup for this couldn't be more straight forward… the USB end plugs into the Bass Egg and the 3.5mm headphone end plugs into your device's headphone jack. Press play on your MP3 device and enjoy.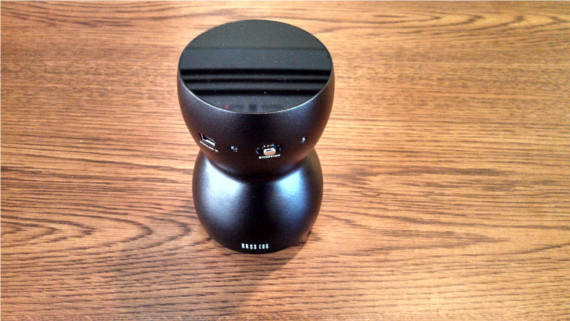 If there was anything to complain about (we couldn't find much!) it would be the fact that there's no integrated buttons for play/pause, skip track or volume control. We completely understand what the creators of the Bass Egg were going for with its simplistic setup and functionality, but when you have 30ft of wireless range it can be annoying at times to have to access your phone or iPod to control these simple functions. Having flush mounted controls on the sparse topside of the Bass Egg would be a welcome feature in future models.
AUDIO QUALITY: 
The spectrum of audio that the Bass Egg is capable of producing is EPIC. And I don't use that word loosely, but when attempting to describe the acoustics that the Bass Egg delivers it's hard to think of a better descriptor. Ok, I'll indulge you: booming, immersive, crisp and deep. Yes, all of that and more to be honest.
Not only is the Bass Egg's audio surprisingly powerful it's also an unique type of audio. Most of us are used to hearing audio from a source that is projecting sound in one single direction. The Bass Egg projects its sound Omni-directional, which means that it projects sound in every direction simultaneously. If you've never had the opportunity to enjoy Omni-directional audio, let me just tell you – it's fantastic. Not only that, but it's room-filling and unlike anything your ears are accustomed to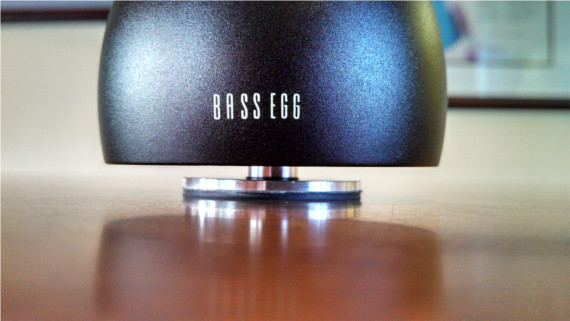 So you now know that the audio produced by the Bass Egg is immersive, powerful and Omni-directional, but what's probably the most entertaining and impressive factor about this device is that depending on which surface you choose to place the Bass Egg onto the sound that is generated will come across differently. As we talked about in the intro, the Bass Egg is not a speaker per-say, but rather a device that turns everyday objects into speakers. Maybe a little hard to grasp? Without seeing it in-person I have to admit even my best descriptions will fall short of how impressive the audio really is.
During testing we found that objects that were constructed of wood produced a much deeper and rich audio quality and glass surfaces delivered more sharp and clear audio. We have to admit that while the audio quality is very impressive most of the fun of owning a Bass Egg is seeing which surfaces in your home or office have the best acoustics. Some surprising candidates that worked well in our testing sessions were the top-loading washer, car hood and entertainment center.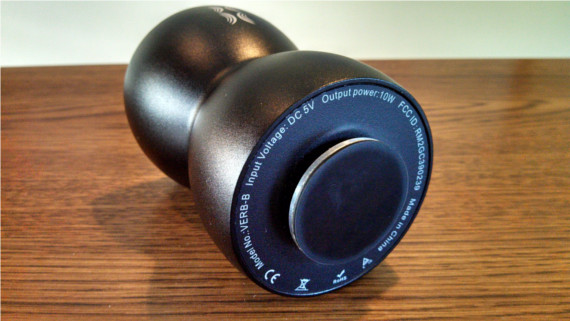 On the down side, unfortunately we did notice that the Bass Egg would sometimes over-vibrate on songs with intense bass and bring down the audio quality. A simple fix for this was to either choose another surface to play on or turn down the volume bit. We only experienced distortion at times when the volume was at max or near it. Otherwise the only complaints we had were the surfaces we had at our disposal.
PRO TIP: keep the rubber dampener at the base of the Bass Egg clean and free of debris for the best sound quality!
Durability: 
Though we didn't get a chance to test it's durability as we may have liked, we did however watch a product video from they guys at Bass Egg in which they drove a 4,000 lbs. pick-up truck over it while it was playing and proceeded to then pick it up off the ground and place it on the truck where it continued to play the music flawlessly. After seeing this we figured no additional durability testing would be necessary.
VALUE: 
A just $99.99 the Bass Egg is an incredible value. It generates terrific audio, is built like a tank and is a serious crowd pleaser. The Bass Egg simply boggles people's minds when the see and hear it for the first time. If you decide to purchase it I suggest that you turn it on and play music while it's in your hand to let your friends get unimpressed, then when they're feeling like you got ripped off – set it down on the table and blow their effin' minds!
Bass Egg Speaker: Tech Review
If you're in the market for a truly powerful bluetooth speaker we suggest that you look no further than the Bass Egg. This device is absolutely mind boggling from the way that it delivers audio to the way that is fills a room with rich sound. It is capable of producing deep bass as well as crystal clear mids and highs. By the time we wrapped on testing we were more impressed with this bluetooth speaker system over any other we've ever reviewed... and that's saying a lot considering that we've already tested five similar products this year alone! Overall, Bass Egg takes the highest of our recommendations for anyone in search of a portable wireless speaker system. It's outstanding from a technological standpoint as well as acoustically. You will not be let down. Unless of course you hate Omni-directional sound that can be generated from any object, anywhere.
Pros:
Rich sound you can feel
Almost any surface can be a speaker
Compact size
Cons:
Not ideal for camping, beach, etc...
Hard surfaces required for audio