We've been spending a lot of time around ruggedized Bluetooth portable speaker systems this year at Busted Wallet HQ. Today we have our hands on an offering from AUVIO (Radio Shack's in-house audio brand) which is not meant for taking a physical beating but instead, aims to provide a better beat for your listening enjoyment. Does the increased refinement translate to a better auditory experience? Let's find out…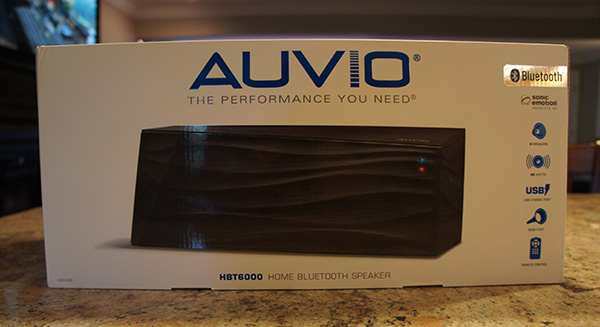 AUVIO HBT6000 Amplified Bluetooth Speaker With 6 speakers, a built in amplifier, wireless connectivity, and room filling 360 sound, this home speaker is a force to be reckoned with.   Whole Home Audio This monolithic black box is packing some serious power. 2 massive 75MM drivers accompanied by 4 large 50MM drivers provide the full range of sound you usually only get with larger tower speakers. With a frequency response range of 100 HZ – 18,000HZ, you're not going to miss a single note.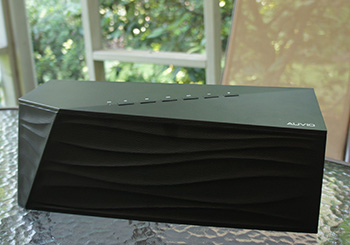 Key Features:

6 Speakers
Built-in amplifier
360 degree sound via Sonic Emotion Engine
60 watts of power
Bluetooth Connectivity
Aux-in
USB charging port
Wired power
Remote Control
Specs:
Bluetooth: Version 2.1
Audio Output Power: 6 x 10W
Speaker Driver: 4 x 50mm, 2 x 75mm
Peak Power: 120 watts
AC Adaptor
USB Charger Output 5V/1A
    Those are impressive features and specs for a portable speaker costing less than $200! In our review below, we'll find out if this black box can really deliver on a quality home audio experience.  
– AUVIO HBT6000 Review – 
Design: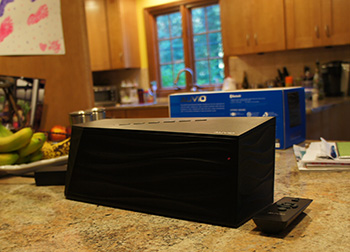 (8 out of 10) The design of this speaker may not be everyone's cup of tea, but you'd be hard pressed to find someone who completely hates it. It's sharp angles and mate black finish should blend into nearly every home decor, especially the more modern ones. Perhaps the more controversial feature of this speaker's design is the sanddune-like arching wave pattern found on the front and side speaker grills.    Those sharp angles cut into the face of the device are not just for looks either. The angled portion coupled with the Sonic Emotion Absolute 3D engine allow the speaker to propel sound in every direction. On the bottom of the unit are padded, grippy feet at each corner. A welcome addition that lets the unit be set down softly, hold its position easily, while dampening any vibration.  
Audio Quality: 
(9.5 out of 10) The sound reproduction of this device is truly surprising. I was a bit skeptical prior to a test run due to the price of the unit, but I came away thoroughly impressed. I've been using an old Logitech portable unit that I'm quite fond of for years, the HBT6000 is a masterpiece in comparison. In fact, I'd go so far as to say it equals or bests mini systems costing over twice as much (I'm looking at you Bose) when it comes to audio quality.   The Sonic Emotion Absolute 3D enhancement feature is worthy of a review on its own. You're given the ability to enable and disable the feature via a button on the remote and one on top of the device. With the engine on, you get stunning, room-filling 360 sound that creates a sound stage far beyond what you'd expect out of this system. Placing the box at the center of a room, you can walk around the entire perimeter and hear nearly the same sound quality everywhere. It's awesome. Turning it off serves a purpose as well – if you're trying to listen to music without disturbing others in the house, the sound becomes directional and aimed just at the listener.  
Functionality: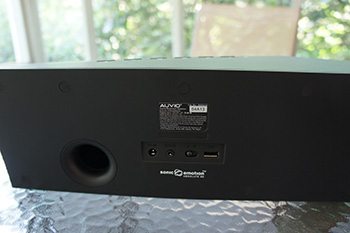 (9 out of 10) Let's face it, wires are a real pain when you're trying to control your music. By including Bluetooth audio in this unit, you're free to cary your source around with you and easily switch up the music right from your pocket. AUVIO made a good decision by sending the device into pairing mode as soon as you power it on. This avoids any additional steps or confusion for those unfamiliar with bluetooth pairing. Also, with Bluetooth 2.0 and greater, you don't need to enter a password, it's just touch and connect, easy.   The HBT6000 also includes an AUX port allowing you to attach any device with a headphone jack in order to play music in case you don't have Bluetooth. You also get a minor improvement in audio quality by utilizing the AUX port. Additionally the unit supplies a USB Output port for charging your devices, a real convenience for travel! Simply connect you charger to the unit's USB port and you're good to go. It even provides an A/B switch for the USB port to specifically charge Apple products. The included remote control is also handy for skipping tracks and controlling power, play/pause and volume up/down. There are also dedicated buttons on top of the speaker system for when you eventually loose the tiny remote… which you probably will.    The 1 point we docked the unit is solely for its need to be plugged in via an AC adapter. Considering the size and power of the unit, that is completely understandable however.  
Durability: 
(7 out of 10) The fit and finish of the speaker is very good. It's not built to withstand water, mud, or whatever else but those aren't its goals. I wouldn't expect a device like this to take much abuse inside of a home or cottage, or even outside on the deck as long as you don't leave it in the rain. With that in mind, the build quality is above average for the price and should hold up for years.    The matte finish hides fingerprints and dust well. The wavy grill even more so. If you take care when transporting this around to different locations, we have no reservations about the durability of the unit.   
Value: 
(10 out of 10) With a retail price of $199 and frequent sale promotions putting it in your hands for even less, the HBT6000 is a steal for anyone more concerned with audio quality rather than portability. It's a toss up for what your guests will be more impressed with, the sound of the speaker or the amount of money you saved.  
The Bottom Line

:
Equaling or besting mini systems twice the cost, the HBT6000 is a solid option for room filling sound on a budget. If you're concerned about the brand name AUVIO and its exclusive sale through RadioShack, don't be. We put our stamp of approval on this unit and are sure you'll be happy with the sound quality and the price of the speaker system. Wireless connectivity via Bluetooth and 360 sound make this a true value in the space.   Buy Now: $199 (on-sale now! $149) or go to: RadioShack.com