The G-Grip is the answer to most of your portable music needs!  Small in size but big in sound it's perfect for the backyard, camping, beach, hotel room, or wherever you want to rock out to your favorite tunes.  Operable from any device with Bluetooth, you can capitalize on wireless technology, or you can use the headphone jack to hook up your preferred non-Bluetooth device.  The G-Grip is compatible with Android and iPhone, so pro- and anti- Apple friends alike can link and play their playlists to provide for a well rounded dance party.  Plus, with its durability, you won't have to worry about your tipsy (or just clumsy) friend dropping it, knocking it off the table, or falling on top of it . . . these guys thought of everything!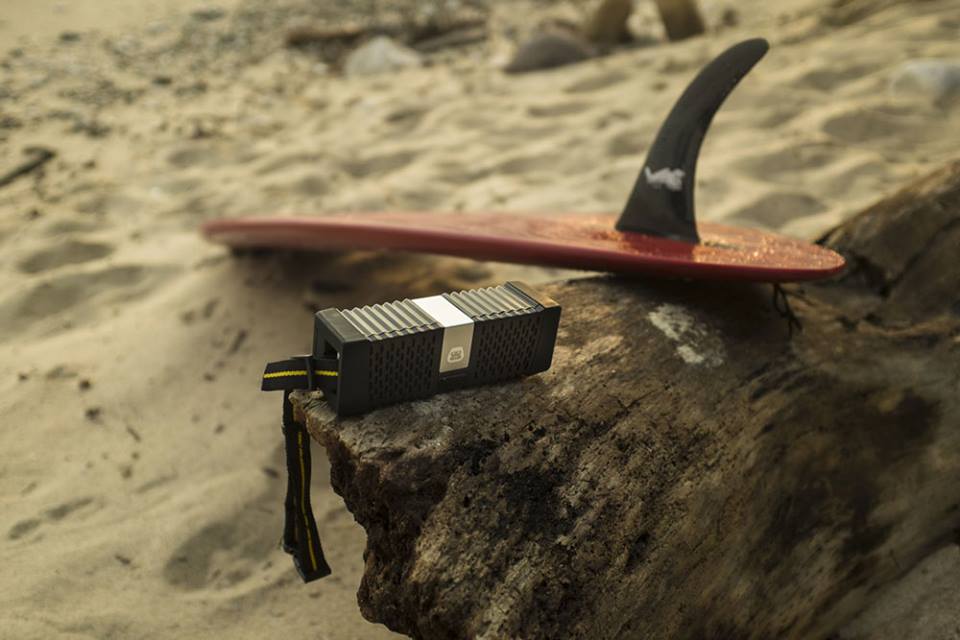 Portability 
When I think of a portable radio, I'm picturing a John Cusack moment in the movie Say Anything, only not as dramatic because it's small . .  . unless it's held by a Little Person so it's proportional . . . random tangent, sorry!
The dimensions are 7"L x 2"H x 2"W, so it's pretty compact. Also, is freaking durable, so you can shove it into your bag and stack stuff on top of it and it will be fine. I recently went to a conference and brought the G-Grip with me, I shoved all my clothes, three pairs of shoes, bathroom items, and everything else I thought I needed into my suitcase and there was barely room for anything else. Determined, I crammed the G-Grip into the front pocket of the suitcase (with another pair of shoes . . . crazy weather time in Michigan, need to adapt!) it fit, and I wasn't worried that it would be damaged.
That being said, it's a bit bulky compared to some other speakers I have that are about the size of a standard computer mouse (each), and collapse/expand for increased sound but make them smaller for packing purposes. However, those speakers have wires which are cumbersome and a pain in the ass; wireless freaking rocks. . .!
Audio Quality: 
The G-Grip has a good sound, but they could be a bit louder and clearer.
You are not able to adjust treble, base, or select any of those B.S. presets like "Jazz" or "Rock" or whatever the hell the manufacturers think up. However, the sound is good. It doesn't sound like a tin can, and it's not completely blown out. Overall, it gets the job done and will provide hours of good sounding entertainment!
All that being said, here's where the 8.5 rating stems from: I'm a bit of a sound snob. My dad had this amazing stereo system when I was growing up, so all I've known is the best from a young age . . . therefore, I have a couple gripes:
1. Bigger sound. It's fine in a smaller room, but outside, or in an open room, the sound gets lost in a hurry. . . although that might avoid getting the cops called or neighbor complaints, so maybe that's a good thing!
2. Bigger output capacity. It starts to get a bit distorted when you have the source and the speaker maxed out, but then most devices do.
Design: 
It's not exciting to look at, and visually it is comparable to a small block of Velveeta painted black. It has a web strap with a yellow stripe, and a yellow audio cable, which I think adds a fun accent.
While not the most aesthetically pleasing, the boxy shape is functional – it's stable and not going to roll or easily fall off.
Highlights of G-Grip: fully rechargeable (with up to 8hrs of play time) via USB, lots of options for places to hang it, hook it, or place it; and the visual saving point is the logo that looks like a gorilla. It's just cool.
Accessibility: 
You can work this contraption with anything that has the ability to send a Bluetooth signal, and that's pretty freaking cool. I can sit across the room (or in another room), turn on my Bluetooth, search for the "device" (G-Grip), and it will pair up with the speaker. From there, I can control the volume and the music – I've mainly been playing Pandora, but could also access music stored on our Kindle Fire HD (or on the Cloud through the Kindle). It's compatible with iPod, iPad, MP3s, and Android.
Only one device can access it via Bluetooth at one time. This is mostly good, but could be a bummer if a friend left their phone linked in and took off on a beer run – you could be stuck with their crappy playlist until they return . . . !  Along those lines, one hang-up I found is that when I was in a room with my husband who had his Kindle Bluetooth on (unknowingly), I was unable to pair with the G-Grip because his device intercepted the signal automatically before I turned my Bluetooth on. I needed him to disconnect, then I had to go back into my Bluetooth settings, relocate the device, and re-pair it. Not a huge issue, but it threw me off a bit and took a few minutes for us to figure out what was going on.  It makes me wonder if this would really be difficult at the airport  to get paired first with potentially hundreds of people walking around with their Bluetooth signals . . . I am flying home next weekend to MN, I might have to test this out!
Durability: 
Well, since I didn't want to destroy it, I really couldn't fully test this! However, it has rubber bumpers on each end and the buttons are also covered in rubber, so seem durable. The side of the box boasts an 8.2 foot drop test rating (I think it's funny that they know it won't make it to 8.3 . . . really?!), and a 1339 pound tested "crushproof" rating (almost made 1340!).   It does have hard sides, no foam covering or sensitive areas that could get caved in, so that is a definite bonus.  It looks like it will stand up to a lot of use, abuse, and dropping . . . although not if that drop is into the toilet or a pool as it's not water proof.  This is the basis for the 8 rating. In fact, it has multiple warnings instructing that it should stay clear of water. or you will die and the world will end . . . not really, but there are a lot of warnings!
Durability Update: if there were any question to the G-Grip's crush-proof durability… then check out the embedded video below. It'll quickly answer all of your durability questions.
Value: 
Online list price is $70, and I think it's worth that price. In my opinion, it's worth it just for the ability to wirelessly access it with any Bluetooth device.  Wires?! We don't need no stinking wires.
G-Grip Bluetooth Speaker: Hands-On Review
This G-Grip is functional, durable, portable, sounds good, and is fairly easy to use. I can see this being a good conversation piece, and fun for friends to be able to quickly access it and throw on their favorite tunes . . . now if only there was a kill switch so you could shut it down if a friend got a little out of control . . . maybe in the next version!