For those who have never enjoyed Busted Wallet reviews or have been living under a rock then you are excused from never hearing of Monster.  For the rest of us, we know Monster has our back with pretty much anything speaker/audio related.  They have been in the game since 1977, which is long enough to know what music is and how to rock it.  The Firecracker is no slouch in their line-up and is one of their newest mid-sized speakers.  The Firecracker is a Bluetooth speaker that adds a "Photolite" to complete your over all experience.  In an unpredictable world full of picture perfect opportunities, you can sleep soundly knowing you will have the lighting for whatever comes your way.  If you have a rock star heart and a photographer mind set, Monster has created the all-in-one party pack. From long day hikes to late night bonfires the Monster Firecracker also has you covered as well.  The compact size and super lightweight design allows this speaker to be strapped to your backpack, bike or belt loop, making it the perfect companion for all your adventures.
Recently our friends over at Monster hooked us up with a Firecracker to review.  Over the last two weeks, I was able to experience everything this mid-sized speaker has to offer.  Here's what I liked and didn't like… enjoy!
Key Features:
Splash resistant (IPX-5)
Pure Monster Sound™ has two full-range drivers and a passive bass radiator
25+ Hours of continuous play
Built in LED Photolite flashlight
5000 Kelvin color tone
500 Lumens
Lasts 7 hours
Tech Specs:
Dimensions: 17.8 x 6.6 x 6.6 cm (7 x 2.6 x 2.6 in)
Weight: 1.01lbs
Sealed 3.5mm auxiliary port
High intelligibility mic for calls
Multiple colors; Black, Gold, Red, Green Camo
What's Included:
Monster Firecracker Bluetooth Speaker
Micro USB cable
Lanyard
Carabiner
Product Overview
Limited Warranty
Monster Firecracker – Review Breakdown
Design:
This model is not anything special compared to what has been released in the past few years. The form has become a staple for most of the bluetooth speakers on the market, but like most, is very applicable to what is required to do.  I will start with the small little things that by today's standards should be on all speakers.  A carabiner, as much as someone might over look such a small feature, makes a world of difference.  To simply attach it and not have to worry about leaving it somewhere is very practical.   That little carabiner became extremely handy while we were out and about, from camping to disc golfing it allowed us to enjoy our jams without being muffled inside a backpack.  Another wonderful feature that compliments the clip is the fact that it only weighs a pound.  That to me is incredible.  I know that there are smaller, lighter speakers on the market but the sound and bass they deliver are usually lackluster. The kick that the Monster Firecracker produces is incredible considering its weight and size.  By now water resistance is a must for speakers as well. If I wanted to have a bluetooth speaker to use around the house I would buy surround sound.  Outside the house I need something that will withhold abuse of a yard sale while on the slopes.  I still would not test the durability with a sledge hammer but it definitely can hold its own. The metal speaker grill is tough, but as you can see will dent if dropped just right… whoops!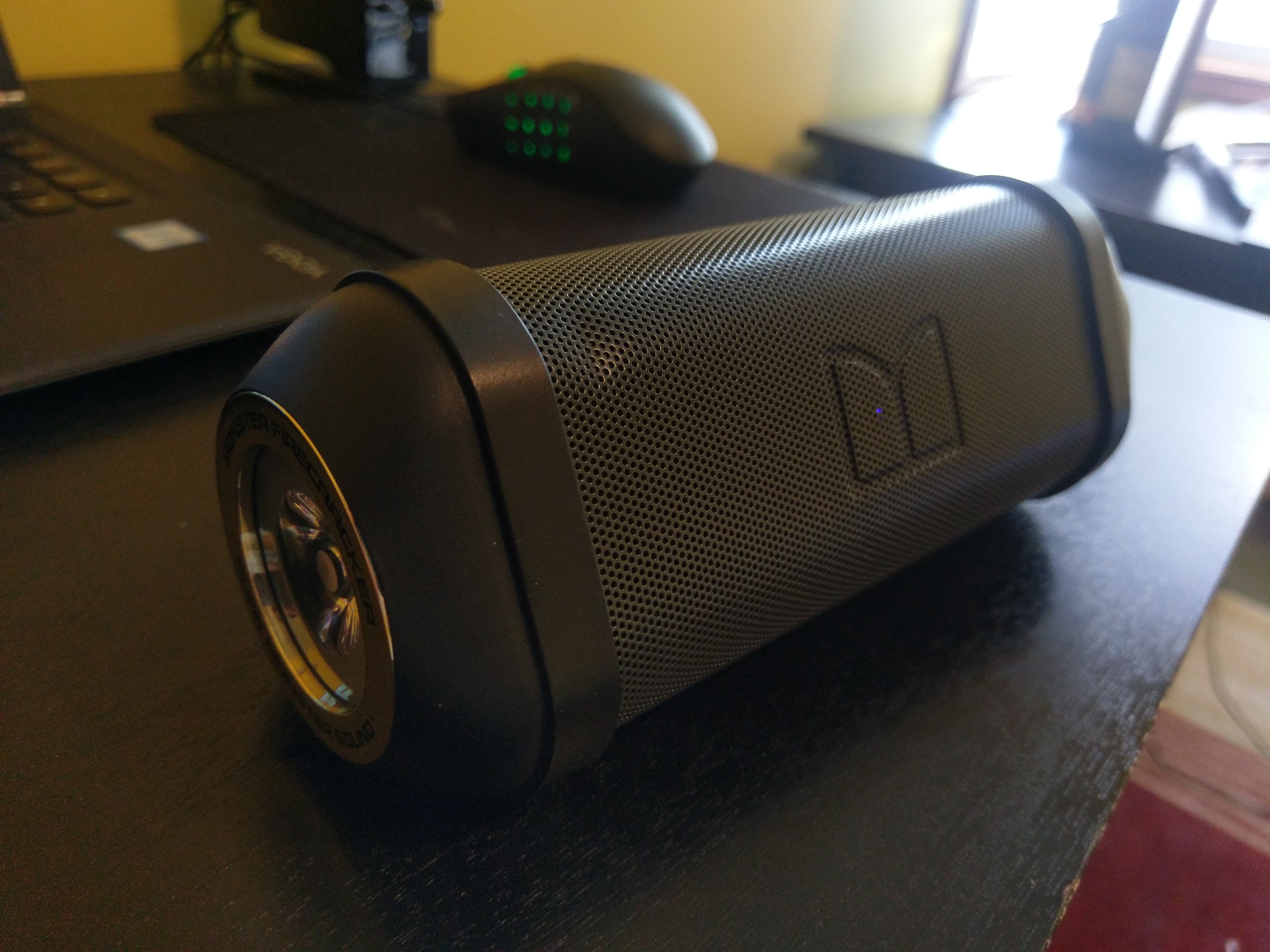 Now the Fire Cracker does have a couple minor flaws.  With an incredible battery lasting 25 hours there is a great chance your listening device (in most cases a cell phone) will die before the speaker does.  I really found myself wishing Monster would have integrated a USB charging port, like a few others on the market, to charge my device when necessary.  The bluetooth range leaves a little to be desired, at about 33 feet of  range.  One thing that drives me insane is when someone leaves bluetooth range and the music breaks up ruining the listening experience.  I would hope in this day and age the range would be a more around the lines of 100 feet.  These are still very minor set backs to an otherwise fantastic design.
Photolite:
We are going to call this section of the review "photolite" but it truly is just a flashlight.  Monster here is my cry to you, please stop calling this a "Photolite".  Do not get me wrong KEEP IT, but it is not even close to a photo light.  When I think of a photo light I think of some radiant glow bouncing delicately off my lovely face.  Instead it felt like we were being interrogated by the police (a friend told me what that is like).  The light was blinding.  Every single picture had us squinting or shielding our eyes from the blinding direct sun in a speaker.  I felt I needed to grab a telescopic lens for my camera and just be at the right distance for the picture to have that subtle glow.  As a flashlight the photolite is perfect.  Normally I would just use my phone in most cases but this is about 5 times brighter.
Acoustics:
For the size it has incredible sound.  Pure Monster Sound lives up to its name and everything they make it out to be. Every type of music I played came out with crystal clarity up until about  90% of volume.  As with most portable speakers out there, the max level sound tends to crackle and distort. The bass did tend to make it vibrate and even jump off some of the surfaces when played loud. I do not recommend putting it on the back of a toilet, had a close call while in the shower. Reaching 83 max decibels this speaker is perfect for a small audience, for a wild and crazy party not so much.
Battery Life:  
How you could go wrong with 25 hour battery life.  Legitimately my phone died twice before this thing did.  That to me is absolutely incredible. The flashlight also had 7 hours of battery.
Value:
It is very comparable to what is out there if we go by price.  At $129.95 seems a little expensive but not far off what we would be willing to pay.  Would I like to see the price come down to beat out the competition in almost all aspects, yes, but I still think Monster is one of the most underrated names on the market.  Everything they touch is fantastic, from bluetooth speakers to headphones, their sound is equally matched by the price.
Buy Now: $129.95 or go to: MonsterProducts.com
Monster Firecracker - Tech Review
I love this little speaker. It really is the perfect speaker for on-the-go tunes. Amazing for those small BBQ's or camping excursions but when it comes to late in the night raves it falls short. You know... the ones at 3 AM, when you want to bellow out Journey at the top of your lungs. This little guy just won't get you to that level. As for the flashlight, I refuse to call it by it's name, I found it extremely useful for once the sun went down. From navigating the woods to searching for lost keys it is a handy feature for everything except a photo light. Monster you did it again with a solid, affordable speaker that everyone can enjoy.
The Good:
Water Resistant and super light-weight
25 freaking hours of playtime
A insanely bright flashlight
The Not So Good:
Calling a flashlight a Photolite
Bluetooth range is limited