As nicer weather returns the SupeStar Monster Blaster High Performance Portable Bluetooth boombox is poised to fill the outdoors with music, beats, and even the spoken word.  We have reviewed a host of wireless speakers here at Busted Wallet, but we haven't seen anything quite like this. Monster has reinvented the boombox for 2016.
Monster was founded in 1979 by Noel Lee.  Born on Christmas, Noel had the perfect background to build an audio company out of his garage.  An engineer by trade and a drummer with the band Asian Wood, Lee left the prestigious Lawrence Livermore National Laboratory where he was a laser-fusion design engineer to tinker with audio wir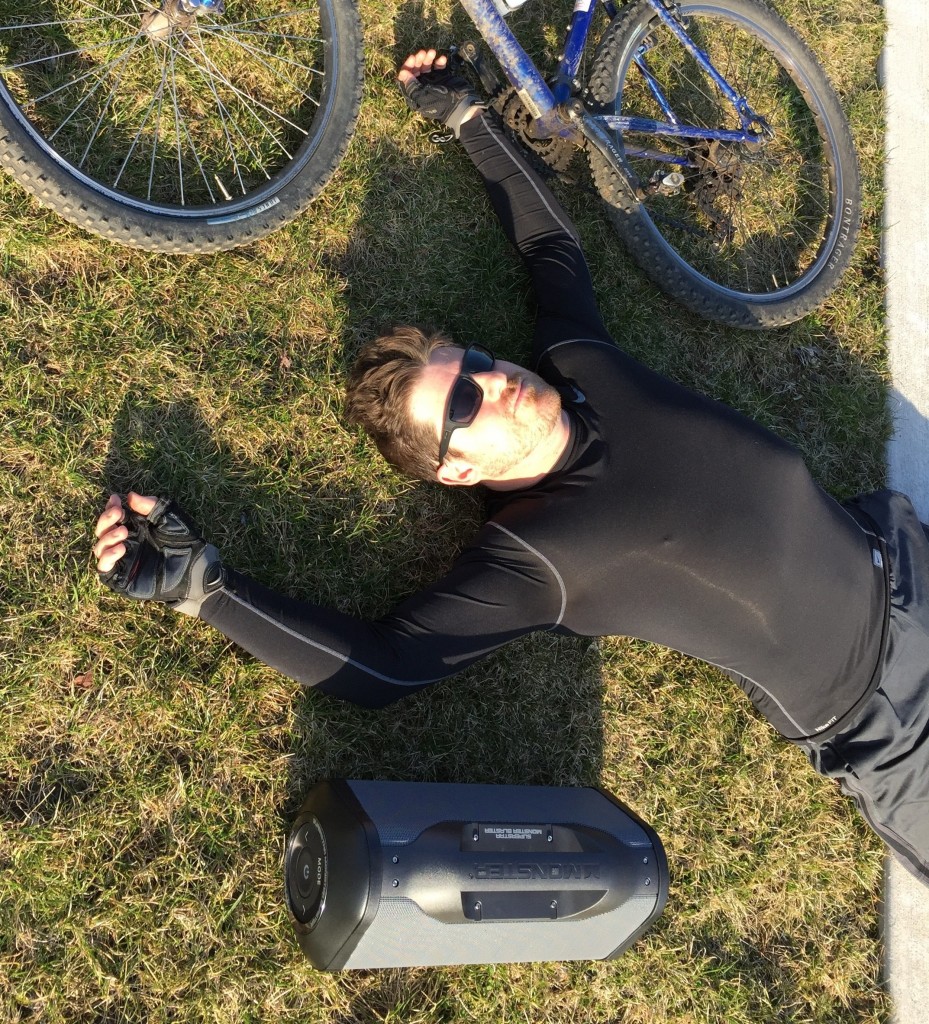 ing.  Legend has it that Lee became convinced that the quality and design of audio cables could improve sound quality when experimenting with different configurations and listening to Tchaikovsky's 1812 Overture.
Recently we had the opportunity to fully test and review this boombox. Here's what we discovered…
Key Features:
Indoor and Outdoor EQ Modes

Splash Resistant 

Bi-Directional

Drivers/Angled 360⁰ Orientation

Down-Firing Integrated Powered Subwoofer

NFC For Quick Pairing

USB Charge Out

Aux-In, Microphone In

Integrated Handle

US and French Power Adapters
11.1 V, 5200mAh rechargeable battery
Monster Superstar Blaster – Review Breakdown
Acoustics:
The Monster SuperStar Blaster boombox is a portable, rechargeable, Bluetooth/NFC speaker built specifically to fill the outdoors with high-quality sound.  This is what sets it apart from the vast array of portable speakers now on the market.  The Monster Blaster cranks out bass and decibels that would have been unimaginable in a portable speaker only a few years ago – and it manages this with a rechargeable 5200mAh battery that lasts for hours.  Long gone are the days of single use 12D batteries.

This is the perfect speaker for raging pool parties, large barbecues, the basketball court, and pretty much any outdoor social gathering.  The Monster Blaster will be heard above the wind and waves at the beach, and could even stand in for a car stereo that has seen better days. The power bass and integrated sub-woofer are ideal for techno and hip-hop, but the sound quality is good enough to rock Adele at top volume.  It's not just the overall volume that's impressive. When you crank it up to full volume there is little to no distortion. The Blaster has indoor and outdoor EQ modes, but really either will suffice.
If your current portable speaker is only loud enough to produce unintelligible background noise when projecting past a ten foot radius outdoors, this speaker is worth considering.
Disappointingly, the Bluetooth connection paired with an Iphone 5s perfectly for only about thirty feet in a wide open area.  This was Bluetooth class two. With all the other heavy duty tech built into the SuperStar Blaster we were hoping for the class one rating and 100 meters.

Design: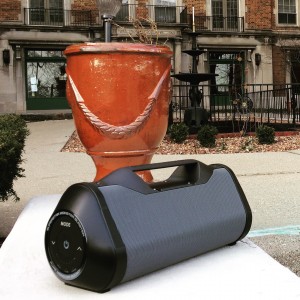 The Monster SuperStar Blaster was designed for the outdoors. The matte black and grey finish are entirely handsome, but it's worth noting that the internet abounds with rumors of a few more design and color schemes pending. The solid, substantial handle and no-nonsense, rugged construction are reminiscent of military design. Forgotten in the back of a pick-up truck, the Blaster Boom Box will be just fine if it goes for a role.
The one major knock on the Blaster's portability is the weight. We weighed it at 13 pounds on a typical bathroom scale, so that could be off a few pounds either way.  Regardless, don't plan on carrying anything else in the hand that you're carrying this speaker with, it's too heavy and requires a firm grip.  The Busted Wallet team wouldn't want to walk more than a mile or so with it, so bring it along on short hikes or when you have relatively easy access to a car.  Or just make your buddy carry it.
Special Features: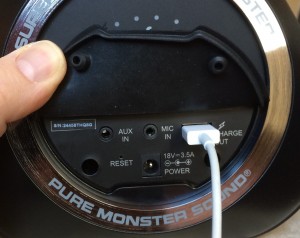 The Blaster Boom Box also stands out from many in the portable speaker crowd with its USB charging port and 3.5 mm MIC IN (microphone not included). That's right, the Blaster doubles as a portable PA system. With its big sound and compact design it will unobtrusively become both the PA and sound system for your next event; don't be afraid of its size compared to a typical PA system, the Blaster is going to be effective with large crowds in open spaces.
Value:
The Blaster Boom Box is a pricier portable speaker, but that's because it really is in a different class. Monster wasn't kidding when they said they wanted to reinvent the boom box. This speaker accomplishes that goal and then some.
If you Buy Now you can pay over time! When you purchase the Monster Blaster directly from Monsterproducts.com you receive:
A lifetime warranty (1 year standard warranty when purchased from authorized dealers).
One time, no fault replacement.  If the Blaster has any issues (your fault or Monster's) return the product and get a replacement.
Monster SuperStar Blaster - Tech Review
The Superstar Monster Blaster Boom Box is an outdoor speaker built for high quality, robust sound. It's excellent handle grip makes it very portable, but only for relatively short distances because of its significant weight.
The Good
Volume and Sound Quality
Handle Grip
Compact, Rugged Design
The Not So Good
Weight
Splashproof, not waterproof
Bluetooth Range