Specifically designed for outdoor enthusiasts who love getting wet-n-wild while on the move, the ECOXBT Bluetooth Waterproof Speaker from ECOXGEAR is a compact ultra rugged speaker system that's capable of pumping tunes all day on a single charge. Not only is the ECOXBT totally wireless, rugged and waterproof, but it's also floatable. Meaning no apologizes necessary when your drunk uncle knocks it into the pool while stumbling to the bathroom. The ECOXBT also doubles as a speakerphone making it easy to multitask hands-free.
Recently we were given the unique opportunity by our friends at ECOXGEAR to fully test and review ECOXBT Bluetooth Waterproof Speaker ourselves while kayaking and camping over a three day stretch though the heart Michigan's waterways. Today we're happy to share the results with you!
Key Features:
Two; 2″ Full Range Stereo Speakers
Stainless Steel Speaker Grill Cover
Bluetooth Connectivity
3.5mm AUX-in connection
Control Buttons: Power, Pairing, Volume, and Speakerphone
Specs:
Output Power: RMS 6W (3 Watt x2 speakers /4 ohms)
Frequency Range: 135Hz-17,000Hz
Dimensions: 2.8″ x 9″ x 4″
Battery: Lithium Ion 3.7V 1800mAh (2hr Charging time)
Playtime: 10 + hours from full charge
Operating Temperature: 14°F to 131°F
Charging Options: USB to AC adapter or Computer
ECOXBT Review Breakdown
Design: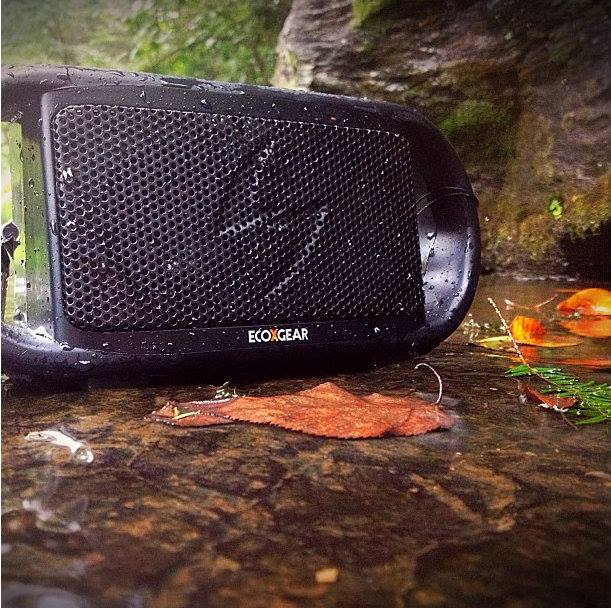 The ECOXBT is down right sexy and surprisingly functional. Its rugged yet modern design makes it ideal for both classy occasions and late night/early morning bonfires by the riverside. We were impressed with ECOXGEAR's attention to detail with this system. Its 1.5 lbs frame is light for packing and easy to grip one-handed without being petite. In our opinion this unit is exceptional for kayaking, camping, partying by the pool and kickin' it at the beach. Basically anywhere you require music the ECOXBT has got you covered.
Additionally we were very excited to find that the battery life is off the charts! On a full charge you can expect more than 10 hours of continuous play from a 2.5 hour charge. Gotta love those rechargeable lithium ion batteries!
Bluetooth / Wireless:
Connecting the ECOXBT with your smartphone or bluetooth enabled mp3 player is ridiculously simple and works flawlessly at up to 40 feet away. Once you extend past the 40 foot barrier the connection becomes marginal or non-existent quickly. After powering-up the unit you can be connected via bluetooth in less than 30 seconds and enjoying your tunes.  Phone calls utilizing the speakerphone come across loud and clear, while on the other end of the line typical speakerphone drawbacks still apply, producing a hallow sound that can best described as echo-y.
Waterproofing: 
With an industry leading waterproof rating of IPX7 this speaker system is suitable for consistent and repetitive submersion in water. And as we found out it's not only ok to get this unit wet, you can even take it for a swim… literally. As an added bonus the unit is also ultra buoyant by design and will not sink, we tried! After submersing the unit you may notice the audio quality isn't the same. If this happens don't worry, there's just water on the speakers. To clear the water simply turn the unit on its side for a moment and let the water drain, a few seconds later the audio quality you expect will return. With the ECOXBT there is absolutely no fear of water damage! It takes some time to get use to, but once you realize water isn't its enemy the fun truly begins! WARNING: Make sure the charging port access is fully closed before putting the ECOXBT anywhere near water. If the access port isn't fully closed the unit is susceptible to water damage.
Audio Quality:
For a relatively small unit we were quite impressed with the sound quality the ECOXBT managed to put out. The two 2″ center mounted speakers unleash crystal clear notes and voices at medium volume, but lack the deep bass tones that can only be produced by larger speakers. When cranked to full volume distortion kicks in quickly and music becomes difficult to enjoy. For best listening quality we found that 70%-80% volume was best, and was actually quite loud.
Durability:
There's not much you can do to make this unit skip a beat. It's shock resistant and waterproof to the max. During our time spent with the ECOXBT it's been dropped multiple times, thrown around, submersed and even left out in a storm with nothing more than a few scratches to the speaker grill and rubber coating to show for it. As long as bluetooth remains the wireless connection of choice we think the ECOXBT will provide its owners with many years of enjoyment.
Value:
At $130 this speaker system is worth every last penny in our humble opinion. Simply trying to find a quality bluetooth speaker at this price would be a challenge  Add in the fact that it's waterproof and designed survive the apocalypse and it's easy to see that its value well exceeds the asking price.
Buy Now: $129 or go to: ECOXGEAR.com
ECOXBT Waterproof Speaker - Tech Review
This is the perfect sound system for adventurous men and women who require high quality audio no matter where life takes them. If you're in the market for a wireless speaker we highly recommend you check out the ECOXBT Bluetooth Waterproof Speaker yourself. It looks fantastic, connects to all bluetooth enabled smartphones with ease and is designed to put up a fight against the elements. As we found out during our time spent with the ECOXBT it's well suited for rugged adventures, but is also quite happy kickin' it poolside with a cold-one!
The Good:
Totally Waterproof
It Floats
Nice Audio Quality
The Not so Good:
Somewhat heavy at 1.5 lbs
No battery level indicator
Lacks bass