The mad scientists over at ECOXGEAR are at it again, designing yet another 100% waterproof, dust-proof, shockproof portable bluetooth speaker system – which they've dubbed ECOROX. Known for their extremely rugged audio equipment, ECOXGEAR has been at the forefront of the portable waterproof speaker movement since the beginning. Starting with their ECOTERRA, ECOEXTREME, ECOPRO and ECOXBT models and this summer introducing the all new ECOROX. Every ECOXGEAR model shares the same rugged and 100% waterproof IPX7 rating, but they do not share the same shape or size and that's where the ECOROX truly stands out. Measuring up as their smallest and lightest device yet, the ECOROX is the pinnacle of innovation in the ECOXGEAR line of speakers and it's built to withstand anything and everything its bigger brothers can. All the while taking up much less space without sacrificing function, quality or acoustics.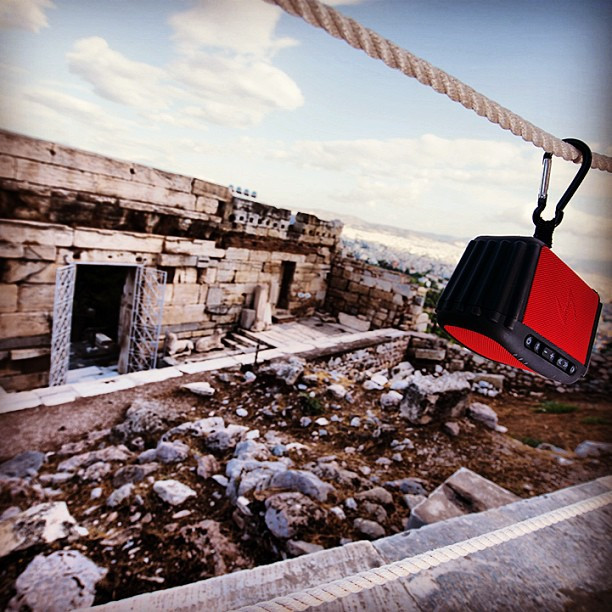 "Developing an IPX7 approved 100% waterproof Bluetooth speaker with rock solid audio is a major engineering accomplishment, competitor wireless speakers are water resistant at best (not waterproof), which means if you accidentally knock them in your pool, lake or shower, your speaker is ruined, your investment lost, and the party over. The ECOROX compliments your lifestyle from your home, your car, to the beach or even mount it to the deck of a paddle board or cockpit of a kayak. Our Bluetooth speakers will go anywhere you can take them and never miss a beat!"  –Greg Fadul, CEO of ECOXGEAR
ECOROX Key Features:
100% waterproof – IPX7 approved
Boyant floating design
Mountable with the integrated standard ¼" camera style screw mount
Full-range stereo speakers with passive woofer and built-in waterproof mic for speakerphone function
Built-in auxiliary in jack for an optional wired audio connection
Rubberized exterior protects from drops and everyday abuse
Controls for power, pairing, volume, skip, play, pause, and speakerphone answer
Available in 3 colors – red, orange, and black
Specs:
Height: 2.5″
Width: 5.3″
Depth: 3″
Weight: 11 oz
Battery Life: 10 hours
Charge Time: 2.5 hours
Included:
Micro USB Charging Jack
3.5mm Aux-In Jack
Li-Ion Rechargeable Battery
Carabiner clip
Recently ECOXGEAR reached out to us with an opportunity to fully test and review their small yet mighty ECOROX waterproof speaker. Never one to turn a blind eye to innovation (and boomin' tunes) we gladly accepted the challenge and began testing over a month ago. For the sake of what this speaker was built to handle we extended our standard 2 week testing period to more than a month. Our goal: to put this speaker through the ringer and see if it came out the other side playing audio. With testing now complete there's little left to do but share our results… so, with out further adieu here we go!
– ECOROX Review – 
DESIGN: 
The entire ECOROX system is surprisingly compact (2.5″ x 5.3″ x 3″) and lightweight (less than 1 lbs) – fitting nicely in your hand, making it an ideal speaker for travel. Some stand-out design features that caught our attention throughout testing were the integrated ¼" screw mount at the bottom, which makes it simple to attach the ECOROX to any camera mount you might already own as well as the bike mount and suction cup mount sold by ECOXGEAR themselves.  Additionally, we found the control button layout, speaker shape, grills and rubberized coverings to be attractive and impressively rugged. The speakerphone function works surprisingly well too, much to our delight. As most speakerphone/bluetooth devices can be rather echo-y or static-y. Overall, this is a very well thought out design and implementation.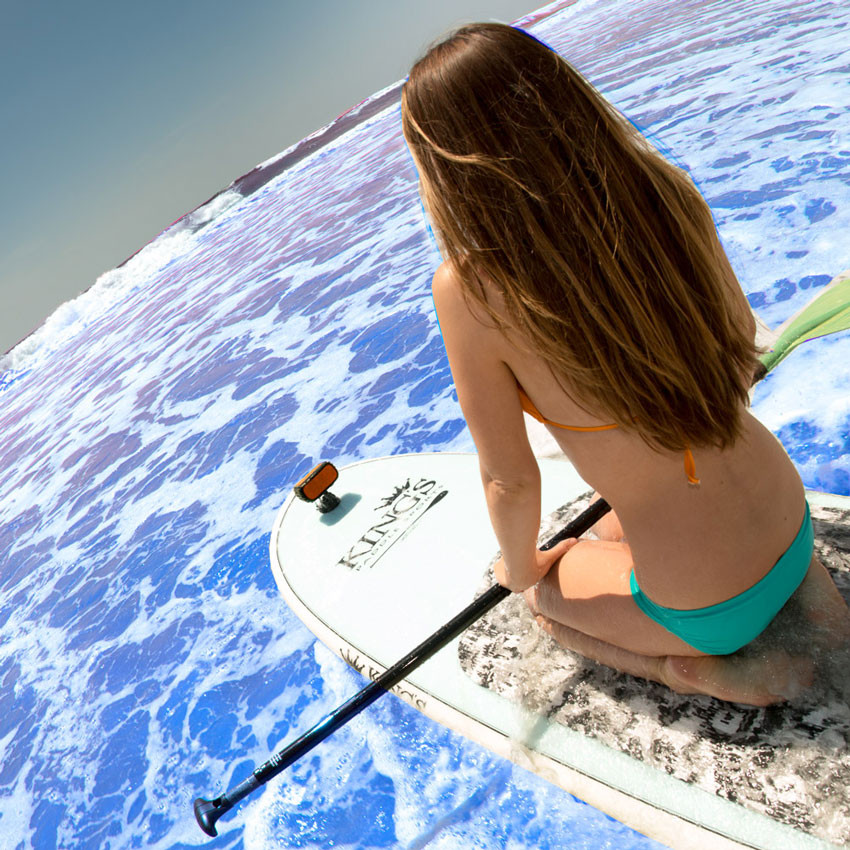 Suction Cup mount in-action
 One detractor we do have to point out is the top-side speaker grill, which protects the bass radiator… this grill is sturdy and does a good job to protect the speaker, but we noticed over time it began to bend downwards (in the middle)  effecting the system's overall audio quality (basically the bass radiator would vibrate against the metal grill causing distortion). If you're careful and don't place any undue stress on this top grill you'll likely never have an issue with this, but if you're constantly jamming it into tight packs, dropping it or using it as a step-stool it's something you should definitely look out for. A quick fix we came up with was to use a butter knife and slip under the back lip of the grill and apply upward pressure until the grill raised high enough off the bass radiator to eliminate the distortion.
AUDIO QUALITY: 
For such a diminutive system the ECOROX actually produces a surprisingly rich listening experience. Its two 6 watt front firing speakers and top mounted mini bass radiator work together incredibly to fill a room with crystal clear audio that is loud when you need it and subdued when you don't. We've tested a lot of bluetooth capable speakers over the past few years and I have to say the ECOROX is at the very top of the list. It's by-far the loudest in its size range and manages to deliver rich bass and exceptional mids and highs. Until someone comes out with something better ECOROX has set the bar when it comes to portable acoustics.
FUNCTIONALITY: 
The engineers at ECOXGEAR got it right this time around. With integrated Power, Pair, Play/Pause/Answer, Skip Track and Volume +/- control buttons laid out and simple to click – operating this speaker system is incredibly easy and intuitive. From a functional standpoint there really isn't much more you could ask for, besides maybe an external USB charging port for phones and other USB powered devices. Beyond the easy to use buttons, ECOXGEAR has made paring via bluetooth a very simple one time affair. Once you set up the bluetooth network between the ECOROX and your phone/MP3 device they will from then-on automatically recognize each other every time the speaker is turned on. A few other highlights worth mentioning are the lighted indicators for power, battery life and bluetooth paring. As well as the "guts" of the operation at back of the unit, where there is a rubber seal that covers that charging port (micro USB) and an AUX line-in port for use with non-bluetooth devices. A simple feature that really impressed me was how quickly the ECOROX turns from ON to OFF and vice versa. This may seem like an after thought, but it's something that stood out to me during testing. I've had the opportunity to test many bluetooth speakers like this in the past and for some reason holding the power button for 3 – 5 second has become standard operation. So when I realized how quick and easy this system was to power on and off it did impress me and I thought it was worth mentioning. All of the other buttons work similarly as fast too!
WATERPROOFING: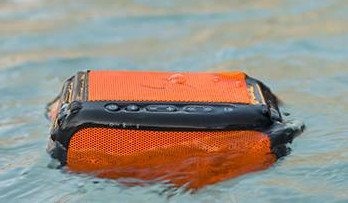 While other "rugged" bluetooth speakers claim to be "Splash-proof" or simply water resistant, the ECOROX's waterproofing is a notch above the rest. Rated at IPX7, we're talking about a fully submersible speaker system that will withstand immersion for up to 30 minutes at a depth of up to 1 meter… Hello McFly, anyone home? Seriously, need we say more?! During our testing sessions we took the ECOROX to the beach, pool and with us in the hot tub. Not only does it repel water and keep playing music flawlessly, it actually loves the water. Because the ECOROX floats, no need to worry about it sinking to the bottom or surpassing its 1 meter depth limit. If you live an active lifestyle by the water there's not another speaker we've discovered that can handle wetness better. PRO TIP: Make sure to keep the rubber seal at the back of the speaker completely 100% sealed at all times (when not charging). Forgetting to do so leaves the entire speaker susceptible to water damage.
DURABILITY: 
Beyond the bass radiator grill issues we discussed in the design category above, we didn't find much to complain about in the durability department, but we should mention that along with the extreme waterproofing abilities the IPX7 rating delivers, the ECOROX is also fully dust proof and shock proof. While I wouldn't personally suggest drop-kicking this speaker through the parking lot of your next tailgate… i'm fairly certain the ECOROX could handle it. WARNING: don't dropkick this speaker… think about your foot! For more on the advanced rugged design of the ECOROX we'd now like to direct you to embedded video below – filmed in ECOXGEAR's test lab.
VALUE: 
We found the ECOROX to be an exceptional value. It's waterproof, float-able, dust proof, and shock resistant. Not to mention it also plays music via bluetooth at up to 30ft from your smartphone or other bluetooth enabled device. Audio that is not only rich, but will fill a room. It may seem like we're gushing over the ECOROX and that's because we are. It's a fantastic device and at nearly $130 it's a steal in our opinion.  

ECOROX Waterproof Speaker: Tech Review

If you're in the market for a portable waterproof speaker that offers bluetooth connectivity... I have to say, pound-for-pound, there isn't a better option on the market. The ECOROX may be diminutive in stature, but let me assure you it is an absolute beast acoustically and physically. Its armor is made of sturdy metal grills and shock absorbing rubber. Its integrated control buttons are all-encompassing, quick and simple to use. Its rechargeable for up to 10 hours of playback and doesn't miss a beat at up to 30 feet away via bluetooth. Sure, we had our issues with the bass radiator grill taking abuse, but it was noting that couldn't be easily fixed with a little ingenuity. For portability, ruggedness and complete audio quality there's nothing we've discovered that comes close to challenging the ECOROX.

Pros:
Waterproof... as in Fully Submersible
Compact Yet Surprisingly Loud
Rugged Exterior
Cons:
Flimsy Top Speaker Grill Design