Avid readers of Busted Wallet will know that we have always thought highly of ECOXGEAR products. When they recently sent us their rugged ECO TERRA we were more than happy to put the boom box through a barrage of robust testing sessions. The ECO TERRA is designed to be a fully waterproof boom box that will safely secure your electronic device while you enjoy glorious tunes on your next water adventure.
To make sure we preformed this review right, we gathered a team and traveled to the banks of the Au Sable River in Northern Michigan where we put this boom box through a series of tests to prove that it could withstand the elements. We did numerous floats down the river and even a few sessions at the beach to ensure the ECO TERRA was up to the challenge.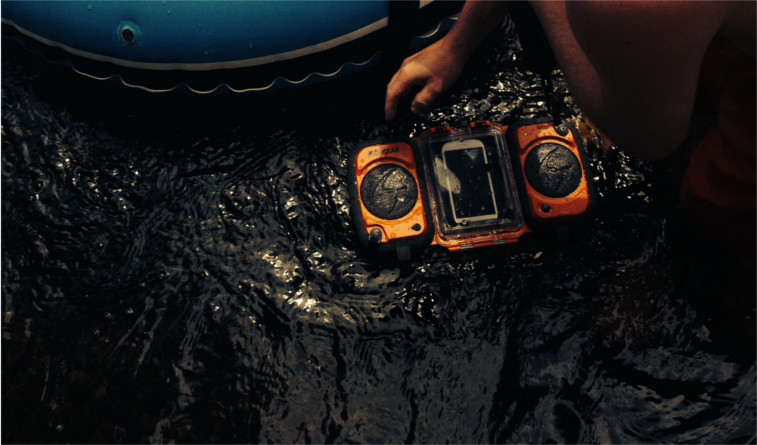 If you live a life outdoors and love your music you don't have many options to get out on the water and enjoy your tunes. Of course there's the old stereo in a trash bag trick or just chancing it with your beloved stereo equipment. Those options, while risky, might have been fine in the past but now there's a serious option… something built to get wet and keep on keepin' on!
"The Eco Terra is the modern day boombox for your Smartphone or mp3 player, the outdoor elements are the Achilles' heel of today's mobile electronics. A splash of water or grain of sand can completely destroy your smartphone. Like the boomboxes of old, the Eco Terra packs an audio punch and allows your music to play anywhere, anytime and now without fear of the 4 extremes: water, dirt, snow, and shock!" -Greg Fadul CEO of Grace Digital Audio
Tech Specs:
Waterproof iPhone / MP3 audio case with built-in waterproof speakers (x2)
IPX7 approved Weather Proof components
Portable or fixed play
Floats & Submersible
25 + hrs Battery Life
Two 3-inch full range forward firing Stereo Speakers
ECO TERRA Review Breakdown
Design:
We have previously reviewed the Bluetooth versions of waterproof products from ECOXGEAR so the ECO TERRA was a new endeavor for us. The ECO TERRA is built to play music through a universal 1/8″ audio-in cable and Waterproof (IPX7) Headset Audio Jack. Instead of enjoying your stereo in the water while your phone or mp3 player is safely on shore, the ECO TERRA stores your device in its internal waterproof storage compartment. Putting your phone in the boom box and allowing it to submerge in water requires quite a bit of trust!
The previously mentioned IPX7 approved waterproof components means the ECO TERRA is certified for protection against water immersion for at least 30 minutes at a depth of at least 1 meter. The boom box features an internal waterproof compartment that can safely protect iPhones, Androids, or any mp3 device. The Internal waterproof storage compartment can also hold and protect your keys, credit cards, driver's license and cash. It also features two large waterproof stereo speakers which are designed to provide a clear and crisp sound through the most rugged conditions.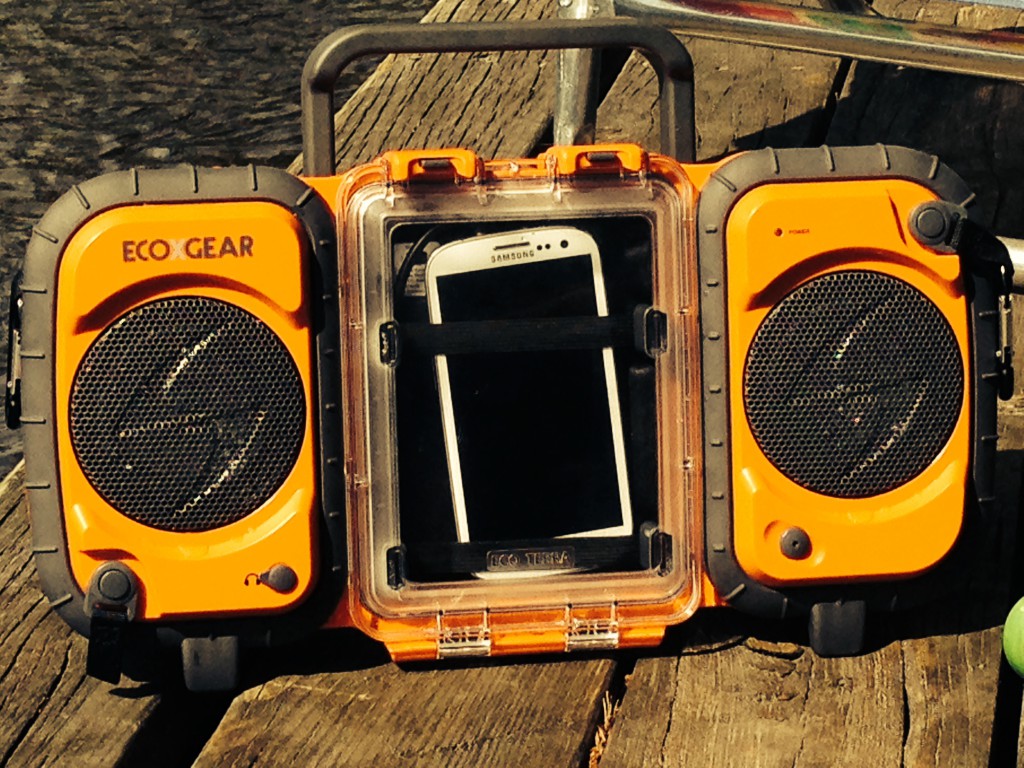 The ECO TERRA boom box has a surprisingly slender and lightweight design which comes in around one pound. The boom box only measures a length of 7.5 inches and a width of 14.5 inches, making the ECO TERRA extremely versatile and able to fit almost any occasion or location.
A design feature that can easily go unnoticed but ended up being one of our favorites was the detachable carabineer clips, which allows for convenient hanging options. We easily attached the boom box to our kayaks, canoes, and even wrapped it around the handle of our raft so we can enjoy music as we floated down the Au Sable River.
Acoustics: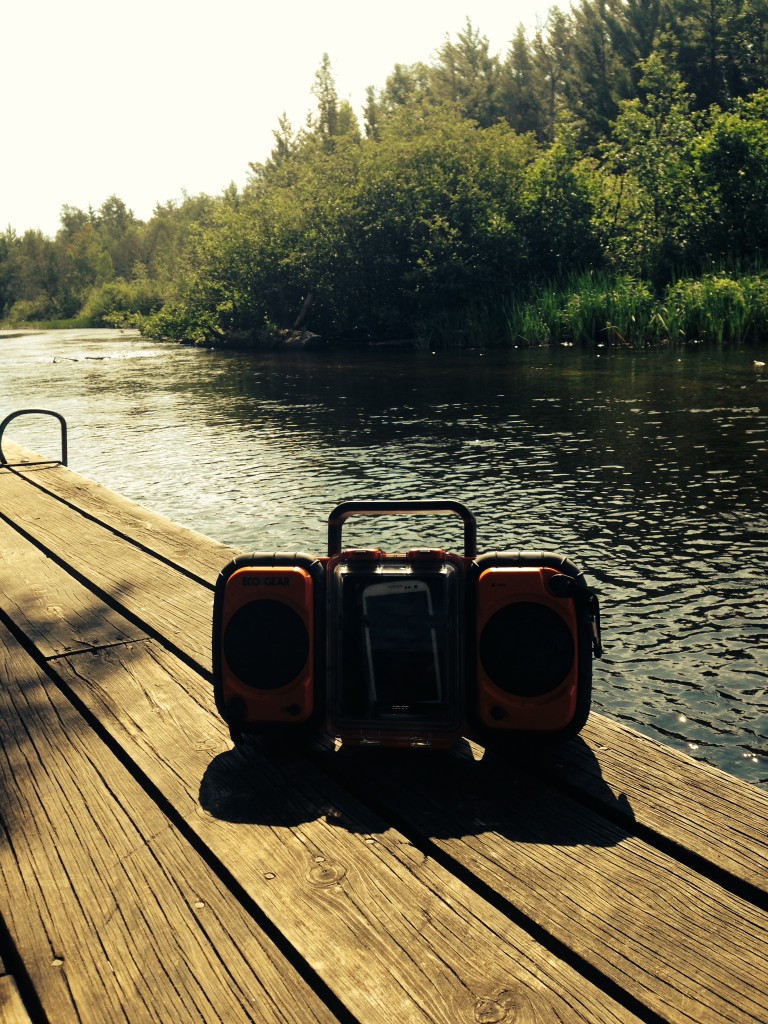 Once you get over the excitement of owning a boom box that actually floats in water and offers safe harbor to your phone, you will then automatically focus on sound quality. If you are expecting top of the line Bose sound quality then you are going to be disappointed. However, what you do get is a extremely solid sound quality. You will notice a dip in quality of sound and volume if you get a lot of water in the speakers but you will still get good sound with good amount of bass. Clear the water from the speakers and the sound quality quickly returns.
As we floated down the river on test runs we were able to easily hear the music down the river for a good 100-200 yards. The sound quality is good enough to DJ any party you might have on the water!
Durability:
A durability category with a boom box that claims to be waterproof is extremely easy to evaluate; is it actually waterproof? We can confirm with a resounding yes! We did numerous tests with the ECO TERRA of water and never once were we able to get it to stop working. We completely submerged it in water for 25 seconds with a phone inside and when we pulled it up there was not a drop of water in the internal compartment. The only issue we ran into with the boom box was the rubber plugs that cover the AC adapter and the headphone jack are very easy to lose. You are provided with extras but make sure you do not lose them as you do not want water getting into those inputs.
Battery Life:
ECOXGEAR touts a 25 hour battery life for the ECO TERRA, but sadly in our tests runs we were unable to replicate these results. However, we put this boom box to work and we were able to get on average about 16 hours battery life. While we couldn't get to 25 hours we still feel that 16 hours far exceeded our expectations. We do recommend investing in some rechargeable batteries so you don't have to waste excess money on batteries. In future designs we would love to see to an internal rechargeable battery similar to the Bluetooth versions. PRO TIP: running the ECO TERRA at low volume (25% and under) will allow for extended battery life.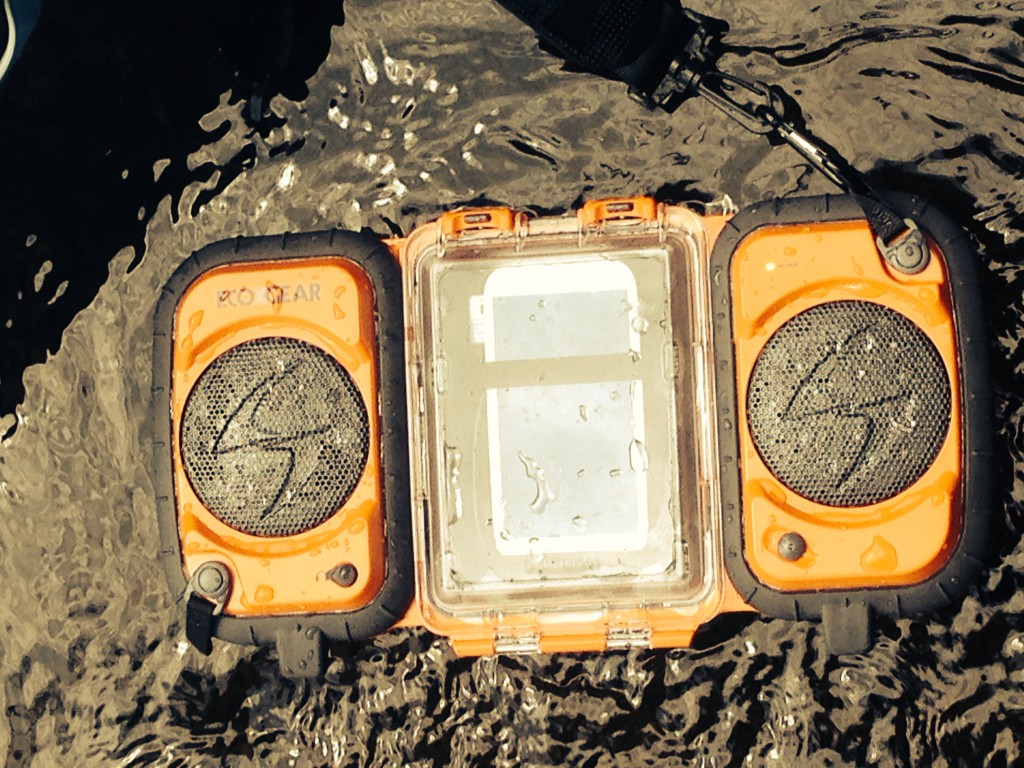 Value:
Priced at $149.99 ECOXGEAR's ECO TERRA boom box is well worth the investment. A day at the beach, floating down the river, or swimming in a pool just got a whole lot more fun. Given that there are no true WATERPROOF competitors (many are just splash-proof) to a product like this we highly recommend this boom box for any water adventure and feel it has great value.
ECO TERRA by ECOXGEAR - Tech Review
We have reviewed numerous products from the folks at ECOXGEAR and we continue to be impressed by their commitment to quality and the uniqueness of their products. The ECO TERRA brings a whole new level excitement to your next water related event. Nobody will be disappointed if you bring this boom box to your next beach day or float down the river. Enjoy!
The Good:
Lightwieght design
Rugged durable design
Completely waterproof internal compartment
The Not so Good:
No bluetooth option
Unnecessary Headphone jack
Battery life not as advertised