Over the years we have built a great relationship with the folks at ECOXGEAR as our interests seem to align. They build rugged, waterproof, portable speakers that are designed to produce great sound and go anywhere.  At Busted Wallet we enjoy great music and we live for an outdoor adventure with gear that is up to the challenge.  To have a product that can provide both is instantly a hit with our testing crew.
Recently, ECOXGEAR released their smallest and most compact product to date, the ECOPEBBLE.  Like most of their products the ECOPEBBLE is IPX7 Waterproof, making it fully submersible in water.  The speaker is designed to accompany you on any trip with its light-weight and rugged design.  Coming complete with a carabineer clip and a mounting clip that allows you to secure the device anywhere you want to take it!  We were recently given a chance to review the ECOPEBBLE, so we did what we love to do; get outside and get moving!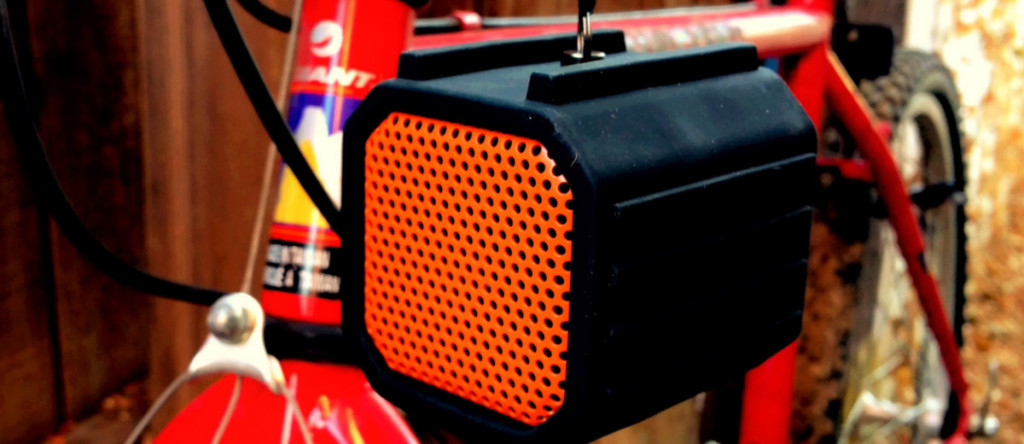 Our previous reviews of the ECOXGEAR products showed us that they make high-quality speakers that really brought tremendous sound and are built to withstand the elements.  Being the smallest product in the ECOXGEAR lineup, we were concerned about how the small ECOPEBBLE could hold up in comparison to it's big brothers.  Luckily, the folks at ECOXGEAR were concerned about this as well and put in the extra time to ensure they hit their standard of providing great quality sound.
"When building out the ECOPEBBLE our goal was to somehow fit the powerful sound of our larger products into the body of an extremely compact speaker, I wasn't sure how we were going to do it, or if we could even do it at all. Certainly, this is an instance I was glad to be wrong. The ECOPEBBLE is everything we hoped it would be, and is sure to be a must-have accessory for adrenaline junkies aneverywhere!" – Greg Fadul, CEO ECOXGEAR
Key Features:
Bluetooth Enabled
7hr Battery Life
IPX7 Rated
Mountable via ¼ 20" Camera mount screw post
Specs:
5 Watt Full-fidelity Mono Speaker
Height: 2.8″
Width: 2.9″
Depth: 2.8″
Weight: 8 oz
ECOPEBBLE Bluetooth Speaker Review Breakdown
Design:
The ECOPEBBLE measures in at 2.8 by 2.9 by 2.8 inches, making it the smallest product in the ECOXGEAR lineup to date.  While not quite the size of a pebble it is small enough to hold in your hand and easily carry around.   The outside of the pebble is outfitted with rugged black rubber that protects the speaker's hardware.  The ECOPEBBLE comes with an IPX7 Waterproof rating, which means you can dunk it in any body of water and the tunes keep playing, although listening to it under water is not recommended for safety reasons.
On top of the speaker are exterior controls for volume, changing tracks, pausing/playing, and speaker phone. On the back of the speaker, protected by a soft rubber waterproof cover, is your power button, aux in and USB input for charging.  Inside the speaker features a 5 Watt Full-fidelity Mono Speaker.  A nice feature that caught our attention is the mounting options via ¼ 20" Camera mount screw post, which allows users to set up mounts in the backyard, around the pool, and even on your bike or kayak, so you could easily secure the speaker for safe keeping and keeping the sound in a consistent direction.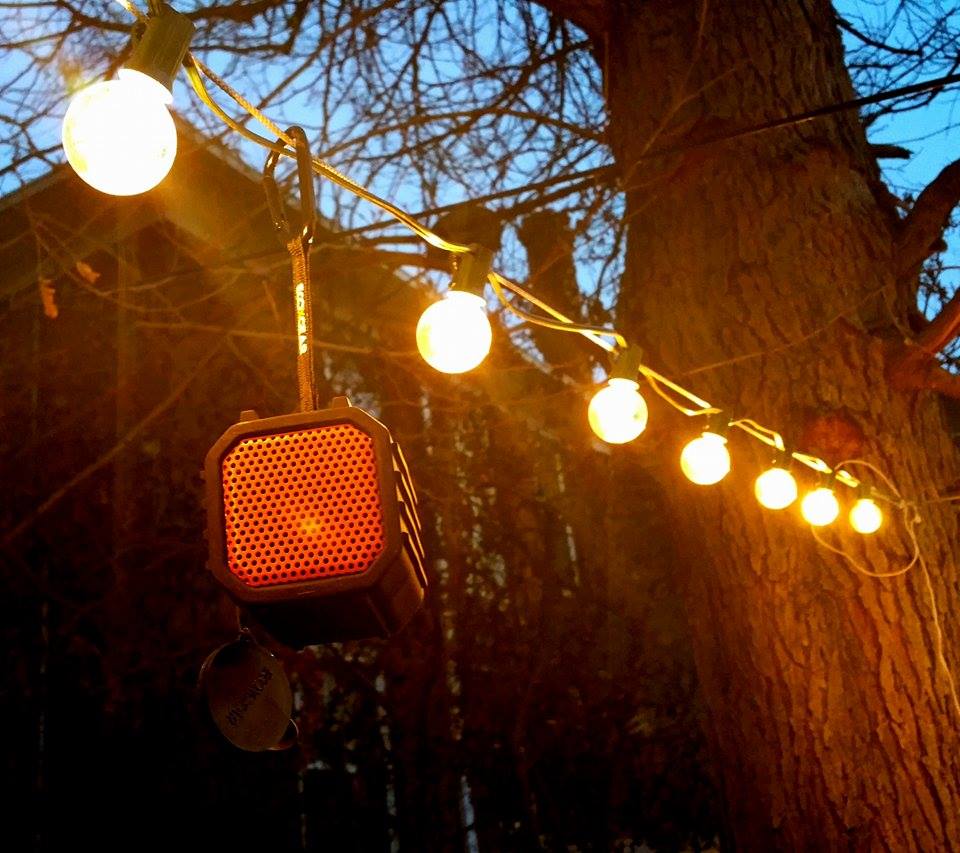 Weighing only 8 oz, the ECOPEBBLE is designed to go any and everywhere and with the attached carbineer clip, you will have no problem finding a spot to attach it to and enjoy some good music.
Acoustics:
Featuring the 5 Watt Full-fidelity Mono Speaker the ECOPEBBLE features a good, quality sound.  However, the speaker will not be confused with a high-end Bose Bluetooth speaker.  Given the size of the speaker, we were actually quite surprised with the overall quality and how loud the speaker can go.  While riding bikes recently, we were able to attach it to the bike and other riders were able to hear the music, clearly, while being a few hundred feet away.  When turned up to the max we did experience some distortion, but again the speaker is able to hold its own when it is comes to sound quality.  While it may not be perfect in terms of sound, it more than makes up for it by being durable and being able to go anywhere you want it to, which for us makes it our new best friend.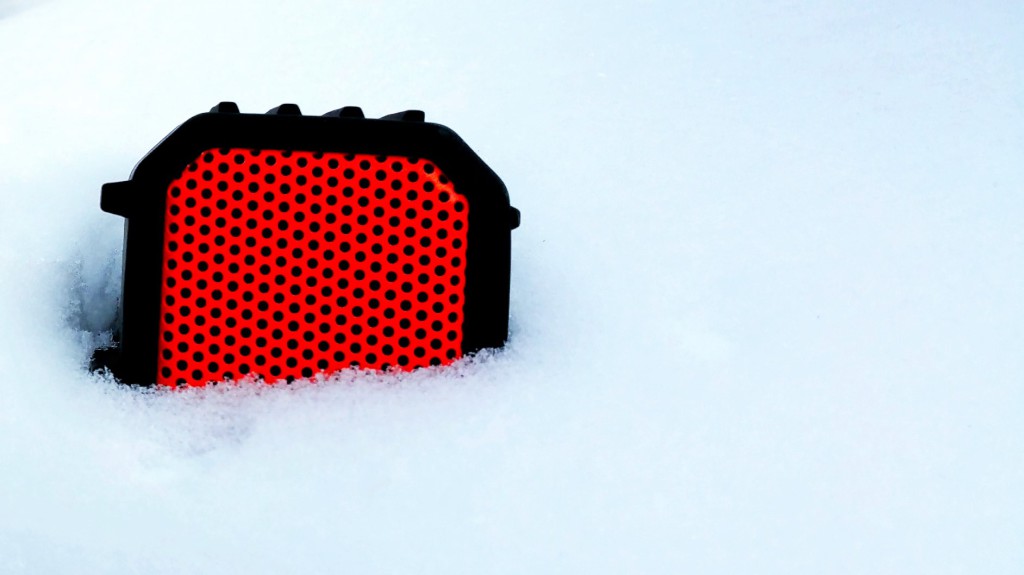 Bluetooth/Battery Life:
The Bluetooth functionality is extremely simple to use and set up.  We were up and running in under 3 minutes from box opening to sound being played over the speaker.  Once connected, we found the Bluetooth range to be about 20-25 feet before we started to notice audio disruption.  While this is shorter than we would prefer, we found it to not be a big deal as the speaker is usually on you or clipped to something near you.  This is a great device to attach to your kayak and secure your phone in the waterproof compartment and the distance is never an issue.
Advertised to deliver 7 hours of battery life, we found the ECOPEBBLE to consistently get 6.5-7.5 hours of battery life depending on volume settings during play time.  Overall, we had no issues with a dead battery and were able to take the speaker out for the majority of the day and get production out of it without worrying about re-charging. From a dead battery the speaker is able to fully re-charge in about 2.5 hours.
Value:
Priced at $59.99, the ECOPEBBLE from ECOXGEAR falls in the "no brainer" category.  This speaker is extremely durable, provides quality sound, and can literally go every you go.  The long-lasting battery life and easy setup make this bluetooth speaker a great choice.  Overall, this is a great gift idea or purchase for anyone looking to supplement their outdoor adventure with a musical companion.  Enjoy!
Buy Now: $59.99 or to learn more, go to: ECOXGEAR.com
ECOPEBBLE Bluetooth Speaker: Tech Review
If you are looking for a companion on your next adventure then we recommend you look at the ECOPEBBLE. With it's durable build, quality sound, and long battery life you will not be disappointed with your selection.
Bluetooth/Battery Life
8.7
The Good
Durable and light-weight
Easy-mounting options
Fully submersable in water
The Not So Good
Sound quality decreases with loudness
Bluetooth range is limted