Tuesday mornings are the closest thing to Christmas for music lovers on Spotify, when the popular music streaming service posts a fresh set of songs like clockwork. This week sees the latest releases from big names in pop music like Kelly Clarkson, Carly Rae Jepsen, & Ariana Grande, a return from bands we haven't seen in a while; Alabama Shakes, My Morning Jacket, and Modest Mouse. Kanye West, Chris Brown & Flo Rida also find their way onto the list, continuing to churn out potential hits for us as well.
Spotify keeps the list up to date until the following Tuesday when the slates cleared and the list is replaced with a new set of the latest and greatest. The following list is comprised of the best sounding, dance inspiring, hardest drops & beats, and those artists labeled 'up and coming.' 36 other songs didn't make it on to this week's top ten, so make sure to check out Spotify's New Music Tuesday playlist to hear and decide for yourself.
11. Half Broke Heart by Cam
An honorable mention goes to Cam this week; Cam fills in the sweet country girl image that was left by behind by Taylor Swift, but she doesn't skimp out on the glitter either. "Half Broke Heart" has cleverer lyrics than your typical pop country song, and if you don't shudder through the grammatically incorrect lyrics "a half smoked cigarette still smoked, and a half broke heart still broke" you'll probably find yourself crooning along with the song before it's over.

---
10. Buffalo by Toro y Moi
Your favorite alterna "you probably don't know them" hipster band has released Buffalo as the latest single from their anticipated fourth album, What For?, out on April 7th. Chill vibes are evident throughout this song, but the joy in listening comes from the open interpretation of deciphering the lyrics.

---
9. "Roll Up Your Sleeves" by Meg Mac
Meg Mac is having a great 2015. Already a hit in her native Australia, she's recently signed a record contract in the US and been nominated for Rolling Stone's best new talent award. Talent is evident on Roll Up Your Sleeves, where piano, catchy lyrics, and the ever so popular hand clap are utilized to produce a 'On Repeat' worthy song. As the chorus states, 'Roll up your sleeves, everything is gonna be alright," listening to Meg Mac you're inclined to think so too.

---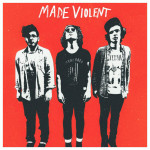 8. Wasted Days by Made Violent
Labeled on their Facebook page as a "WORLD FAMOUS AMERICAN BAND" Made Violent's enthusiasm is abundantly clear there and on Wasted Days. The song starts almost by bursting open, my first inclination was to draw comparisons to the Strokes, but it slowly fades by the chorus. Upbeat melodies and lyrics like "Talk to myself but no one is ever listening, no I don't want to change, no I won't do anything!" are perfect for a dance when no one's watching. Great things are expected from this soon to be MORE world famous American band.

---
7. Of Course We Know by Modest Mouse
Of Course We Know starts off slow, weighing very heavy under layers of guitars, pianos, synths and cymbals. This is not the stuff of the light hearted "And we'll all float on." Just under five and a half minutes long, this is a long awaited journey to be taken appreciatively with the band, one that you'll surely enjoy after such a long hiatus.

---
6. California Nights by Best Coast
There's no question that Best Coast has an undying love for California. Another love song for the golden state is penned on California Nights, released in anticipation for their studio album out on May 5, 2015. While this ballad-y song is pleasing to the ears, we will have to wait until May to see if Best Coast supplies us with other songs that characterizes their signature goofily forlorn lyrics, like on "The Best Place" "I lost my job, I miss my mom, I wish my cat could talk."

---
5. Technicolor Beat by Oh Wonder
Seriously chill beats meets silky sweet lyrics result in the ultimate chill out at day's end song. Even the lyrics urge you to "settle down, settle down." The best part? Technicolor Beat is just one is a series of singles released by this talented duo from London.

---
4. Gimme Me All Your Love by Alabama Shakess
You can't help but be happy to hear from Alabama Shakes again. The song starts out with a jolt, and quickly oozes a slow & bluesy vibe. Brittany Howard's signature chilling hollow is all over this. Don't check out too soon, as the song changes pace just about half way, inciting a jam session and goes out with a bang.

---
3. Lean On by Major Lazer, MØ, DJ Snake
When you see Major Lazer & DJ Snake on a track your first question tends to be what kind of 'drop' can I expect. You can find Major Lazer's signature sound here, with help MØ and DJ Snake, beautifully fused with influences from each of the artists. Lean On manages to be chill and uptempo at the same time, giving you exactly what you'd expect (and enjoy) from this trio.

---
2. All Day by Kanye West
Yeezy season continueth, coming in hard and heavy in All Day. The track starts out with a familiar set of questions from Kanye – how long you ball, how much time you spend at the mall — but the beats he creates and raps over remain second to none. Adding Theophilus London helps to create a sense of poetry/ nice contrast to the more intense lyrics—The beats keeps evolving through the song, (including a whistle and acoustic guitar break, didn't see that coming) except at the very end where things tailspin a bit, as if someone were accidentally leaning on the sound board. Nevertheless, the overall impression is made, hate him or love him, All Day draws you in.

---
1. Touch by High Rule
High Rule is so fresh on the scene that when you put in a search for High Rule the rappers on Google, all that will return are photos and listings for Ja Rule. Touch is worth a listen if not just to hear the uniquely strange beats. Seis & Buoy out of Chicago released Touch the first week of February, and have been steadily gaining popularity ever since. The chorus shines light on a modern day communication dilemma "I love the way you touch me, but only through the touch screen" while the verses will make you laugh; "I just want to talk, but all I do is stalk you."