The more portable our lives become, and the more capable our smart phones are, other devices are being forced to keep up. We connect to everything we can, wifi, each other, and a myriad of devices. Sound on-the-go is hard to do. Volume, battery life, charging, durability, and portability all must be balanced.
The people who formed Altec Lansing helped create the technology that made movies talk, they powered the speakers at Woodstock and today they are leading the way in portable sound. From component systems to ear buds, Altec Lansing is raising the bar in what we can and should expect from sound. Recently Altec Lansing let us listen to some tunes with the Life Jacket 2 portable Bluetooth speaker and here is what we discovered…
What's in the Box:
Life Jacket 2 portable Bluetooth speakers
Usb cable
AC Adapter
Aux Cable
Mounting hardware and clamp
Cloth bag to hold everything
Specs:
IP67 waterproof
floats
Micro usb in for charging.
Aux in jack
Standard usb port to charge other devices
Bluetooth connectivity – +33 foot range
lithium-ion rechargeable battery
NFC
Voice commands for iDevices
Life Jacket 2 Review Breakdown

Design:
This thing is a brick, at 2lbs and 3.125″ x 7.5″ x 2.825", it has some real heft to it. It feels good in the hand, easy to carry. Not huge, but not pocket sized. I've carried it in my car, in a canoe, in my backpack. I forget it is there. The weight, that would be a problem for headphones, isn't for a portable speaker. I never found it to be too heavy. With the rubber cover closed the speaker becomes water, dust, snow, sand and dirt proof and helps keep the speaker from sliding or shifting. The speaker has a very quality feel.
Ease of use:
The only controls on the speaker are the power switch and the volume control. How do you pair to it? With my android phone I simply set it on top of the speaker, it automatically paired (via NFC) with it. It has 'voice confirmation' which means it tells you when it is turning on, pairing, or turning off. The buttons feel 'thin' through the rubber coating. Not sure how else to describe that, but they seem to work easy enough, not touchy, but solid.
Altec Lansing claims 33 feet for Bluetooth, I found the speaker to work at least that far away from my phone.
I also paired it through my kindle and laptop, both connected on the first try. It has an aux-in and cable for anything that can't connect via Bluetooth. The directions say it can be used as a speakerphone/voice commands, but that's an iDevice feature and I have an android phone, so I wasn't able to use that feature which was slightly disappointing, but I didn't know about the feature until I read the manual, so I wasn't expecting it to begin with.
Upgrades I'd recommend for the next version of this speaker would be: play/pause, skip, and repeat buttons. Also, the speaker is waterproof, but my phone is not. I'd like a little more control from speaker itself so I don't have to go back to my phone once I have a play list going.
Acoustics:
In a word? Surprising. Everyone who heard this speaker was impressed at the sound that came out of this box. No, it doesn't thump your chest with bass, but for its size it does more than expected. It easily fills a room with sound. We took it to a pool party and it filled the entire back yard with sound. It produces a clear, dynamic sound, something unexpected from a speaker so small, in my opinion. It truly surpassed my expectations.
Take this canoeing or kayaking. I tied it to hang from the cross bar and the sound reflected off the canoe all over the river. It was a blast. 5 hours on a 4 hour river trip (we took it slow) it cranked out music the whole time. Thankfully those with me either liked what I played, or more likely, tolerated my music choices.
Power:
The Life Jacket 2 has a battery life of 16 hours, more than enough for a canoe trip, a day out by the pool, a day at the beach, a weekend of camping, a few days worth of meal making (I play music while I cook) or a full day outside on the job site.
It comes with an AC adapter and usb cable for charging. This was the largest disappointment, but easily overcome. The included charger and usb cable only worked with the Life Jacket 2. They wouldn't charge any of my other devices, but thankfully the Life Jacket 2 can be charged by every other cable I have. The charger does its job, and works well, charging the speaker, but just don't count on it to do anything else for you. If you are only bringing one charger for your phone, tablet, and speaker, don't bring this one. In the grand scheme of things, this is minor but I'm still a little dumbfounded by it. You'd think all micro usb cables would be the same.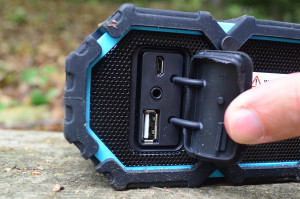 What else is there to say about power? Plenty! Not only does the Life Jacket 2 take a charge, it gives one too! You can plug your phone, tablet or mobile device into a separate charging port on the speaker and use it as a power brick to recharge your phone, or save outlets and charge the speaker and phone at the same time. This was an unexpected feature and one that secured the speaker a spot in my camping backpack for my next camping trip. I already bring a power brick with me, I might as well bring one that doubles as a speaker. The speaker does have to be on to charge another device, but I don't see that as a problem.
Portability: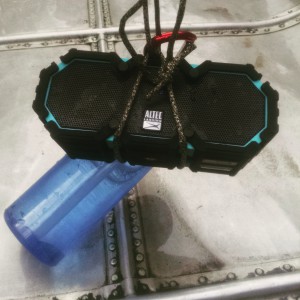 It's rugged, and well protected. I've submerged it in a pool and it floated to the top still connected to my phone and playing music. It got dirty, but it got clean again. I even got bbq sauce on the speaker cover while grilling and just rinsed it off in the sink, good as new. It's small enough to take with you, powerful enough to last while you are out, durable enough to take abuse, and you don't have to worry about leaving it out in the rain. My favorite use is actually in my kitchen. I listen to music while cooking and it fills the room. It's so loud I don't even put it on max volume.
It comes with a U-clamp and bracket that will attach the speaker to most any bar. I found it just as easy to tie it to the canoe when I went. The speaker is 2 lbs, and while I believe the bracket will hold on to the speaker, constant vibration, like on a bike, is going to cause the speaker to move the bracket and not point where you aimed it. It was easy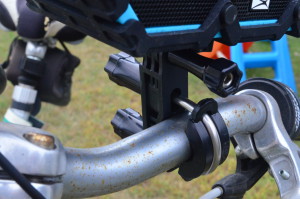 enough to figure out how it went together, and while it is a nice concept, I'm not sure how much I'll use the bracket.
Negatives:
As mentioned above, the lack of voice commands for android devices and the weird ac adapter and included usb cable were the only negatives I have to say about it. The voice commands would have been nice, but aren't something I was looking for in a portable speaker, and the charger does it's job and can be easily replace by every other micro usb charger and cable I have.
Value:
The Altec Lansing (iMW577) Life Jacket 2 Bluetooth Wireless Speaker retails for $149.95. While that might seem steep at first, I think that for anyone that has been disappointed by other portable speakers, will understand its value. It is everything that other speakers aren't. It sounds great, it is waterproof, it lasts, it is loud. Add on the ability to charge other devices and I just don't know why you wouldn't buy this speaker.
Buy Now: $149.99 or learn more at AltecLansing.com
Altec Lansing Life Jacket 2 - Gear Review
If you are in the market for a portable speaker to use with your laptop, tablet or smart phone, the Life Jacket 2 should be at or near the top of the list, followed closely by their smaller version, the mini Life Jacket 2, and a larger version, the Boomjacket. I said at the beginning, Volume, battery life, charging, durability, and portability all must be balanced, and Altec Lansing hits the mark in all categories.
The Good
Water/Dust/Shock Proof
Great, Loud, Sound
Long battery life
The Not So Good
Charger won't work with other devices
Lack of more controls
Voice commands only for iDevices.