As an owner of a LG Flex phone, known as the Cadillac of phones (both because of its quality and size, but mostly its size), working out with headphones attached to the phone has been a physically painful experience on my delicate ears. Enter Outdoor Technology's Orcas Wireless Ear-Buds. The Orcas were specifically designed for workouts, the more sweaty and higher intensity the better, with bluetooth pairing and sweat resistant features that allow you to secure your monstrous phone (hello iPhone 6 users) away from your hands for the duration of a workout. The Orcas also promise six hours of audio on a single charge, with a wireless range of up to 32 feet. You can answer calls with the built-in microphone, and utilize the 3-button inline controls for playing and pausing songs, changing tracks and adjusting the volume. And because Outdoor Tech realizes that every ear is as unique as a snowflake, it comes with 3 sizes of ear-pads, and 2 sizes of secure fit ear "fins."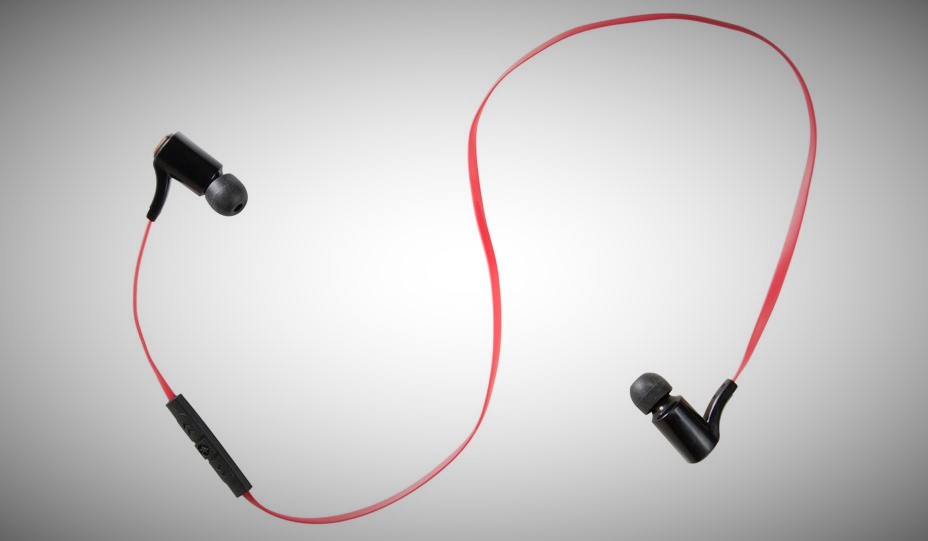 Orcas Wireless Ear-buds Review Breakdown
Design: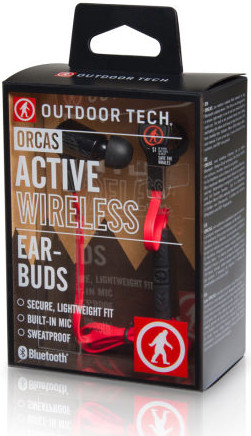 When the Orcas arrived, I was pleasantly surprised that the single cord connecting the two ear-buds short and compact, as I've spent too much of my life untangling messy standard headphone cords. The Outdoor Tech logo on the right ear-bud cleverly disguises the micro USB charge port, and coordinates with the red cord option (it also comes in black).
Comfort and Fit:
Knowing that there's nothing more annoying to a great workout than constantly having to adjust your headphones, I was worried because of the ear-bud style my experience would be an open and shut case of 'Doesn't work for me.' The first ear pads definitely didn't do anything to help the headphones stay in my ears, but after choosing a smaller ear pad, the fit was much better. When I started jogging in place to make sure, however, they came right out. Never having tried ear 'fins,' I was unconvinced they would add anything to a secure fit – but after I placed the little fins in 'upper deck' of my ears – well, I'll be darned, the headphones didn't budge, after my jog in place test, and later when I ran on a treadmill. Once they were lodged in there, I couldn't help but feel like my ears were jammed packed, causing a slight discomfort. Not something I would want in my ears for long periods of time (anything over an hour wouldn't be fun).
Audio Quality:
Sound quality on the Orcas opt for a crystal clear clarity over a heavy bass, which, with the ear-buds so firmly lodged into the ear, this is something of a relief. The max volume also seems to be set a little bit lower than typical headphones, again felt good to err on the side of caution for your ear drums with the snug fit. To give it the ultimate test, I used the Orcas over the roar of a vacuum, and the clarity still came through, clear as day.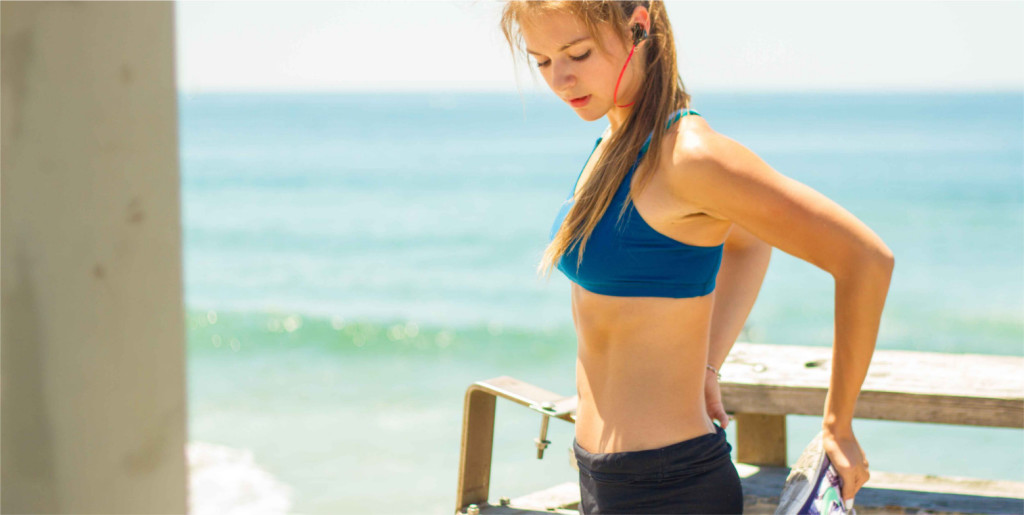 Ease of Use:
My favorite use of the Orcas was accompanying me while cleaning around the house and cooking. The hands free feature, and ability to get up and leave my computer I paired it with left me feeling almost giddy. I didn't have to lug a device around with me, I could just leave it sitting there! They came in handy when I forgot where I left my phone, which allowed for a fun little game of hot and cold (mostly 'and cold') within the 32 foot range.
Good Cause: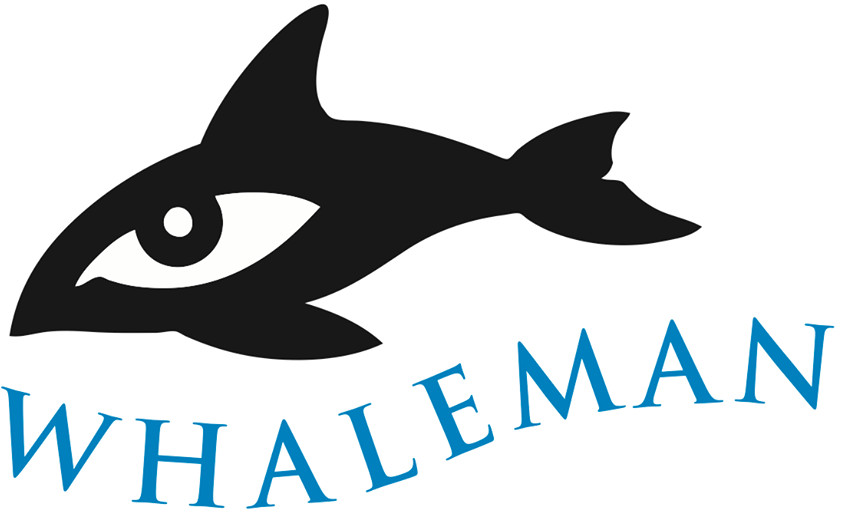 Always a sucker for a good cause, I was happy to hear that Outdoor Tech "puts its money where its blow-hole is" (nicely stated) and donates $1 from each pair sold to the Whaleman Foundation. The foundation, a super legit non-profit backed by the likes of Pierce Brosnan and Hayden Panettiere, uses research, campaigns, films, & media outreach to help affect cetaceans in positive way. Cetaceans being dolphins, whales, and porpoises for those (like me) who didn't know.
Value:
A pair of Orcas' retail for $99.95, which is firmly typical for the price of wireless ear-buds out there right now. There are cheaper options for around $30-50, but with the delicate balance it takes to secure a fit, I wouldn't chance getting a pair with cheaper or harder plastic (ouch).
Buy Now: $99.95 or to learn more, go to: OutdoorTechnology.com
Orcas Wireless Ear-buds - Tech Review
Overall the Orcas will be a good fit for workout enthusiasts and clean freaks alike, particularly those who are focused on the task at hand and don't want anything slowing them down. The fit takes some getting used to, but it's the small price to pay for convenience of a hands free lifestyle.
Pros
Hands Free
Clear Sound
Stays Put In Your Ears
Cons
Fit Can Hurt After Awhile
Not A lot of Bass
Ear Fins Easy to Lose When Not In Use