I know what you're thinking – another bluetooth speaker review?! Before you dismiss it, let me say that this speaker is different. It was obvious from the minute I powered up the UE MegaBoom that the bar for portable speakers was about to be reset.
The MegaBoom is the successor to the well received UE Boom. As you might expect it's bigger, louder, and has better battery life than the regular Boom because MEGA. Logitech, the parent company of Ultimate Ears has always been known for higher quality audio products than you'd typically expect in the value price range. When Logitech purchased Ultimate Ears, it maintained the brand as a luxury line of sorts for people looking for a higher level of quality in their audio products – even for portable Bluetooth speakers.
Key Stats:
360 Degree Sound
Doubles up with a second UE MegaBoom
IPX7-Rated Waterproof
20-hour Battery
100ft Bluetooth Range
Alarm clock feature
Dedicated App
Rugged build
Customizable EQ
The Sound
Let's jump straight to the most important question for the device – how does it sound? The best way to describe the sound reproduction on the UE MegaBoom is to relate it to another device you may have come across since sound quality is fairly subjective. This portable speaker produces sound similar to a studio monitor speaker set, or studio monitor headphones. If you've used either, you should know what to expect; crisp even sound, punchy but not loud bass, and clear, bright highs.
"It's the best sounding portable Bluetooth speaker I have ever heard at any price."
Studio monitors have the goal of accurately reproducing sound across the EQ spectrum without a particular emphasis on one end (such as bass). They're also designed to sound good at any volume, even low volume, something that's usually an extreme weak point in bluetooth speakers. Take all of that and you have the UE MegaBoom.
At the standard EQ setting, the UE MegaBoom is as I've described above and it's the best sounding portable Bluetooth speaker I have ever heard at any price. That said, I prefer the studio monitor sound reproduction. My every day headphones are Sennheiser HD 280 Pro studio monitors. My desktop speakers are studio monitors, etc. The sound style might not be for everyone, so luckily the companion app (available for iOS and Android) lets you choose from a few other EQ presets and even customize your own.
The Volume
You probably want to hear about how loud this thing can get but to me the more interesting part is how quiet it can be while still being totally clear and enjoyable. As I'm writing this I'm listening to a live stream of a Jaime XX set at the boiler room at 10pm while my kids are asleep. I've got the MegaBoom at about 10% volume and it still sounds perfect. The bass is clear and pleasant but it won't wake anyone, the mids and highs are bright and perfectly audible.
The majority of the time I'm using a portable speaker it's at 50% volume or less since I'm using it alone or with my family more frequently than throwing a party. With other devices I've used, the volume needed to be increased beyond what I really needed or wanted just to get decent sound. Not the case here and I love that. But when it's party time, squeeze on the giant plus sign to turn up the volume until it beeps (indicating you've hit the max) and hold on to your butts. This thing gets loud, really loud. Too loud for all but the wildest indoor parties but perfect for an outdoor pool party or BBQ. I have a large backyard and last week at my daughter's birthday party we cranked it up with 40+ people in the yard and it was so loud, even at the other side of the yard, that we had to shout over it and turn it down. What's more is that it was crystal clear at full volume, not even a hint of distortion. Pretty remarkable for something the size of a thermos.
The Battery
Prior to the emergence of a few good sounding Bluetooth speaker options, the main factor that made a good speaker was battery life. If you could get 6 or 8 hours of use, you had a pretty good speaker. That's about the minimum for any portable speaker today but the UE MegaBoom goes far beyond that again. At 20 hours of battery life, this is one of the longest lasting portable speakers you can get. I wasn't able to put the device through a proper battery test, but in my real world use of it, I haven't had to charge it once yet. That includes an entire afternoon of backyard BBQ and several weeks of periodic use.
The one gripe I do have with the device is that it's very difficult to access the battery charging port. Not that you'll have to do it very often, but the first time I tried to unscrew the charging flap at the bottom, I had to use a flathead screwdriver to pry out the port cover. That's as much a testament to the build quality as it is a complaint though.
The Build
The construction of the UE MegaBoom is great. It's built using durable materials that have a premium look and feel similar to high end cell phones that aren't all metal. In addition it's IPX7-Rated Waterproof, meaning that it will survive a rainstorm or a drop into a kiddy pool, stream, beer cooler etc. without issue. You won't want to let it sink to the bottom of a lake but in practical use it's plenty waterproof – same as the Apple watch in fact.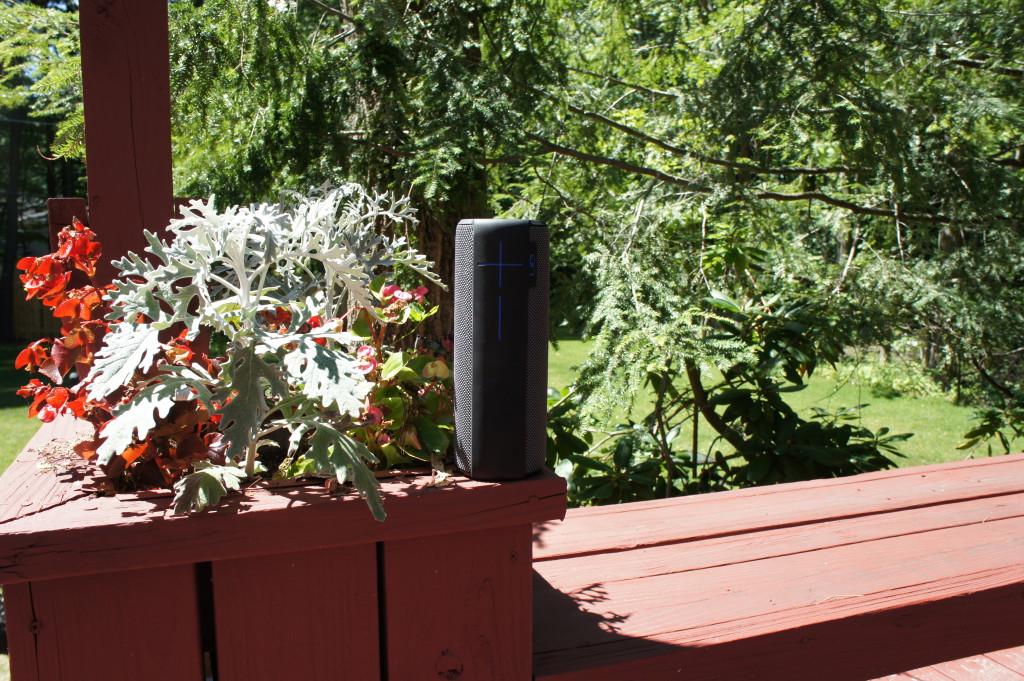 The speaker is hefty (2lbs) adding to the feeling of quality. The rubbery surfaces and thick mesh speaker grill are grippy and give you a lot of confidence when bringing it around or perching it somewhere unstable. For the sake of keeping what's become my favorite portable speaker in tact, I haven't performed a drop test or crazy water submersion test – but suffice it to say that it's far more durable than a Bose Soundlink or similar.
The giant volume controls are an acquired taste, but everything about this speaker is geared toward being bold. One thing's for sure, you won't miss the buttons when you try to press them, they're huge!
The Features
Most portable speakers have the same feature set but the UE MegaBoom does the basics better than the rest and adds some unique elements to boot. For starters, the Bluetooth range is crazy good, up to 100ft! In my use I never once lost the connection to the speaker from my phone, even sprinting around the yard with my kids or going inside. For comparison, I'd loose the connection if I lost line-of-sight with my previous player.
It also allows for pairing up to 8 devices over Bluetooth and even allows 2 devices to be connected simultaneously – great for splitting DJ roles with a buddy. You can also add a second UE MegaBoom speaker which can pair up with the first to deliver double the sound (either in stereo or replicating the stream on both).
It even comes with its own mobile app on iOS and Android. The mobile app is more than just a gimmick. It allows you to update the firmware on the speaker adding enhancements and improvements. It lets you set an alarm so that you can wake up to music in the morning. It lets you adjust the EQ, the volume, and even power the speaker on/off from the app. Finally it lets you configure the "double up" feature if you happen to have two of these babies.
Conclusion
This was a gushing review for a reason, the UE MegaBoom is awesome. I have literally a dozen Bluetooth speakers and this is by far the best I've ever used. At $299 it's an expensive option in a sea of cheap junk. If you value a good sounding speaker though, this is the best portable Bluetooth speaker you can buy right now at any price in my opinion.
Buy Now: $299 or to learn more, go to UltimateEars.com
UE Megaboom Portable Speaker - Tech Review
This is the best sounding portable bluetooth speaker you can buy for the price.
PROS
Superb sound reproduction
Days of battery life
Room filling sound
CONS
Too large for some
Cumbersome to charge
Expensive