Busted Wallet is no stranger to Braven's line of outdoor Bluetooth Speakers. We love their rugged yet portable design, superior sound and battery life. So when we got our hands on the new Braven BRV-HD, we were expecting a quality speaker, but what we received blew us away. Taking a step away from the more compact,  tough looking outdoor speakers, the BRV-HD is bigger, and bolder than the rest but still looks great sitting on your kitchen counter or nestled in a book shelf in your family room. But its best feature…it's loud. Like, really loud! We've been know to gather together and enjoy some jams (and beverages) around a campfire or during happy hour and the volume and power coming out of this speaker simply floors people. When someone yells, "Turn it up!" the BRV-HD doesn't disappoint.
Tech Specs:
3.5 mm Stereo Input
Micro-USB-to-USB data ports
Wireless pairings
2 drivers
2 passive radiator
Dual-band limiters
Built in microphone & speakerphone
8800mAh rechargeable lithium-ion battery
28 hour playtime*
IPX3 certified water-resistant
Braven describes the BRV-HD as the biggest, baddest, BRV speaker yet. The BRV-HD Bluetooth Speaker packs high definition audio into a rugged, water-resistant package with 28 hours of wireless play time. You can take into the elements with its shockproof exterior and aircraft-grade aluminum grill. The BRV-HD doubles as a smartphone or tablet charger and answers incoming calls using the built-in noise-canceling speakerphone. With enhanced SRS WOW HD sound and wireless daisy chaining to a second BRV-HD speaker, be prepared to throw an outdoor party like no other.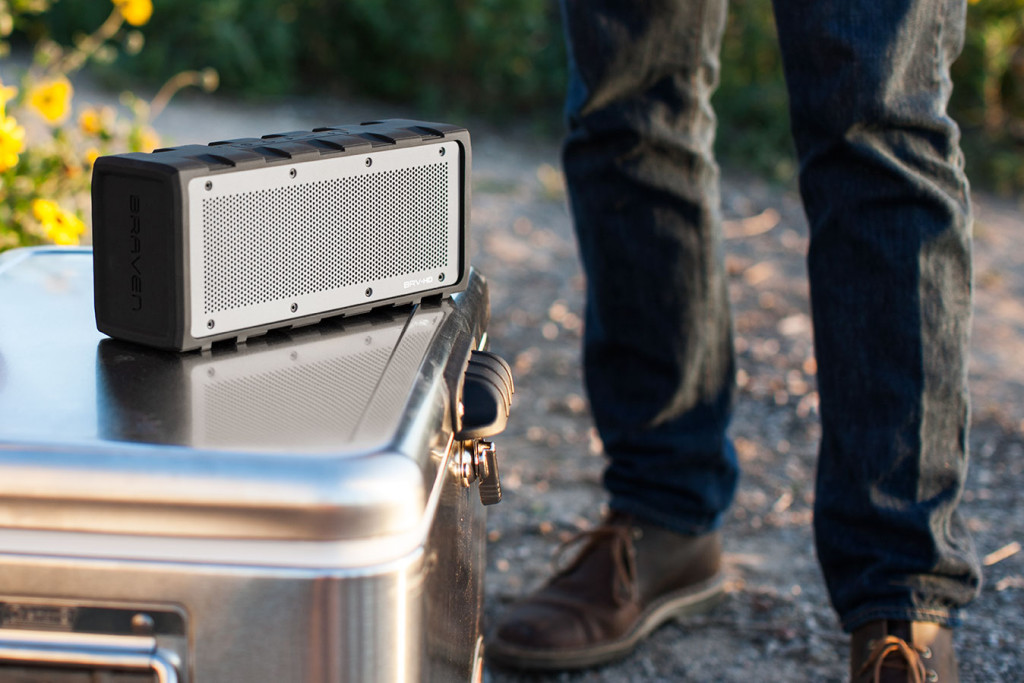 Braven BRV-HD Review Breakdown
Design:
Weighing in at a whopping 4.06 lbs. and 10in x 3in x 4.3in, this speaker isn't to be tossed around and probably wouldn't be our first choice to accompany us on an outdoor adventure. However, it is definitely the only one we want to supply the music or broadcast a game at the next Busted Wallet tailgate, porch session, or bonfire. It simply out blasts the competition with it's volume levels and sound quality.  It's shockproof exterior keeps the device firmly in place while resting on the trunk of your car or porch railing and even boasts an IPX3 weatherproof rating. As usual, it's battery life indicator lights are visible behind the weatherproof seal but you can also check the battery level on your phone while you're connected. A small battery icon will appear to the right of your bluetooth symbol and display how much juice is left.
Another added perk of most Braven speakers, including the BRV-HD is it's phone charging capabilities. If you find yourself low on cell phone battery life, simply plug it in to the BRV-HD using a USB cord you'll be back to sending taco emojis in no time. We love this feature, but it does affect the speaker's battery level drastically! While charging with the AC power supply plug, the BRV-HD from 0% battery to 100% took, on average, about 4.5-5 hrs. And from our experience, we didn't quite make it to the *28-hour play time Braven advertises but that is probably due to how hard we like to party loud pump the volume!
Audio Quality:
Did we mention how loud it is? When tracking it with a decibel reader, we were most impressed with it's volume at about 50%-80%, or around 80-85 decibels. That level filled a backyard and rocked a kitchen dance party. But when we wanted it loud, it got loud, reaching decibels in the upper 90s but that is where it's sound quality began to drop.
Answering phone calls from the Braven BRV-HD is a breeze, just push the telephone icon on the top of the speaker and have a crisp, clear conversation hands free. Just make sure the person on the other end knows they're on speaker because everyone within a 20 yd radius will be able to hear you!
Functionality:
Braven is a leader in the Bluetooth speaker industry thanks to its user friendly design and operational features. One of our favorites is being able to skip forward and backward between tracks on a playlist. Volume control is still recommended to be controlled by the phone or mp3 player for best quality, but is still possible from the speaker. We'll let Caroline from Braven walk you through how easy it is to pair your device and operate the BRV-HD's many features.
Durability:
Because of its size and weight, the BRV can definitely hold its own when it comes to being tossed around in different elements. We took out on a speed boat, on a rustic camping trip, to the beach, and even pushed it off a countertop (which created a dent in the wood floors…oops!) but nothing phased the Braven BRV-HD. Its rubberized case fully protects it on the top, bottom and sides, while the front and back aluminum grills are tough enough to prevent any major damage from occurring.
Value:
The Braven BRV-HD comes with a hefty price tag at $299.99, but if you're looking for a speaker that can satisfy your outdoor speaker needs as well as work as an in-home deluxe sound system, this will fulfill both options. With the power and quality that comes out of this speaker, we believe it is a valuable investment for all your outdoor barbecues and cocktail parties to come.
Buy Now: $299 or to learn more, go to: Braven.com
Braven BRV-HD Bluetooth Speaker - Tech Review
Overall, what we love most about the BRV-HD is the acoustical levels it is able to reach with each click on the volume button. Just when you think it can't get any louder, it does! It works as a perfect music companion to numerous outdoor activities while seamlessly transitioning to your in home bass bumper. In the words of the pros over at Braven, "Music isn't just a backdrop; it's an experience." So if you're looking to take your music experience to the next level, do it with the Braven BRV-HD!
The good:
Loud!
20+ hour air time
Integrated controls