As the air starts to cool down and the leaves start to change, that means one thing: Tailgate season! Some look forward to Ugg Boots and pumpkin spiced lattes. Here at Busted Wallet look forward to firing up our Weber Q 2200 gas grill and getting the tailgate party started! Nobody is a stranger to the Weber family of grills and for good reason. With Weber, you are always going to get a quality, high-performing grill. The new Weber Q 2200 gas grill arrived just in time for our first tailgate of the season on the campus of Michigan State University. Our tailgating neighbors were so jealous that they asked if we could cook their meats on our grill. We've never been more honored to grant that request. How did the grill perform? Here's what we discovered…
Weber Q 2200 Key Features:
Porcelain- enameled, cast-iron cooking grates
Electronic ignition
Cast aluminum lid and body
Folding side tables
Glass-reinforced nylon frame
Removable catch pan
Infinite control burner valve
Weber Q 2200 Gas Grill Review Breakdown
Setup:
Overall, the setup and assembly of the grill is simple. The instructions to setup all fit on one page of the manual and you are done in 6 easy steps. If this is your first portable gas grill we do recommend reading the important information regarding the gas connections and ensuring safety. From the time, we opened the box to lighting the grill up took less than 25 minutes. The longest process is just unwrapping the different the components from its packaging, actual assembly is 10 minutes or less.
Design:
While our first experience with the Weber Q 2200 was tailgating, this grill is a great addition to your backyard deck or patio. While it may look small, it offers more than enough cooking space. The grill features convenient side tables that have enough space for seasonings, spices, and other cooking supplies. It has some convenient areas that you can easily hang your grilling equipment as well. The electronic ignition allows you quickly and safely start your grill. The grill also features an infinite control burner and porcelain-enameled cast-iron cooking grates. The cast-iron grates are really well built and make for a great cooking surface that heats up nice and cooks evenly.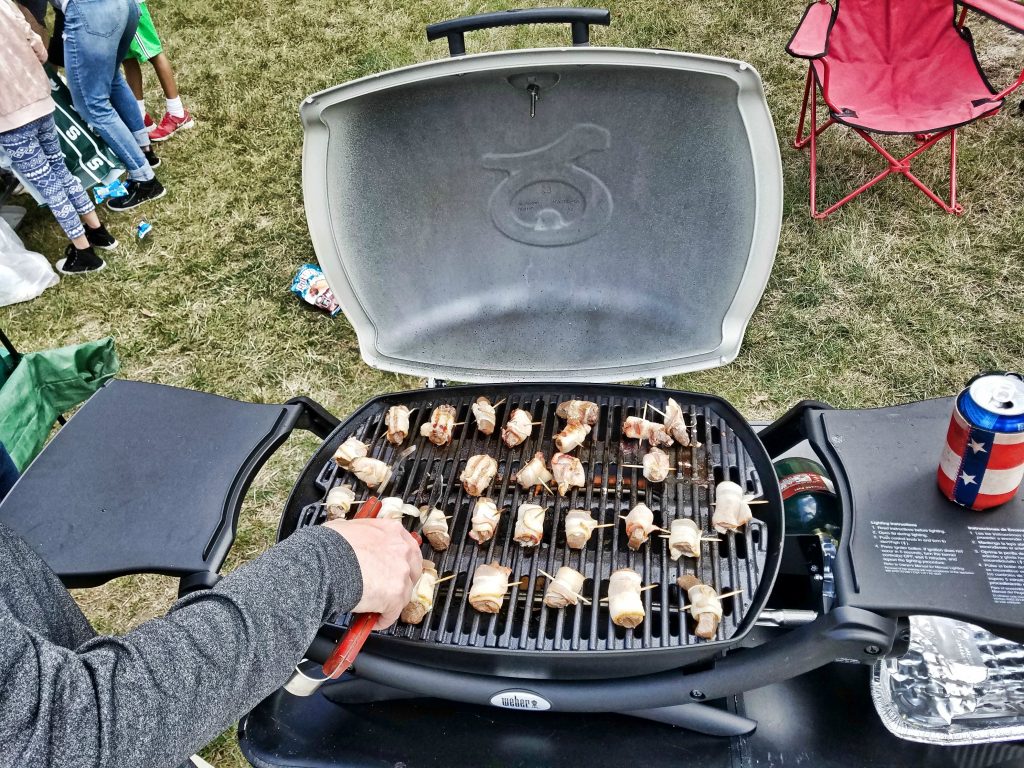 One of our favorite design features is the cast aluminium lid and body. The whole grill just feels really solid and well-built.  The built-in thermometer is always a nice touch so that you know you when your grill is ready to cook. While the Q 2200 may look small, it is more than enough to handle all the burgers , hot dogs or other meats that you want to cook. Don't let the size fool you. Overall, the Q 2200 is well designed and built, as you would expect Weber.
Performance:
One of the most impressive things about the Q 2200 is how quickly it heats up to your necessary cooking temperature. Often times, smaller grills have poor burner performance and don't retain heat that well. With the this grill, you don't have those problems. We mentioned the cast aluminum lid and body and this really makes a big difference in terms of performance. The grill heats up very quickly and holds heat well. When you open the lid to flip the food, you will lose a good amount of heat. Once you close the lid, the Weber gets back to your cooking temperature very quickly. We love charcoal grills as much as anyone, but this little gas grill offers something different; convenience.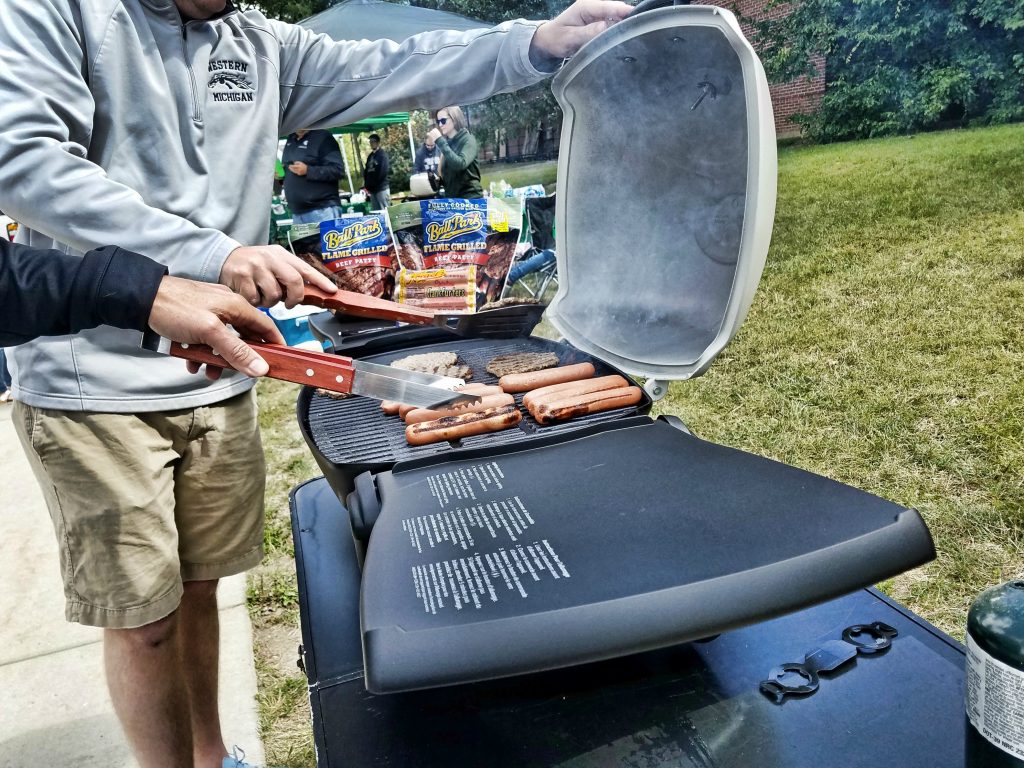 When it's Monday night and you get home from work after a long day and the kids are screaming for burgers and hot dogs, you don't want to get the charcoal grill going. You need to feed mouths now, but you are perfectionist and you don't want sacrifice quality and flavor, then the Q 2200 will give you what you need to cook a perfect meal in a short amount of time.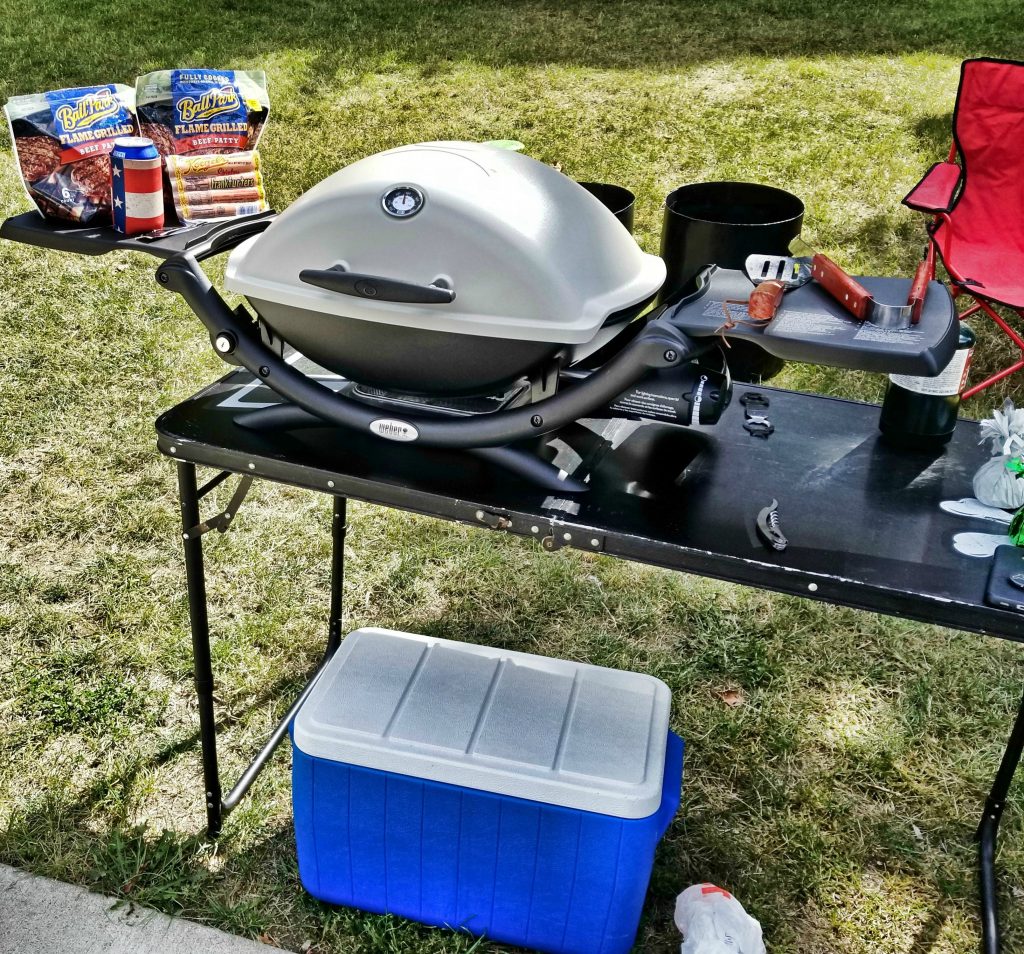 Value:
Priced at $299.00, the Weber Q 2200 delivers great value. The grill is versatile in that it can go anywhere. It looks great in a tailgate lot, on your back deck or on a campsite. Wherever you want to take the grill, it can go with you. With the side tables being able to easily fold up inside the grill, you can make it compact and slide it anywhere without taking up too much space. With a Weber grill, you can always count on it being able to perform and it will last you for a long time. If you are in the market for a grill that go anywhere with you and you only want to purchase one grill, then we highly suggest you consider the Weber Q 2200 Gas Grill. You will not be disappointed.
Buy Now: $299 or visit Weber.com for more information
Weber Q 2200 - Tailgate Grill Review
When someone from another tailgate party comes over and asks if you can grill their food because they are jealous of your grill, then you know you have made the right decisions. The Weber Q2200 is a well-built grill that delivers high-quality performance. Your meat and other food will appreciate your investment.
The Good:
Easy setup
Retains heat very well
Grill works for any location and occasion
The Not So Good:
Heavy- but due to impressive cast-iron and cast aluminum materials- so not really a bad thing!