Summer has arrived and that means so has grilling season! At Busted Wallet we enjoy the outdoor life and there is no better compliment to a day outdoors then firing up the grill and cooking some delicious food.  Our friends at Char-Griller couldn't agree more, and recently set us up with their AKORN Kamado Kooker and assured us we would not be disappointed.  Kamado cooking is a traditional Japanese wood or charcoal fueled cook stove. The style has been around for over 3,000 years and has evolved, but has seen an uptick in popularity in recent years as more modern versions such as the AKORN and the Green Egg have become more mainstream.  These grills are versatile due to the fact that they allow you to charcoal grill or use it as a smoker.  We were happy to head to the store to pick up some food and put the AKORN to the test. After a month of testing and eating like kings, here's what we discovered…
Key Features:
Triple-walled Insulation for heat retention
Durable Steel Construction
Triple-Walled Insulated Steel
22-Gauge Steel Exterior Body
Solid Cast Iron Cooking Grates
Wide Temperature Range: From 200° to 700° F
Stainless Heat Gauge
AKORN Kamado Kooper Review Breakdown
Assembly: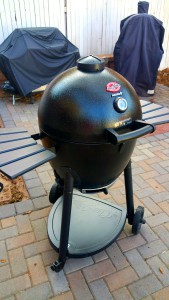 The good part about the assembly on the AKORN Kamado Kooker is that the longest part of the assembly is just getting everything out of the box.  Once you have everything laid out, the grill is fairly simple to put together.  The instructions could be a bit more detailed as there was some guessing going on but once you get the concept you really do not need the instructions.  If you don't like manuals there is a great YouTube video by Ken Fisher that does an excellent job of walking you through everything.  The pieces are light enough that one person can do the entire assembly on their own.  From un-boxing to completion, the entire process took a little over an hour.
Design:
Once assembled the shape of the grill will resemble the very popular Green Egg, but don't think that it's a knock off. Most Kamado style grills are built very similarly because these grill styles are the more modern version of the Japanese kamado, an earthernware cooking urn whose original design is said to be at least 3,000 years old.  The Char-Griller version features a triple wall, insulated steel egg that is much lighter and than ceramic Kamados.  While typical Kamado grills are ceramic, don't think for a second that reduces the quality of Char-Griller version or makes it less durable. By not using the extremely heavy ceramic it allows for a more cost efficient product and with a high-quality manufacturing process you are still getting an extremely well-built Kamado grill. Char-Griller appears to have created a cooker that performs pretty close to traditional Kamados at a fraction of the cost.  The body features 22-Gauge Steel which is high quality and should keep the grill around for a long time.
Inside the grill features a cast iron grate with a removable center that allows you to add coal.  The grate also has holes that allow a small chrome plated rack on a swivel post that can be popped into the holes that is used warming or slow cooking. On the side of the grill it offers a couple of small tables and below those tables comes with hooks to hang your utensils on.  While the grill is compact it did a good job of storing food and necessary supplies.
Temperature Control:
As with any charcoal grill temperature control is essential to grilling that perfect piece of meat. Our first few runs on the AKORN Kamado found us struggling to get past 350 degrees and we started to get concerned.  Then we realized that we were using extremely old charcoal that was not burning well.  Once we switched out for some fresh charcoal we get a lot better results.  The manual states that the AKORN can get up to 700 degrees, the highest we achieved was 650 but that wasn't an issue for us because you don't need to hit 700 degrees.  If purchasing a Kamado grill for the first time it is important to note that these grills are designed to retain heat.  With this in mind you will find yourself extremely frustrated if you over shoot your desired temp and try to get it back down.  It is best to take a conservative approach as you can always open the air vents to get more in and increase your heat.  It took us a few sessions to dial in the temperature, but we were happy to try and get it right.  Remember this style of cooking is a process, so if you are looking for quick jumps in temperature and for a fast process, then charcoal and Kamado style cooking might not be for you.
Durability:
Given the price of the AKORN Kamado Kooker durability was an obvious concern but when you dive in to the materials they used to produce the grill, you can quickly put those fears to bed.  The triple-walled insulated steel and the 22-gauge steel exterior body equate to a very rugged and durable grill.  We did have an issue with a seal coming loose around the chimney that allowed some water in and did some damage to our grate.  However, we contacted customer support and they replaced everything and even some parts that were not affected just to make sure.  While we could have avoided this by having a cover on it, Char-Griller stood by their product and rectified the situation quickly.  We have not had a problem since.  With the quality materials and a responsive manufacturer to address any concerns, you will have this grill for a long time.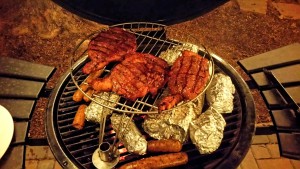 Value:
Priced at $299.99 the Char-Griller features tremendous value.  While the more popular Green Eggs will run you anywhere from $600-$1000 or more, this is a great start if you are interested in the Kamado style grilling.  In addition to having a great price point, the grill is extremely versatile that will allow you to grill or smoke.  If you are someone who enjoys grilling and loves the process, then we suggest trying out the Char-Griller AKORN Kamado Kooker.  You deserve a better grill and so does your food.
Buy Now: $299 or go to learn more, go to: CharGriller.com
Char-Griller AKORN Kamado Kooker- Grill Review
If you are interested in Kamado style cooking or are looking to upgrade your grilling options, then the Char-Griller AKORN Kamado Kooker deserves your consideration. The impressively designed and built grill will add great versatility to your grilling options for an extremely impressive price point.
The Good
Great Price
Easy Assembly Process
High-Quality Materials
The Not-So-Good
Takes Time to Get Temperature Right
Could Not Reached Advertised Max Temp