"Roughing it" is now a thing of the past. With solar-powered tents that can charge your phone and self inflating mats it's hard to imagine camping without modern technology. The
Eureka! Gonzo Grill
falls right into this category by introducing an all-in-one grill to compete with the one you have at home.  It is the perfect size to fit in the back of your vehicle for some game-day tailgating or on top a picnic table at the local campground.  Through innovative, top quality products, customer loyalty Eureka! is climbing it's way to the top of the camping market. As one of
Johnson Outdoors Family
core brands, they are known for creating the best outdoor experience possible. Eureka! remains a trusted camping outfitter, focusing on innovation and customization. We were excited to get our hands on such an innovative grill, here's what we discovered…
Key Features:
Weight: 14lb 3 oz
Size: Width 14 in by height 11 in
A single 10000 BTU/h burner
JetLink Output Port allows for connecting multiple Eureka! grills or stoves running from a single propane fuel source
3 types of surfaces to utilize
Steel lid with vents
Adjustable legs
Cast iron cooking surface—grill or griddle
Nylon Grill Cover
Design:
A cast iron grill is always a double edged sword.  The great parts are that is holds heat very well, provides easy clean up, and lasts forever.  The down fall is that it weighs a ton and if not treated correctly tends to rust.  Coming in at 14 lbs overall that makes this incredibly heavy for it's size.  Another little bit of an issue was what I labeled "invisible flame".  While cooking outside during the lighter part of the day, the burner flame is not visible.  Making it very difficult to tell if the flame was on.  Obviously I could feel the heat, but from a distance some one might not realize a steady stream of gas floating out in the air.  Other than that you can tell they really thought of everything, from handles for easy carrying to adjustable legs for uneven terrain.  For those who might not be the greatest griller, they offer an recessed stove grate for standard cooking. Or just for other options like bowling water or busting out the skillet.  Every piece of the Gonzo Grill has its own compartment.  The fuel regulator and grill hook fit perfectly underneath the base making storage ideal.  No longer will you be searching all over for the necessary parts.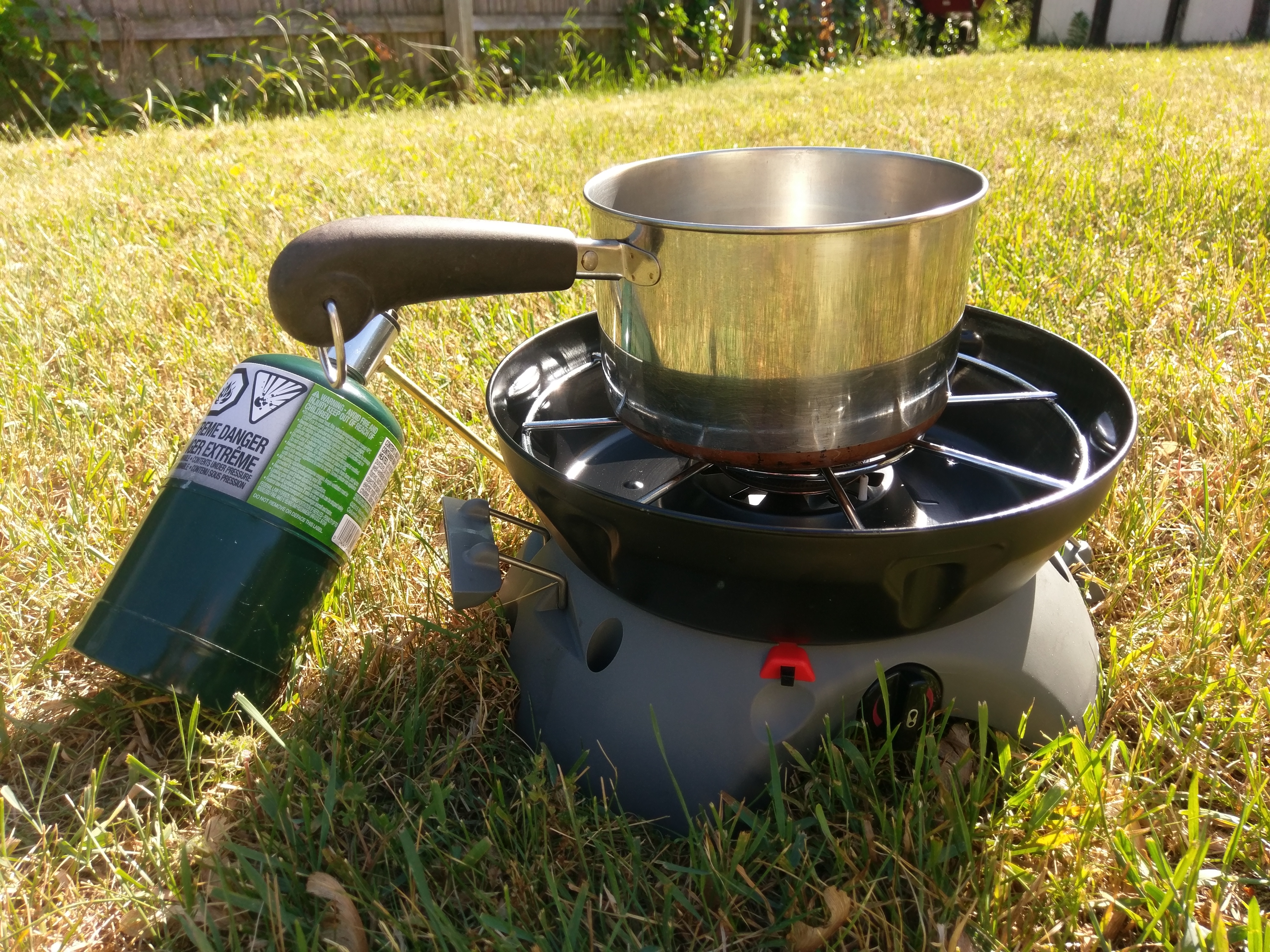 Ease Of Use:
Putting together the Gonzo Grill takes roughly about 5 minutes.  Straight out of the box you really only need to put on 4 things and you are ready to roll. Install the handle on the grill cover, screw in the fuel regulator, and then fuel source.  From there it is simple as turning the burner knob and pressing the ignitor switch.  To my surprise the switch actually ignited the flame with the first press, normally it fails a couple times before I get upset and grab matches.  Getting up and running was the easy part, the problem was regulating the flame.  There wasn't a good way to gauge what flame level I was actually at.  From on to full blast there is about 4 full rotations of the burner knob.  Cooking something a little more delicate like eggs took a little practice to not burn or over cook.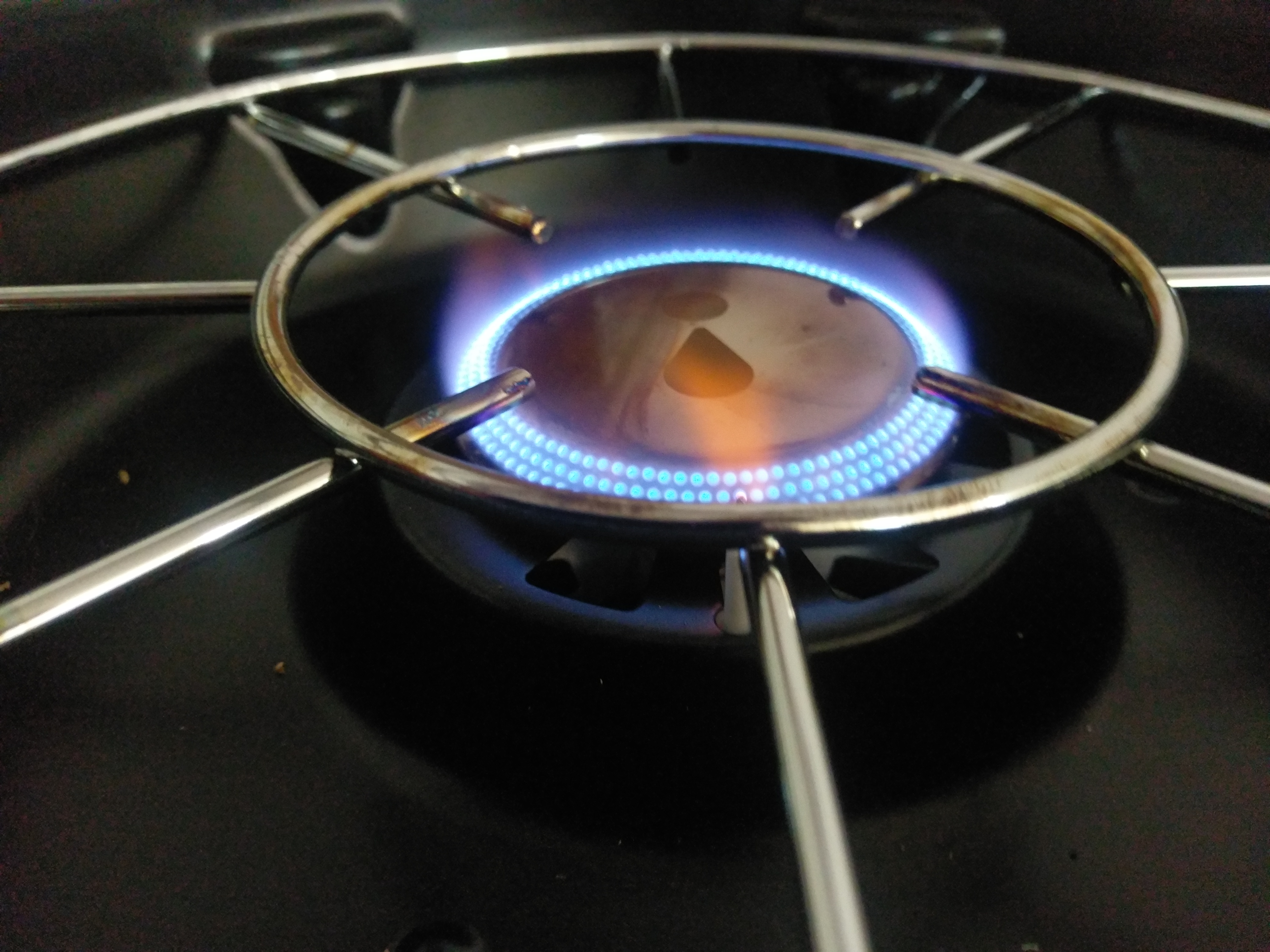 Results:
Once I was was able to figure out the burner degree I became a grill master.  Burgers came out done without drying out, steaks were a nice med-rare. I actually had a lot of fun testing this out in the back yard.  My neighbors were definitely thinking I was having a bbq with all the grilling I was doing.  I found my self grabbing everything I had in the fridge to throw on and everything turned out great.  Very impressed with the overall results.  Though if you were competing for master chef I will warn that the grill marks did not look the greatest.
Customer Service:
This really does not have any thing to do with the over-all review but I feel it is something easily over looked. After the first couple of uses I ran into a problem with the Fuel Regulator not functioning at all.  I felt I could not finish the review with only a few uses under my belt.  At this point I called customer service and was received with a sweet, kind voice from the other end.  She introduced herself as Terry and asked how she could help.  I explained to her my dilemma and we were able to narrow down my issue. Without hesitation she had the part ordered and I was on my way.  I just want to take this time to applaud the Johnson Outdoors Family on their excellent customer service.  Terry was amazing and made the frustration of a product not working correctly disappear.
Value:
As for the overall price, it might seem a little high at first.  When I first started this review, I thought it might be possibly overpriced.  After I used this grill a couple times it became apparent that Eureka! took the time to make this a product that will last for a long time.  As long as you take care of the cast iron, this is going to last you years to come.  Plus it takes camping to the next level with the flat iron side.  Is $189.95 a little high, yes, but the investment is well worth it.  Plus talk to Terry if you have any issues, she will take care of you.
Buy Now: $189.95 or to see more, head to: EurekaCamping.com
Eureka! Gonzo - Grill Review
Having the amenities of a home grill in a portable size is always a plus in my book. The Gonzo Grill is a perfect size for a small family camping or tailgating with a group of sports fans. Being so versatile it has a option for even the pickiest of eaters. If luxury camping is more your style then the Gonzo Grill definitely is a must!
The Good:
Super Easy Usage
Grill Anywhere, Anytime
Griddle or Grill
The Not So Good:
HEAVY
"Invisable Flame"
Lack of Burner Contol