January is here and the sky stretching over Lake Michigan is heavy with snow clouds. As Michigan becomes an arctic tundra, keeping your tootsies warm becomes priority number one! For years I have relied upon the quality, craftsmanship, and coziness of UGG boots to see me through snow-pocalypse after snow-pocalpyse. That is why I was geeked to test out UGG's newest winter sneaker the Croft Luxe Quilt.  Here's the lowdown.
Key Features
High-top sneaker style that folds down to reveal beautiful quilted sheepskin detailing
Sleek leather exterior available in three neutral colors
Classic UGG Sheepskin lining
UGGpure™ wool heel lining
PORON® and foam insole (have you ever walked on a cloud?)
UGG Croft Luxe Quilt Style Review Breakdown
Style 
A departure from the classic UGG boot, the Croft Luxe Quilt combines UGG comfort with urban high-top sneaker style.  I tested the Croft Luxe Quilt in a gorgeous buttery chestnut color that complimented my daily wardrobe perfectly. I loved the simplicity of the shoe under a pair of boot cut or flared jeans. The leather against the white sole of the shoe really makes an outfit pop and lends a touch of "high fashion" feeling to an everyday outfit. When I felt sassy, I would put on my favorite pair of leggings to showcase the sheepskin detailing of the Croft Luxe Quilt. Though I preferred to wear the shoe laced fully-up, I did have fun creating my own style with a half or full roll down to feature the plush quilted sheepskin.
My only critique of the Croft Luxe Quilt's style is its trendiness. Sure, high-top sneakers with sheepskin detail are on-point now, but they may not be relevant come next winter.  If you are looking to add some fun to your wardrobe, this is certainly the shoe for you. However, if you want a more timeless piece, an UGG Classic Boot might be a better fit!
Design & Construction
The Croft Luxe Quilt may be a modern interpretation of a sneaker, but the design and construction is classic all the way. Each seam is double stitched for durability and the sheepskin detailing is sewn to the leather exterior so there is no fraying or pilling. The high-top is designed to fold over to feature the sheepskin, which it does with ease. After multiple wears, I was pleasantly surprised that the leather had not show signs of creasing. I attribute this to the quality and suppleness of the leather. The sole of the shoe is flexible and wrapped in a classic white wall foxing that is top-stitched to the shoe. There is no gaping or creasing in the foxing, even when walking. The Croft Luxe Quilt definitely lives up to UGG's reputation for quality construction!
I found that the soles of the shoes were easy to keep clean with the wipe of a damp cloth. The leather is also easy to care for, particularly if you use UGG's leather care kit which is available for a very reasonable $25.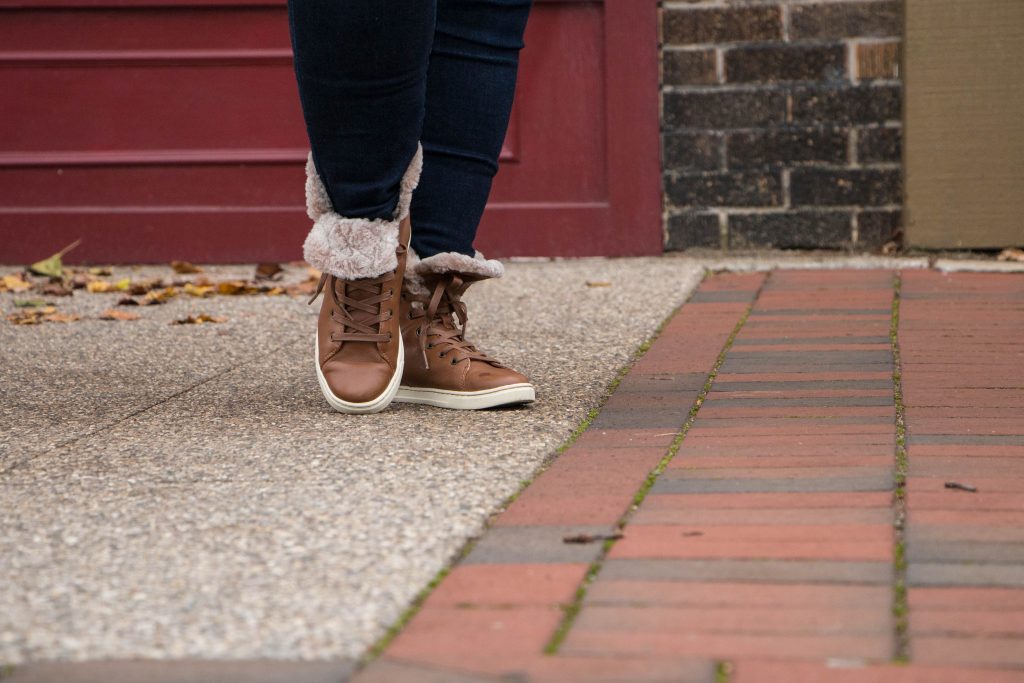 Comfort
We all know that "UGG" is synonymous with comfort, and the Croft Luxe Quilt is no exception. The quilted sheepskin lining is like a warm hug for your foot. The heel of the shoe is further lined with wool to give support and extra squish. Although the entire shoe is not lined with sheepskin, it does boast a super-soft jersey knit lining. Even in freezing temperatures, my feet stay nice and warm all day long.  If your feet need extra TLC I would suggest upgrading with UGG's sheepskin insole, which can be added to any UGG shoe for a very reasonable $15.
Like other UGGs, the Croft Luxe Quilt is a flat-soled shoe without arch support. Even so, I was pleasantly surprised that this shoe is comfortable for all day wear. This is, in no small part, due to UGG's PORON foam insoles, that cradle your foot in a cloud of comfort.
Value
The style, versatility, and quality craftsman ship of UGG's Croft Luxe Quilt is truly impressive. I know that this shoe will take me from Fall through Spring for years to come. That is why we feel that the Croft Luxe Quilt is an affordable luxury at $150.
Buy Now: $150 or to learn more, head over to: UGG.com
UGG Croft Luxe Quilt Sneaker - Style Review
UGG's Croft Luxe Quilt is a new take on a classic sneaker. With UGG quality materials and craftsmanship, the Croft Luxe Quilt is a great value for a winter shoe.
The Good
Supremely comfortable and warm.
Versatile and easy to style with any wardrobe.
High quality materials and craftsmanship.
The Not So Good
The flat sole does not provide arch support.
The leather must be cleaned and cared for, especially in the winter.
The high-top style of the shoe is trendy and may go out of style.