This gift guide was made possible by the fine folks at GoPro
It's that time of year once again. The gift giving holidays are knocking on the door. It's time to make your wishlist and get cracking on shopping for the ones you love. It's no easy task. What do you really want? Better yet, what you need?
Well friends, this year you're in luck because your friends at Busted Wallet have got your back with a slew of great products that we've personally tested and reviewed throughout the year – and now compiled into an easy to consume holiday gift guide. The products you'll find below were some of our staff's personal favs from 2015 and include everything from bluetooth speakers to booze to coffee makers, and much more.
Now we could continue to ramble on and on about how awesome our gift guide is, but why don't we just cut to the chase and give you what you came for… THE LIST… enjoy!
– Tech Gifts –

Say hello to the HERO4 Session, GoPro's smallest, most portable and affordable camera yet. The HERO4 Session captures video in 1080p/60, 720p/100 and 1440p/30 along with eight megapixel photos in Single, Burst and Time Lapse modes.
The Session is built to be just as rugged as its predecessors, but it is even easier to use.  A short press of the shutter button quickly powers the camera on and video recording begins automatically. A long press of the shutter button powers the camera on and triggers Time Lapse photo capture. Press the shutter button again to save video or photo content and power the camera off. This simple one button design drastically improves the speed and convenience of capturing life moments as they happen.
Throw this camera in your pocket and bring it anywhere! We love it for it's super small build and easy to use functionality. This is the perfect addition to any adventure seekers kit.
Buy Now: $199.99 or to learn more, go to: GoPro.com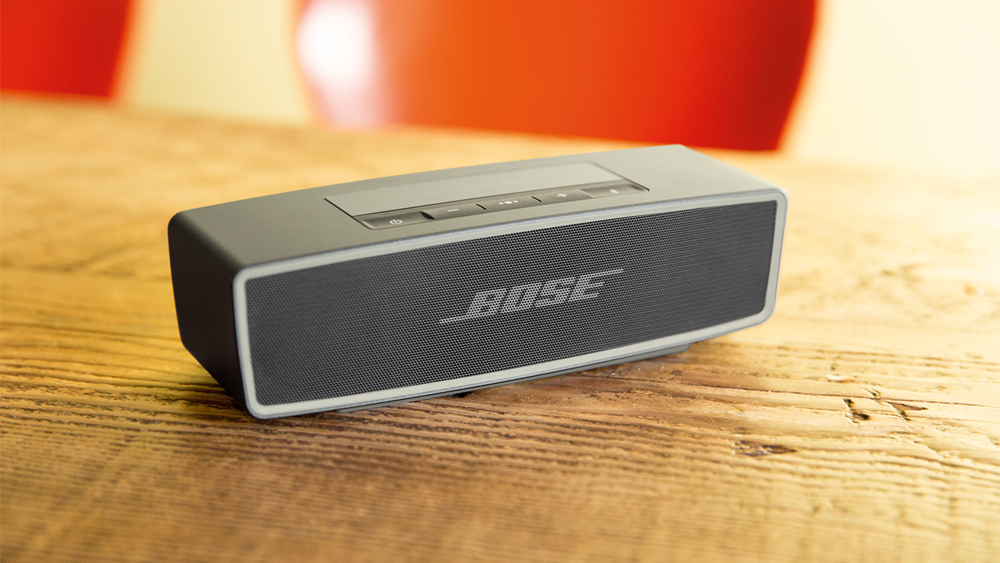 Small, compact and truly stylish, the Bose SoundLink Mini is a wonderful piece of tech for audiophiles. This Bluetooth speaker is rather small, but packs a punch! The dynamic acoustics that the SounLink Mini delivers will filll a room and was something we didn't quite expect from a system so small. The bass is immersive and the mids and highs carry to create a very full range.
The build quality is off the charts as well. The speaker is small, like we said, but it's pretty hefty too and has a superior feel to it. No chintzy plastic here. At neatly $200 this speaker is well worth the price. It's our go to speaker in the office. It's hard to beat Bose's acoustics.
Buy Now: $199.95 or to learn more, go to: Bose.com
With all the features the Yuneec was able to pack in the Typhoon Q500 4K, We're happy to say this is a great value for those looking to make their first quality quadcopter purchase, or for those looking to add another one to their arsenal.  Overall, we were very pleased with the Typhoon Q500 4K.  Although it lacks some features such as waypoints, video playback, and slow flight with GPS enabled, for the features it does have and the retail price of $1449 or $1299 with the color box and one less battery – it is one of the best bang for your buck quadcopter available.
Buy Now: $1,299 – $1,449, or visit Yuneec.com for more information
With a quicker autofocus than a DSLR (world's quickest), the a6000 shoots 24mp photos and is super portable, while retaining interchangable lens functionality, manual controls and an OLED Tru-Finder. Offered in 3 colors, the a6000 features an ASP-C size sensor that offers 1/6 times the area of Micro 4/3 sensors and 13x the sensor size of typical compact digital cameras. Able to shoot up to 25,600 ISO, this cam shoots amazing low-light photos and comes with the BIONZ X image processor to ensure images are of the highest quality.
The a6000 has quickly become the go-to camera around the BW offices. It's user friendly interface and ultra quick focus makes handling a traditional DSLR seem like a time consuming affair. Not to mention it is small and very easy to pack. The best part is that you don't even have to be a seasoned photographer to shoot stunning photos with this camera. We've taken it on several press trips and the images that the a6000 produced are amazing.
One upgrade you might want to look into is an aftermarket lens. While the Sony factory lens is pretty great, ZEISS makes a slew of amazing options to totally trick out the a6000.
Buy Now: $399.99 or to learn more, go to: Sony.com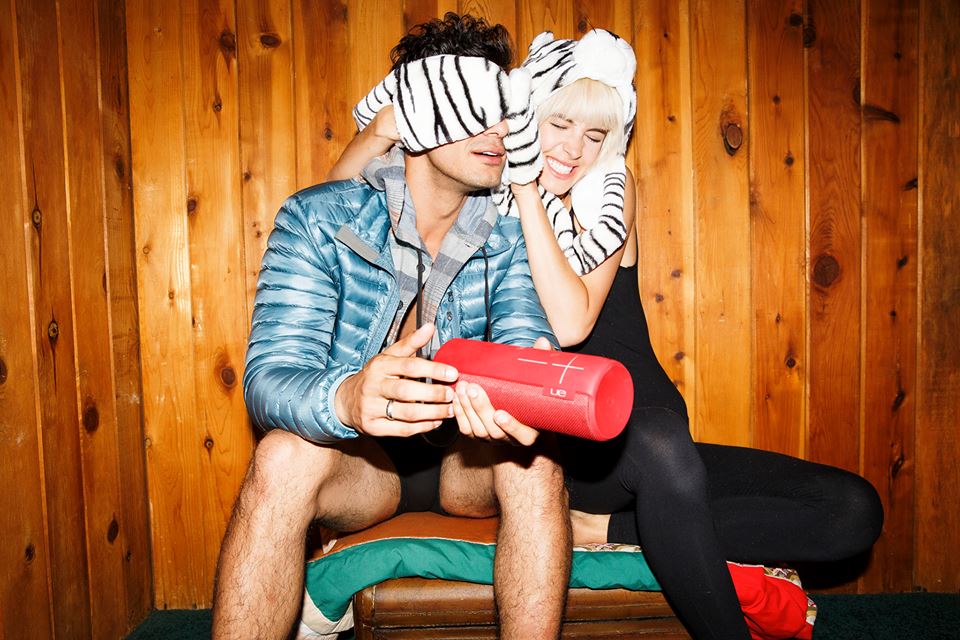 The MegaBoom is the successor to the well received UE Boom. As you might expect it's bigger, louder, and has a better battery life than the regular Boom because MEGA. Logitech, the parent company of Ultimate Ears has always been known for higher quality audio products than you'd typically expect in the value price range. When Logitech purchased Ultimate Ears, it maintained the brand as a luxury line of sorts for people looking for a higher level of quality in their audio products – even for portable Bluetooth speakers.
The UE MegaBoom is awesome. We have reviewed literally dozens of Bluetooth speakers over the years and this is by far the best we've ever tested. At $299 it's an expensive option in a sea of cheap junk. If you value a good sounding speaker though, this is the best portable Bluetooth speaker you can buy right now at any price in our humble opinion.
Buy Now: $299 or to learn more, go to UltimateEars.com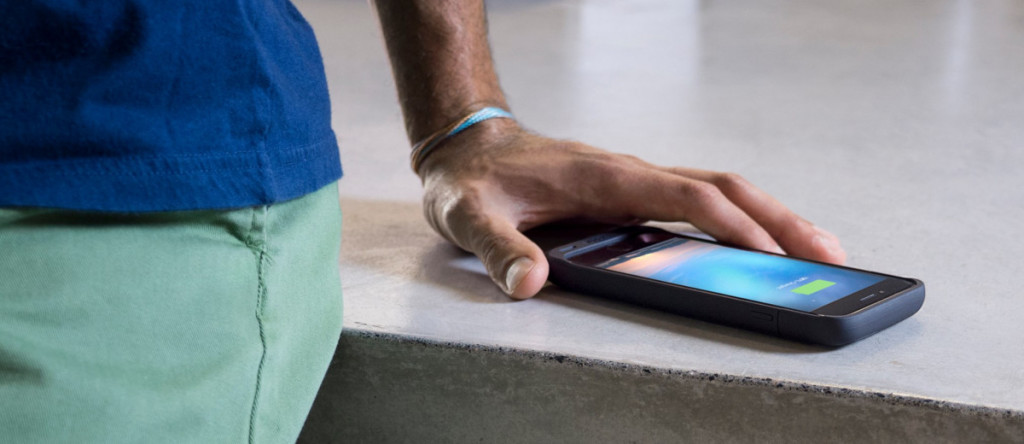 There's nothing worse than when your phone is on its final sliver of battery life. Typically no one has a charger with them or if you do, it is the most inconvenient set up to try to charge your phone let alone if you even have the time. We've all been there, and it always seems to happen at the worst moment possible. This is where the Mophie Space Pack comes in handy. With the flip of a switch, your phone will get up to a 100% (iPhone 6S) or 50% (iPhone 6S Plus) charge while you continue on with your plans. No need to stop what you are doing and try to find a power source.
Bottom line, the Mophie Space pack does hold its value. While it may be a bit heavy in comparison to the iPhone itself without a case, the functionality of the case would leave that to be expected. It is also rather thin for being a battery+storage case. In addition, our tests showed that the case can charge your iPhone 6S Plus battery to 60%+ if switched into power save mode.
Buy Now: $149.95 or visit Mophie.com
Outdoor Tech Kodiak Plus – Waterproof Powerbank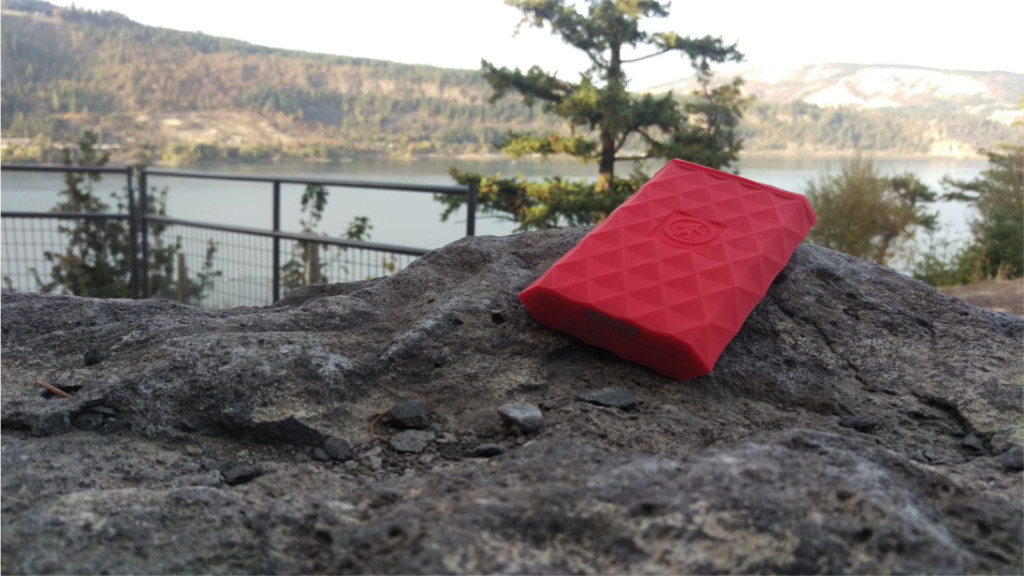 Designed to supply power for your portable devices on-the-go, the Kodiak Plus Waterproof Powerbank from Outdoor Tech is a rugged and reliable source for juice when there isn't a power outlet near buy. This little powerbank is essential for anyone who travels, camps or spends any amount of time away from the charger.
When making travel plans the Kodiak Plus is one of the very first things we think about packing. Without it we'd be powerless chumps, but with the Kodiak in our arsenal we're able to continue tweeting, Instagraming and emailing.
Delivering 10,000 mAh and two USB ports you're able to charge two devices at once. The battery life indicator is a nice touch too – knowing when the Kodiak is ready for a recharge is crucial. This is the perfect gift idea for that person on your list who is always asking to borrow your charger. Get them the Kodiak Plus and never have to hear them complain about a drained battery again.
Buy Now: $99.95 or to learn more, go to: OutdoorTechnology.com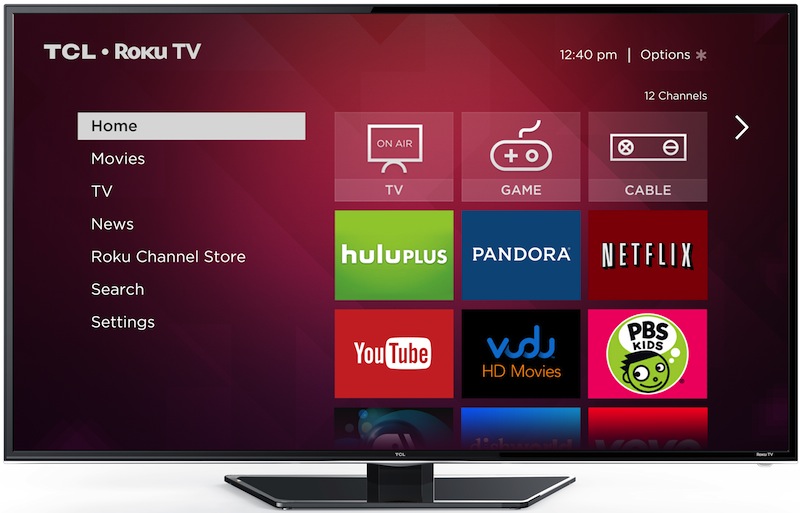 Pumping out 1080p HD picture quality at 120Hz and delivering extra space for add-on components with 3 HDMI ports, the Roku branded 40″ TV from TCL is an affordable option for cord-cutters and cable junkies alike. This TV comes standard with over 3000 streaming channels available and options to personalize the home screen. Choose to cut the cord and only stream your content or hook up your cable or satellite and have the best of everything – like us!
What we liked best throughout testing is the option to control the TV from your smartphone with the free Roku app. It's handy and allows you to quickly search for movies, TV shows and actors. You can also 'cast' content from your smartphone or tablet. This is awesome for quickly sharing pictures and videos.
The brand name might not be biggest, but TCL is one of the fastest growing consumer electronics and TV brands in North America. Keep an eye out for them and this TV this holiday season if you're looking for a quality TV on a budget.
Buy Now: $354.99 or to learn more, go to: TCLusa.com
– Outdoor Gifts –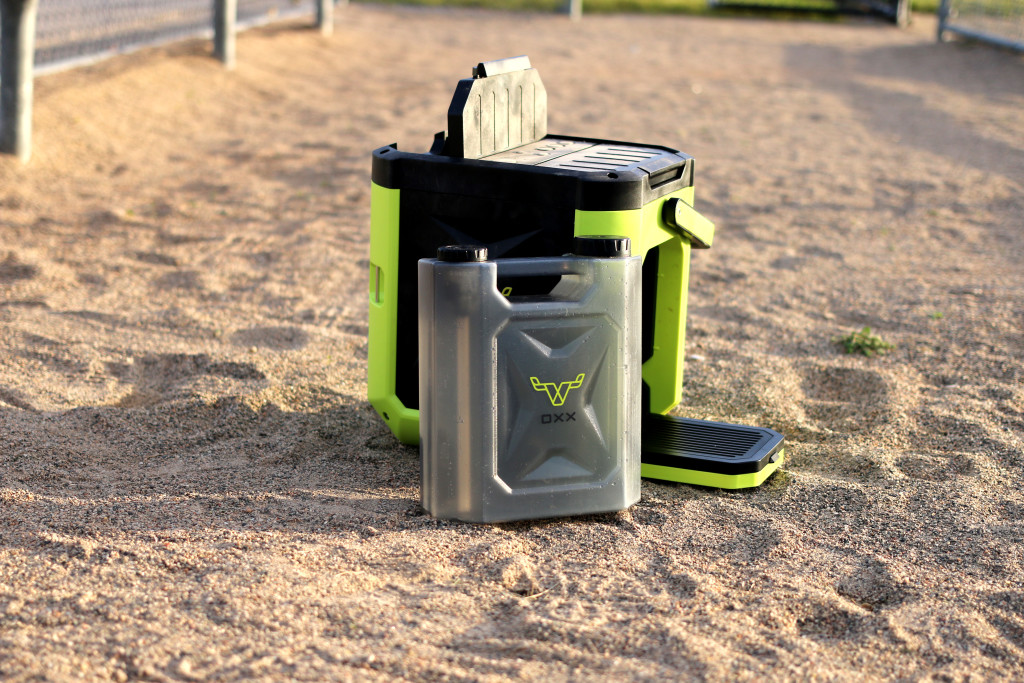 The Oxx Coffeeboxx has a MSRP of $249.99 but can often be found for around and even under the $200 mark after shopping around a little.  At that price, it is right on par with other top of the line single serve coffee brewers, but none will compare when it comes to portability and durability.  While the neon green Coffeeboxx may look a little funny sitting on your countertop at home, we would say this is a must have for anyone who truly enjoys coffee while working on job sites, RV camping, car camping, hunting or tailgating.
Buy Now: $249.99 from Oxx.com or Amazon.com
Predator XL Minn Kota Kayak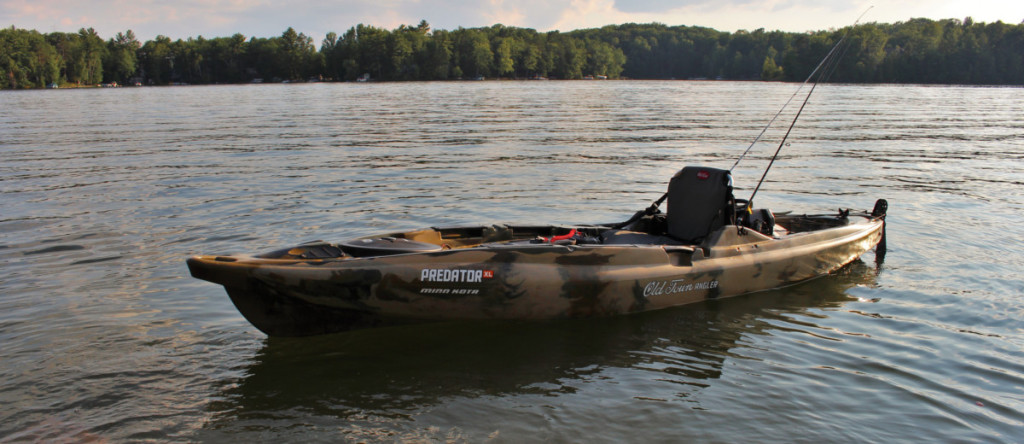 The newest innovation from Old Town comes in the form of a 13ft, 92lbs, Minn Kota powered, beast of a kayak they've dubbed the Predator XL. This kayak is for serious anglers who want to spend less time paddling, more time fishing and impressing the hell out of every other angler on the water.
That's right, this kayak is powered by a Minn Kota trolling motor. With 45lbs of thrust and foot-controlled rudder system you can cover a lot of water without ever having to paddle. When paired with a deep cell marine battery (not included), the Minn Kota motor is good for a whole day of fishing. If you're worried about running low on juice, there's no guess work either. They've even included a battery life indicator so you always know how much battery is left. In the worse case you can always paddle your butt home.
Ready for some sticker shock? Go ahead and sit down… alright… okay, here we go – the Predator XL Minn Kota tops the Busted Wallet charts at a whopping $2,699.99. Sure there are less expensive angler kayaks on the market, and believe it or not, there are much more expensive kayaks too. Yeah, $2,699.99 that's a lot of money, there's no debating it, but after testing this bad boy ourselves we're happy to say, if you have the extra cash laying around this boat is well worth the asking price.
Buy Now: $2,699.99 or to learn more, go to: PredatorKayak.com
Talkabout T460 Two-Way Radios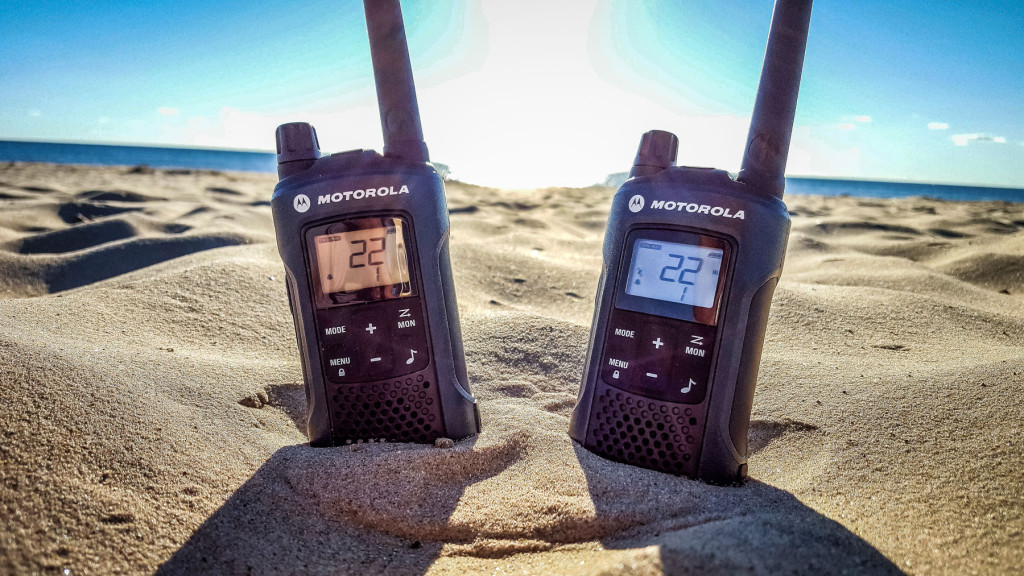 The Motorola Talkabout T460 Two-Way Radios are super handy and rugged enough to keep up with our outdoor adventures.  Perfect for biking, camping, long hikes, the ski hill, and any location where a cell phone just won't cut it.   These radios have a big range and simple yet powerful features that make this a must have item in our travel pack.  Although these are not exactly professional grade radios, the rugged body and list of features make this a top shelf consumer radio, ready to go out of the box.
Motorola is currently selling the T460 on Amazon with a 12% discount at $79.00.  Between the durable design, ease of use, and excellent built-in features, we say the T460 is a good value for a those looking to give the gift of Two-Way Radios.
Buy Now: $79.00 or to learn more, check out: MotorolaSolutions.com
Bertucci Dx3 Field Timepiece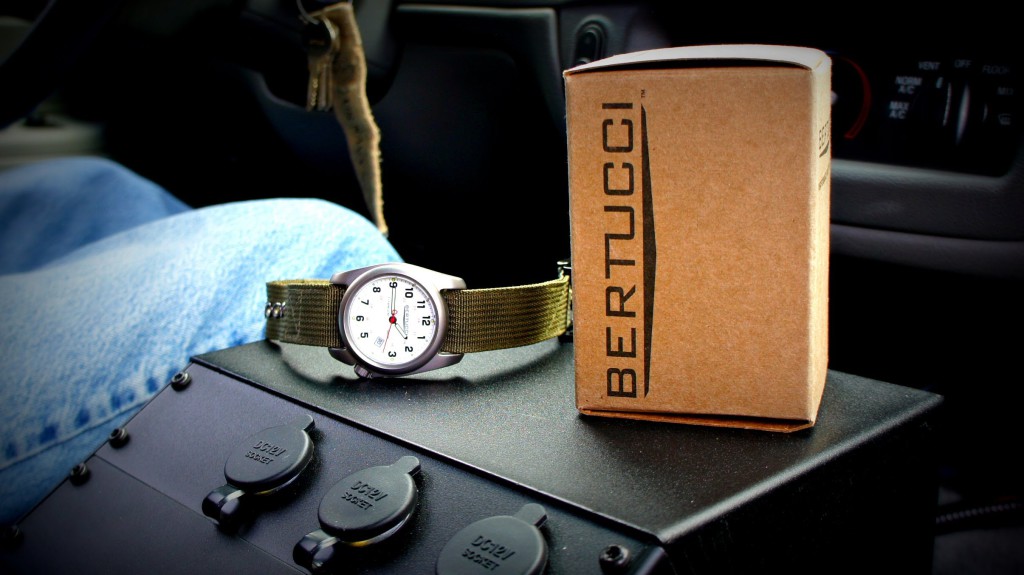 The DX3 Field brings classic styling to a rugged matte finish fiber reinforced poly-resin case that offers a long list of non-compromised performance features and components.
The hands are treated with high performance Swiss Super Luminous material that will intensely glow for hours based on exposure to sunlight or indoor lighting… not requiring a button push (a weak point), and will not deplete battery or require two hand operation.
The U.S. patented Bertucci DX3 Nylon band features long lasting easy to clean nylon webbing, heavy duty stitching and stainless steel buckle & dual loops. The Active Comfort™ one piece design is equipped with the Fold and Tuck™ excess band retention feature and wide adjustment range to ensure a perfect fit for all wrist sizes.
This watch is rugged and comfortable for the long haul. Perfect for anyone who likes to spend time off the grid, but remain punctual.
Buy Now: $60 – $70 or to learn more, go to: Bertucci.com
– Sporting Goods –
Nike Vapor Speed Golf Clubs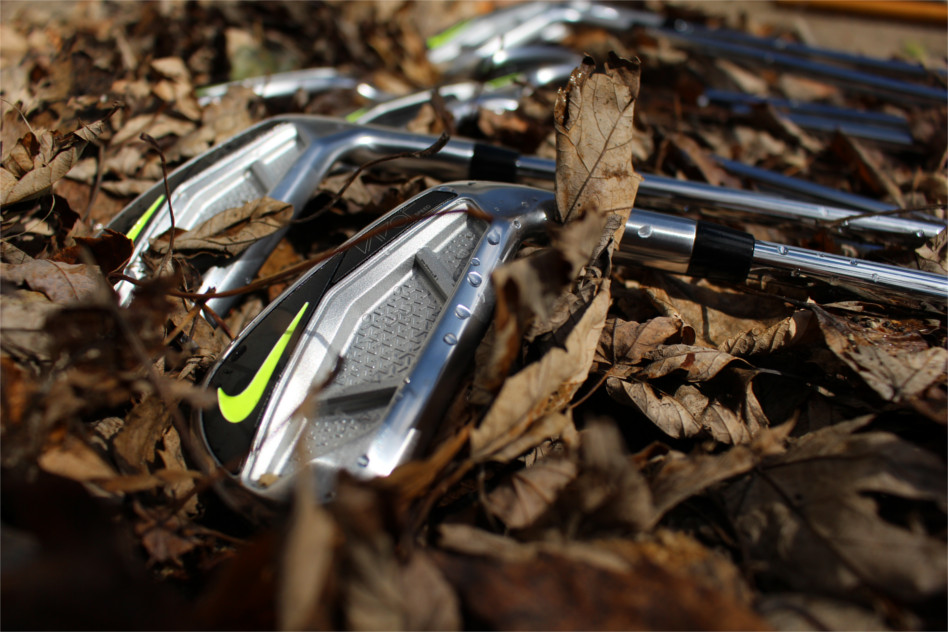 Utilizing FlyBeam reinforced hollow cavity-back technology in the long irons (3, 4, 5, 6, 7) Nike was able to maximize energy return and off-center stability. While on the short irons (8, 9, P, A, SW) a RZN cavity-back was used to promote stability and feedback.
The Vapor Speed irons also have great balance and feel to them. I always find it difficult to explain "feel" to others, because it's a truly unique thing for most people, but these irons exude confidence. They feel well balanced and offer very nice feedback on flushed strikes as well as mishits.
If you're a golfer who's looking for a for more distance out of your irons (and aren't we all?), these are a set to consider!
Buy Now: $799 or to learn more, go to Nike.com
FootJoy Women's emPower Golf Shoes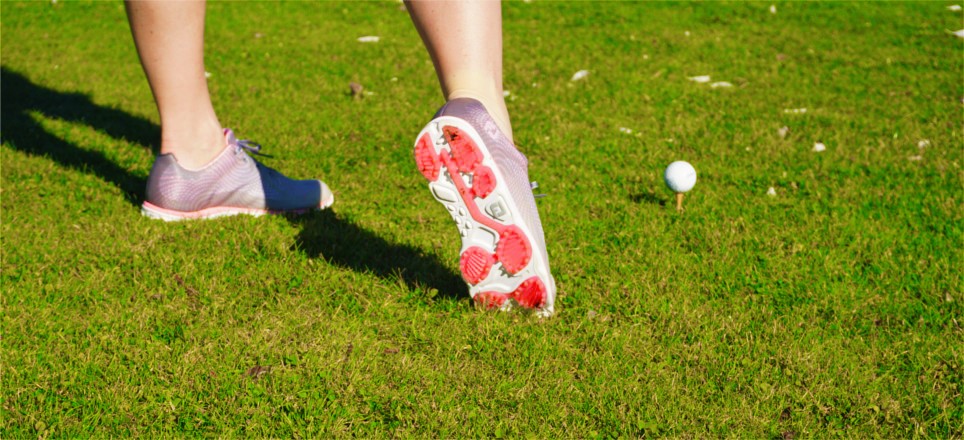 When we laced up our FootJoy emPower golf shoes for the first time, we were delighted with the lightweight comfort.  They felt more like a running shoe then the golf shoes we'd experienced in the past. The shoes are so comfortable (and stylish), that we had no qualms about wearing them to the bar for post-round drinks.
They are roomy and breathable, and we actually forgot we were wearing them.  That leaves your mind completely free and able to focus on keeping head down, watching the ball, following through, yada yada yada…  Did we drive the ball long and straight every time?  Not a chance, but no shoe in the world could change that.
Ringing in at $135, the FootJoy emPower's are a solid investment and a worthy addition to any women's golf arsenal.  With FootJoy you can be sure that the shoes are going to last, plus the emPower's give you some extra bells and whistles in the form of BreathEasy Sport Mesh and Every-Step™ Comfort foam, that you won't find with other shoes.
Buy Now: $135 or to learn more, go to: FootJoy.com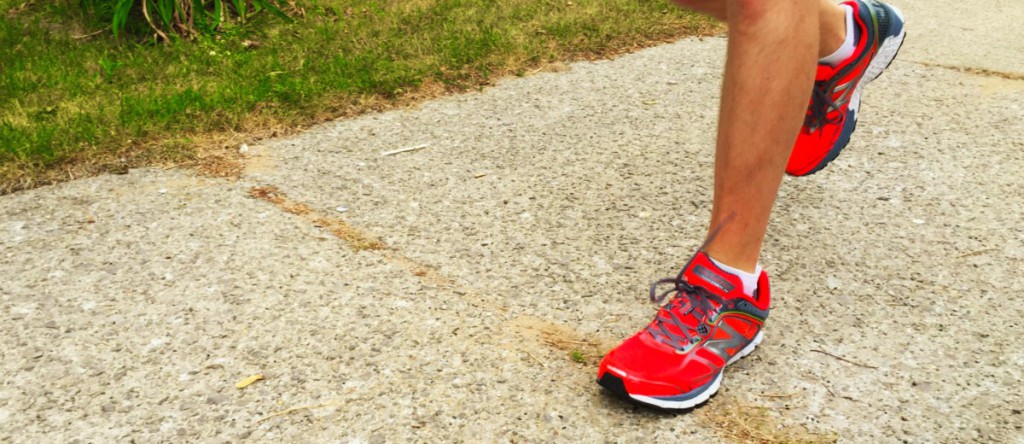 Shoes are your foundation.  They literally support your entire frame.  They receive and distribute the force of impact as your every step collides with the ground.  A good pair of shoes can be the difference between back pain and a great sleep; inflamed and healthy joints, a drug free day or a couple Ibuprofen. This is particularly true for running shoes.
Designed to give you high levels of stability while staying extremely light and breathable, the New Balance 860v5's are built for the long haul.
Overall, these running shoes look and feel great. They are a quality blend of comfort and performance, with cushioning to spare.
Buy Now: $119.99 or to learn more, head over to: NewBalance.com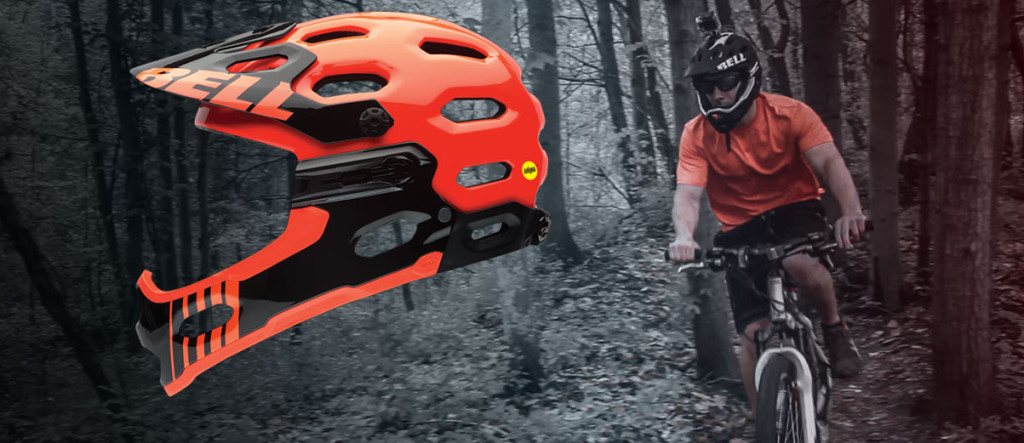 When tackling any off-road challenge in a true all-mountain experience, it's all about being prepared with gear that'll give you ultimate confidence, comfort, and performance.  With the all-new Super 2R you get two helmets in one, to help conquer a wider range of terrain.  With the chin-bar on, you get that added protection when riding the steep side of the mountain or hitting those monster jumps.  When you just want to cruise the flats or bike to town you can easily remove the chin-bar with just 3 clicks (no tools needed).  Simply open the rear buckle, then both side buckles and pull the chin-bar away from the helmet.
After riding with this helmet for a few weeks now, we're still impressed with the level of comfort, and appreciate the time and thought Bell spent on creating a true all-terrain mountain bike helmet that transforms to fit my needs. If you're looking for a new helmet that'll be sure to keep up with your all-terrain experience then we highly recommend picking up the Bell Super 2R.
Buy Now: $220.00 or to learn more, go to: BellHelments.com
Wilson BURN 100LS Tennis Racket
The BURN 100LS was designed for the Baseliner, giving more explosive power with added Spin Technology. This racket produces the heaviest ball possible allowing you to "Burn" through the competition.  We definitely felt very comfortable from the baseline.  The power and accuracy of our serve improved dramatically.  This racket has more maneuverability and is light enough to keep a powerful swing, set after set.  The rounded hoop creates a larger contact zone for a more aggressive vertical swing.  Plus, the parallel drilling provides a more forgiving sweet spot which helped us swing with more confidence.  With the high performance carbon fiber frame, we felt a major difference in stiffness compared to our previous Wilson rackets and helped for a more explosive serve.  The X2 Shaft provides a longer handle for increased leverage on two handed backhands (definite bonus with my back hand), plus it helps for better, overall grip changes.
Buy Now: $199.99 or to learn more, go to: Wilson.com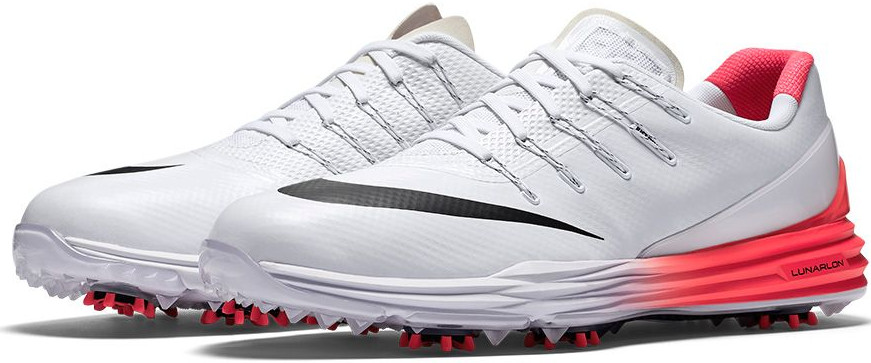 Designed for tour pros like Rory McIlroy, the all new Lunar Control 4 golf shoe features dynamic Nike Flywire technology that provides lateral support in the midfoot while a new, robust external heel counter helps lock the foot in place to prevent slipping.

Not only are these golf shoes packed with Nike innovations, but they're down right sexy and impressively comfortable right out of the box. We just received these shoes a few days ago and hardly had chance to break them in, but already they're as comfortable as a shoe we've worn for 10 rounds.

Beyond the comfort, the Lunar Control 4's are also very stable and provide excellent traction on uneven and slippery terrain. As you would imagine they're also waterproof too which is great for early morning rounds and the occasional mishap in the water hazard.

Available in three colorways for men (black/white, white/wolf grey, white/bright crimson) and for women (black/white, white/wolf grey, pure platinum/bright crimson), the Nike Lunar Control 4 is available online and at select retailers starting on December 1st.

Buy Now: $170 or to learn more, go to: NikeGolf.com

Bushnell Tour X Rangefinder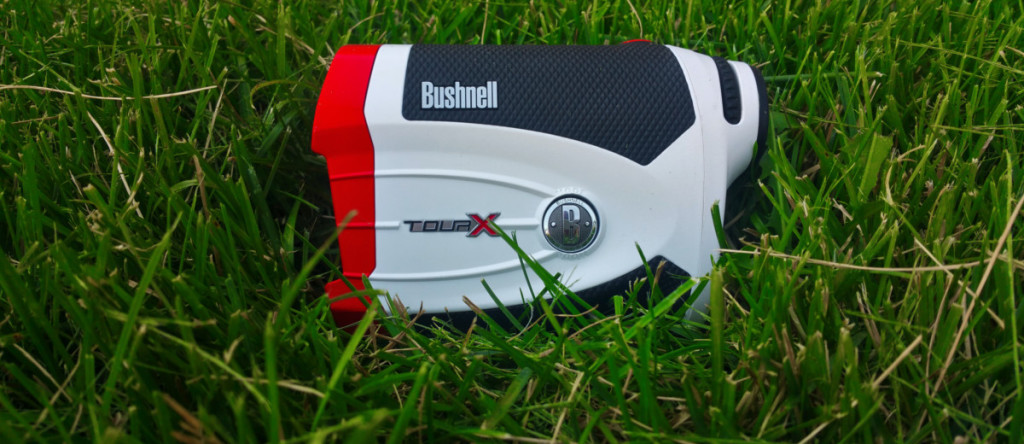 For over 65 years Bushnell has been the industry leader in high-performance sports optics. Bushnell's product lines range from golf, spectator sports, nature study, hunting, fishing and birding to stargazing.  The folks at Bushnell live by a guiding principle to provide the highest quality, most reliable and affordable sports optics products on the market. Recently our friends (best friends now) at Bushnell sent us their latest creation, the Bushnell Tour X Laser Range Finder to test and review. As you can imagine (since it made our holiday gift guide list) we loved it!
Priced at $499, the Bushnell Tour X is at the top of the line when it comes to range finders. It is an all-in-one option that gives the best technology of anything you could ever ask for in a range finder. The flexability of being able to change out the faceplates to conform with USGA events makes ideal for golfers of all skill levels as it fits everyones needs. At $499 you can count on the Tour X to give you one the most accurate readings you will get with any range finder out on the market. However, do not buy the Tour X and expect an immediate improvement in your game just because you have an accurate reading, after all you still have to hit the shot. The value really comes in confidence in knowing that you are selecting the right club. You may also find out that you don't hit clubs the distances you think you do. The Tour X will help you discover things on the course but also within your own golf game. The value the Tour X brings to the course can't be measured in monetary form.
Buy Now: $499 or to learn more, go to: BushnellGolf.com
Snowboard Home Storage Rack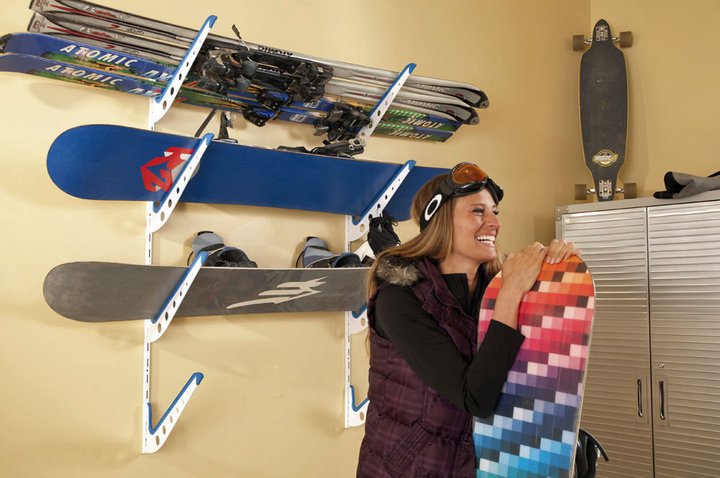 Skiing and snowboarding equipment is bulky. It takes up a ton of space. If you're like us, you like things to be in their place and organized. If you're picking up on what were putting down you probably need something to store all your equipment. Say hello to StoreYourBoard.com's Snowboard Home Storage rack.
This snowboard storage rack will hold up to 8 snowboards or you can use it to store your other boards like surfboards, wakeboards, skateboard, skis, kiteboards, and any others. This snowboard rack is built from steel so it will stand up to the wear and tear for years to come. The great thing about this rack is that it is based off of 2 vertical support members. These are independent of each other so you can mount them on your wall at a spacing that will accommodate all your boards. The rack also includes 4 sets of arms that can be locked into the rack at any location along the vertical supports. The rack will accommodate any snowboard, with bindings or without, just find the perfect spacing and lock the arms in.
Have ski bum or snowboard junkie on your list who could use some organization this season? Welp, we think we know where to spend your money now…
Buy Now: $69.95 or to learn more, go to: StoreYourBoard.com
– Style –
Comfortable, flexible, aerodynamic and most of all utterly radical, Chubbies are everything a short should be and more. Available in a never ending array of colors, patterns and materials, Cubbies Shorts were designed to keep the party going all year long. As the saying goes… "Sky's out, thighs out!"
Buy Now: $49.50 & up! or to learn more, go to: ChubbiesShorts.com
Men's Lofted Sky Insulated Jacket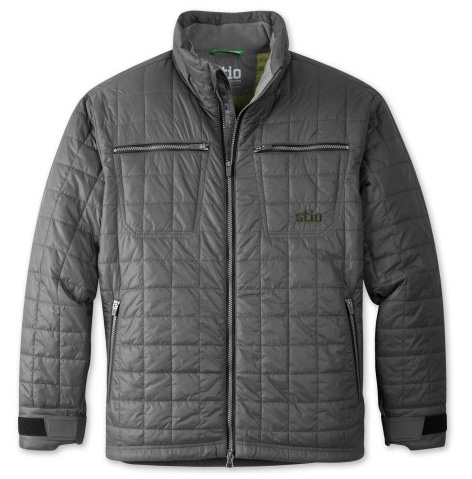 Warmth without bulk, the Lofted Sky Insulated Jacket is quite possibly one of the finest fall jackets we've ever come across. The PrimaLoft® SILVER Insulation is revolutionary in its lightness versus warmth, and the Pertex® Microlight Nylon is as breathable as it is resistant to the elements. With four exterior pockets and two interior pockets, there's always a place for whatever you need to take with you. The lower hem is equipped with adjustment chords on both sides, so securing a proper fit around the waist is made easy. Aside from functionality, the Lofted Sky Jacket is noticeably stylish on just about any scene where it can be worn, combining that old sense of ski-bum hip with a bit of urban cool.
Buy Now: $245.00 or go to: Stio.com to learn more.
Chaco Women's Barbary Boot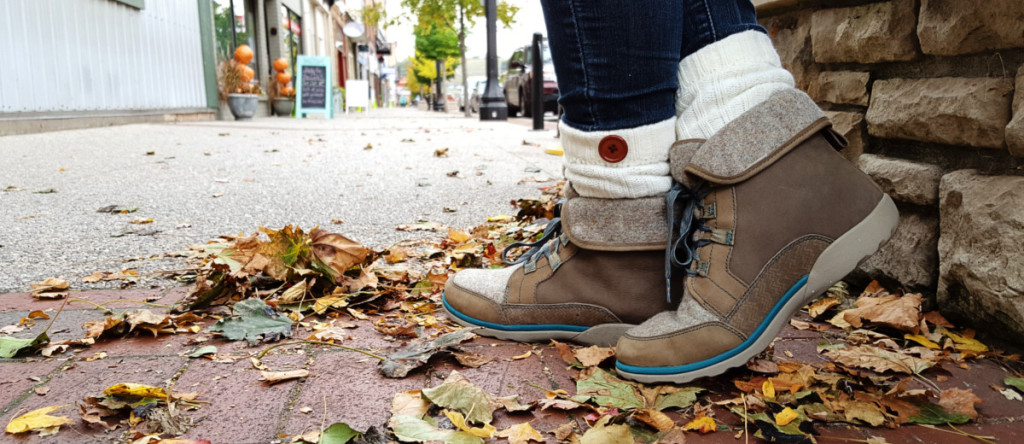 The perfect combination of wool and waterproof leather on the outside protects your feet from rain and wind, but still allows your feet to breathe.  Equipped with Chaco's removable Luvseat footbed and a wool and fleece combination lining.  The outsole is made with a non-marking eco tread that keeps you from slipping on wet slick surfaces.  The fold down collar adds the perfect balance of casual style.  Be prepared for all the compliments.
With Chaco's use of high quality materials combined with the comfort and trend-worthy style, these Barbary boots are well worth the price.   They offer a warranty that covers any product defect, and free returns/exchanges on un-worn footwear.  For their popular sandals (not available for their boots or shoes, yet) they have a great program called ReChaco Repair which means instead of tossing away your worn out or broken favorite pair of sandals, you can send them in to have them repaired to like new condition.  This saves waste from going to the landfills, and saves you from having to buy another pair.  Boom! Double win. Great company, great boots.
Buy Now: $150 or to learn more, go to: Chacos.com
Bogs Juno Tall Women's Insulated Boots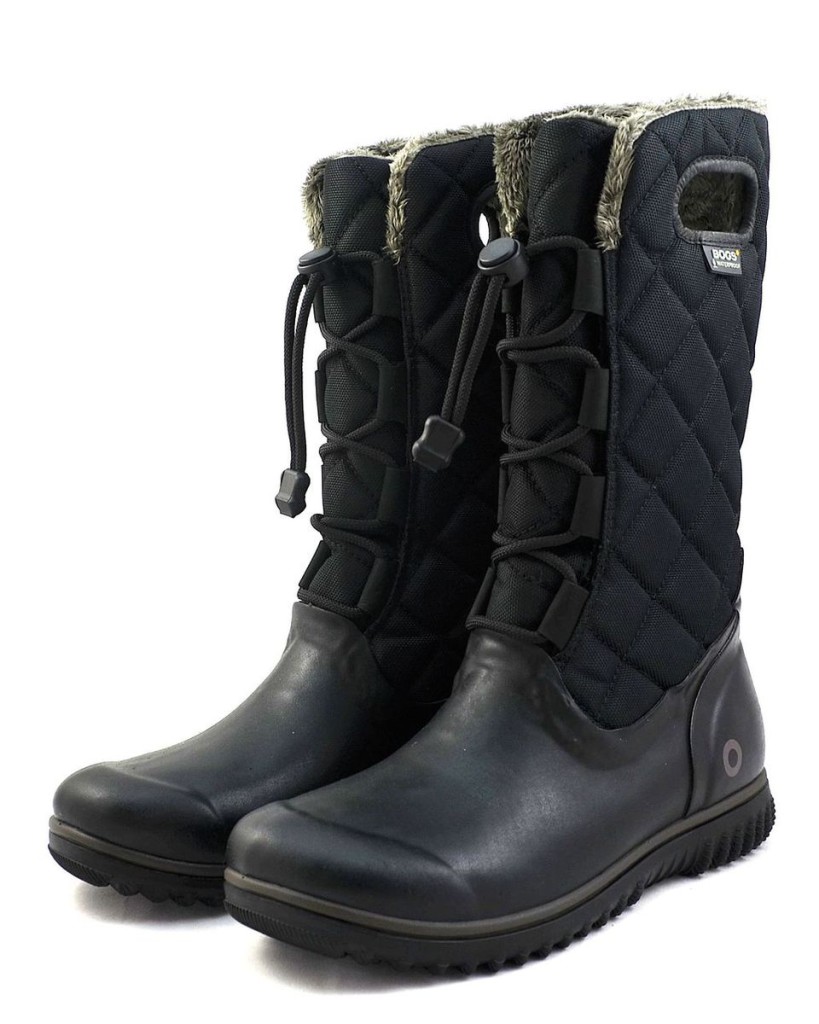 Give the gift of warm, dry feet. The Bogs Juno Tall Women's Insulated Boot is practical yet stylish and designed to go the distance for winters to come. The Juno is 100% waterproof and temperature rated down to -20°F to keep tootsies toasty and socks dry even in the slushiest, coldest snow. This boot marries a cute, quilted fabric with a tough as nails rubber bottom. Also the soles have some teeth to them so she won't slip and fall into the elements. The Juno is comfy as well as tough. They can be a casual all around town kind of boot and a go snowshoeing for two hours kind of boot. The Bogs Juno comes in 4 neutral colors that go well with any outfit or snow pant. Double duty through and through.
Buy Now: $180 or to learn more, go to: Bogsfootwear.com
The NorthFace Women's ThermoBall Hoodie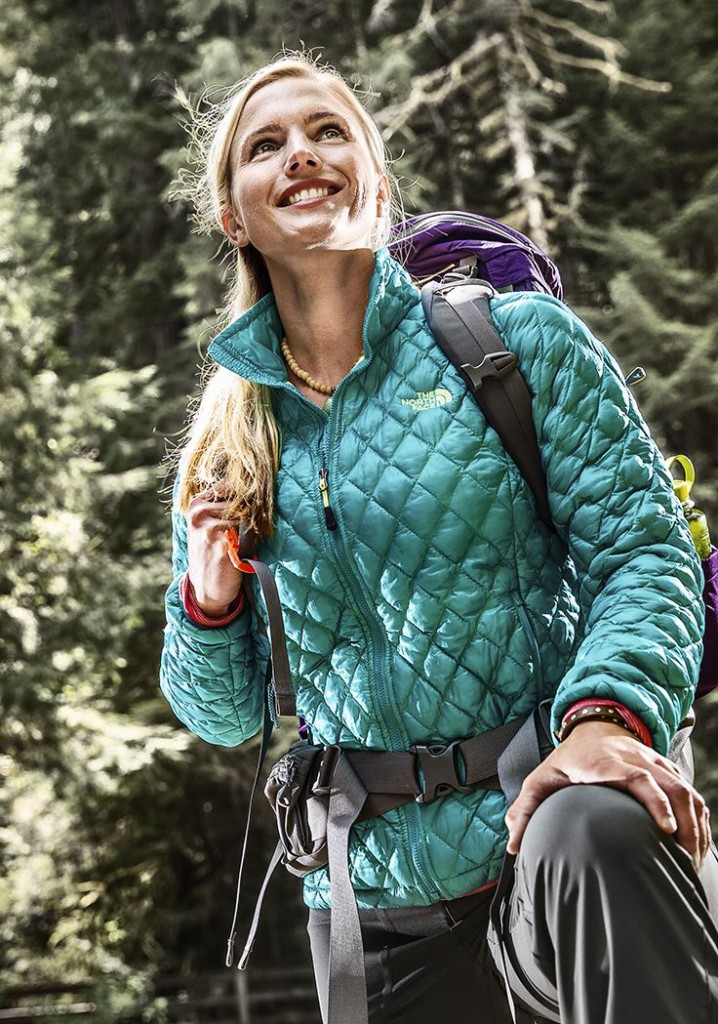 As the song goes, baby it's cold outside. However, it's always a bummer when it's chilly out and you have to bundle up in a thick, bulky coat to stay warm. You feel like the Stay Puft Marshmallow Man from Ghostbusters. Well let us introduce you to The NorthFace's Women's Thermoball Hoodie. Besides the cool name, the Thermoball is ultralight while providing amazing warmth. The Thermoball insulation traps hot air for reduced heat loss and increased coziness. And since it's not made of bulky material, it can easily be packed while you travel. Not only is the Thermoball warm, it is a stylish stunner. It has an active fit and comes in 10 color combinations. It's topped off with a slick hood that will keep you dry and even warmer. We're pretty sure Santa will be delivering many Thermoball's this Christmas.
Buy Now: $199 or to learn more, go to: TheNorthFace.com
Fuseform Dot Matrix Men's Insulated Jacket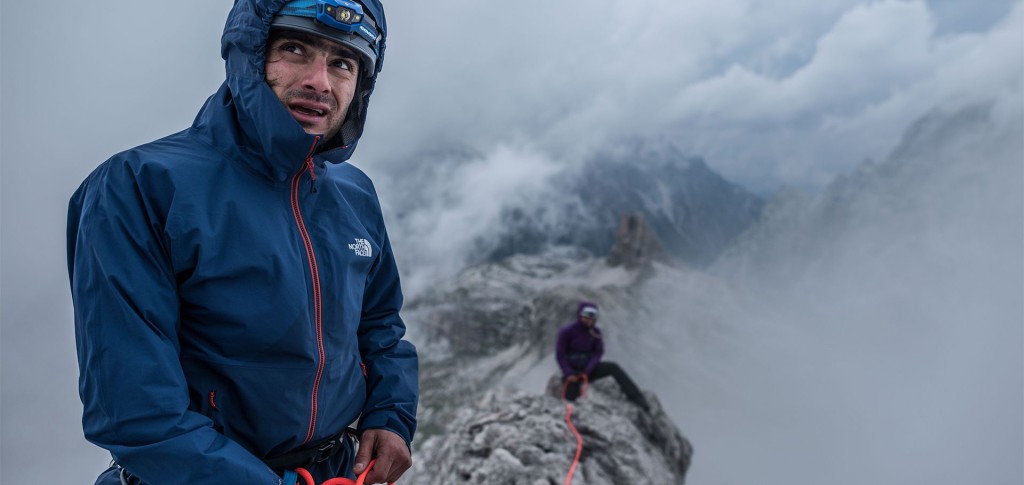 Here we have the perfect jacket for cold rainy weather. A better fall/spring jacket would be hard to find. With 100g of insulation filling the torso and 80g of insulation throughout the arms, this jacket is ideal over a tee shirt but has room for layering if needed. Available in 4 colorways, the "Monument Grey Tri Matrix" version has been our go to jacket this fall.
The features we liked best were the durable Fuseform construction, which is very light yet strong and durable. Not to mention the waterproof/breathable Hyvent seam sealed build, which keeps moisture out while allowing your skin breath and stay dry all day.
As far as stylish, comfortable and waterproof jackets go – the Fuseform Dot Matrix Insulated Jacket is as good as it gets.
Buy Now: $299 or to learn more, go to: TheNorthFace.com
– Subscriptions –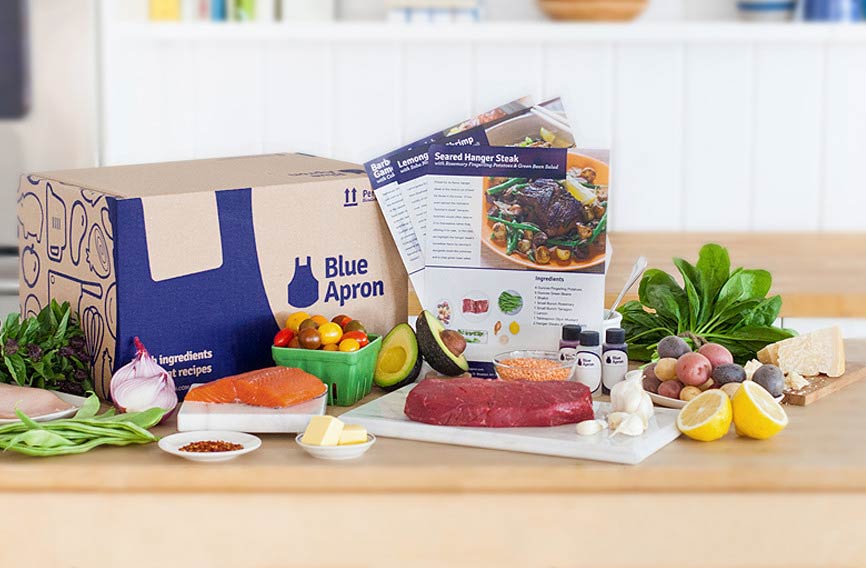 If you love to cook or would love to learn how to cook something more than spaghetti, Blue Apron is a fun and delicious gift idea. Here's how it works! Blue Apron's team creates amazing recipes at their home base using top grade, seasonal ingredients. You log in to their website to let them know your preferences including your dietary needs, any delivery scheduling notes, and if you want meals for 2 people or a family of 4. Blue Apron perfectly packs together all of the ingredients in refrigerated boxes and delivers it right to your door. We're talking down to the per portion of required spices for the recipe. No last minute dash to the grocery store when you order with Blue Apron! The fun part is that along with all the ingredients, are easy to follow recipe cards so that just about anyone can pull off a gourmet meal.
To prove it, Blue Apron delivered a box of 3 ready to prepare meals to our door. Inside were three meals for two that we never thought in a million years we'd be making at home: Pork Meatballs in Butter Lettuce Cups with soy dipping sauce & sticky rice, Jamaican Jerk Chicken & Maduros with stewed collard greens & charred lime, and Salmon Pastrami on Rye with red cabbage & green apple slaw. What?! We were a bit intimidated but the meticulously portioned & labeled ingredients and the recipe cards made it actually enjoyable and easy. And of course, the end results were delicious!
Get started for only $59.94 or to learn more, go to: BlueApron.com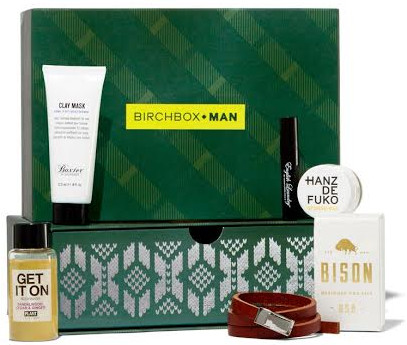 Since launching (in 2010) with 600 subscribers, Birchbox has shipped over 9 million boxes and now has over 800,000 active subscribers.
What is Birchbox? Good question… Birchbox is an online subscription company that helps men and women discover the best beauty, grooming, and lifestyle products through monthly deliveries of curated, deluxe samples that are tailored to your needs. Each box includes a mix of products across categories—from makeup and hair to skincare and body—plus lifestyle extras.
Not only is this a great service to order for yourself, but it makes the perfect gift too! With gift subscriptions starting as low as $30 it's not going to break the bank either. Whether you're shopping for a man or a lady, Birchbox has great boxes with incredible products packed in every shipment.
Buy Now: $30 – $60 or to learn more, go to: Birchbox.com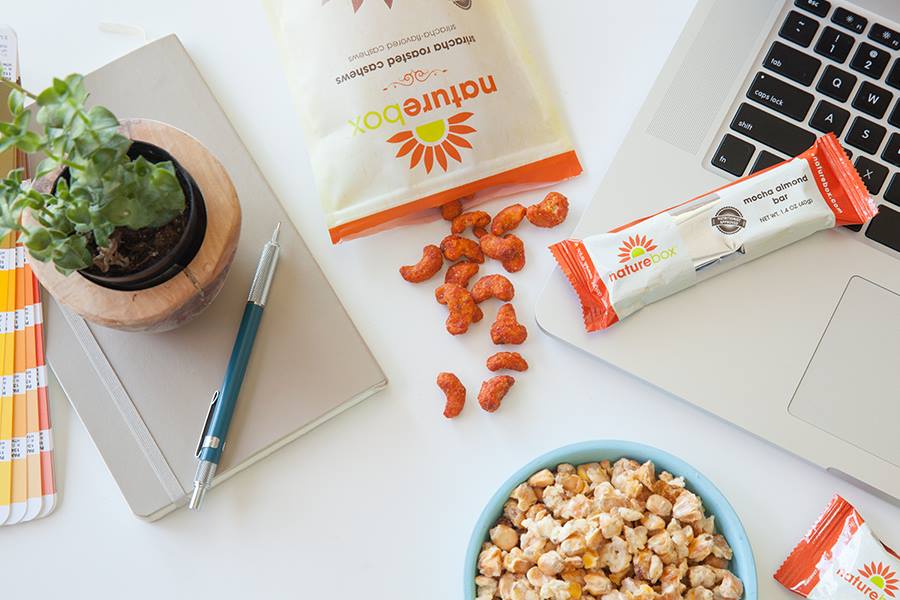 Delicious snacks that are good, and good for you! Nature Box can deliver over 100 bold, satisfying choices right to your door. Whether you're looking to snack smarter at work, serve a satisfying spread at your next get together, or feed an active family on the go — NatureBox delivers a range of plans for all of your snacking needs. All of their snacks are made with zero artificial nonsense and high-quality ingredients you can trust.
Buy Now: $7.00 – $10.00 or to learn more, go to: NatureBox.com 
Omaha Steaks – Tasteful

Gift

 Package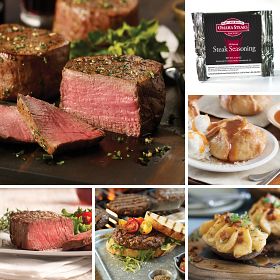 Now here's a gift package that any carnivore would love to feast on. Omaha Steak's Tasteful Gift Package ships to your door in a cooler filled with 2 filet mignons, 2 top sirloins, 4 steak burgers, 4 stuffed baked potatoes, 4 apple tartlets and a packet of Omaha Steak seasoning! If you're mouth isn't salivating after hearing that it's time to check your pulse – you might be dead, or you're a vegetarian. Neither of which is a good option really.
That's a lot of meat for $69.99. Best of all… it's REALLY good too! The steaks are tender and flavorful. The burgers are excellent, the stuffed baked potatoes are to die for and the apple tartlets are a perfect desert. This is the gift that people love. Something you know they'll use. And if you're smart you'll invite yourself over for dinner to test out the steaks!
Buy Now: $69.99 or to learn more, go to: OmahaSteaks.com
– Home –
Calphalon Signature 10-pc. Cookware Set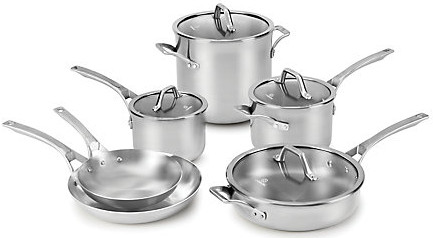 Unless you are a professional chef, your cookware game is probably lacking. Shoot, up until recently we still had the super cheap set we purchased for our first apartment…over a decade ago. It was an embarrassing moment at a recent dinner party to have a guest point out how the non-stick coating was half gone in our pots – as in it has been flaking off into our food for years. Gross. If you are a grown ass adult, you need to have an adult set of cookware like the Calphalon Signature 10-pc. Cookware Set.
The Calphalon Signature 10-pc. Cookware Set will make your chef and foodie friends jealous while being practical for your everyday use. The set comes with an 8-inch omelette pan, 10-inch omelette pan, 2-quart sauce pan, 3-quart sauce pan, 3-quart sauté pan, and an 8-quart stock pot. It also comes with sleek glass covers for the sauce pans, sauté pan, and stock pot. The Calphalon Signature 10-pc. Cookware Set will be the last set you will ever need. Calphalon thinks so too since it comes with a full lifetime warranty.
Buy Now: $549.99 or to learn more, go to: Calphalon.com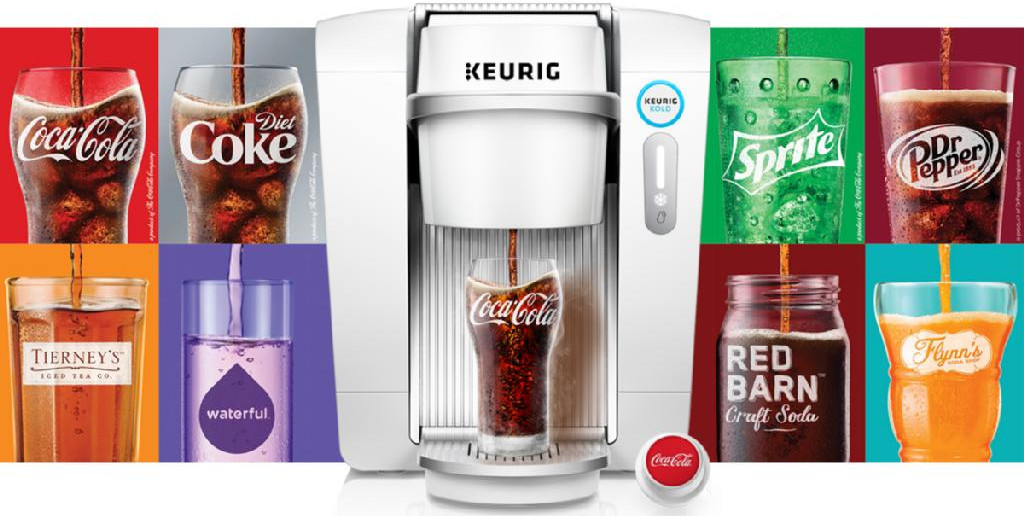 Keurig is known for their hugely popular and convenient coffee makers that make perfectly brewed and portioned hot beverages. They are cooling things off with their latest beverage maker – Keurig KOLD. With the KOLD, you can take room temperature water and transform it into a tasty, ice-cold beverage of your choice. No ice cubes or CO2 canisters required.
Like the traditional Keurig, you plug in the trusty pod of your desired drink and let it rip. It's that easy to use! The KOLD makes sodas including Coca-Cola, cocktail mixers, iced teas, seltzers, craft sodas, sports drinks, and flavored water. The KOLD is the ideal addition for a home bar where fridge space is precious and already occupied with beer – or you don't have a fridge at all. It would also be a welcome addition to the office so that actual food can fit into the mini fridge. As proven with its hot beverage makers, Keurig knows how to eliminate passive aggressive office break room feuds. Cheers!
Buy Now: $369.99 or to learn more, go to: Keurig.com
Nutri Ninja Auto-iQ Compact System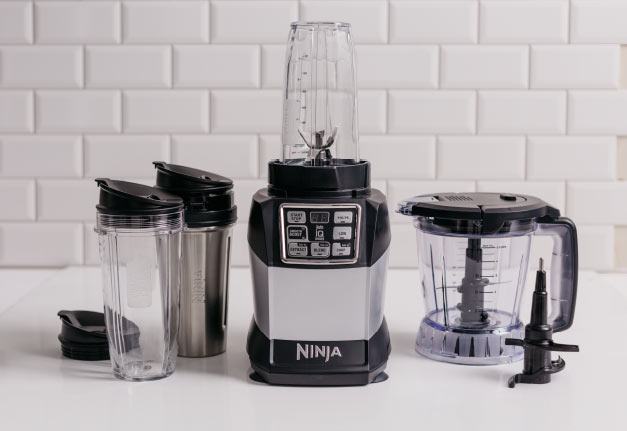 Known as America's #1 Best Selling Premium Blender Brand, Ninja knows a thing or two about juicing, blending, chopping, and pureeing. New for 2015 Ninja introduced the Autio-iQ Compact System, which now includes Smooth Boost Technology, allowing you to truly customize your drink-making experience. Smaller than the full size Ninja blenders this system is great for kitchens without a ton of counter space and can store easily out of the way in a cabinet.
This blender is a beast! It actually scared us when we first turned it on! Within seconds our smoothie – ice and all – was done. Nutri Ninja Auto-iQ Compact System includes a double-walled stainless steel cup that keeps your favorite frozen smoothies colder for up to 4 hours. Regular and Jumbo Multi Serve Tritan Nutri Ninja Cups with Sip & Seal Lids allow you to make delicious smoothies to take on the go. As well as a 40 oz. Blend & Prep Bowl for added functionality to create healthy meals and drinks with ease.
If you're looking for a quality blender you can't do much better than a Ninja. They are scary powerful and built to last a lifetime.
Buy Now: $119.85 or to learn more, go to: NinjaKitchen.com
– Bath / Grooming –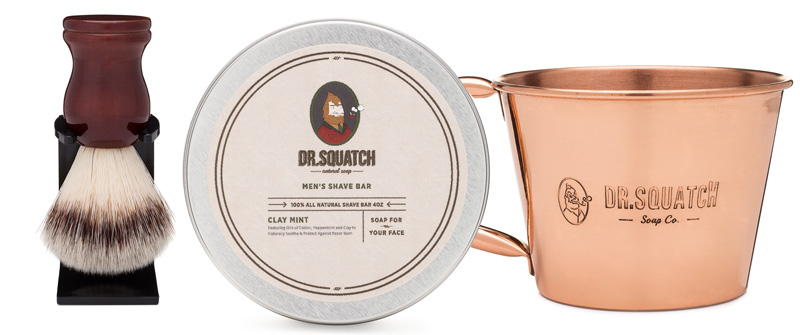 Did you know, beardless men shave an estimated 20,000 times in their lifetime? And in just two years of wet shaving, you'll save around $382!? That's a fact jack.
It's time to start shaving like a man dammit! This shave kit from Dr. Squatch has everything you need to lather-up a fresh shave and smooth face – minus the safety razor of course. Never lathered up a wet shave before? The time is now. Don't be intimidated, it's actually pretty easy. Dr. Sasquatch even has a step by step guide for you.
This shave kit not only works, but it looks amazing on your bathroom counter. It's retro cool and really does the job. The brush adds richness to the lathering by softening and lifting hairs off the face. It also helps to exfoliate the skin and spreads lubricants in to your pores. Dr. Squatch's Clay Mint shaving bar uses ultra-lubricating bentonite clay, deep moisturizing castor oil, irritation-defying cocoa butter, and sweet-smelling peppermint and eucalyptus oils.
After wet shaving for the first time with Dr. Squatch's Shave Kit it would be hard to go back to Barbasol… and we won't. Do your face a favor and put this on your holiday wish list.
Buy Now: $78.00 or to learn more, go to: DrSquatch.com
Brickell Complete Grooming and Skincare Kit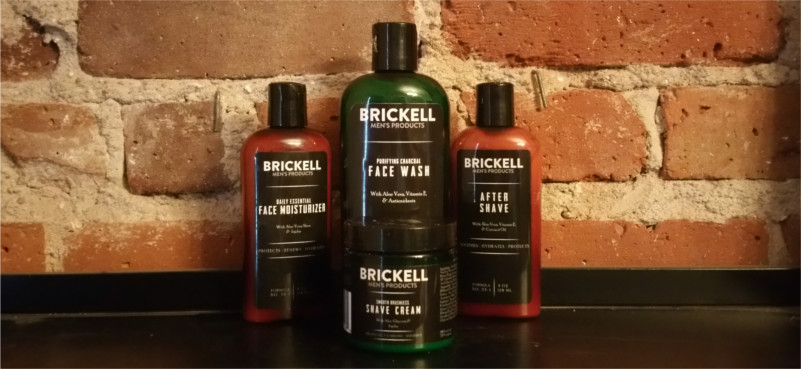 Having organic and natural products is great for publicity purposes, but the true test in men's grooming products is do they actually work? Does the shave cream provide a nice, smooth shave and eliminate razor burn? Does the aftershave help irritated skin and alleviate redness? Recently we gathered the men at the Busted Wallet headquarters for a three week shaving experience to see if the Brickell grooming line was able to answer these questions and more.
Priced at $103.00, the Brickell Men's Complete Grooming & Skincare Kit will surely cause sticker shock for those used to buying only shave cream and stealing their girlfriend's lotion. What Brickell is providing is an all-natural product selection designed to keep your face looking and feeling great. Overall, our crew enjoyed the product offerings and noticed a difference in our skin quality and found ourselves embracing the products versus being ashamed of having a robust groming and shaving process.
Buy Now: $103.00 or to learn more, go to: BrickellMensProducts.com
– Vices –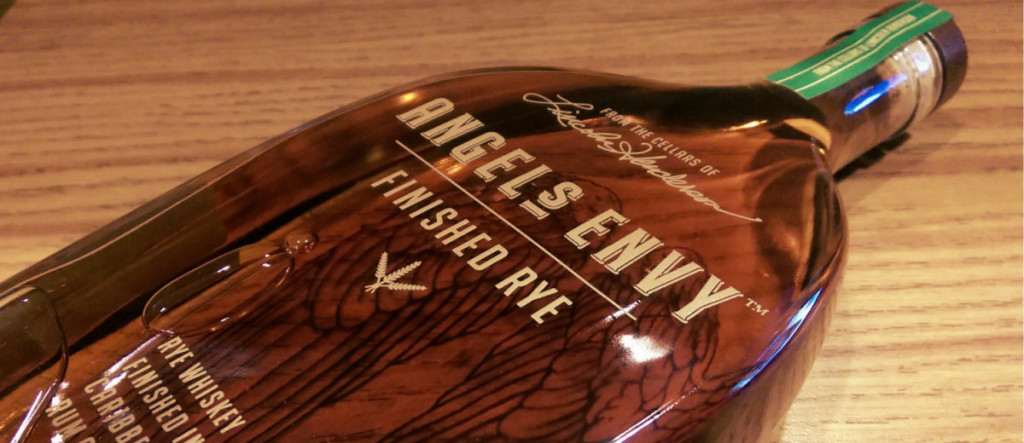 Distilled with the same deliberate care as the original, Angel's Envy Rye utilizes a carefully selected blend of Rye to give this whiskey a distinct level of spice that veteran whiskey fans can appreciate and novices will be intrigued by. After maturing in new oak barrels (for 6 years) Wes Henderson and crew finish their Rye Whiskey in Plantation XO Rum barrels that were originally used to age cognac. After spending up to 18 months in the Caribbean rum casks the whiskey is ready for bottling.
Hitting liquor store shelves at 100 proof, Angel's Envy Rye is by far one of the more intriguing whiskies on the market today. Which is why we were very excited to get our hands on a few bottles for tasting recently.
If you're looking for a whiskey to impress friends or family with Angel's Envy won't let you down. This is some of the best whiskey we've tested in a long time… and that's saying something!
Buy Now: $94.99 or to learn more, go to: AngelsEnvy.com
Alaskan Hand Made Whiskey Stones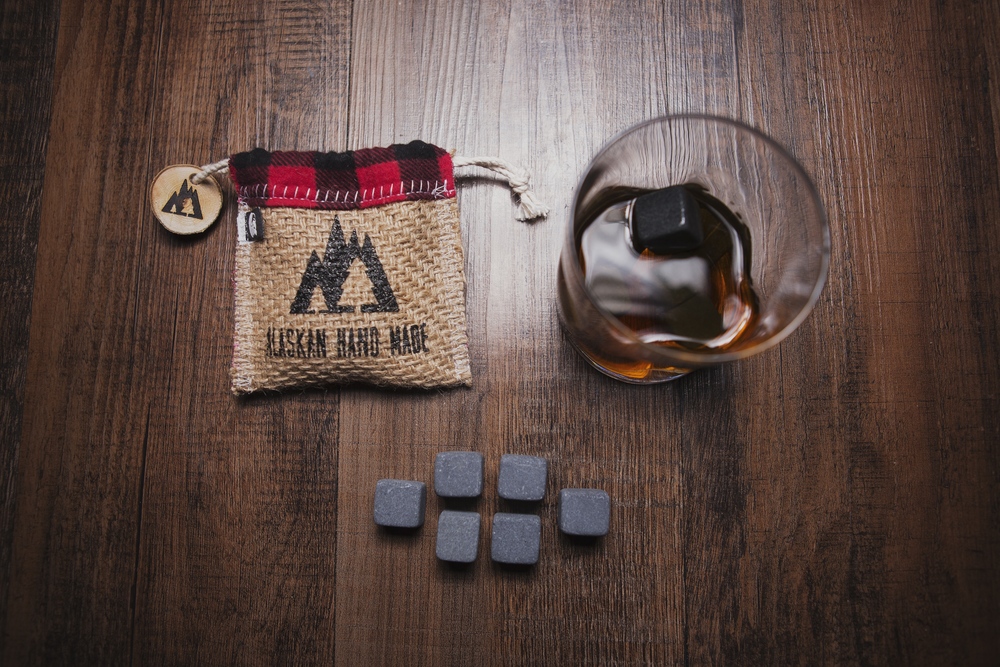 Handcrafted from glacier carved stone sourced from the river valley of the famous Matanuska Glacier Valley in Alaska. These whiskey stones allow you to chill your drink without watering it down. Just put them in the freezer for a few hours, pop three in a glass with your favorite whiskey, kick back and enjoy the full undiluted whiskey complexities as they dance on your taste buds.
Whiskey stones are simple in theory, but the way Alaskan Hand Made goes about business is anything but easy. From the signature "Nature Friendly" recycled burlap carrying pouch to the river stones themselves, great care and time go into the craftsmanship of these whiskey stones. Making them an excellent gift for the whiskey connoisseur on your holiday wish list this season.
Buy Now: $30.00 or to learn more, go to: AlaskanHandMade.com
Jack Daniel's Single Barrel Barrel Proof Whiskey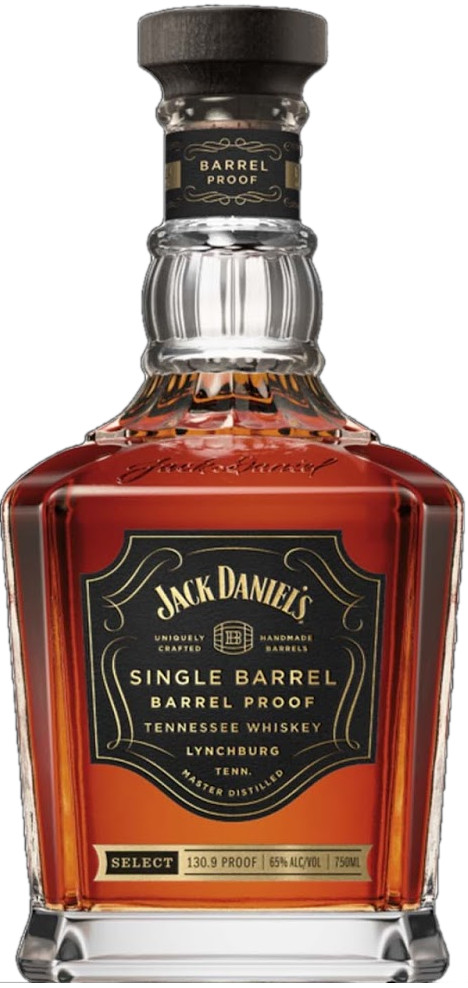 Bottled between 125 and 140 proof, Jack Daniel's Single Barrel Barrel Proof is the newest (and most potent) addition to the JD Family.
To create Jack Daniel's Single Barrel Barrel Proof they didn't rewrite the handbook. In fact, Barrel Proof is crafted using the same cave spring water from the Jack Daniel's Hollow, proprietary yeast and charcoal-mellowing process that's been used in the distillery's nearly 150-year-old Tennessee Whiskey recipe. From there, the spirit enters a charred White American Oak barrel, forged within Jack Daniel's very own cooperage and set to age in the upper regions of the barrelhouse. In this resting place, the whiskey is exposed to the extreme temperature variations that a Lynchburg, Tennessee season brings. The interaction of the whiskey, the wood and the environment creates nuances from barrel to barrel to bring out distinct flavor profiles that transcend the expected to become 'Barrel Proof.'
Priced at $65 per bottle, this whiskey is marketed towards consumers with descerning taste and a bit of pocket change. Jack Daniel's Single Barrel Barrel Proof is well worth the price and makes for the perfect holiday gift idea.
Buy Now: $59.99 or to learn more, go to: JackDaniels.com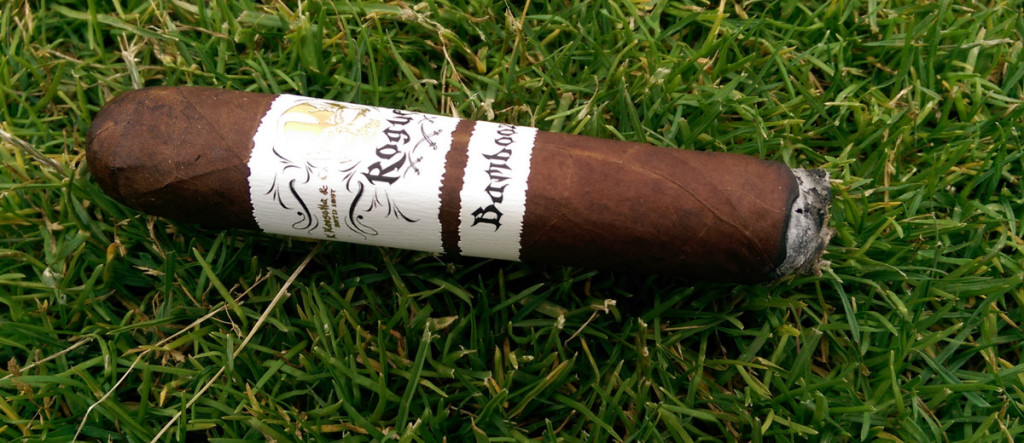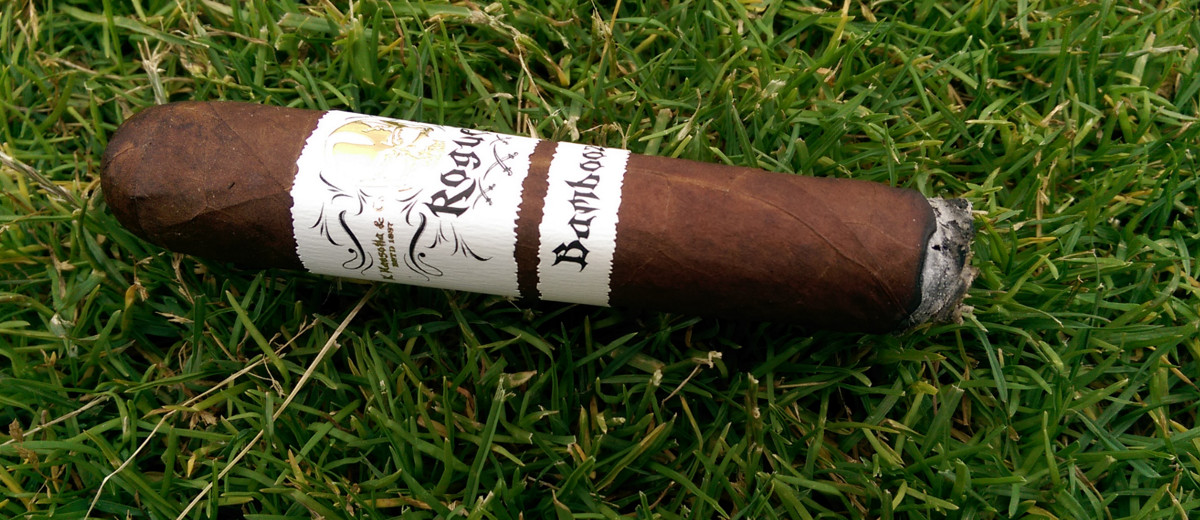 In the cigar world, the name Gurkha Cigars in synonymous with luxury and premium cigars. The founder of Gurkha, Kaizad Hansotia, is notorious for spending copious amounts of time researching extremely rare tobaccos and for his obsession of trying to find the perfect blend. Kaizad is considered to be one of the founding fathers of the premium cigar and is a pioneer in the industry. A few years ago Gurkha started releasing cigars under the East India Trading Company name and while the name may not carry as much weight in the cigar world as Gurkha – you can rest assured knowing East India is still firmly apart of the Gurka brand. Recently we were given the opportunity to have a smoke session with the third release of the East India Trading Company's Rogue Cigars.
If you're looking to try out a full-flavored cigar that will excite your senses, while delivering a mellow overall experience, the Gurkha Rouge is the ticket. We found its diverse combination of tobaccos to be very enjoyable. If you run across them online or at your local cigar shop don't hesitate to pick one up this holiday season!
Buy Now: $10.50 or to learn more, go to: Gurkha.com
This gift guide was made possible by the fine folks at GoPro
*All products featured in this gift guide were hand-picked by Busted Wallet's staff under no influence from GoPro Inc. or its affiliations.