The Sony Bluetooth Stereo Headset is a sleek, minimalistic, powerful, cord-free headphone. They are the newest in Sony's line up of bluetooth headphones and are their second most expensive pair in that category.
Sony started in Japan in 1946 and makes world class consumer electronics. From LCD TVs and Cameras, to Image sensors and other semiconductors, Sony is into everything electronic it seems. Headphones have been a part of their product line since before the first famed Walkman that changed the face of portable music. Recently they let us here at Busted Wallet try out their wireless headphones and here's what we discovered…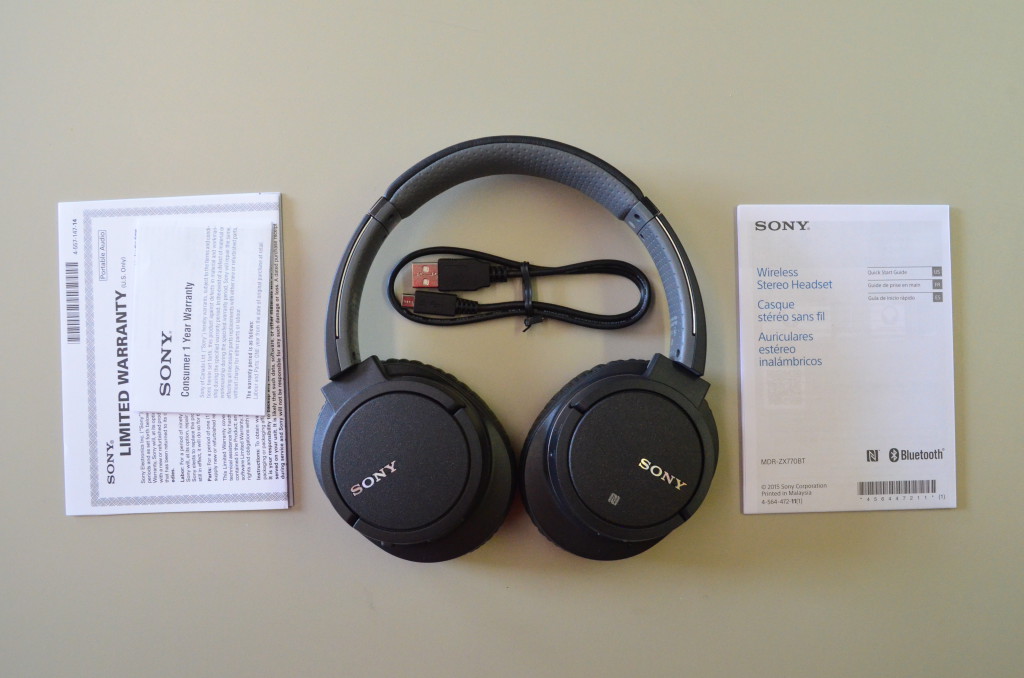 Specs:
40mm driver unit (speakers)
Frequency Response : Effective range via Bluetooth mode: 20 – 20,000 Hz
Bluetooth connectivity
Mic
Padded ear phones
Lithium-ion rechargeable battery with 17 hours of playtime
micro-USB port for charging
No Aux port 
What's in the Box:
MER-ZX770BT Headphones (I seriously want to know how they came up with that part number)
Setup guide
Reference guide (manual)
Warranty card
USB charging cable (no wall adapter)
Sony Bluetooth Stereo Headset Review Breakdown
Design:
They look slick, it is Sony after all, what else would you expect. The packaging is minimalistic and simple. Easy to open, no clamshells here. There isn't anything extra, no disks. Ear pieces swivel to fit your head, but also for flat packing for storage and travel.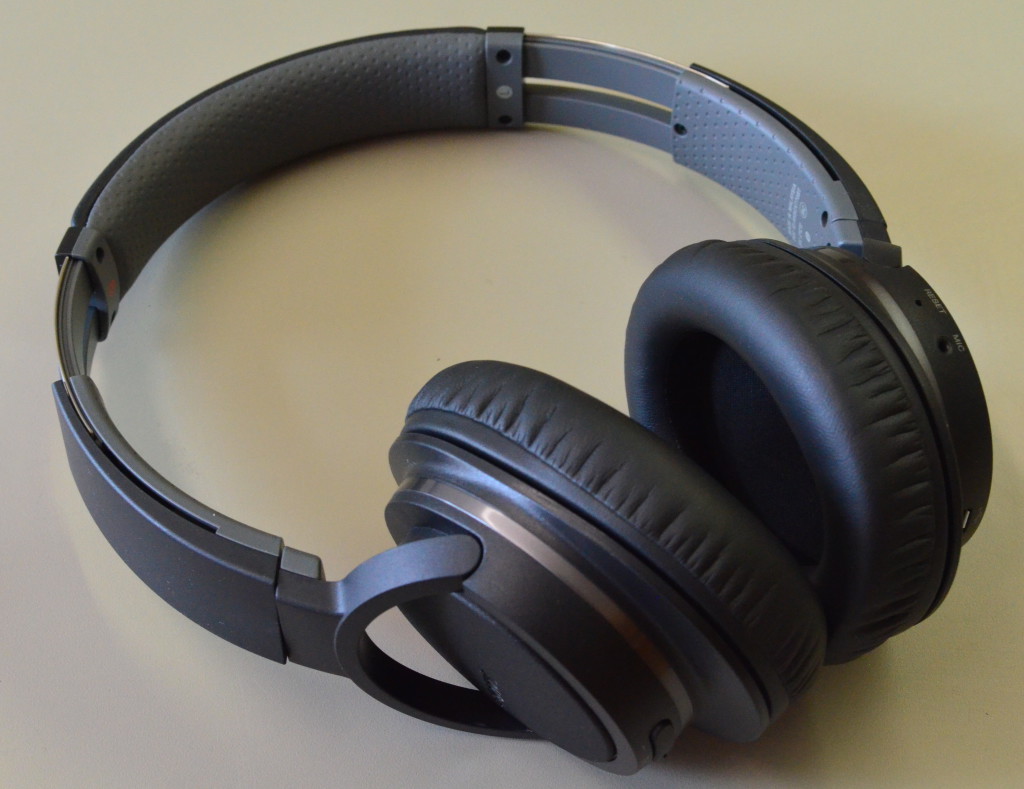 I'll start with the largest positive. NO CABLES. I've not snagged a cord on a doorknob or table in 3 weeks. Do you know the horror of having your headphones ripped out of your ears unexpectedly? I do. For the last several years I've resorted to running the cord on the inside of my shirt to my pocket where the phone is just to avoid that problem. I said at the start, this is the most pleasant personal listening experience of my life, and the lack of cables is why.
Many bluetooth/wireless headphones have an extra aux port, so in the event your battery dies you can continue to listen to your tunes. These headphones do not. Turns out, that's a feature we would have rarely needed or missed so I'm fine not having it, I'm not going to carry an extra cord.  If you think you are going to listen more than 17 hours at a go, then these aren't for you.
Weight and Size:
They fit my huge head. The top slides apart on both sides to accommodate us larger people. But this is key: it isn't flimsy. I've picked up many a headphone that feel sturdy and solid until you make them fit your head, then the sturdiness flies out the window and back on the rack they go. Mainly I've stuck with in-ear headphones for the last few years for lack of finding a comfortable set of over the ear headphones.
They weigh in just over half a pound at 8.3 ounces. I'm not going to say that I completely forget I'm wearing them, but they are very comfortable and not 'hot' on my ears or heavy on my head.
Ease of Use/Controls:
These headphones connect easily to any Android smartphone, iPhone, or bluetooth enabled tablet. Holding down the power button for 7 seconds puts the headphones in a pairing mode. Simply search for it with your device and hit connect. Done!
Once you are paired, if you have NCF enabled all you have to do is tap the phone to the headphones and they'll turn on, turn on Bluetooth on your device, and then connect. So that's cool. It's fairly easy once you figure out right where to hold your phone.
I don't even have to have my phone (or kindle) in my pocket. By my crude estimations, I can walk about 40-45 feet away line of sight. So anywhere in the room or the next one over pretty much. Right now as I type this article my phone is on a charger.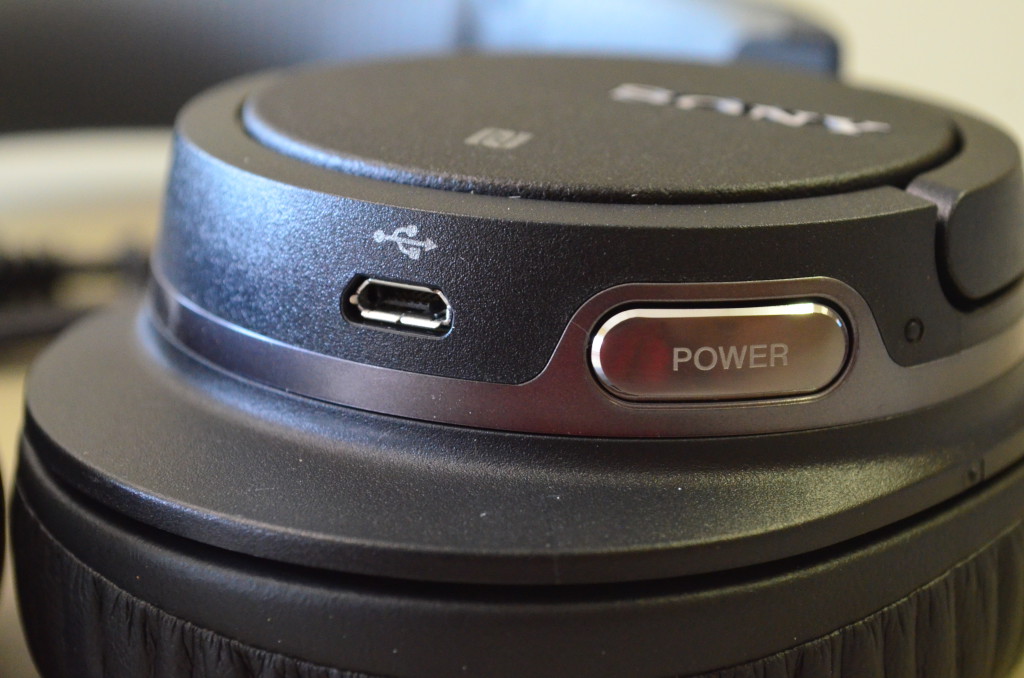 Controls are pretty good. They are made for a right handed person as the power button is on the left ear, but everything else is on the right ear. First, I'm glad all the controls (for the most part) are on one side, it makes it easy to remember which hand you have to use. The hierarchy of controls make sense too. The most prominent control that sticks out is the pause/play, with frequent interruptions at work it is easy to find and pause the music so I can talk to someone. The same button also switches tracks, but in my opinion does it backwards. To go forward a track you slide the switch toward the back of your head. To go back to the start of a track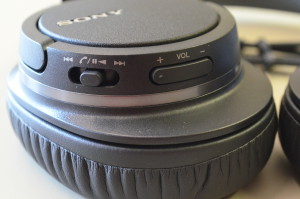 or to the previous track you slide the switch forward. I've got no degree in user experience, but I'd like it if that was reversed. It makes more sense to me to slide it forward to move forward a track, and slide it backwards to go back a track.
The other control is volume, one end (with a slight bump) is increase volume, the other end without the bump is the decrease volume. Intuitive and simple.
The headphones function as a handsfree device for your phone too with the integrated mic. I've had no complaints from anyone when taking a call while listening to music (which automatically pauses and then starts back where you left off after the call.) You're not going to wear these while driving (promise me you won't wear these while driving), but they are a great hands free headset. The manual says 17 hours of playtime. I've run them for two work days on and off before recharging and not run out of power. I haven't tried to make it to the full 17 hours, but I've also not had a low battery warning either. From a practical standpoint, I think the battery life is great.
Sound Quality:
It's really good. Not perfect. I only wish these headphones had the ability for a touch deeper bass range. I can crank the volume to the max on and the headphones won't deliver any horrible distortion on Ke$ha's "Take it off" (laugh all you want, it's upbeat music that makes the day go by) It hits the highs, mids and lows well, but it isn't going to give you that 'oh my gosh' bass feeling that some headphones do. The product website says that there is a "Bass Boost on/off" but I haven't found it, and it isn't mentioned in the user manual that comes with the headphones. This isn't an end all by any means, the lows are there, they just aren't going to thump like big speakers (and remember, these are headphones).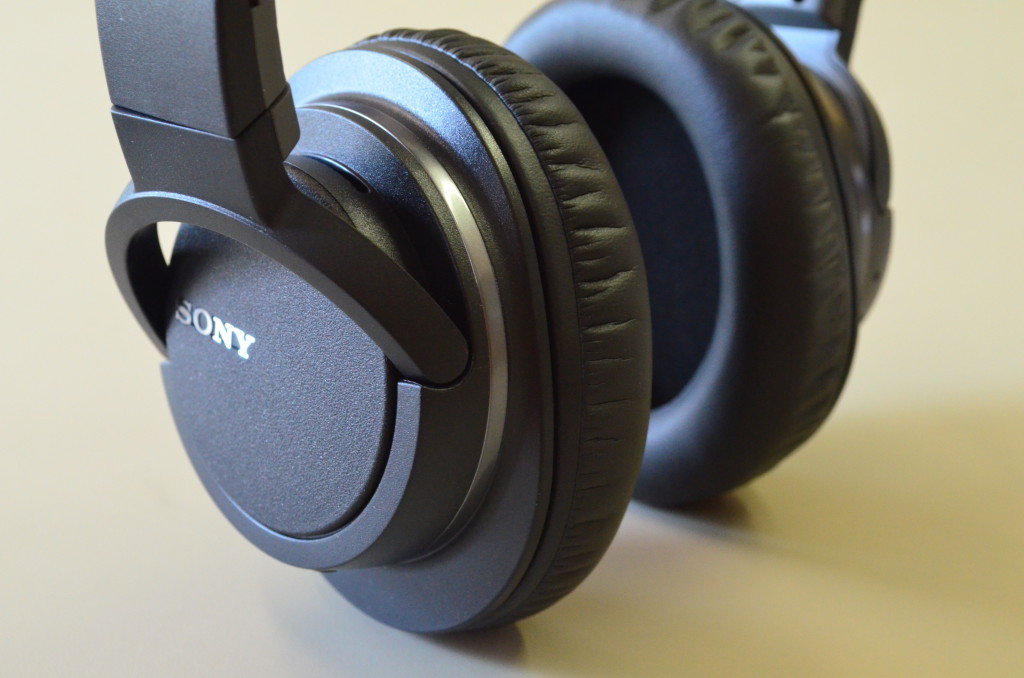 The sound they give you is very clear. Lyrics are where they should be, not hidden by the music but not overpowering the sound either.
Value:
This is my final question for every review I do (or for any product I consider buying). Does it do what it says it does? Does it do it well? In this case, it's 100 percent yes. I am using these more than any other headphones I've ever had. It isn't just because I'm reviewing them either, they are convenient and easy to use. They don't get in the way. They are not just a great price point for good headphones, but they are wireless too and have a great battery life. They'll outlast my phone most likely.
Sony's mission statement ends with "…Everything we do, is to move you emotionally. Be Moved." Well, mission accomplished. These are the most pleasant personal listening experience of my life. Cordless, clear music fills my ears at work. I am at peace with the world.
Music listened to while writing this review:
To get the party started, the always upbeat, Ke$ha "Animal" and then to slow things down and get in my writing grove, the very underrated, Alex & Sierra "It's About Us" (free streaming if you have an Amazon prime membership!). If you haven't given Alex & Sierra a listen, take a few minutes and do so (Scarecrow is my favorite from that album).
Buy Now: $149.99 or for more information visit: Sony.com
Sony Bluetooth Stereo Headset - Tech Review
Want great headphones that go over the ear? Want to block out the other people at work? Or at home? Thinking of new headphones anyway? Get these. I wear them 4 out of 5 days at work right now and I couldn't be happier with them. I don't mind in ear headphones, but over-the-ear provide better sound, and blocks out other sounds. They don't leave my ears feeling raw after continued daily use. I throw them on an extra usb cable I have at night and I know I have enough power, even if I don't remember to charge them I know they are good the next day.
The Good
No cords! Freedom!
Looooong battery life.
Comfy.
The Not So Good
They could use a bit more bass response to be perfect.