Since James Bullough Lansing started JBL (his initials) in 1946, JBL maintained a commitment to building quality products that deliver excellent sound.  Since Harman acquired JBL in the late 60's they have continued to make JBL a household name while still making great products with superior sound.  Recently, we were given the opportunity to review the JBL Synchros E50BT Wireless Headphones.  E50BT is the latest creation in the effort to get the world to cut the cord and go completely wireless.  The over-the-ear E50BT's are designed to be comfortable, provide long-lasting battery life, and  provide you with a great listening experience. Read on to see our results of our intense review process for the E50BT Wireless Headphones!
Key Features:
Bluetooth enabled technology for wireless calling and streaming music play.
Built in ShareMe technology allows simultaneous, wireless music-listening among ShareMe equipped headphones.
Built-in, USB rechargeable lithium-ion battery
Ear-cup-based microphone with echo-cancellation technology for hands-free calling with clear voice transmission.
PureBass Performance and premium 50mm drivers
Ergonomic headband and leatherette ear-cushions
Auxiliary cable provided should you need to connect directly to your device
JBL Synchros E50BT Wireless Headphones Breakdown
Design:
The developers at JBL have really done a fantastic job stuffing a lot of technology in a set of lightweight headphones.  Starting on the inside, the E50BT's feature two 50mm drivers with JBL's patented PureBass Performance that is designed to engulf your ears and deliver an expansive sound that is clear and precise.
The E50BT's also feature bluetooth technology that allows you to wirelessly connectivity with your smart devices.  There is a single-button access point which will allow you to be completely hands free. Another interesting design feature is the integrated ShareMe technology that lets you take your music social, allowing you to stream music wirelessly to another ShareMe equipped headphone. Quite impressively with a simple touch of the of the ear cup you can stream your music to another ShareMe enabled headphone.  This was really a fun feature that once you get the hang of it and is very enjoyable.  The headphones have a built-in rechargeable Li-ion battery that can easily be recharged through the USB Auxiliary cable.
Finally, on the comfort front the E50BT's are built with an ergonomic headband and 3-D hinges.  The leatherette ear cushions smother yours ears and are designed to provide all day comfort.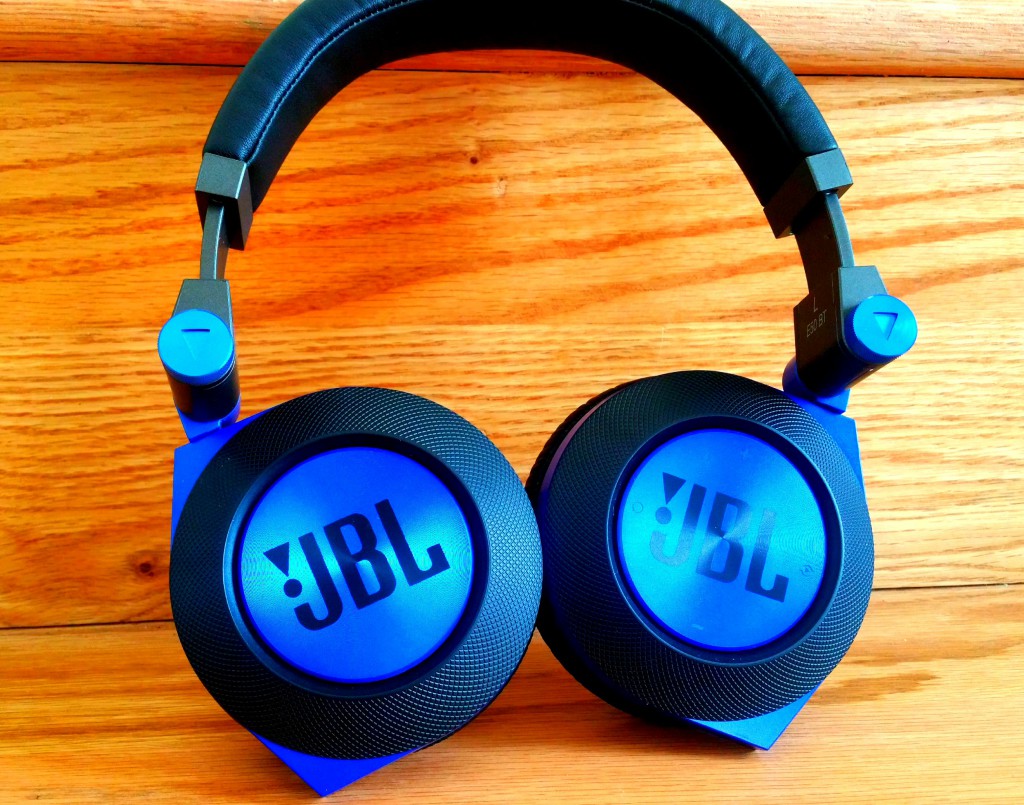 Audio/Bluetooth Quality:
Built with JBL's PureBass Performance and 50mm drivers, we were extremely impressed with the audio quality of the E50BT headphones.  When we maxed out the audio did come through a little distorted, but this is somewhat normal in our experienc. At mid to high volume you get a very clean, robust, and all-encompassing sound.  We also got some very nice bass courtesy of the PureBass technology. While the sound quality is not quite as rich as the Beats by Dre, they are definitely competitive.  When you factor in the price comparison between the two, you are really getting a very nice headset with these headphones.  The Bluetooth easily connected and gave us a range of about 12-18 feet, depending on barriers in our way.  The ShareMe technology is definitely a crowd pleaser. Long gone are the days of having to pop out your other ear bud and give it to your friend, technology has this fixed that problem for us.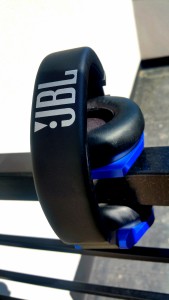 Comfort and Fit:
The JBL E50BT headphones are built with an ergonomic headband and soft leatherette ear cushions that are designed to cradle your ears and provide all-day listening comfort.  While the E50BT headphones are comfortable, we found our ears getting uncomfortable after a few hours.  While this is common among any headphones as ears are not designed to be cupped up all day, we did notice this happened sooner in the JBL headphones.  We would have liked to seen a little more padding on the ears to better insulate our ears from rubbing on the plastic speaker cover.  However, these are still pretty comfortable and are great for travel, but are not on the level in terms of comfortableness as its higher end counterpoints.  The sound quality makes it a competitor to to the higher end but if you want to pay a couple hundred extra for top of the line comfort and sound then go ahead, but the E50BT headphones are a real bargain.
Battery Life:
JBL advertises that the E50BT headphones can get up to 18 hours on the battery. On the first test we achieved almost exactly 18 hours on the battery.  Thinking this was too good to be true we tried again and got 17:30 hours.  On the third test we got we got 17:45 hours.  Kudos to the JBL crew for advertising an accurate and consistent battery life.  Either way there is more than enough battery life to last you during that next long flight or for a long study session in the library.
Value:
Priced at $149.95 we found the JBL E50BT wireless headphones to have great value.  The sound quality, thanks to the phenomenal PureBass technology, is enough to warrant the purchase price on it's own.  The easy functionality of the side panel and the one button Bluetooth connection make this headset easy to use and very functional.  We have already raved enough about the ShareMe technology but for you music lovers that want to share with friends, this is a fun and addicting technology.  You may sacrifice some comfort to the higher end brands but the competitive sound quality will allow you to save a couple hundred dollars.
Buy Now: $149.95 or to learn more, visit: JBL.com
JBL Synchros E50BT - Tech Review
Featuring high-quality sound powered by JBL's patented PureBass Technology the E50BT wireless headphones pack a great sounding punch. Easy to use and setup these headphones will have you cutting the cord permanently as you enjoy the premium wireless sound. Enjoy the freedom!
Audio/Bluetooth Quality
8.5
The Good
Great sound quality
Battery life as advertised
ShareMe Technology
The Not-So-Good
Could be more comfortable
Audio distorted at max volume