Touted as the "world's most famous headphones", recently the Beats by Dr. Dre Studio Headphones underwent a complete overhaul for 2013. This time around the mad scientist at Beats by Dr. Dre re-engineered the Studio Headphones to be lighter, sexier, stronger, and even more comfortable than its predecessor. And what more could you ask for, right? Well, as luck would have it they've also added some rather fancy features like Adaptive Noise Canceling Technology, remote talk, an integrated mute button and a behemoth 20 hour battery life with visual battery level indicator to top it all off.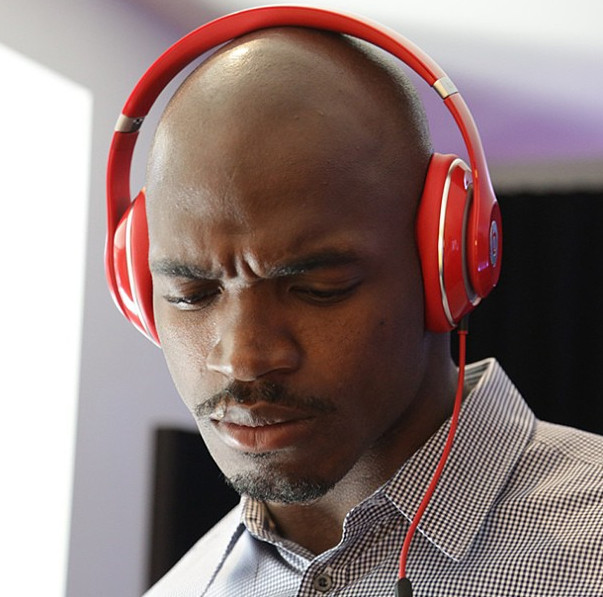 Just a few weeks back we were given an opportunity by our good friends at Beats by Dre to take a spin in the new Studio Headphones ourselves. We might not have looked as good as Minnesota Vikings Running Back Adrian Peterson (pictured above) but after collectively spending 100's of hours bobbing our heads to the Studio's revamped acoustics we all feel like MVP's right about now.
While we've already mentioned many of the features that make these new headphones so attractive, check out the lists below for a more comprehensive look at everything the Studio Headphones have to offer…
Key Features:
Auto-on /off
Adaptive Noise Canceling Technology
Mute button
Battery level indicator
3.5mm audio cable
Remote/Talk cable
Hard shell carrying case
Beats cleaning cloth
Quick Start-Up Guide
Specs:
Weight: 0.5 lbs
Height: 203mm
Type of Jack: 3.5mm
Dr. Dre and Jimmy Iovine are industry innovators and it's no surprise they've taken their flagship headphones and totally upped the ante for 2013.
With the original Studio headphone we set out to prove that people all around the world care enough about sound to invest in it – and we did, now we are taking it a step further. The new Studio is tuned with balance, accuracy and emotion, has a breathtaking design and truly innovative technology. This is the sound of the future. -Jimmy Iovine, Co-founder & CEO of Beats by Dr. Dre.
I think by now we've made it pretty clear that these new headphones pack a pretty impressive technological punch, but how do they stack-up under real life conditions in the home, on the bus and during travel? Well, keep reading and find your questions answered below where we go totally in-depth. Enjoy!
– Beats by Dre Studio Review Breakdown
DESIGN: 
The smudge-tastic high-gloss finish and build quality of these headphones is fantastic. We choose to test and review the red and silver version which are simply eye-popping. For having a built-in battery the Studio Headphones are well balanced and surprisingly light weight, but don't feel chintzy.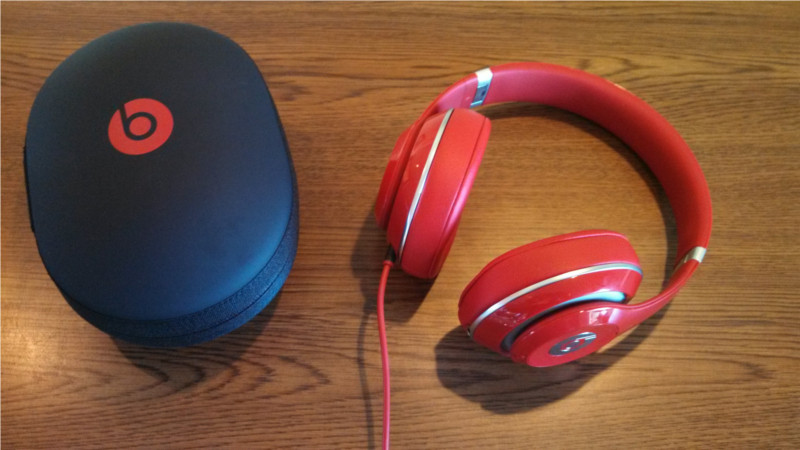 A few design qualities that caught our attention throughout testing were the Adaptive Noise Canceling (ANC) Technology which works nicely to subdue noise from the outside world and focus nothing but thumping beats into your ear-holes. The auto-on/off feature is also quite handy as well and saves battery life. To turn ON plug the headphone jack in, then to turn OFF un-plug the headphone jack. Simple as that! Additionally we also really appreciated the inclusion of the lighted battery life indicator. With 20 hours of playback on a single charge (via micro USB) it's nice to know when the next charge is needed.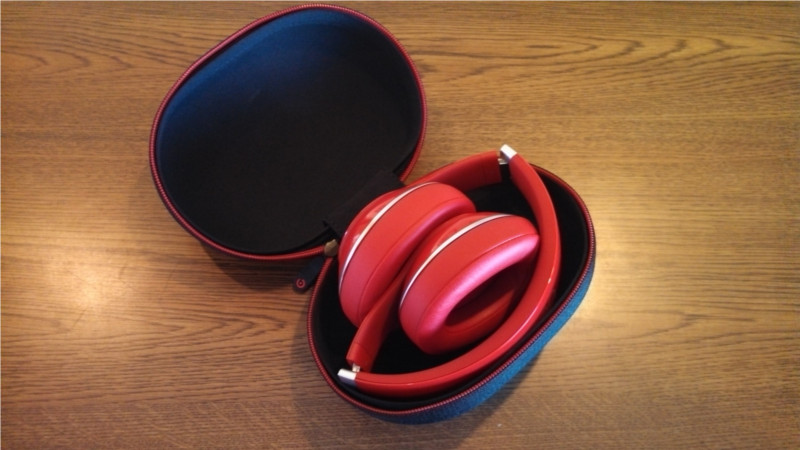 Lastly, on the design tip, the Studio Headphones conveniently fold up in to a compact position and fit snugly into a handy hard-case which is great for travel and general safe keeping. The only gripes we had with this design feature is that when in the folded position the ear cups become smushed and take a while to regain their original fluffyness. Another small problem we found with the travel case is that it's only big enough for the headphones and cord. If you want to bring the charger and other accessories along you'll have to pack them separately. Not a huge issue really, more of an annoyance.
COMFORT & FIT: 
All said and done these are great fitting over-ear headphones. The Studio's are light weight, comfy to wear for hours on-end and expand/contract to fit all head sizes (excluding you, Elephant Man). For me the true comfort of the headphones comes in the form of the supple and modestly cushioned ear cups. They fit perfectly around your ears and are comfortable to wear for hours and hours with literally no discomfort to speak of.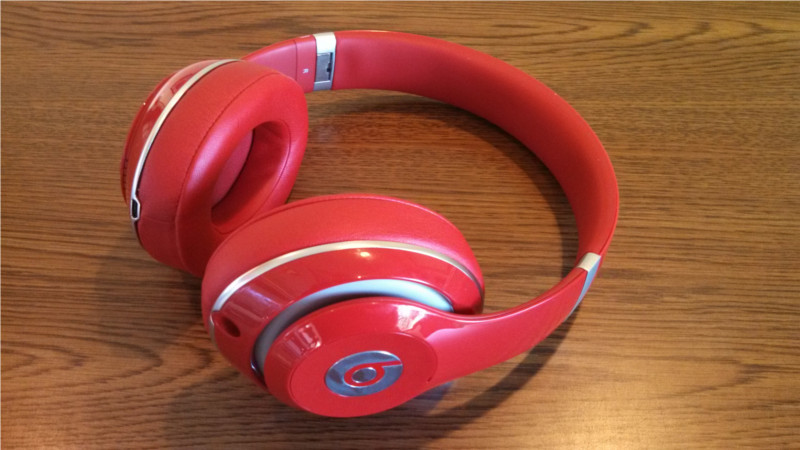 To be picky – we'd rather have the padding on the top of the head match that of the ear cups. The padding at the top of the headphones is cushioned nicely, but is covered in a rubber material. This is likely by design and meant to keep the headphones from slipping, but we found it to be a less desirable finish overall and kept the Studio Headphones from earning a perfect 10 out of 10 in this department.
AUDIO QUALITY: 
If you're looking for a rich bass-focused listening experience the Studio Headphones hit the mark! We found that the ANC technology delivered on its promises and hushed outside ambient noise allowing the headphone drivers to truly shine and deliver a deeply immersive listening experience. Not to mention, wow, these headphones are LOUD! At peak volume you can expect some distortion. There's probably no reason to ever blast the Studio's at max volume, but if you do, prepare for a decrease in overall audio quality. We found the highest quality volume setting to be at approx. 60% to 70%. Here the bass is deep enough to rattle your eardrums free of distortion while the mids and highs are surprisingly clear – without harassing your neighbor in the seat next to you.
Throughout testing we spent hours upon hours listening to all genres of music, but in the end we found that the Studio Headphones lend themselves best to hip-hop, jazz and pop music. Some favorites include "And We Danced" by Macklemore, "Berzerk" by Eminem and "F**kin' Problems" by A$AP Rocky.
Additional Images:
VALUE: 
At $199 the Studio Headphones are the most affordable in the Beats by Dr. Dre line-up of over-ear headphones. Affordable though? At nearly $200 this purchase might be a hard pill to swallow but we can assure you they come without even a hint of buyers remorse after un-boxing. On the market today there are exceptionally more expensive headphones and enticingly inexpensive headphones. After testing these headphones for nearly a month we found them to be a great value for price.
Buy Now: $199 or go to: BeatsByDre.com

Beats by Dr. Dre Studio Headphones: Tech Review
Rich audio, comfortable fit, immersive bass... the Beats by Dr. Dre Studio Headphones deliver it all. If you're in the market for a new pair of over-ear headphones with noise cancelling capabilities, transformer-like packability and excessively loud speakers to boot, we highly recommend the Studio Headphones from Beats by Dr. Dre. While they may not deliver the finest listening experience for country, folk or classical music fans - they do produce undeniably powerful acoustic that are ideal for rock, hip-hop and jazz lovers. Take our word for it.