Like many SUV owners we understand the importance of cargo space. Short of hauling a trailer or traveling in a conversion van or wildly un-MPG-friendly Suburban there are only a few good options to add additional cargo space to your vehicle. First off, you have trailer-hitch-mounted systems which are popular (but limited) and then you have your rooftop mounted systems. Roof racks come in all shapes and sizes – depending on your vehicle and preference. One of the more popular styles is the cargo basket. This design not only looks bad-ass, but it's very functional as well. Often times you see this style utilized in the jungle and safari. Its design it meant to handle large loads over unpredictable terrain. The high rails hug cargo loads and keep everything where it's supposed to be.
Recently we teamed up with the nice folks at Rhino Rack to put their largest cargo basket – the XTray Large though the paces. And over the past two months that's exactly what we did. Utilizing a Jeep Grand Cherokee as the demo vehicle we tested every aspect of this cargo basket from assembly to installation through loading and unloading. During our two month testing session we took the XTray with us every where – hauling loads of gear to hunting camp, kayaks to the lake and late season camping/hiking gear to and from our destination.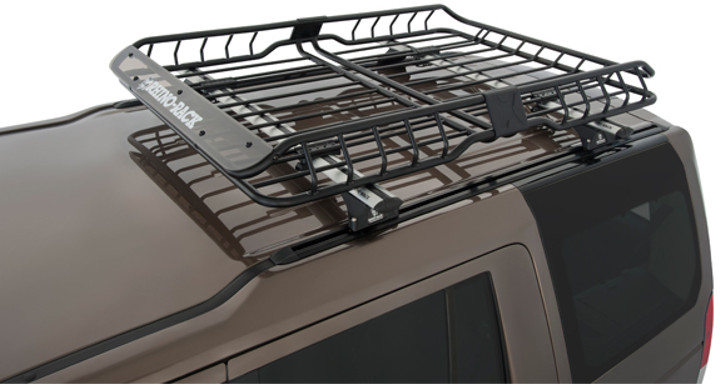 Before we get too far into the nut and bolts (quite literally) section of our review – here's some key info about the XTray you'll definitely want to know…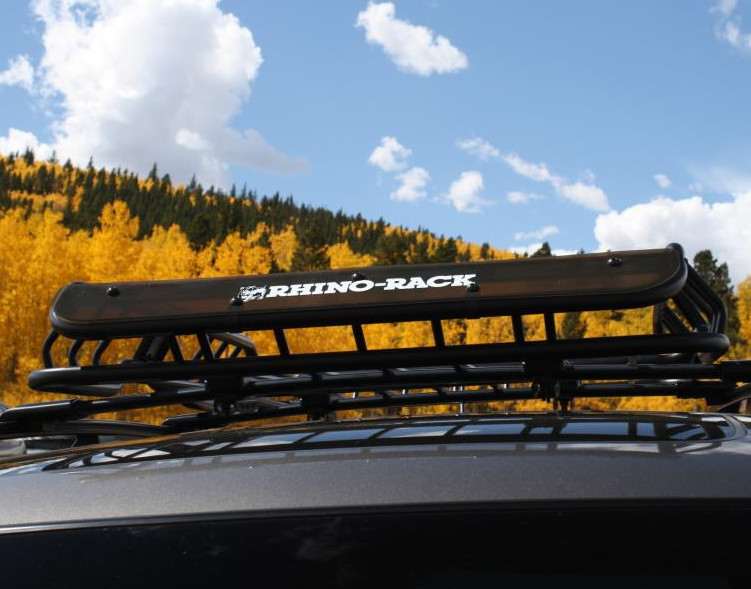 Key Features:
Steel 2 piece construction
Heavy Black powder-coated finish
Fits all Aero bars (max bar size 3.54 inches wide x 1.30 inches height)
Fits Euro bars
Front wind deflector
Carrying capacity 165 lbs
3 Year Warranty
Specifications:
Length: 63 inches
Width: 44.5 inches
Height: 5.9 inches
Rhino Rack XTray Review Breakdown
Design:
The build quality and rugged aesthetic that the XTray brings to a vehicle is phenomenal. Throughout our testing sessions we received several compliments on the rugged looks this cargo rack added to our Jeep Grand Cherokee test vehicle. Not only does it look good when mounted on the factory rack of an SUV – it's also extremely functional, as we found out. During the 2 months we've spent testing this cargo rack, we were able to secure and transport kayaks, camping gear, hunting equipment and even a spare tire. All of which was extremely easy to tie down and load.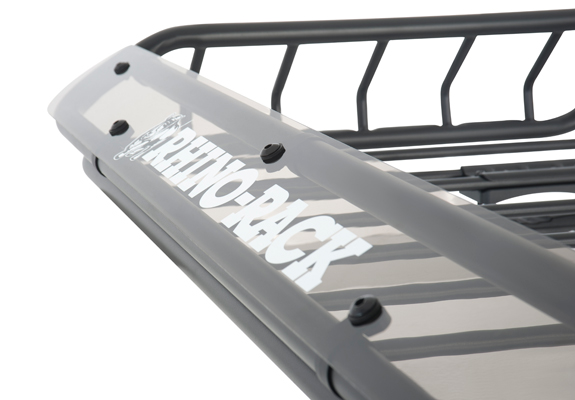 A few key design features we'd like to point out are the high rails – which make loads very secure especially around turns. The light but sturdy steel tubular construction of the XTray. As well as wind deflector, which helps to keep bugs, dirt and grime from impacting your cargo loads.
Overall, the XTray can hold a lot of cargo and is a fantastic design, the only downfall we encountered was its performance in rainy and snowy conditions. Without a weatherproof cargo bag the XTray became somewhat useless for hauling cargo… at least anything you'd like to keep dry. That said, waterproof cargo bags typically run $50 to $150 depending on the size and are a wise investment if you plan to utilize a cargo basket for long distance trips.
Assembly / Installation: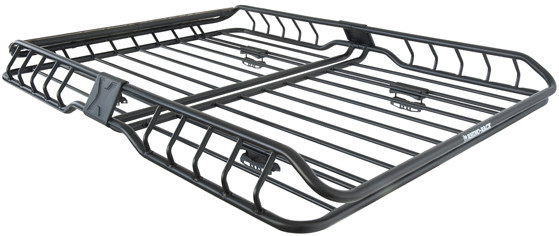 Unlike some other cargo racks we've dealt with in the past, assembly of the XTray can easily be executed by one person in a short time. The instructions are very simple to follow, all tools (1 tiny hex-key) and hardware are included. Best of all, you don't have to be a DIY wiz-kid to slap this thing together.
Overall, we give assembly and installation of the XTray a 4-beer ranking… "what's a 4-beer ranking" you ask? Well, it's a pretty simple equation actually. In the time it takes you to assemble and install this cargo rack you should also be able enjoy 4 beers (depending on your thirst level, of course). Though we feel our 4-beer ranking is scientifically accurate, we do suggest buying a full six pack of your favorite brew in preparation for this install to account for any missteps or undoing of mistakes. Plus if you pull it off without an mistakes you'll have 2 cold ones left over to admire your work with!
Functionality: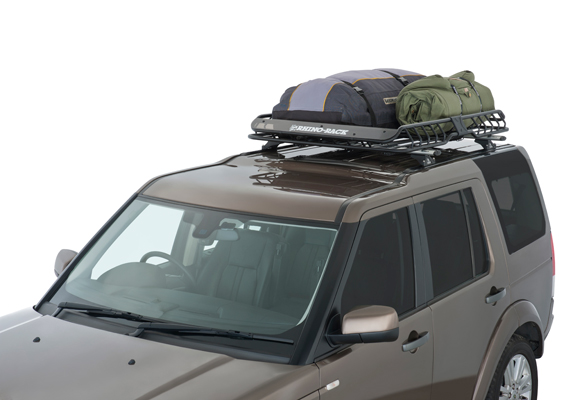 With a max weight capacity of 165 lbs there isn't much the XTray won't haul for you. If it will fit into the cargo basket and you can lift it into place the XTray will haul it. During testing we preferred to use ratcheting cargo straps to secure our loads. We had feared that the rack might bend or "give" under the tension of the straps, but we were happy to find out that wasn't the case. The steel frame held together nicely and showed some real impressive rigidity!
One minor complaint we noticed during winter testing was snow build up. Clearing snow from the bars and underside of the rack proved to be a chore at times. As we mentioned earlier the wind deflector works nice to keep dirt and bug off your cargo load, but it also keeps the snow from blowing off. This is probably more of an annoyance than a true complaint, but we thought it was worth mentioning.
Value:
Priced to sell at $399, the XTray is a beast, and in our opinion a very good value. If you take pride in your vehicle's appearance and have the need for additional cargo space there aren't many options this affordable, durable and easy to assemble. The XTray proved time and time again to be worth its weight in gold throughout our testing and review experience.
Rhino Rack XTray Cargo Basket: Gear Review
The XTray from Rhino Rack is an ideal cargo basket for storage-hungry outdoor enthusiasts. If you're in the market for a light, yet solid steel frame cargo basket this is a great option in our opinion. We put the XTray though the paces and it came away unscathed and left us very impressed with its ability to secure just about anything you can strap into it!
Assembly / Installation
7.6
The Good:
Excellent Cargo Capacity
Sturdy Steel Construction
Handsome Design
The Not so Good:
The hex-key used for installation/assembly is clumsy
No protection from rain and snow