Built for hauling excess loads the distance, the Rola Dart Cargo Carrier and its heavy-duty steel construction is capable trucking up to 450 pounds across its 56″ x 23″ frame, and folds up (when not in use) conveniently with the simple pull of a handle. If you're a SUV owner like myself, you understand the importance of storage space when it comes to long hauls to distant getaways. Whether it's a camping, ski, or hunting trip – cargo space is usually at a premium.
The Rola Dart is deigned to deliver versatility and load capacity for any adventure you might take. Recently we hooked up with the fine folks over at Rola to take their Dart cargo carrier for a test drive through the heart of Michigan to the northern reaches and through the back country. We're talking about deer camp fellas. Where coolers, equipment, gear and beer require a ton of space.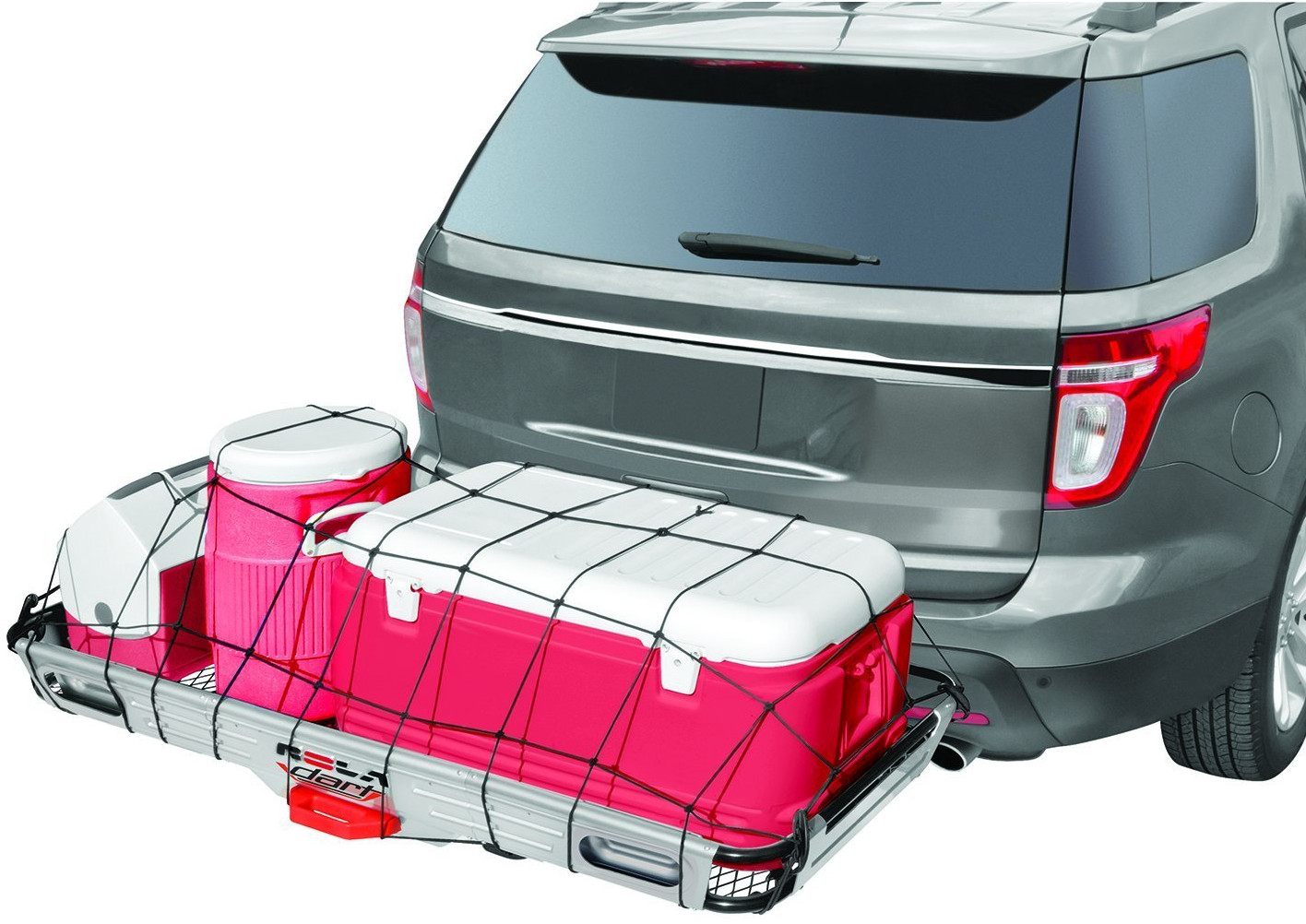 The Rola Dart cargo carrier is ideal for carrying coolers and other equipment that is impervious to dirt, grime and rain. Another option is to purchase one of Rola's dry bags that are designed to carry almost anything and keep it dry. For our testing and review sessions we were presented with a standard Rola Dart cargo carrier. Silver in color with red and black accents. An optional tail-light package is available for purchase, but we didn't find it was necessary as the Dart cargo carrier only adds about 40″ to the total length for your vehicle and best of all it's not required by law.
Key Features:
Conveniently placed lift handle folds the carrier to an upright position for easy parking and maneuvering
Rise shank included for added ground clearance
Signature skid and side plates are constructed of high impact ABS
Built in license plate relocation holes
Optional bike clip and fully functional lighting systems available
Specs:
Carrier Weight: 72 lbs
Capacity: 450 lbs.
Warranty: 5 year
Dimensions: 23" x 56" x 5-1/4" platform
Design: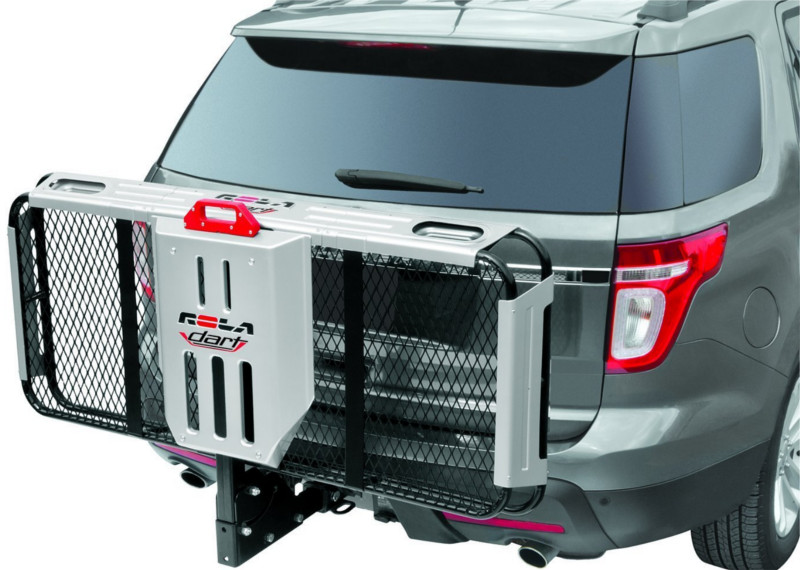 Compared to other hitch mounted cargo carriers, the Rola Dart, physically is a very handsome piece of equipment. The grey plastic molding and styling is like no other cargo carrier on the market. In fact, Throughout our travels we received several "wow what is that?" and "where did you get that!" compliments. Though most folks we ran into were truly impressed with the Dart's ability to quickly and effortlessly transition from open (ready to haul gear) to up-right (not in use) with the pull of a handle.
Being a good looking cargo carrier is a definite bonus. But for us the real design factor that impressed us the most was the lift handle.
How it works: pull on the red lift handle and a locking pin is disengaged from the pivot point of the carrier. This red handle allows you to quickly and effortlessly maneuver the carrier how you like it.  Other cargo carriers might have the option to lock into the upright position, but none of them (that we've seen) have a lift handle. The others have clumsy pins that need to be pulled out and re-secured.
Assembly:
The Rola Dart comes delivered un-assembled in a hefty package (nearly 80lbs). You'll want yourself, a friend and a couple cold ones in preparation for assembly… unless you're a stubborn beast-man who wants to awkwardly maneuver the package and parts yourself. Seriously, and extra set of hands is your best bet for a non-frustrating assembly.
You see, there's really not too much to the assembly of the Dart, you only need a few tools (wrench, socket, pliers and a philips-head screwdriver) The only issue we had throughout assembly was the four carriage bolts that connect the cargo basket to the hitch arm. These bolts are meant to lock into place while you screw the nut on. But, as we found out (on all four carriage bolts) they do not like to hold in place and if you continue to spin them – they will strip out the underside. So we suggest that you have someone hold the top of the carriage bolt with pliers while you secure the nut fully. Other than that assembly went rather quickly, without too many F-Bombs.
All said and done – putting together the Rola Dart is a two beer job. One beer to drink during assembly (it took us approximately 30 minutes) and the second beer for celebration while we admired our DIY abilities.
Functionality:
For carrying gear and equipment, the Rola Dart is beast. While at deer camp we loaded it up with six 50 lbs bags of sugar beets and hauled them down a nasty pot-hole-filled dirt road before arriving back to our hunting grounds. The Dart handled all 300 lbs without issue.
When it comes to hauling camping gear, coolers, etc… it'll handle most anything you can fit within its 56″ x 23″ cargo area. As long as you have secure bungees or tie-downs feel free to stack it up and tie it down.
Again, its best asset is the release handle for propping the carrier up or laying it down. We can't stress enough how easy this is and how handy it comes in for parking.
Durability:
All-in-all, we found the Rola Dart to be exceptionally durable throughout our road tests. The only suspect areas that cause any doubt in our minds would be the plastic skirting and skid plate. At the end of the day they are plastic and plastic just isn't the most durable material they could have used.
Value:
Priced anywhere from $240 to $380 depending on where you find it, or who's running a sale – we found the Rola Dart to be an exceptional value for cargo-needy drivers. It's got all the bells an whistles you could ask for and they're backed-up by a 5 year limited warranty to boot!
Rola Dart Cargo Carrier - Gear Review
If you're a space conscious outdoors man or woman looking for a stylish and functional way to easily haul excess (and heavy) loads you won't find many better than the Rola Dart. We tested this cargo carrier over the course of a month and found it to be reliable, durable and simple to operate. The shining star of its design is by far the pull handle that allows it to lock in and out of both upright and open positions. It may be a little clunky and cumbersome to assemble and install by yourself, but it more than makes up for that with its massive 450 lbs cargo capacity, handsome good looks and overall versatility.
The Good
Simple to Operate
Stylish Design
Capable of carrying heavy loads
The Not So Good
Plastic trim seems chinsey
72 lbs - making it hard to maneuver on/off the vehicle by yourself