Finally! A scooter that looks as good as it performs. Unquestionably more attractive than the droves of rideshare scooters strewn about the streets, Unagi's Model One isn't just all looks. 
With dual electric motors (E500 Model), lightweight build materials, a quick and sturdy folding mechanism, and powerful integrated safety lighting, the Model One certainly deserves a spot on your list when considering a purchase from the growing electric commuter scooter market. 
Let's get into the Unagi The Model One review!
Unagi Model One Key Features*:
Easy to use folding mechanism

Three riding modes (plus a secret max mode)

Dual 250 watt motors

1000 watts max power

Electric regenerative anti-lock brakes

IP54 water resistance

15.5 mile range (condition and speed-dependent)

26.5lbs carry weight
*All specs are based on dual motor E500 model
Unagi Model One Review Breakdown
Design:
If you've gleaned anything from the intro, this scooter wins in the style department. The Unagi Model One is hands down the cleanest scooter I've seen. Unagi utilized a blend of Magnesium Alloy (handlebar), Carbon Fiber (steer tube), and machined Aluminum (deck) to build this beauty, which contributes to its lightweight portability. Compared to the Boosted Rev – in my opinion, the only other scooter manufacturer that cares about looks – the Unagi Model One E500 is a whopping 20lbs lighter!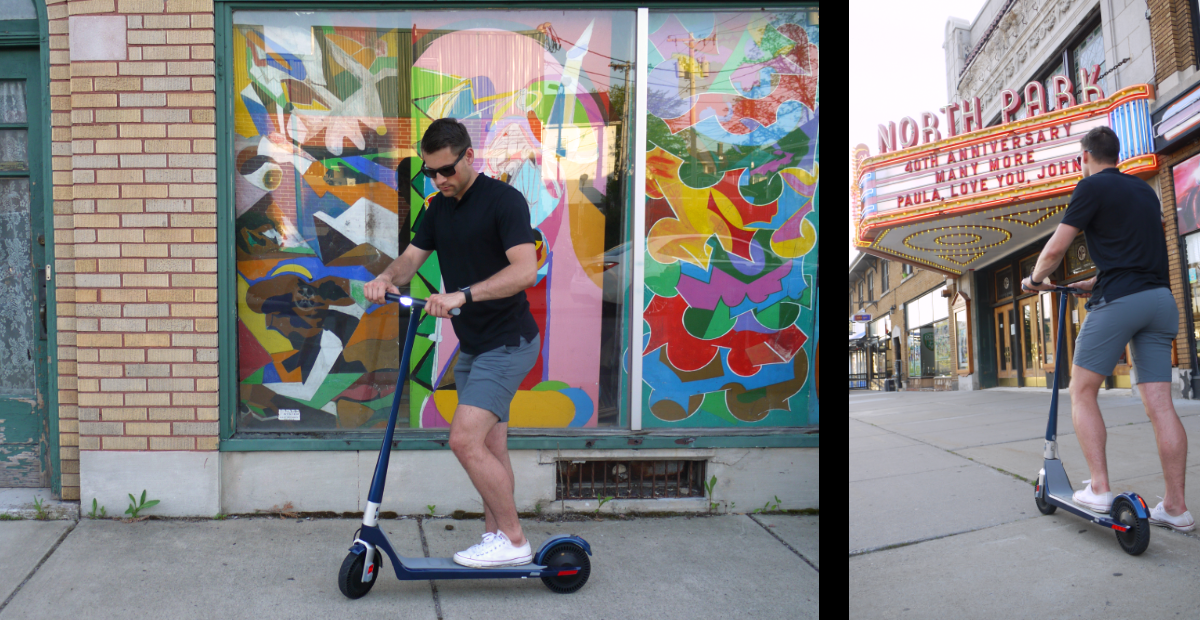 The cockpit and user interface is nice to look at (and easy to use), the one-click folding mechanism is one of the best in the biz, and the colors are eye-popping. What's more, for those who want to really stand out, Ungai has a custom option. Customers can mix and match the colors of 3 components: handlebar, steer tube, and deck. For $300 more, Unagi will ship a dual motor, E500 model with the colors of your choosing. Unagi also offers Limited Edition patterned colorways. Also $300 more, you can be the owner of 1/50 patterned models. Unagi only offers 50 special edition scooters per pattern option. 
One item to consider is lead time. On a custom design or a limited edition colorway, you could be waiting a whopping 3 extra months for delivery. 
Features:
Settle in, because there is a lot to talk about here. 
Starting off with the handlebar, this is where it all happens. With comfortable, high-quality silicone grips, a bright white LED display, and intuitive speed controls, Unagi got it right here. Once you get used to the multi-use buttons and how to control certain settings, you'll appreciate the minimalist design.
For example, a long press of the power button turns the scooter on; a double click of the power button changes from single to dual motor mode, and a quick single click of the power button turns the headlight on or off. 
Next up, the folding mechanism. I've said it a few times now, but this folding mechanism is great (and satisfying). Pushing down the release button on either side of the steer tube unlocks the handlebar for easy folding. Once locked, you can grab the scooter in the center of the steer tube; right where the tapered slim section is for easy carrying.
 To unlock and raise the handlebar, repeat the process! I do find the system hangs up a bit when unfolding. What helps is a light upward pull on the handlebars before engaging the release button. It's a minor quirk for an otherwise flawless design.
 Carrying The Model One is a breeze. The tapered steer tube is the right circumference for most hands, and the clean cord-free, machined deck does not scrape up your leg or puncture pants when carrying.
 Let's talk about lighting! The Model One includes super bright LED safety lighting. A dual-LED headlight clearly recessed into the handlebar is activated with the touch of a button. It is plenty bright and pointed slightly downward to help illuminate obstacles and make you known to other motorists. The taillights are super cool. They turn on automatically when the scooter is powered on, and flash like a formula one light when the brakes are activated.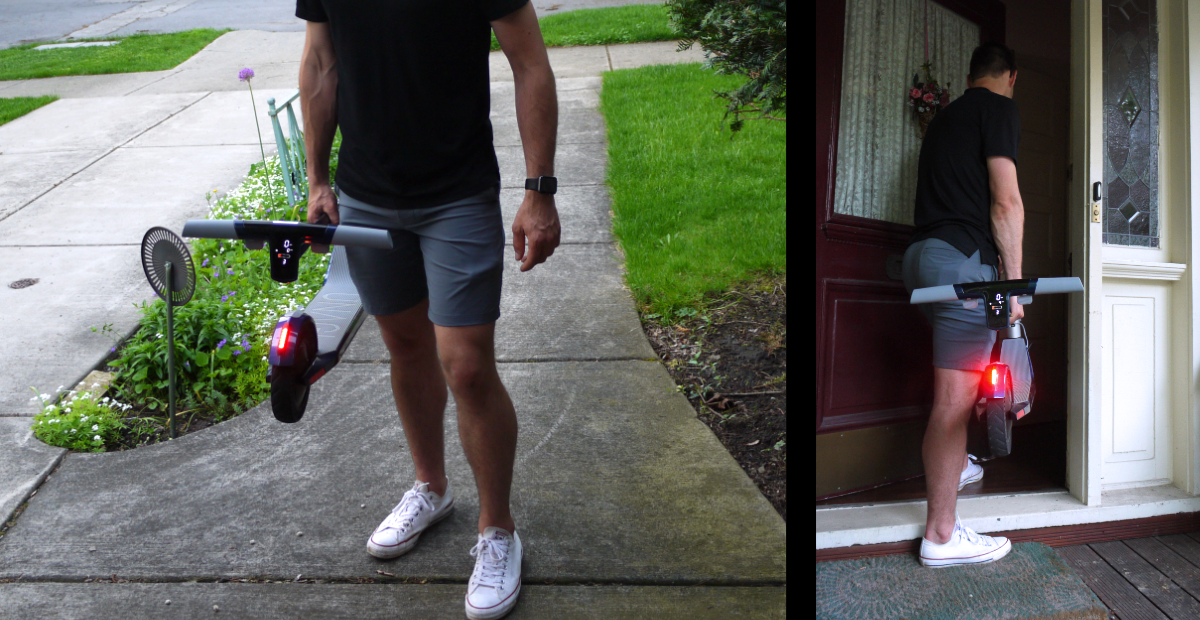 One final feature of note is the low profile kickstand. It has a nice spring-loaded mechanism, and stores flush with the scooter deck. No chance of catching debris on this one!
Performance: 
Acceleration: Unagi's dual motors get up to speed quickly. It takes about 4.5 seconds to get to 15mph. This isn't your standard rideshare scooter. It accelerates fast enough to make you want to grip the handlebar a little tighter on take off. I've also noticed body position plays a role in tire grip. If you're leaned too far back, the front wheel will skid a bit. 
Speed: The Unagi Model One comes out of the box with three rider modes:
Eco | 9-11mph 

Standard | 11-13mph

Pro | 15-17mph
I find the Eco or Standard modes to be a bit slow for my liking, but they still beat walking and are great for teaching friends new to scootering. 
Out of the box, the Pro mode seems to max out at 15mph on the flats despite the range of 17 given. With a little "button mashing" you can unlock a secret max mode that brings the top speed to 18mph on flats and 20 when descending a hill – you didn't hear it from me 😉
While not the fastest scooter on the market, 18mph will get you where you need to be about as fast as a moderately efforted bike commute – without the sweat! Also, beyond 18-20 mph, scooters become less safe for bike paths and sidewalks forcing riders to risk interaction with road motorists. 
Braking: Powerful stuff! I've used plenty of rideshare scooters that leave me panicked when slowing and jamming the mechanical friction brake on the rear wheel. After weeks of riding, I've not felt the need to use the backup friction break on The Model One. Unagi claims the electronic regenerative brakes come to a full stop in 13ft in ideal conditions (dry road). While that is hard to gauge while just reading on the internet, I'll tell you, it's quick. It'll lurch you forward if you jam down the brake paddle.  
Range: Ah yes, the burning question of any electric commuting vehicle. This is where the rider modes will play a big factor. Unagi claims 15.5 miles of range but doesn't specify what rider mode that is in. 
Wink wink, it's not full speed. In rider mode 3 (Pro mode with max speed unlocked), I've seen anywhere from 7-10 miles of range depending on conditions. Below 60 degrees, battery performance is cut down by 3-4 miles. Depending on where you live, that might not matter, but in a climate with 4 seasons, it limits the use in 2 of those 4 seasons. 
Another consideration is hilly terrain. Unagi claims the dual-motor E500 can tackle hills of 15º slope, but don't expect your battery to love it. 
All in all, 10 miles will do it for most quick trips to the store, coffee shop, and even your office – if it's close. Combine the Unagi with public transport, and your commute distance increases further. My office is about 4 miles away taking bike lanes, and I can comfortably get there and back with a bit to spare. If I intend to go somewhere else after work, I usually just charge it up while at the office. Though, it is worth noting Unagi advises running the battery to or close to "red" before charging.
Ride Feel:
Unagi equipped The Model One with all-rubber tires. While puncture-proof and confidence-inspiring on corners, there is a lot of road feedback. The air pockets that circle the wheel act like springs, shifting and compressing under load and impact and bouncing back to shape, however, the impact resistance is not as lofty as Unagi's site makes it sound.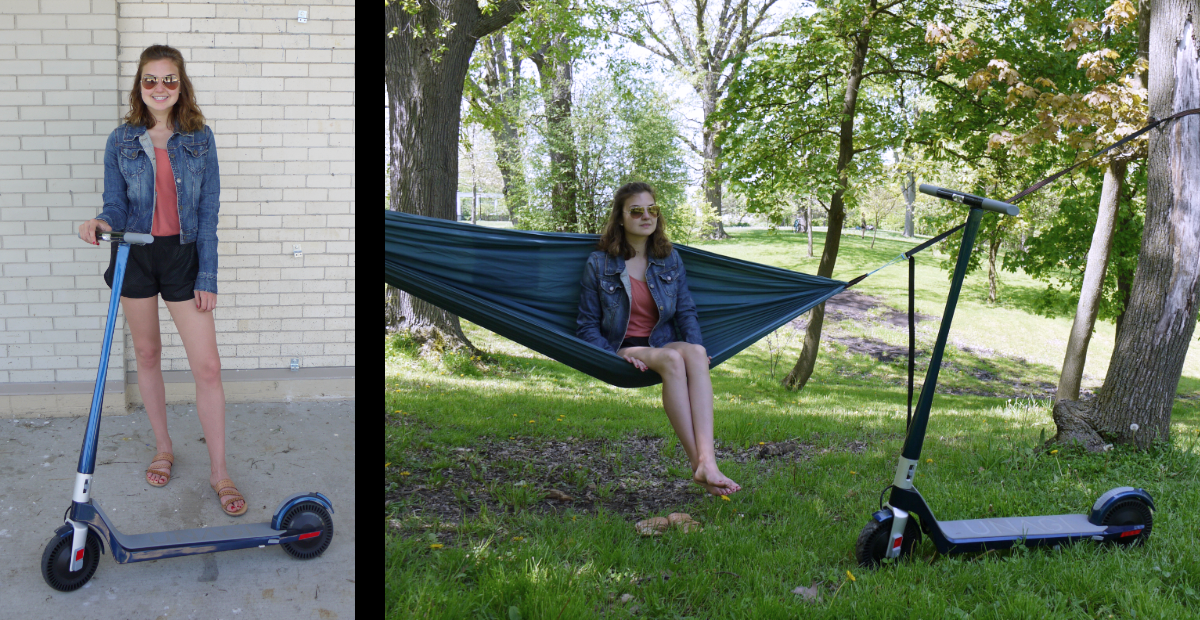 What The Model One lacks in suspension is made up in handling. It handles tight corners like a pro, accelerates quickly with low rolling resistance, and is really fun to carve (wide-sweeping back and forth turns). The Model One is not suited for grass, despite the photo above – we walked the scooter over to set up our hammock. 
One thing I really liked about the Unagi is the low center of gravity. Unlike some rideshare scooters where the battery is attached to the steer tube, the battery lines the undercarriage of the deck resulting in a low center of mass for smooth, stable cornering.  
One thing I did feel was worth noting is handlebar stability. Due to the simple one-button handlebar release, the handlebar does have about an inch of forward/backward play (and creak) when accelerating, cornering, and braking. While not a big enough deal to make the scooter feel unsafe, it is noticeable and does take a little getting used to when compared to rideshare scooters with rigid steer tubes. Overall, ride quality is not diminished by this once you're used to it, just a bit surprising when everything else is so carefully considered, designed, and constructed. 
Value:
The Unagi Model One E500 is the luxury option of the market. It looks and feels premium with top-notch build quality. If you're at all concerned about looks, this scooter is for you.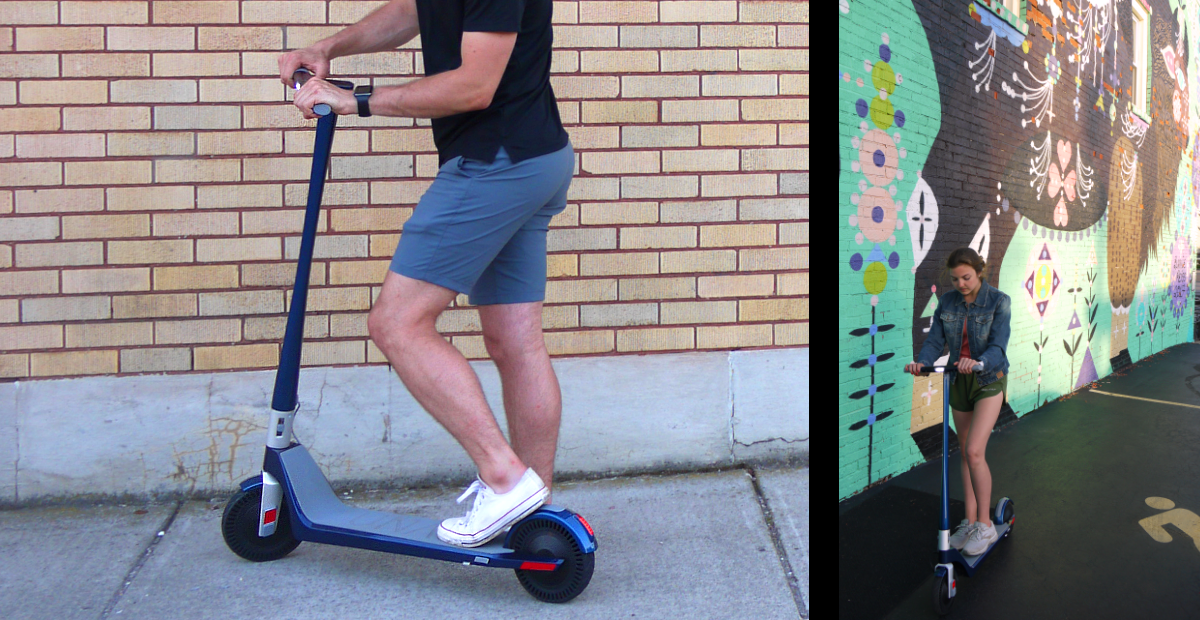 At $990 for a moderate-range scooter, the Unagi Model One might seem a bit pricey. But this scooter delivers a beautiful design that is unrivaled by competition via fun colors, incredible portability (comparatively), and premium materials. 
If you need help deciding, Unagi built a cool calculator tool to see what the impact on your commute could be. Simply select a commute situation, and play around with the comparative methods of transportation. Depending on where you live, the length of your commute, and what commute method you're replacing with your Unagi, it's a no brainer and will pay for itself in time.  
Unagi also offers a 1-year warranty and an incredible support team, unlike many scooter manufacturers. The scooter battery can also be replaced if performance diminishes over time, but Unagi promises years of riding before that needs to be tackled. 
Buy now, $990 Dual Motor OR $840 Single Motor
Unagi Model One Electric Scooter Review
Unagi's The Model One is a head-turning electric commuter scooter with enough punch and range to bring a smile to your face during rides. With great portability, fun colors, customization options, and years of painstaking design and iteration backing it, buyers will receive a premium scooter through and through.
Performance (Acceleration)
10
THE GOOD:
Beautiful lightweight design
Dual motors pack a punch
Easy to use folding hinge
THE NOT SO GOOD:
Range is a bit tight when running at top speed