Living in a small town, it can take some time for trends to hit our streets. This past summer one trend finally made it to our humble city: electric scooters. Seeing dozens of e-scooters lined up on the boardwalk, I was skeptical to say the least. I consider myself somewhat of an aficionado of alternative forms of transportation (my preferred mode of transport being a 1980 kick start Testi Cricket moped) so, I must admit that I did turn up my nose a bit at these fancy, newfangled e-scooters. The GOTRAX GXL Commuter Electric Scooter changed my mind. To say that the GOTRAX GXL Commuter is fun to ride is an understatement. The first time I took it for a spin, I couldn't help but smile. Wind in my hair, sun on my face, I felt like a kid again! With dozens of electric scooters on the market, GOTRAX GXL Commuter stands apart with its precision fabrication, durable frame, and intuitive LED display. This is not to mention that it is an incredible value at $299, nearly half the retail price of comparable models. Simply put, GOTRAX got it right with the GXL Commuter. I am proud to have it as part of my fleet.
Key Features:
2 Speed Setting
Cruise Control
Easy to read LED display shows speed and battery life
Front riding light
250 Watt Motor
36V battery
9-12 miles per charge
8.5″ Air-filled tires
Foldable and portable
26.4 lbs
Handlebar mounted bell
GOTRAX GXL Electric Scooter Review Breakdown
Design
The GOTRAX GXL Commuter has all of the basic design features that you need in an electric scooter, making it fun and easy to use. It has a sleek, black paint job with striking red accent features. It boasts a reinforced frame that is safe for riders up to 220 pounds. Though sturdy, the GXL Commuter is compact and light enough to carry with one hand. The handlebars easily collapse into the frame with a squeeze of the front red lever. Securely clipping to the back tire, the handle bars make the GXL Commuter super easy to carry. When you are ready to ride, you simply push the red tab on the back fender and fold the handlebars up.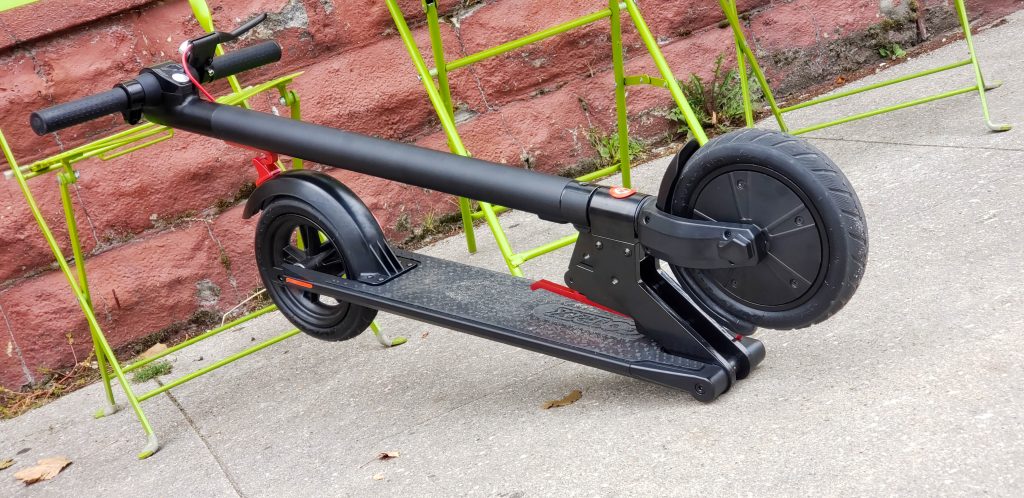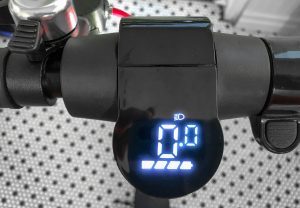 My favorite design feature of the GXL Commuter has to be its LED display. A push of the button turns the display on. The LED display is visible in any light and shows speed, speed setting, and battery life. I found that the LED display is incredibly reactive to changes in speed and accurately reflects the speed that I am traveling at.  The same button that turns the LED display on also controls the powerful LED headlight. I was pleasantly surprised at how bright the headlight is. The headlight throws a strong, wide beam that illuminates enough of the road to take late evening cruises. However, a word of caution – there is no tail light. The GXL Commuter has a small reflector on the back fender, but you are likely not fully visible to vehicles driving behind you. I would love to see the next generation of GXL Commuter integrate a tail light or even running lights under the deck.
While the GXL Commuter does not have all of the design features incorporated by other brands, it is lighter, more compact, and just as fun to ride.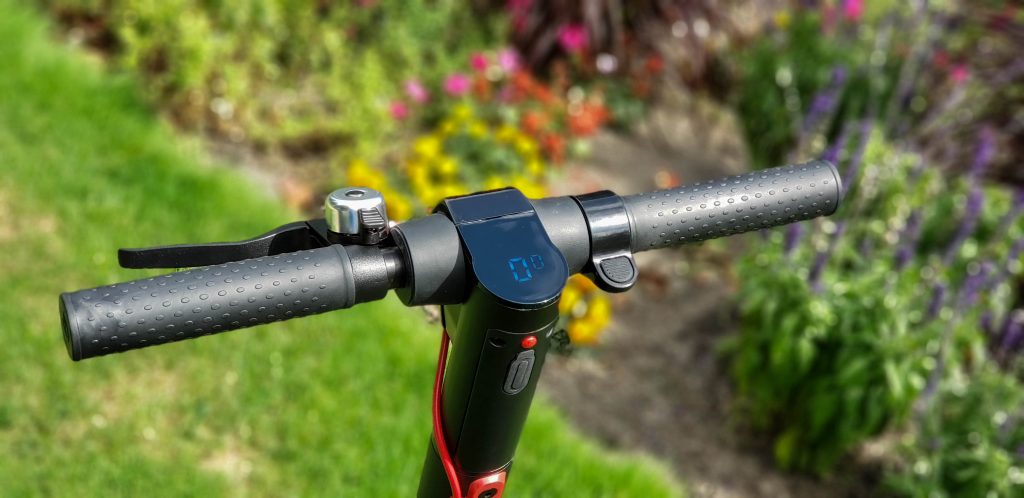 Performance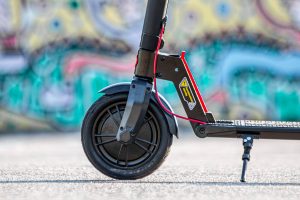 With a 250 watt motor and 36 volt battery, this baby hauls like a mother. Reaching speeds up to 15.5 mph, the GXL Commuter will get you where you need to go in a flash. After turning the GXL Commuter on, you simply give a little kick of the leg and engage the throttle, which is conveniently located by your right thumb. With two speed settings, you can save battery by cruising at a comfortable 7-8 mph, or really give it the beans by engaging the second speed setting. On a flat road, you will definitely hit top speed; going down hill, well, things definitely get a bit faster. Going up hill? The GXL will get you there. I like to set the GXL Commuter to the second speed setting for a "running start" when I see a hill coming. Although you will lose some speed climbing hills, I have not yet had to kick with my foot or walk the GXL Commuter up a hill. Now, I'm not saying that you should try to drive a GXL Commuter up Pike's Peak… but it will tackle most hills an urban environment throws at you.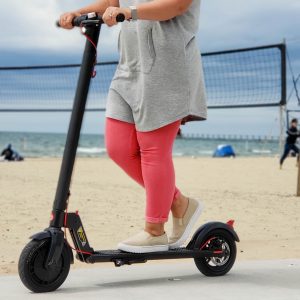 One of the best features of the GXL Commuter is its cruise control feature. Hold the throttle down for 10 seconds and the GXL Commuter will set your speed. I love this feature for neighborhood streets where there are not a lot of stop signs. Keep in mind, however, if you run the GXL at top speed on cruise control, it will quickly deplete your battery life. Go Trax claims a 9-12 mile range on a full charge. I have found that I usually get about 7-8 miles, but this is in all likelihood because I love to go fast. To disengage the cruise control, you simply tap the handbrake. Do not, I repeat DO NOT make the rookie mistake of squeezing the handbrake while going 15 mph. It's a bad idea and will likely cause you to lose balance. The GXL Commuter has  powerful disk brakes and the hand control is very sensitive. I found that the best and safest way to stop is to lightly (very lightly) tap the handbrake and allow the scooter to slow and come to a natural stop.
Once you get comfortable with the GXL Commuter, it is so fun ride. I take my GXL Commuter to work and it always makes me feel like a kid again. The ride is so smooth, too. This is saying something because Michigan is notorious for having the worst roads. Our roads are "paved" in the technical sense, but have so many cracks and potholes, you may as well be on the set of Mad Max: Fury Road. I admit that I was nervous taking the GXL Commuter on its first spin around town, but the 8.5″ air-filled tires were perfectly buoyant and there was enough clearance for the deck to make it over most potholes (craters). The GXL Commuter also performed well on surfaces with gravel and sand, although I would not recommend driving it down a gravel road (taking a rock to the shin is never fun).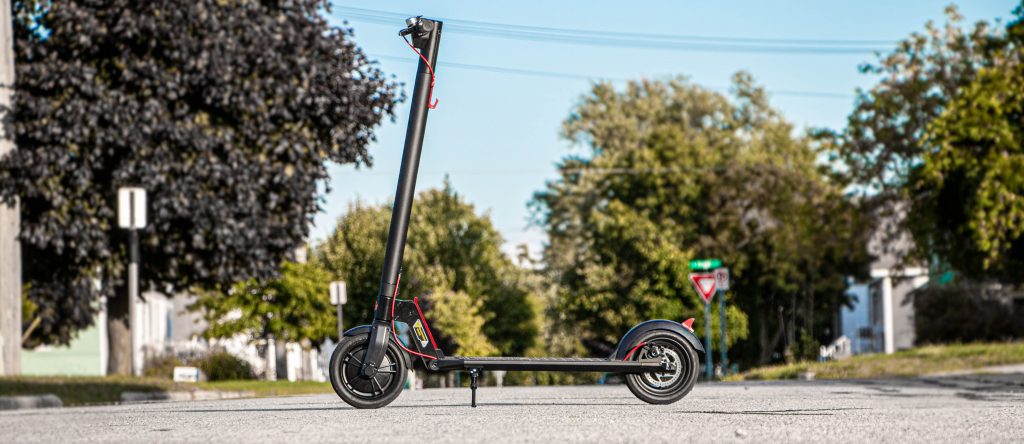 Durability
The GXL Commuter is a beast! The reinforced frame, thick 8.5″ air filled tires, disc brakes, and sturdy deck makes the GXL Commuter stable and fun to ride. After putting this baby through its paces for the past couple of weeks, I have encountered mud, sand, gravel, potholes, cracks, and all other manner of road hazards. I am happy to report that the GXL Commuter survived completely unscathed –  I cannot find a nick, scratch, or crack anywhere on the GXL Commuter. I very pleased with how well the GXL Commuter is fabricated and I feel confident that I will get lots of use out of it for years to come.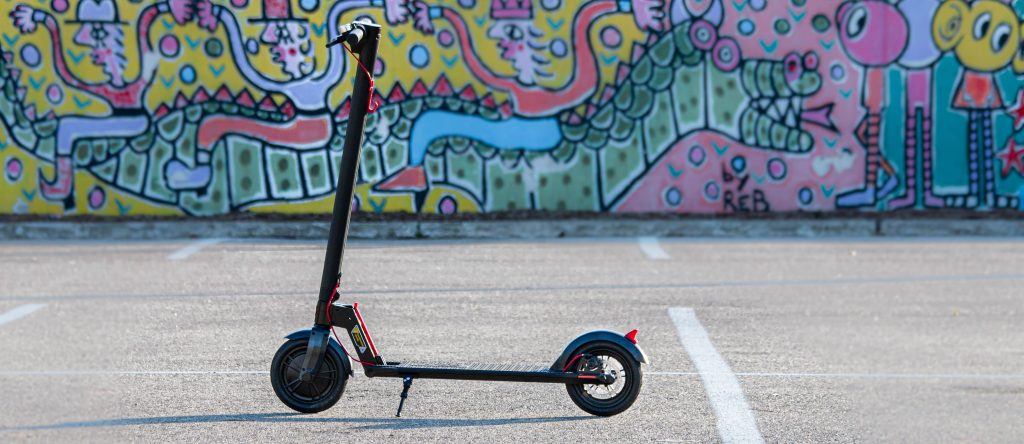 Value
This is where GOTRAX really got it right! The GXL Commuter is now available for $299.00. Similar models retail for between $500 and $1,200 (see the Xiaomi Mi M365 and Bird respectively). This is a fantastic value for a well engineered electric scooter that will get you where you need to be. I think most consumers will agree that GOTRAX hit the perfect price point.
Buy Now: $299; or visit Gotrax.com to learn more about the GXL Commuter and their other awesome products (hoverboards and e-bikes.).
GOTRAX GXL Commuter Electric Scooter
With so many electric scooters on the market, the GOTRAX GXL Commuter stands apart with its precision fabrication, durable frame and easy to use LED display... oh, and did I mention, its SO. MUCH. FUN.
The Good
Durable, stable, and easy to ride
LED Display, cruise control, and two speed settings
Affordable price point for most consumers
The Not So Good
A short range when riding at top speed
Lacking a tail light/brake light