As an Eastern Gentleman I'd always hear raving reviews about New Belguim's Fat Tire Ale from West Coast friends. Unfortunately the Fat Tire hype didn't correlate with my taste-buds and failed live up to the insurmountable hype in my head. When I tried New Belguim's Ranger IPA I kept an open (yet cautious) mind and was sure glad I did.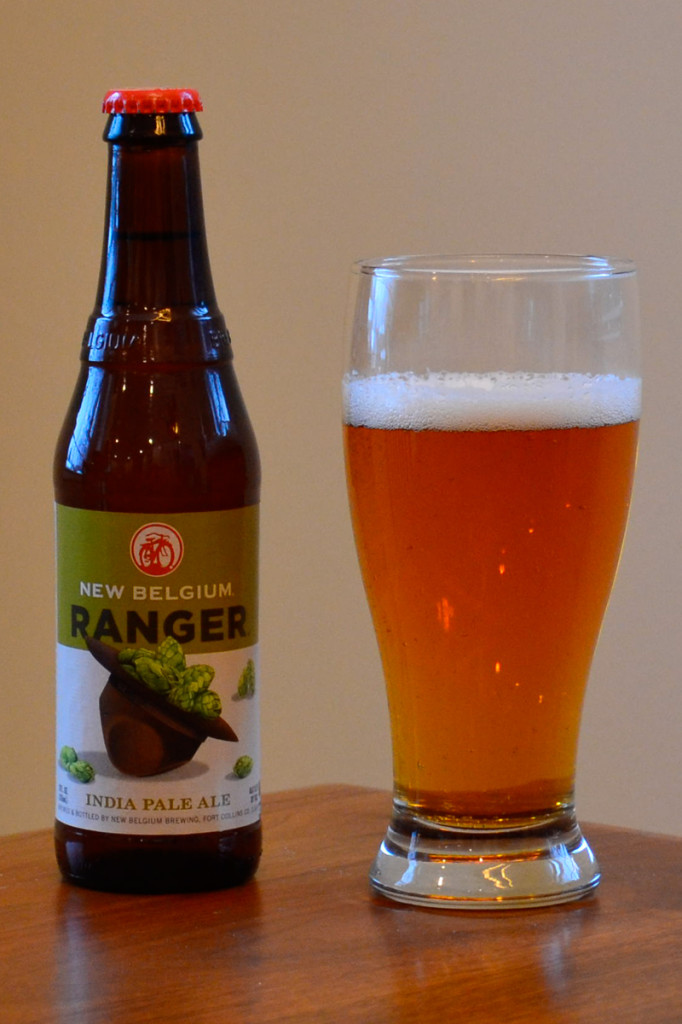 What's Inside:
Malts: Pale, C-120
Hops: Chinook, Simcoe, Cascade
Yeast: Ale Yeast
IBU: 70
ABV: 6.5%
Ranger IPA has a distinct spring taste that doesn't fall in line with other IPAs on the market. According to New Belgium Ranger IPA " bursts at the starting gate with an abundance of hops: Cascade (citrus), Chinook (floral/citrus), and Simcoe (fruity) lead off the beer, with Cascade added again for an intense dry hop flavor. "
The pour was just what you'd expect form an IPA with deccent head and retention. The color is also quite fitting for taste with a lighter blonde coppery color.
The aroma is quite pleasant with a blast of cascade hops, citrus and pine. It lacked the floral aspect that many IPAs have, but that isn't to this brew's detriment. The aroma matches the personality and taste nicely.
The initial taste of Ranger has a very strong hop taste that radiates pine & citrus notes that bites with bitterness and draws you in. While the aroma and initial taste lean towards the hophead, this beer evens out and picks up with a bitter malt flavor.Yes, the malt is subtlety overshadowed by the hops, but the flavor that Ranger brings is very unique as it doesn't fully commit to being overly hop-heavy.
After that initial hop blast the ranger fades fast. The taste drops but the bitterness lingers.  The biggest detriment to this brew is that the finish falls a bit flat. The mouthfeel is  light to medium and it leaves a very bitter taste behind.
For more information see the New Belguim website.
New Belgium Brewery Ranger IPA - Brew Review
Overall this is a very different (and welcomed) IPA. Instead of being overly hopped and floral, Ranger is the epitome of a spring beer. Cascade hops, a bitter bite with a great look will have me adding Ranger to my collection regularly to offset the standard hop-heavy IPA collection.