Every year when out in Seattle at an annual conference I make sure to nab an Alaskan Brewing Company Amber Ale at the convention center. For years that was the only experience I'd had with the Alaskan Brewing Co. until I tried out the beautifully branded Hopothermia Double IPA. The branding is the best I've ever seen with the center showcasing frozen hops surrounded by icicles.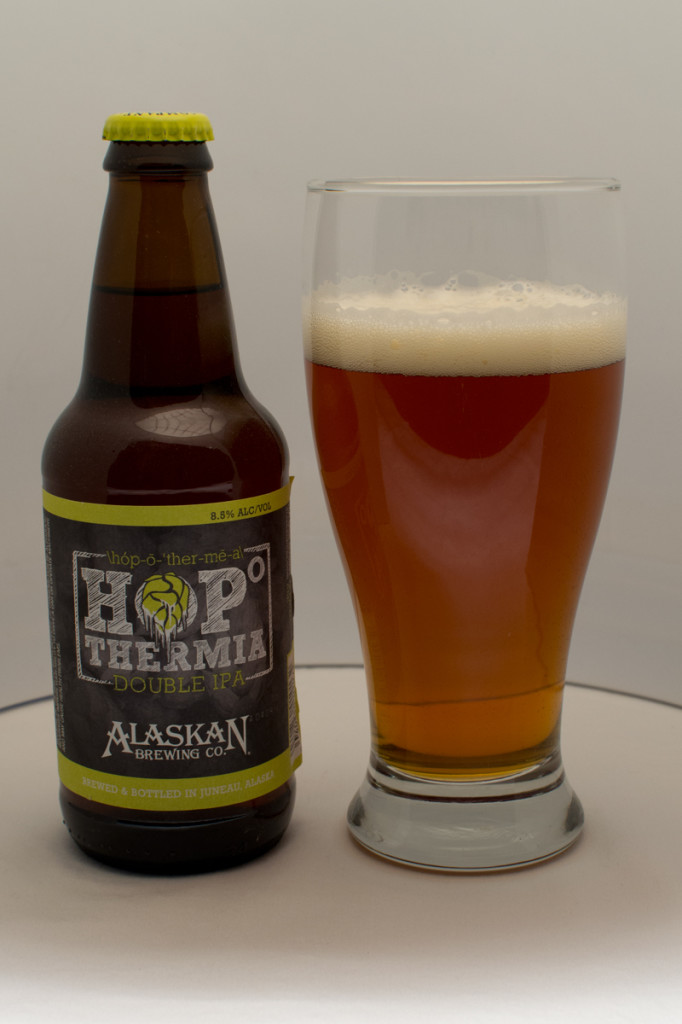 What's Inside:
Hops: Nugget, Apollo, Amarillo, Citra, Centennial hops
IBU: 70
ABV: 8.5%
Hopothermia [hop-o-ther-me-a] comes in a 4-pack and according to the Alaskan Brewing Company website this beer  "is a full-flavored representation of the Double IPA style with a robust malt body resting in easy harmony, like a massive grizzly bear in winter, with the big and drinkable American hop character. "
When pouring the Hopothermia had solid head that stayed for a moderate period and featured a dark-golden slightly reddish color.
This beer features aroma aplenty with a blast of citrus with very floral overtones. There are so many notes this beer gives off including pine and a sugary scent reminiscent of candy necklaces.
Hopothermia has flavor equally extravagant to the aroma, so strap your taste-buds in before you take a sip. It starts with a citrus-y pine blast that grows in malt and ends up tasting very much like a pineapple that's been dry hopped. This beer is surprisingly sweet as there is not only a strong floral flavor, but also a hint of sugary marshmallows. On finish Hopothermia kicks up the bitterness but finishes cleanly leaving that tropical hopped taste on the tongue.
This beer is very easy drinking for 8.5 ABV with a very light body for DIPA. The carbonation is medium, balanced and fits the brew well.
Head on over to Alaskan Brewing Co. to see where you can find Hopothermia nearest you.
Alaskan Brewing Co. Hopothermia - Brew Review
Overall, this is a very nice DIPA that is a bit light on the malt but makes up for it in the hop department. I found myself really liking this beer and appreciating different aspect of it in each bottle. This would be strongly recommended for hop-heads looking for a stong DIPA without a heavy dose of malt.