If you are a fan of craft beer, you've likely heard of one of the original breweries, Bell's who is always inventing new brews and delighting us with their classics. Recently, they excited us with a new flavor announcement of a sessionable IPA called Bell's Light Hearted.
If you aren't familiar with the Bell's menu, they are most well-known for a few big favorites like the seasonal classic wheat ale, Oberon or the always anticipated Hopslam. But more recently, Bell's Two Hearted Ale has been gaining momentum as one of the best beers in America. In fact, it's been voted the best for 3 years in a row.
Two Hearted is known for being an American-IPA that holds a perfectly balanced flavor profile featuring intense 100% Centennial hop aromas from grapefruit to a little pine with just the right amount of malt.  The 'little extra something' comes from Bell's own house yeast that is known for providing a little fruity, citrusy aroma. When the 4 basic ingredients of water, hops, malt & yeast come together, magic happens and you are gifted with a wonderfully drinkable American-IPA that isn't overpowering to the palate, but lets you enjoy all the elements.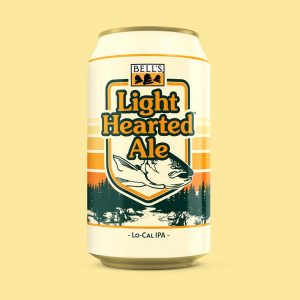 Bell's took note that it's great to drink a lot of Two Hearted, but acknowledged that there is a problem with the best beer in America. It's a 7% ABV beer and 212 calories. As a pretty heavyweight beer, that means it's great to sip on one or two, but you've got to pace yourself if it becomes the drink of choice as it often is for me.  But the story doesn't end there and why we are so excited. Recently, Bell's has announced a highly anticipated addition to their distribution line up: Bell's Light Hearted!
With a few modifications to the original recipe like moving to some specialty malts and adding in some Galaxy hops to the hop bill, Light Hearted promises to be everything you love about Two Hearted, but in a sessionable Lo-Cal IPA form. Weighing in at only 3.5% ABV, 8.7 carbs, and 110 calories, this looks to be a much-anticipated beer that will let you enjoy everything about craft brewing and drinking a well thought out beer without, well… without getting absolutely stuffed and schnockered by accident!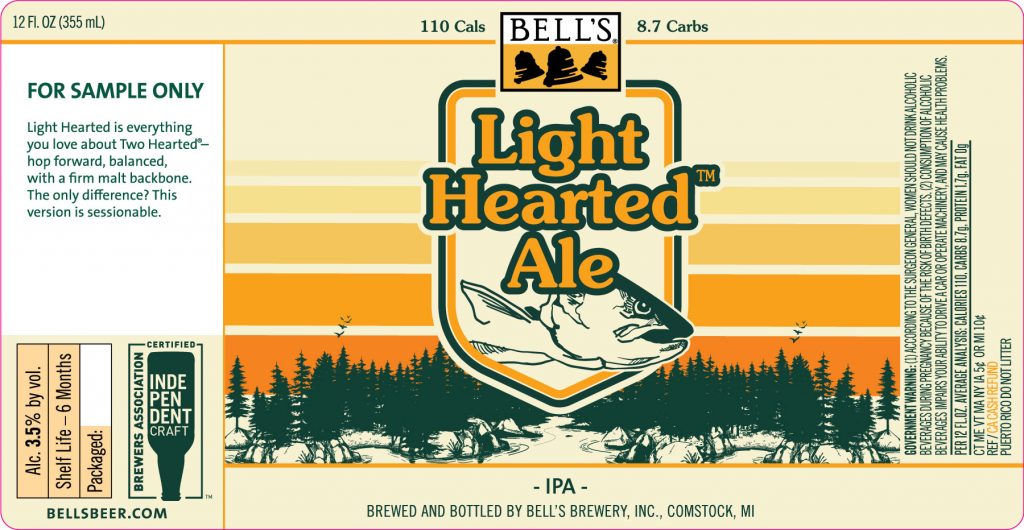 To get your hands on this special release, you have two options. If you are lucky enough to live near Bell's General Store in Kalamazoo, MI, you can pick some up right now. But if you can't make the pilgrimage to Kalamazoo, Bell's plans to start a wider distribution in early 2020 so keep an eye on your local beer shop!