Attention all golfers! Are you ready to take your game to the next level? Look no further than the TiC6 Driver by KZG. With its solid feel, great sound, and optimal distance, this driver is designed to give you perfect power drives every time. When perfectly fit by one of KZG's Authorized Professional Fitting Centers and precisely handcrafted to exacting specifications, it just can't be beat.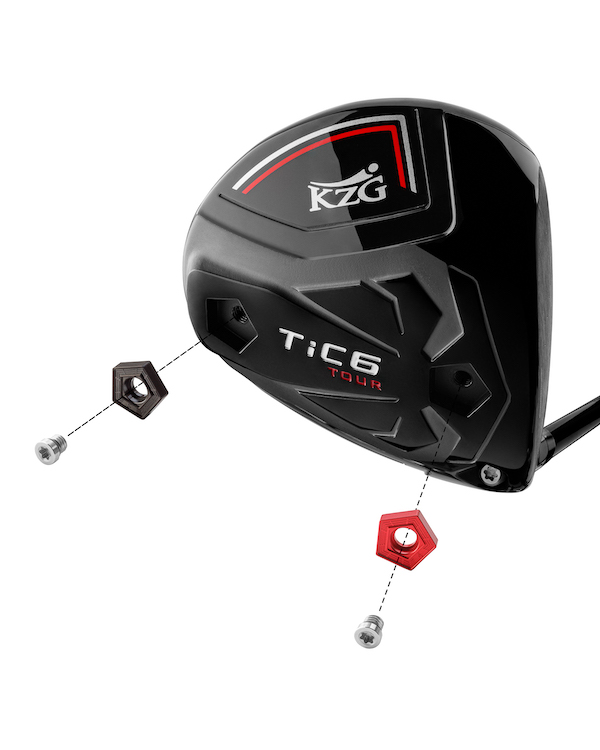 So what sets the TiC6 Driver apart from the rest? For starters, the body and face are forged titanium, providing the sheer power necessary for those long drives down the fairway. But the real magic lies in the carbon fiber crown, which enables KZG to achieve optimal weight distribution for maximum forgiveness. And with the adjustable hosel, every driver is dialed-in for the precise loft, lie, and face angle requirements.
But that's not all. The TiC6 Driver also features two weight ports that are used by KZG's skilled professionals to optimize the launch angle, spin rate, and swing weight for each unique golfer. This means you'll have a club that is perfectly tailored to your needs, giving you the best possible performance on the course.
And what are some of the world's top professional clubfitters and golfers saying about the TiC6 Driver? Norbert Studer of R & L Custom Golf in Switzerland says, "The TiC6 is phenomenal, gets more distance, fantastic response and feedback, pleasing sound, forgiving and unlimited adjustability. The TiC6 outperforms all of the other brands!" And Hector Avila of Advanced Golf Performance in California, USA, says "The Tic6 Driver is great: the sound, the distance, the performance could not be any better."
But perhaps the biggest advantage of the TiC6 Driver is how easy it is to control the face. Tatiana Wijaya, a USA LPGA Tour Player from Indonesia, says "Shot shaping becomes easier and more consistent, same with dispersion and trajectory control. I can produce more variety of shots with high probability of success!" And Dave Freed of DV Golf in Ohio, USA, says "It is unanimous among my golfing customers … they love it."
So, if you're ready to up your golf game, it's time to get your hands on the TiC6 Driver by KZG. It's available in RH 9 and 10.5, with a LH 10.5 coming soon. And with an MSRP of US $549, it's an investment in your golf game that will pay off in dividends.
Now, we're excited to share our first impressions of the TiC6 Driver, but we'll reserve our final judgement until we're able to do a full review of the driver in the near future. So be on the lookout for that review coming soon. But based on the initial feedback from the professionals and golfers who have tried it out, we're confident that the TiC6 Driver is a game-changer that will help golfers of all levels achieve their best performance on the course. So go ahead, add it to your golf bag and get ready to hit those perfect power drives!