You're looking at the world's first web-enabled LED home lighting system available directly to consumers.  Beginning October 30th you can get your hands on Hue exclusively via the Apple Store. Philips Hue allows you to adjust your home lighting from anywhere in the world, set lighting schedules and choose from 16 million colors to customize the lighting in each room. Fitting into any standard light fixture, the Philips Hue simply connects to your home's existing wireless router for access anytime, anywhere!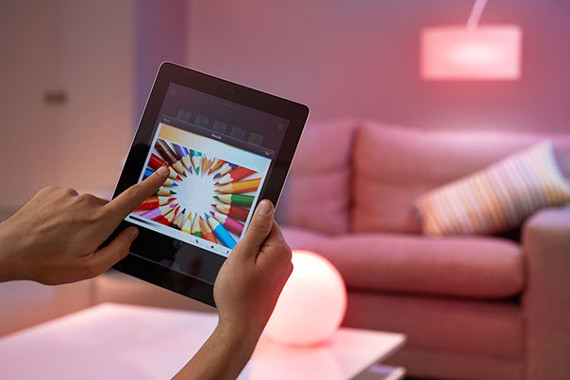 Philips hue is a game changer in lighting, just as our experiences with phones, televisions and movies have evolved, thanks to hue, we'll never look at or interact with lighting in the same way again. At Philips, we continue to redefine the art of the possible with LED technology, and hue pushes the boundaries even more, not just in offering great light quality, but in how lighting can be digitized and integrated with our world to further simplify and enhance our lives. -Bruno Biasiotta, CEO and President of Philips Lighting North America
Key Features:
Eliminate the guesswork in what bulb to buy, offering tunable white light, from cool to warm based on personal preference
Achieve a color rendering index of over 90 in the white range, closely mimicking the color qualities of an incandescent
Provide more than 16 million colors to customize the lighting in each room
Be set as a gentle wake up light or help one go to sleep
Relive personal experiences by mimicking the colors in photos by simply dragging and dropping within the app
Turn on/turn off lights when not at home
Save light settings and easily recall them from a smart device
Manage up to 50 hue bulbs from one device and allow each bulb to be controlled individually
Reduce energy consumption with 8.5 watt bulbs that are 80% more energy efficient than traditional light bulbs
Philips hue
is said to set up in just minutes and, with a quick download of the hue application, the system can be controlled from any iOS or Android device.  To see
Hue
in action check out the embedded video below, and welcome to the future!!
Buy Now: $199 (3 pk. starter kit) / $59 (single bulb) or go to: Meethue.com