For 45 years, Patagonia has been crafting legendary, durable outdoor gear that sets industry standards, but there has been one major market segment that they have missed for years: sleeping bags! Finally, the sleeping bag we've been waiting for from one of our favorite brands over here at Busted Wallet.
We elected to go with the 19-degree variant, the heaviest of the three options Patagonia brought to market. Alternatively, there is a 30-degree option and a lightweight hybrid option that is comprised of a shell on the top half and insulation on the bottom half. Each bag touts unique features differentiating them from the other variants, but the 19-degree bag is truly the flagship offering in both warmth to weight and feature to price ratios.
Key Features:
Center zipper with three zipper pulls

850-fill-power traceable down – birds that supply down are not force-fed or live-plucked

Unique baffle design with zero stitch through to minimize cold spots

Oversized footbox for added comfort

913g // 2lbs
Design:
Based on a design that Patagonia founder Yvon Chouinard made for himself during outdoor pursuits, this bag the is the perfect harmony of simplicity and technology. Yvon wanted an over-insulated mummy bag with a center zipper for nights in a portaledge. Enter the 19 degree variant from Patagonia. Built with intention, the Ventura crew re-imagined Yvon's design with modern materials, traceable down, and thoughtful features.
As I mentioned above, the Patagonia 850 Down Sleeping Bag is simple when it comes to features. Starting from the top down, you get an oversized hood that cinches down with easy to use pull tabs. Next, you meet a full length, center zipper that is outfitted with three pull tabs that allow for extra ventilation where needed. Lastly, you get an oversized footbox that leaves ample room for feet to stand upright and tall.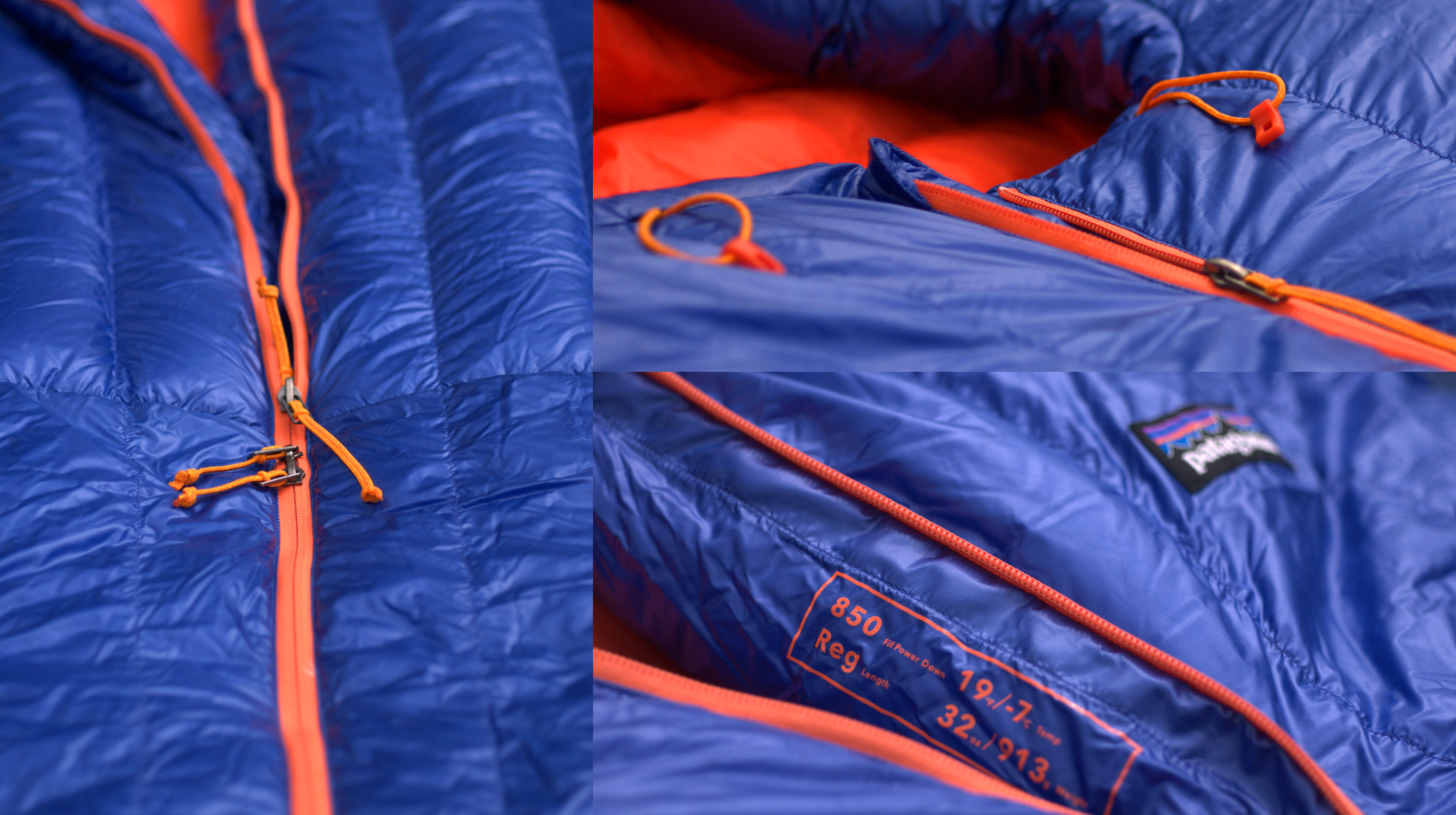 The baffle construction is what sets this bag apart. Patagonia designed a state-of-the-art down management system that eliminates sewn through stitching. What does that mean for users? Virtually no warm air leak! In traditional sleeping bags, down is contained in channels sewn through from exterior to interior. While it is a tried and true method, the down is trapped in its channels and cannot spread evenly across the stitched sections. Patagonia's design eliminates through stitching and cold spots by allowing down to move freely throughout the channels providing 360-degree insulation. Additionally, each side of the zipper has added insulation backing that comes together tightly to eliminate air escape through the zipper closure.
Comfort:
Due to the soft fabrics, high loft, extra baffling in crucial places, and enlarged footbox, the Patagonia 850 Down Sleeping Bag is one toasty and comfy companion. As you can see below, Patagonia's flagship sleeping bag is girlfriend, and hammock, approved!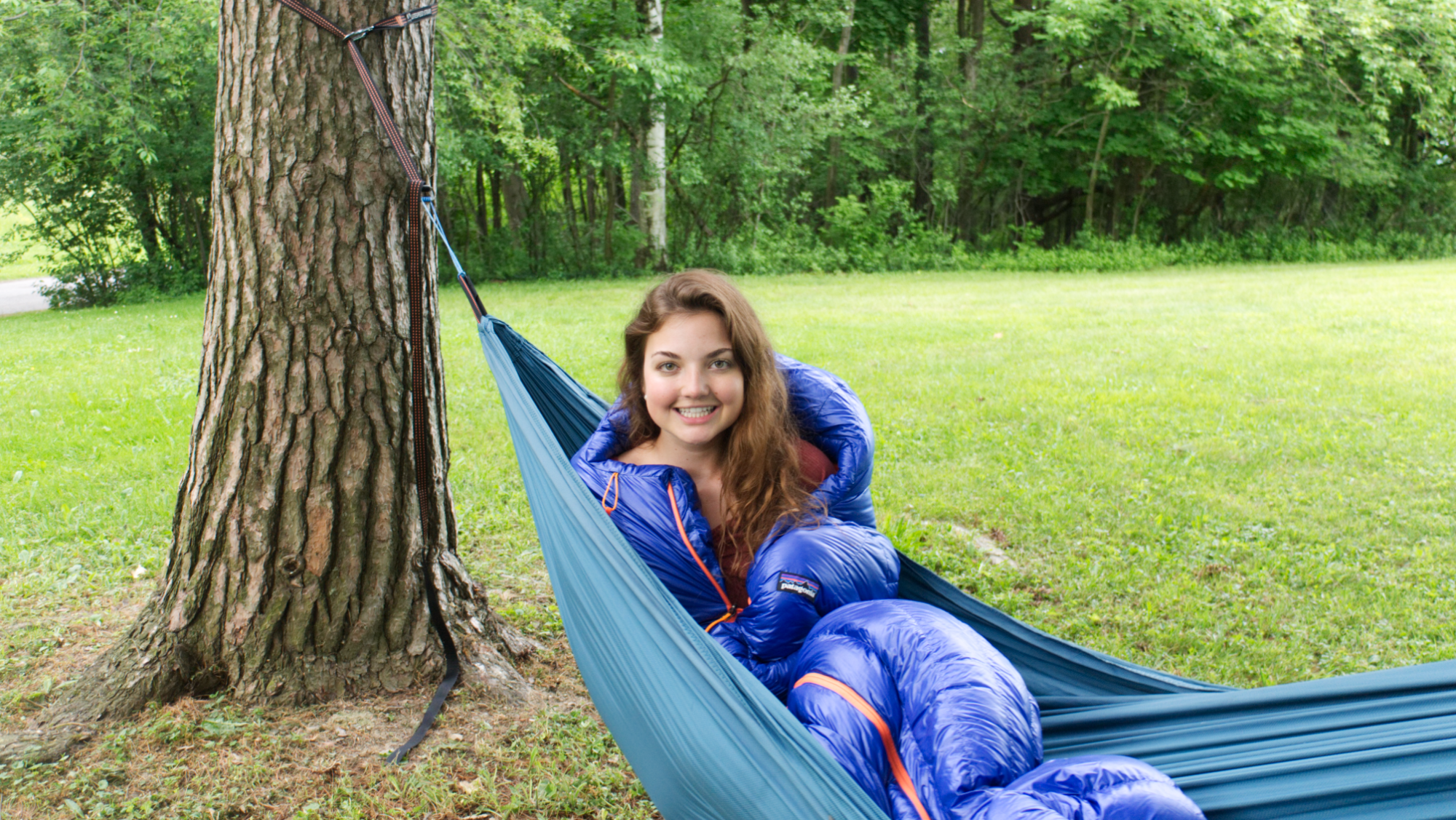 This bag is good for more than just keeping warm, it is extremely comfortable to lay in and a hammock camper's dream. As an avid hammy camper, the center zipper is a game changer. Let me tell you, while it might not seem that tough, it truly is a task wrestle a left or right zipper while curled up in travel/camping hammock.
Pairing a useful center zipper with thoughtful extra room placement in the footbox, shoulders, hood, and surprisingly lightweight for its warmth, this bag will easily find its way in your pack over your other bags.
Since I picked up this bag in the spring, I regret to admit that I have not taken this bag to its extreme lower limit just yet. However, I have spent a few nights hammock camping in upper 30s without an underquilt, and it performed beautifully. I did not wake up in the middle of the night shifting due to cold spots, even with the added breeze underneath without an underquilt.
Packability:
With this bag, Patagonia included two bags that are each nice and thoughtful in their own ways: a blended hemp and organic cotton storage bag, and a nylon ripstop stuff sack. When tucked in its storage bag, it truly is quite bulky, but this is done so by design. As most gearheads know, real down should never be stored compressed over long periods of time (aka whenever you don't need it compressed) as it helps maintain loft in the feathers. Good job Patagonia!
Below, you will see the sleeping bag compressed next to Patagonia's Micro Puff Hoody (blue) which I reviewed back in March and their Down Sweater Hoody (green).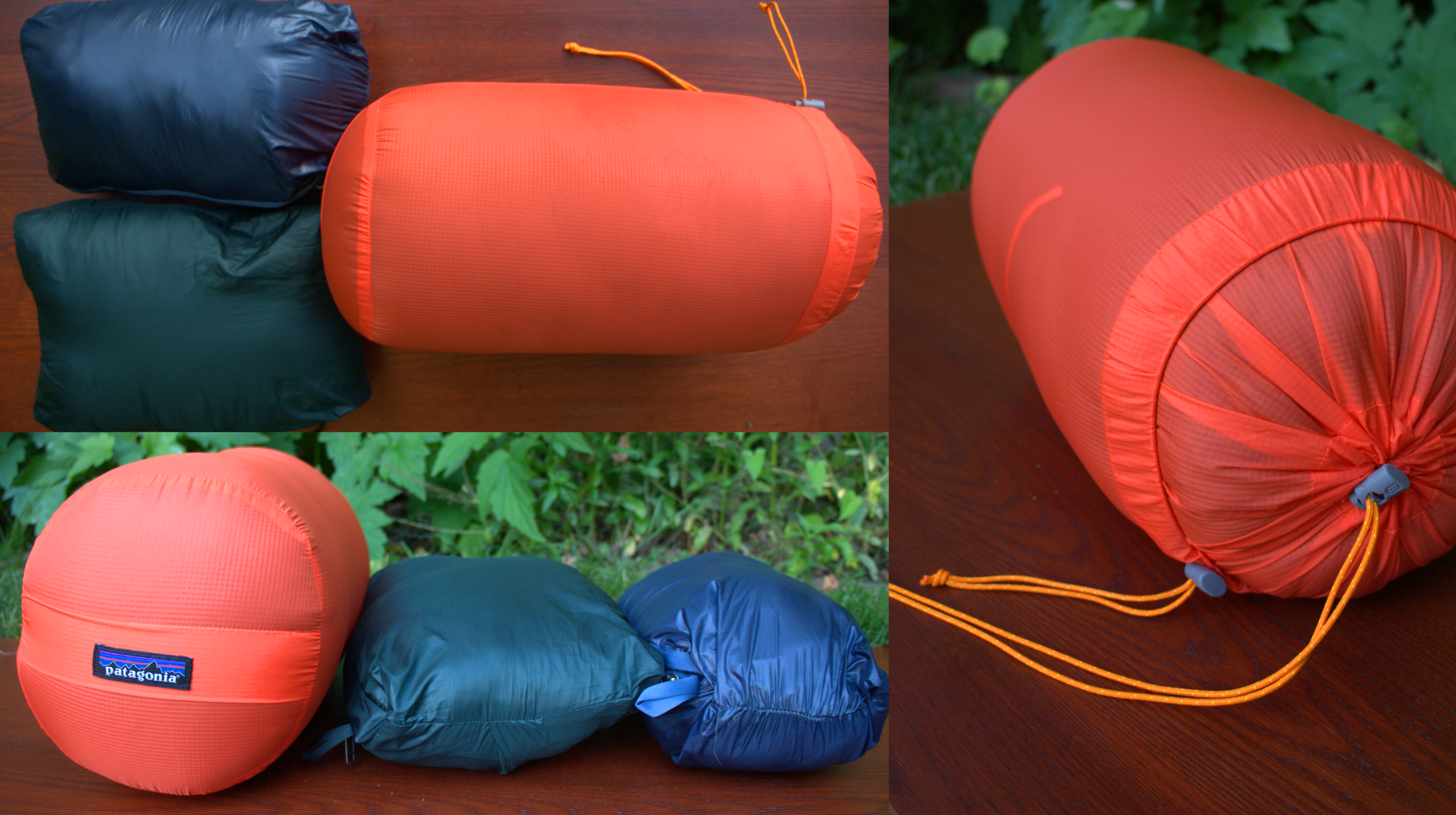 On the compression side of things, the stuff sack has a unique two pull design that allows for additional compression when you really need it. It also makes it easier to sinch things down even if you don't need it as small as it can be. The first pull tab hugs the bag in nicely, and the second tab closes the gap. When fully compressed as small as possible, the bag is about 4 Nalgenes (2 high, 2 wide) in the infamous Nalgene side by side; not bad at all for a 20-degree bag.
Durability:
In an effort to keep this bag as light as possible, Patagonia shaved some weight with super lightweight shell and liner materials. Similar to Patagonia's Micro Puff line, the material seems like it could be easily snagged. I would not recommend laying out directly on grass, rocks, or leaves due to the thin shell layer, nor should you due to morning dew anyway. If you treat this bag well and use it with a proper insulation pad or hammock, it will serve you for years to come.
Patagonia's tried and true stamp of quality control and durable, premium components means that this bag will stand up to years of zipper pulling, drawcord cinching, and compression sack stuffing. If all else fails, send it back to Patagonia for repair, and they will get your bag fixed up in no time and for a reasonable price.
Value:
At $500, Patagonia has slapped a very premium price on this bag. Even though the brand has a very loyal following, $500 is a steep price for a bag that can only be used in 3 seasons. With that said, the Patagonia 850 Down Sleeping Bag is the culmination of 45 years of down insulation experience. There is a reason Patagonia waited this long to release a bag, and folks who want in have to pay for it. While I do think they could have dropped the price by about a hundred, you still get a well thought out, beautifully designed bag that is built with intentionality.
Buy now: $499, or to learn more, to go Patagonia.com
Patagonia 850 Down Sleeping Bag - Gear Review
A 20-degree sleeping bag built with a function first mindset. Patagonia wrapped 45 years of down technology learnings into this bag, producing a near perfect batch of designs for their entrance into the sleeping market segment.
The Good:
Center zipper is great
Enlarged footbox
Warmth to weight ratio
The Not So Good:
Price is steep, even for Patagonia loyalists