In their 45th year of business, Patagonia has perfected much of their traditional lineup including famed favorites such as the Down Sweater, the Better Sweater, and the Snap-T Pullover. As the old saying goes… if it isn't broken, why fix it? Patagonia doesn't live by that creed. Patagonia exists in constant pursuit of producing high-performance gear in the most sustainable way possible.
Cue Patagonia's most impressive design and engineering feat to date: The Micro Puff Hoody. Which, in traditional Patagonia style, is also available in accompanying jacket and vest variants as well. Grabbing a spot on Outdoor Magazine's 2018 Best Gear lists, this garment weighs in at only 9.3 ounces. The Micro Puff is Patagonia's lightest and most versatile insulated jacket offered to date. To put that into perspective, a typical 12-ounce unopened beer or soda weighs about 14 ounces – now that's a light jacket, but more on that later!
Key Features:
9.3 oz weight

DWR (durable water repellent) finish

PlumaFill synthetic insulation – Patagonia's impressive continuous synthetic down solution that remains highly warm when wet compared to traditional down

Unique stitching pattern that holds synthetic down in place

Compressible – left hand warmer pocket doubles as stuff sack

Elastic cuffs and hem
Patagonia Micro Puff Hoody Review Breakdown
Design:
"10 Years of Development // 7 Years of Prototype Refinement
4 Years of Field Testing // It All Amounts to Nothing"
A clever marketing campaign that not only emphasizes Patagonia's commitment to innovation but outlines the prestige backing this garment. As I mentioned before, 9.3 ounces is wicked light! It truly feels like nothing when compared to traditional synthetic down garment, especially the Micro Puff's older sibling, the Nano Puff Hoody. The first day I wore this jacket, I walked around the office to my outdoor loving coworkers and told them to hold out their finger as I draped the hood over their outstretched hand. The Patagonia Micro Puff Hoody certainly delivers on the promise of its campaign.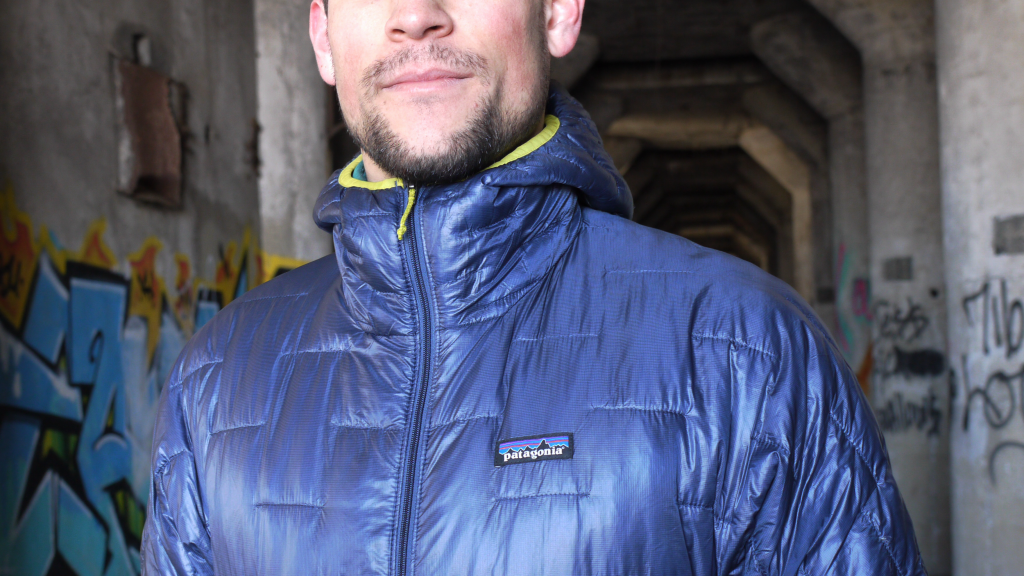 The Patagonia Micro Puff Hoody is certainly a statement piece with its unusual stitch pattern and irregular lines. While the unusual appearance of this jacket might not be for everyone, this jacket is a true workhorse meant for true outdoor pursuits, not the local co-op. If you look at it for what it is, Patagonia has crafted a masterful piece with unmatched functionality. 
Now, how did Patagonia accomplish said nearly weightless jacket? Well, their decade of testing delivered a new insulation style called PlumaFill that is partnered with a new manufacturing technique that traps the synthetic filling in place. The synthetic filling is a perfect hybrid between traditional down and modern synthetic materials – it has the loftiness & compressibility of down and the durability & the wet warmth retention of synthetic. I'm not here to steal Patagonia's thunder, so if you are interested in the R&D behind this piece, check out this short from the Ventura crew:
Comfort & Fit:
Due to its weight, the Patagonia Micro Puff Hoody is extremely comfortable. It is lean and nimble compared to traditional down and has a slight, but noticeable, stretch in the shoulders and elbows. The liner material is soft to the touch and is comfortable next to skin. I've paired this jacket with Patagonia's Capilene baselayer and a workout shirt for the gym in equal comfort.
The fit of this piece is slightly unusual. It is wider/looser than you'd expect, but it is perfect for layering and active pursuit systems. I've managed to fit a standard gym hoodie and Patagonia's Nano Air Vest under the Micro Puff (pictured underneath Micro Puff in images below) and still had some wiggle room.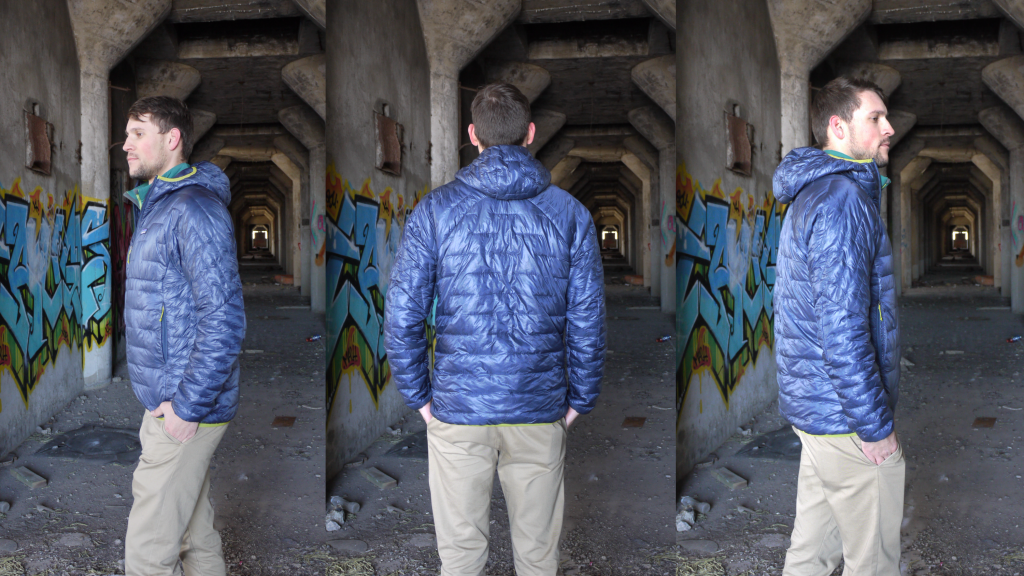 Packability:
Patagonia made it easy to pack this piece down using the left-hand pocket as a stuff sack. In less than a minute, you can have this item stowed away and clipped to your pack, harness, or belt loop using the handy carabiner loop. Whether you utilize the stuff sack or opt for the jam-it-in-your-pack method, the Micro Puff springs back to shape and lofts up in no time.
From left to right, here is the Micro Puff next to Patagonia's Down Sweater Hoody and Nano Puff Jacket (without a hood).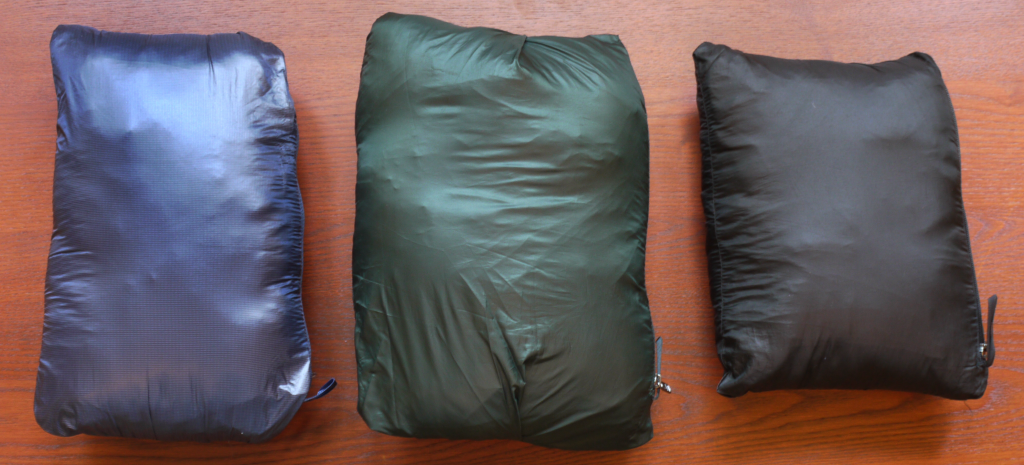 Due to the size of the pocket used as the stuff sack on the Micro Puff, it compresses to about the same height as its larger goose down sibling, the Down Sweater Hoody. Even so, it can easily tuck down into a corner of a pack and compress further once items other items piled in – the beauty of synthetic insulation.
Warmth Performance:
The Patagonia Micro Puff Hoody performed about as well as I expected – warmer when active, cooler when standing. It isn't as warm as Nano Puff or North Face Thermoball synthetic garments are, but it isn't meant to be. It is a technical active piece, not a 15-degree dog walking jacket. It holds its own, especially for its weight. If you want to use it around the town, throw a sweater or vest underneath and you're good to go!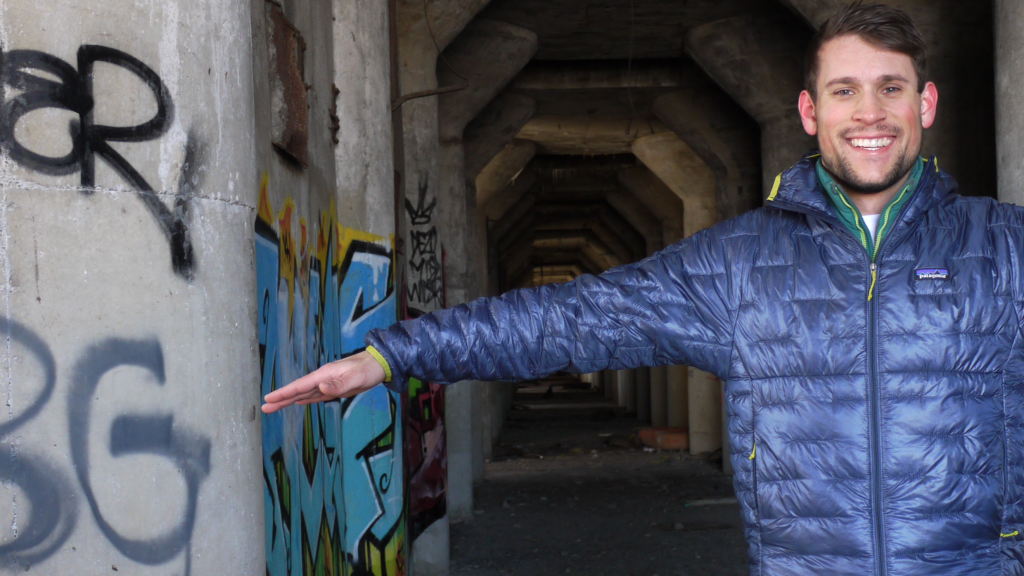 Durability:
If I was to pick one weak point for this garment, it would be the perceived durability. This jacket is meant for extreme sports, yet the exterior shell can snag and pull on a pine branch. This piece is amazingly light, but a tougher shell was sacrificed to maintain this weight level. The Pertex Quantum® exterior material claims to be ripstop, but I've already caught the right sleeve while hiking. I plan to utilize this piece as mainly a layering piece for this issue.
With that said, as long as you use it within reason (aka not trimming back the rose hedges in it), this is a garment built with intent. It'll be around as long as you take care of it and mend it as needed. Hey, what Patagonia item doesn't look better with a few patches, anyway?
Value:
At $299.99, this is not a cheap puffy. For the average user, it might be better to go with one of Patagonia's less technical offerings that still delivers a great weight to warmth ratio. For backpackers or climbers looking for the ultimate lightweight performance piece, this jacket is the new star of your gear locker.
Buy now: $299.99, or to learn more, go to Patagonia.com
Patagonia Micro Puff Hoody - Gear Review
While this garment is a design icon that is perfect for any outdoorsmen that likes to travel light, it has questionable shell strength that might shy folks away from the price.
The Good:
Ultra Lightweight
Ultra Packable
Fit Built for Layering
The Not So Good:
Outer Shell Strength is Questionable
Warmth is Mid Range