Milwaukee has come out with a new product in their M18 Fuel line and they've asked Busted Wallet to chime in with our two cents for what they're worth. Milwaukee has continued to evolve their battery powered line of M18 Fuel products that claim corded power without the cord and so far they have delivered! Enter the M18 Fuel Brushless 15ga Angled Finish Nailer. Milwaukee has also rolled out the 16ga Angled Finish Nailer, the 16ga Straight Finish Nailer, and the 18ga Brad Nailer. Busted Wallet is no stranger to the M18 Fuel line with our previous review of the M18 Fuel 6 Tool Kit and we were happy to try out the all new 15ga Angled Finish Nailer they sent us! Milwaukee claims this new line of finish nailers has every bit the power of traditional pneumatic nailers and doesn't carry any of the maintenance or constant cost of a fuel cell battery nailer. Milwaukee says this thing can sink 2-1/2″ nails into solid Oak, bold claim for sure. All right then, enough chit chat. It's high noon and it's time to draw our weapon!
What's Included:
M18 Fuel 15ga Angled Finish Nailer
M18 REDLITHIUM  2.0 Battery Pack
M12 & M18 Mulit-Volt Battery Charger
Belt Clip
Contractor Bag
Key Features:
Zero Ramp Up Time
No Fuel Cells!
Handy On-board Work Light
Long Battery Life (700 nails per charge)
Ample nail driving power
Durable, Heavy Duty Construction
M18 FUEL 15ga Finish Nailer Kit Review Breakdown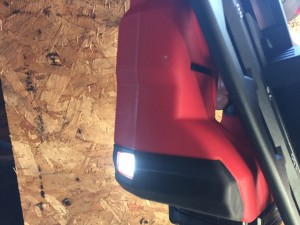 This thing is also constructed to last. I actually dropped it from about waist level a couple times and it didn't seem phased. The heart of this beast is the tried and true M18 Fuel Brushless motor paired with the REDLITHIUM battery and Redlink technology. I truly was surprised by the amount of power this nailer possesses. There is an almost handgun-like kick and flushing a 2-1/2″ nail into Oak and Hickory was not an issue for this nailer. The real question is how long will the battery last? We'll get to that later. What is super nice about this nailer compared to other fuel cell powered battery nailers is NO FUEL CELLS TO BUY  and ZERO RAMP UP TIME!! I might be the only one but I also think the fuel cell nailers smell like farts after firing, that's gross. Fuel cells are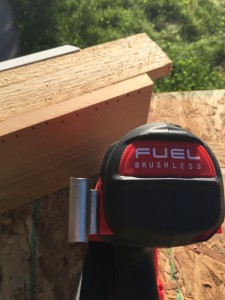 $10-15 for two and you always seem to need them. Not with the Milwaukee nailer! You also can fire the Milwaukee nailer right away, no waiting to warm up like a fuel cell nailer. I enjoyed the safety feature of having a power button on the back side of the nailer which you must hold down for several seconds before the nailer will fire. Another neat, although I'm not sure how practical, feature is the rapid fire function. This allows you to hold the trigger down and tap the nailer for rapid firing. This is a really nice feature in roofing and framing nailers as well as staplers but maybe not in a trim nailer were you usually don't need to rapid fire. Last but not least there is an on board LED light pointed at your target which is really nice as you often times are in tight corner spots blocking all light around you. Overall, I think Milwaukee really thought this tool out well and knocked it out of the park!
Battery:
All right, this is what you want to know as did I. Milwaukee claims this nailer can shoot up to 700 2 1/2″ nails per charge. My battery test consisted of this. I attached a piece of pine 2×4 behind various pieces of 3/4″ thick Hickory, Oak, MDF trim, Cedar, and Maple to replicate actual materials one would typically nail into. We loaded the nailer with 2″ nails and started firing as fast as we could (this is where the rapid fire function did come in handy). It was about 78 degrees out during the test. Honestly I thought if this thing could shoot 100-150 nails on a charge that wouldn't be bad. Boy was I off! After shooting about 250 nails straight with no break the tool went into thermal arrest (too hot). We gave it a five minute break to cool off and went back to town. After the break we would shoot about 50 nails and give it a break for a couple minutes. I kept checking the battery life along the way and when I hit my 350th nail I was still on track for Milwaukee's claimed 700 nailed pre charge with half battery life left. Well, I didn't hit 700 but I did get to 656 nails fired before the battery died. I was very impressed! That would last any pro I know a full work day if not more. I also checked the battery charge time which clocked in about 1.5 hours. Much faster than the 4.0 amp hour battery we tested in the 6 tool kit. This nailer is seriously impressive.
Ease of Use:
The Milwaukee finish nailer was very intuitive to use for anyone who has used a nailer before. It has an easy to use nail drive depth dial near the tip. The power button is located in a spot where you wouldn't have an accidental discharge. The LED light keeps all your targets in clear sight. The nailer flushed nails into all types of wood (hard and soft) I tried it out on. Tilting the nailer at 45 degree angles from front to back and side to side seemed to perform comparably to my pneumatic nailer. I've read others weren't so impressed though. Most nails flushed and others did not. One great benefit of this tool is the simple nail head unlatch mechanism to deal with jammed nails. What's even better is that of all the nails we shot out of this nailer (roughly 1,000) we had ZERO nail jams!! Nice work Milwaukee.
Weight:
Let's get this out of the way. Picking up the nailer out of the box right off the bat first impression is it's heavy. Compared to a traditional pneumatic finish nailer that is. The M18 Fuel nailer with battery we weighed at about 6.5 pounds and my 15ga angled pneumatic finish nailer we weighed at 3.1 pounds. Quite a difference if you're nailing trim up all day. Fortunately for Milwaukee I believe that's my only complaint. Despite being heavy it's quite well balanced and feels good in your hand.
Value:
In our opinion Milwaukee has really nailed this one! Bad jokes aside this nailer is really impressive. I would say this tool is best suited for the everyday professional going back to a job site for some punch list items or minor nailing. This nailer is also the perfect alternative to someone using a fuel cell nailer. The nailer is too heavy for everyday use in my opinion but certainly has the power and battery life to do so if you desired to get an arm workout all day. This could also wok for the average home owner that doesn't want to deal with an air compressor but would cost you more. The M18 Fuel 15 ga Angled Nailer retails for $399.00 but is on sale now for $350.
Buy Now: $350.00 or to learn more, go to: MilwaukeeTool.com
M18 FUEL 15ga Finish Nailer Kit - Tool Review
A super convenient finish nailer perfect for DIY'ers and professionals alike. Because of the weight we wouldn't recommend for large jobs / projects.
The Good:
Powerful
Battery life
Heavy duty construction
The Not so Good:
It's heavy
Pricey compared to pneumatics