When a sudden cross-country move left me with a work-from-home position and no desk to work from, Juniper Office came to the rescue with their sit-to-stand Mobile Think Desk. With 6 sizes to choose from, Juniper Office offers enough options to suit any home office space big or small. 
With close to 2 months' use of daily WFH on this setup, I've been very pleased with the Think Desk and its accompanying Razor Task Chair.
Let's dive into the full Juniper Office Mobile Think Desk review.
Juniper Desk Review Breakdown
The Configuration
Since Juniper Office primarily services commercial customers, the configuration options are light in comparison to some of the B2C brands. 6 top sizes, 4 surface colors, and 3 leg colors is a passable offering for the direct home office customer. They do have an awesome-looking Live Edge variant, but it ships on a pallet and is quite heavy. If you have a couple of sets of hands and a cart, the live edge would look gorgeous in a home office!
For accessories, you can add on a collection of cable management solutions, power delivery solutions, modesty solutions, and more, but you do have to hunt down these accessories on the site. They are not an easy add-on as part of the configuration step. 
My biggest gripe with Juniper Office was the home setup. While the instructions were straightforward and easy to follow, the desktop was delivered without predrilled holes to attach the leg base system. While I am handy enough to drill a few holes, I didn't have a power drill kit due to my recent move across the country. I had to borrow a kit from a neighbor to complete the setup. Not a big deal, but some customers might not feel comfortable or confident doing this. 
TL;DR, this doesn't take away too many points, but just a good reminder that Juniper Office is more accustomed to servicing business customers with professional installation crews. 
The Functionality
In its simplest form, the Mobile Think Desk is a sit-to-stand desk, meaning it raises and lowers to your preferences. However, Juniper Office provided a very nice 4 option controller which allows for a few height preferences.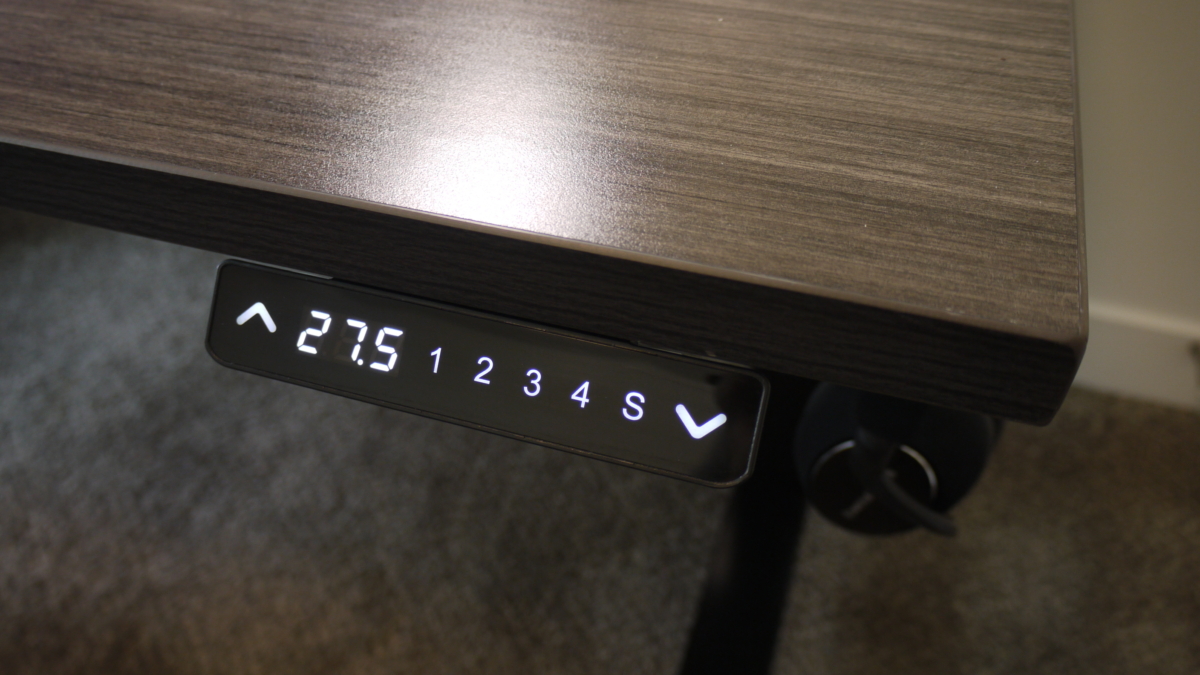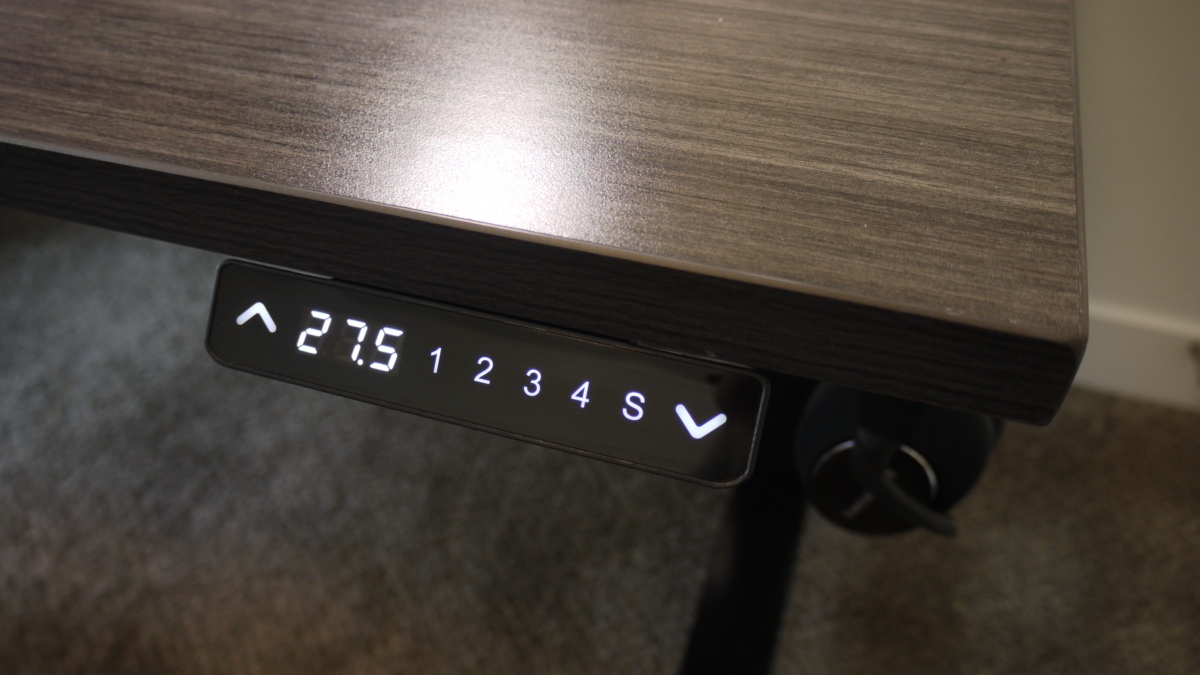 I was able to set customize my options as follows:
Sit – desk at lowest position

Stool – desk in between sit and stand positions

Stand – desk at highest comfortable position
This is a fantastic option as my previous standing desk only had 2 saved preferences, so I had to manually raise or lower to stool height (and it was never perfect when I did this). 
By default, the controller is not set up to one-touch operation; you have to press and hold the number of your saved preference until it reaches its destination vs. a quick tap and auto-adjust. But, following the below instructions will get that sorted and have you one touching your way from sit to stand:


The controller also has a fantastic vibration feedback that validates you've pressed the right place.  
One final nice touch on the controller is the LED backlight. Apart from operation, the LED lighting is off by default, so working late at night or early in the morning, there is no annoying glow from the controller. Secondly, if the desk is in your bedroom, there is also no annoying glow while you are trying to sleep! A simple, but satisfying touch. 
The Transition
The Think Desk is quick and quiet when switching from sit to stand, vice versa, or anything in between. There is noticeable motor whine, but it wouldn't be enough to startle anyone. Juniper Office notes that the operating noise level is 58dB and is quieter than an AC unit. I would back that up and say that it might be quieter than some home fans! 
Transitioning between my highest and lowest positions (27.5 to 37.5 on the controller) takes about 10 seconds. While you can't one-touch and walk away from the desk while it transitions like some competing standing desks, the movement is quick enough that it isn't a deal-breaker. You can't get too much done in those 10 seconds, anyway!
The Build Quality
The Mobile Think Desk is a solid piece of equipment all around. With a load capacity of 152 lbs, there is absolutely no concern of instability when stacking up your favorite tech. I've also found no issues leaning on the desk or putting weight on the desk when it's in a standing position. 
The leg assembly is made from recycled 12g steel with a nice powder-coated finish. They have a noticeable heft to them when assembling/moving the desk, which definitely inspires confidence and reinforces the quality build feel. 
The 1-inch thick desktop is made from a recycled core wrapped in thermo-fused melamine. While that might not mean much to the average user, I've found the surface to be extremely resilient. My previous standing desks had knicks and dents in the surface after the first week of use, but I have yet to discover any blemishes (and I've moved this desk from an apartment to a house during the 2-month test, too!) The desktop edges are also wrapped with 3mm PVC banding which is a great protectant for both your walls and your desk. I've also found that the rounded PVC makes a comfortable edge for your arms to rub against vs. a traditional 90º cornered edge.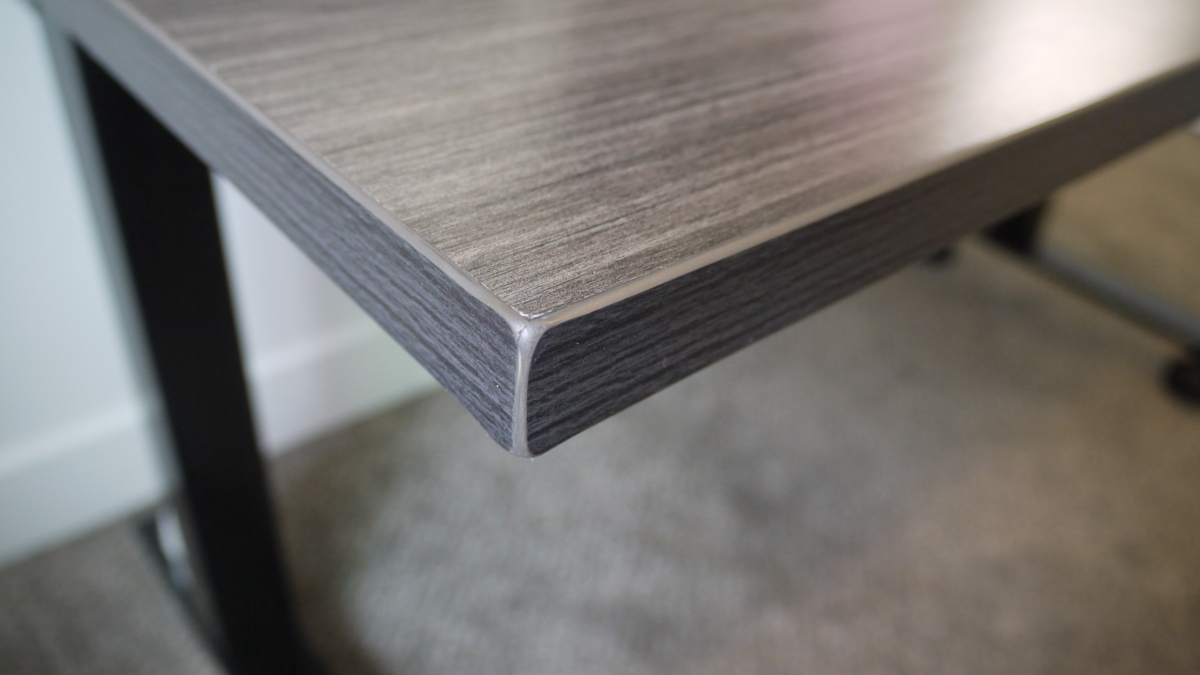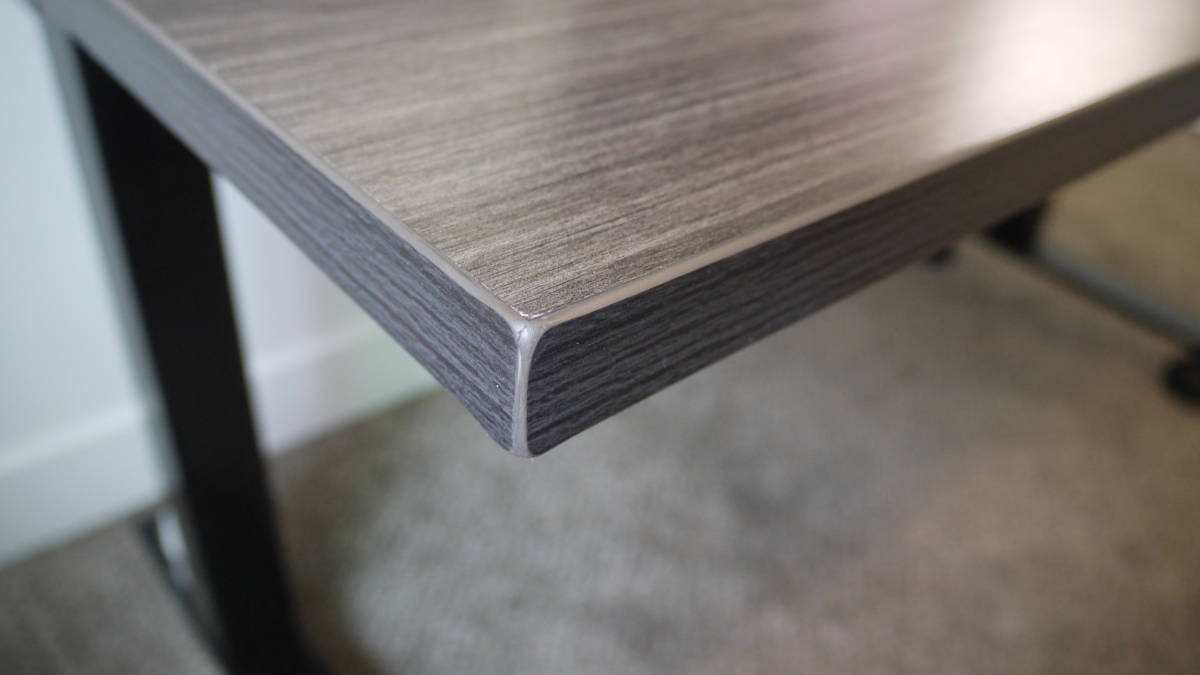 I've also noticed that this desk, top, and legs, are really easy to wipe down and clean without noticeable streaking. Some synthetic desktops are exceptionally hard to clean!
The Chair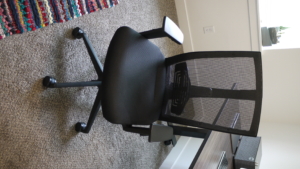 All good desks need a chair, and I opted for Juniper's Razor Task Chair. I am not a fan of overly complex chairs, especially chairs that have a headrest, so the Razor task chair was the perfect fit. 
With only a few adjustments – lumbar, arms, and tilt tension – and a clean, contemporary design, the Razor checked all my boxes. The all-black colorway matched the look I was going for – dark, sleek, and modern, but if colors are your jam, you can opt for the Deluxe model that offers 7 color options. 
Let's get to the part that matters, the comfort. Naturally, since this review is about a standing desk, I am not a huge fan of sitting all day… but I've found myself staying seated in the Razor longer than I have in other chairs. The simple design allows you to quickly hone in a comfortable seating position, unlike chairs that have adjustable everything. I find those chairs have too many variables and you're tweaking for days. The Razor is just about set it and forget it with the minor lumbar adjustment. 
The seat cushion is perfectly padded – not too soft that you sink, not too firm that your sit bones are screaming. The cushion also sits parallel to the floor, so there's no weird angled sitting or feeling of tilted legs. 
It is easy to sit upright with strong posture in this chair, too.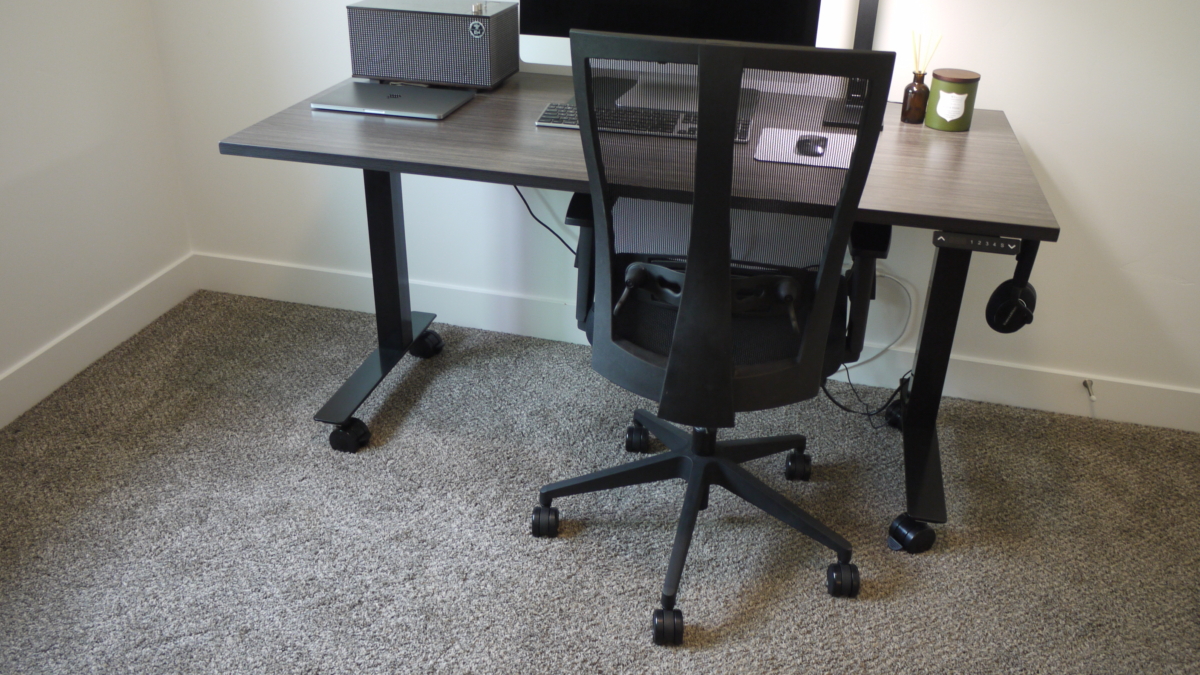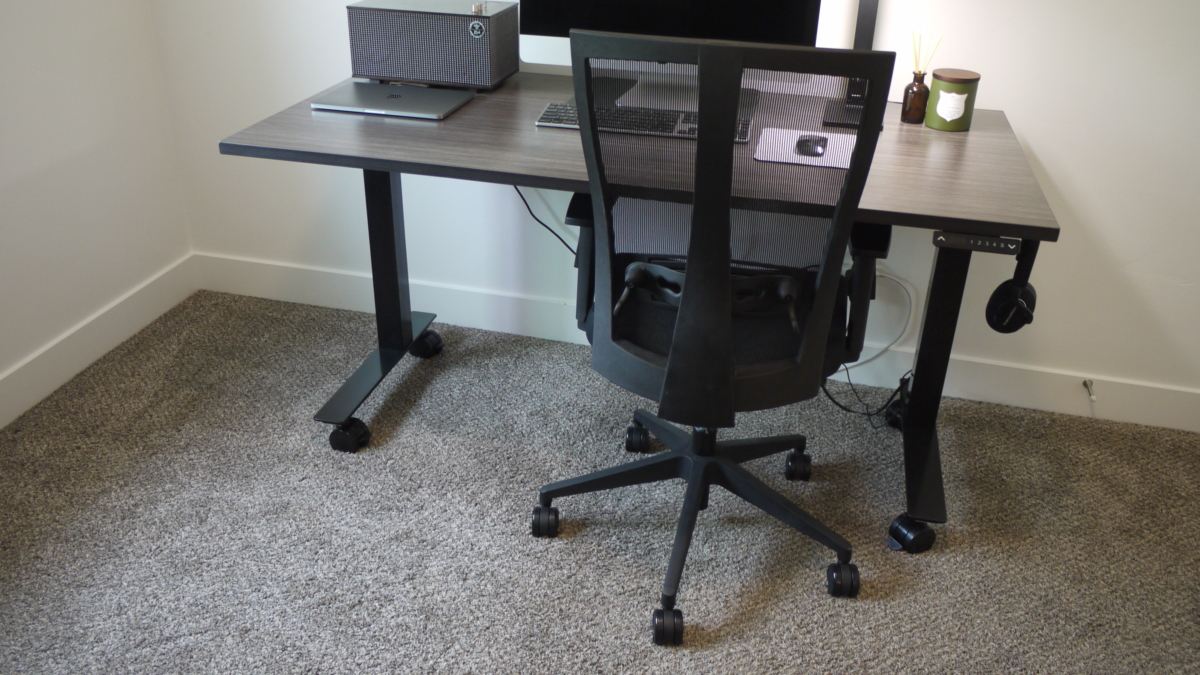 Value
At $770 for a 30" x 60" wheeled desk, the Juniper Office Mobile Think Desk definitely aligns with the higher end of the competition. 
Sure, you can get a standing desk from IKEA, but the quality will be poor, the instructions will be confusing, and the support will be frustrating if anything goes wrong with your motor assembly. 
For a quality product, designed and built to commercial standards and backed by a proud, dedicated team, it's hard to complain about the price. If you want a desk that'll last you many years, and potentially many moves, Juniper Office is your place to buy. 
All in all, Juniper Office delivered a rock-solid desk at a reasonable price. They focused on the features that matter, not the gimmicks that don't (like the ability to hang a hammock underneath your desk). 
Buy now at JuniperOffice.com!
Juniper Office Mobile Think Desk Review
A fantastic work-from-home desk and chair set up for a better price than some of the DTC name brands! Quiet operation, functional style, and many configurations to choose from.
THE GOOD:
Rounded edges are comfy during all day work
4 saved height options
THE NOT SO GOOD:
No pre-drilled holes for setup
Dektop can get fingerprint-y