The UpLift Standing Desk has completely changed my work from home experience. When my office closed at the onset of the pandemic, I did not have a full-sized desk in my apartment. I brought my 27" iMac home from work and reluctantly jammed it on a desk that was about 6 inches wider than the iMac. After a few months of suffering through the cramped workspace, I knew I had to make a change. 
I've long dreamed of having a standing desk since startups made them cool a decade ago, so I looked at my options. The desk finish options and wide range of customization & accessories drew me to UpLift Desk, so I had to make it happen! 
After nearly 3 months with the desk (and chair, too!) I am ready to tell you all a bit about my experience with the desk, chair, customer service, and most importantly, productivity. 
Let's dive into the full UpLift Standing Desk review.
UpLift Standing Desk Review Breakdown
The Configuration
When I first began looking at the site, I felt like a kid in a candy store. There were so many options, I knew I had to find a way to reel myself in. So, I opted for the logic route.  
I first thought hard about the future home(s) for the desk. My current apartment has a spacious 14.5×10 foot bedroom, where the desk currently sits. The 60×30 inch desktop comfortably fits in my apartment bedroom and is a ridiculously nice upgrade from my previous setup. Thinking future times, I hope to have a dedicated office space with this desk as the centerpiece, which, of course, bigger is better for that use case.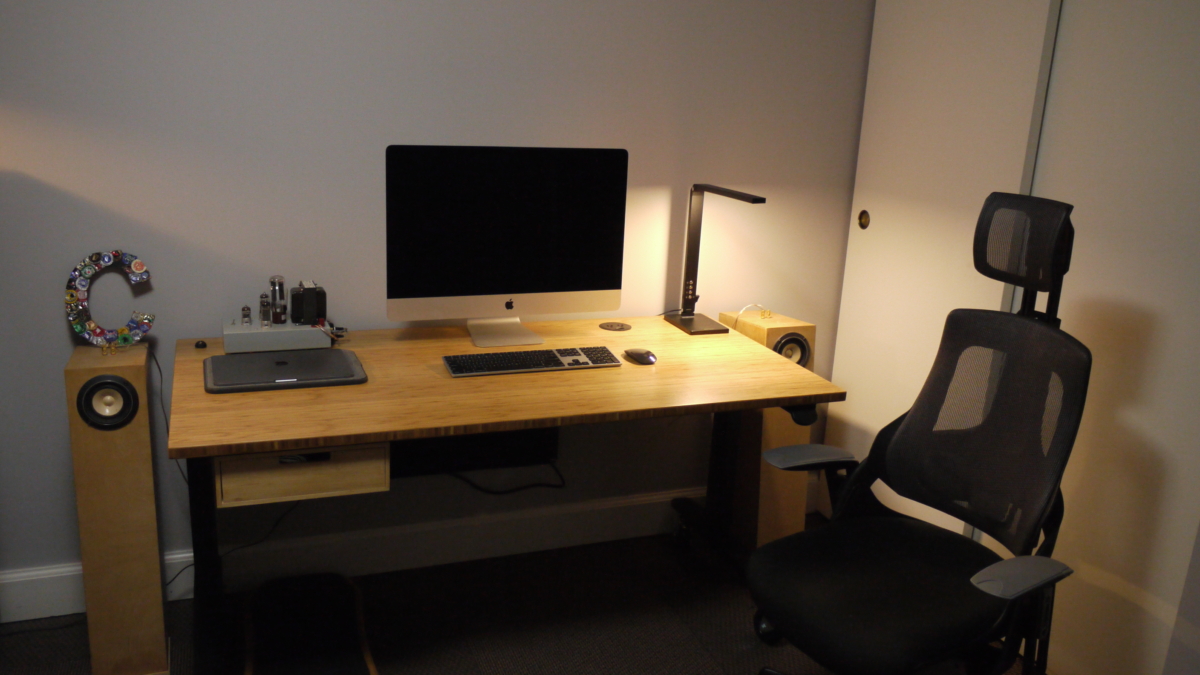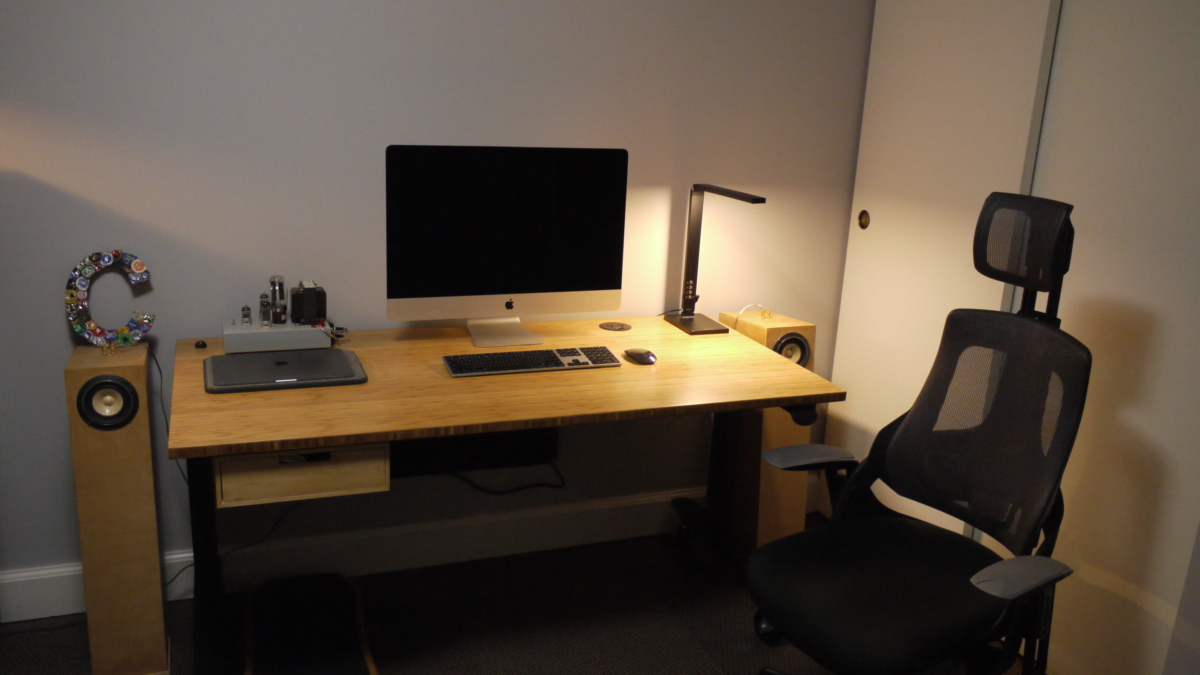 After size, I considered aesthetics next. I knew in both this apartment and my future (imagined) office space, I would keep my set of custom-built speakers and tube amp alongside the desk. The speaker cabinets are a nice light wood finish, so I knew I had to go with the Carbonized Bamboo the moment I saw it. Boy does it look clean and coordinated. There are some real wood options that look absolutely magnificent from photos and other YouTube reviews, but my budget couldn't swing it. 
For the legs, I have the V2 version in the default C-Frame. There is a T-Frame option, which centers the frame under the desktop, but does change the legroom and accessory mounting options. For my use of the desks, I knew I'd only ever have it up against a wall, so the C-Frame made sense for me. 
After you get yourself through size, desktop finish, and legs, the fun begins. Accessories galore! I probably ran through the configuration tool 20 times making sure I didn't miss a potential option. From cable management to monitor stands to lamps and rocker footboards, the choice is yours! 
I ended up with a two outlet powered grommet, a Bamboo Motion-X board, a modesty panel with wire management, a power strip and cable tie kit, a mountable bamboo drawer, heavy-duty caster wheels, and a folding desk lamp with three light color temperatures!
The Fun
ctionality
Anyone reading this review knows the basic functionality of this desk: it raises and lowers. What sets UpLift Desk apart from the competition is the number of control options available to consumers. 
At the time of configuration, there were four different controller modules available for purchase: 
Basic Keypad – basic up and down, no memory settings.

Advanced Digital Memory Keypad – led display, 4 memory sets, child lock, etc.

Advanced Comfort Keypad – soft-touch button design, led display, 4 memory sets, child lock, etc. 

Advanced Paddle Keypad

– led display, double tap functionality, standing reminders, and

the option I went with.
Here's a handy keypad comparison chart
The Paddle Keypad was my favorite of the options due to the simplicity of the design. While it only has two programmable memory options, you can "no look" adjust the desk. When you are ready to stand, you double tap in an upward direction from the bottom of the paddle. When you are ready to sit, you double tap in a downward direction from the top of the paddle.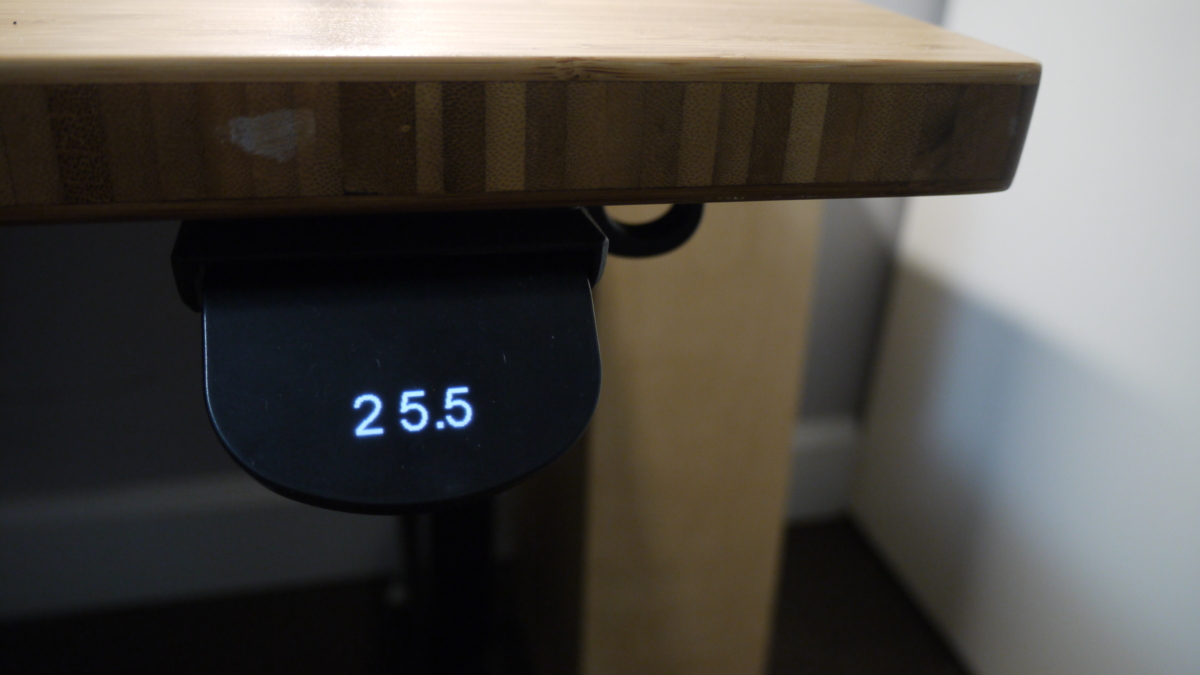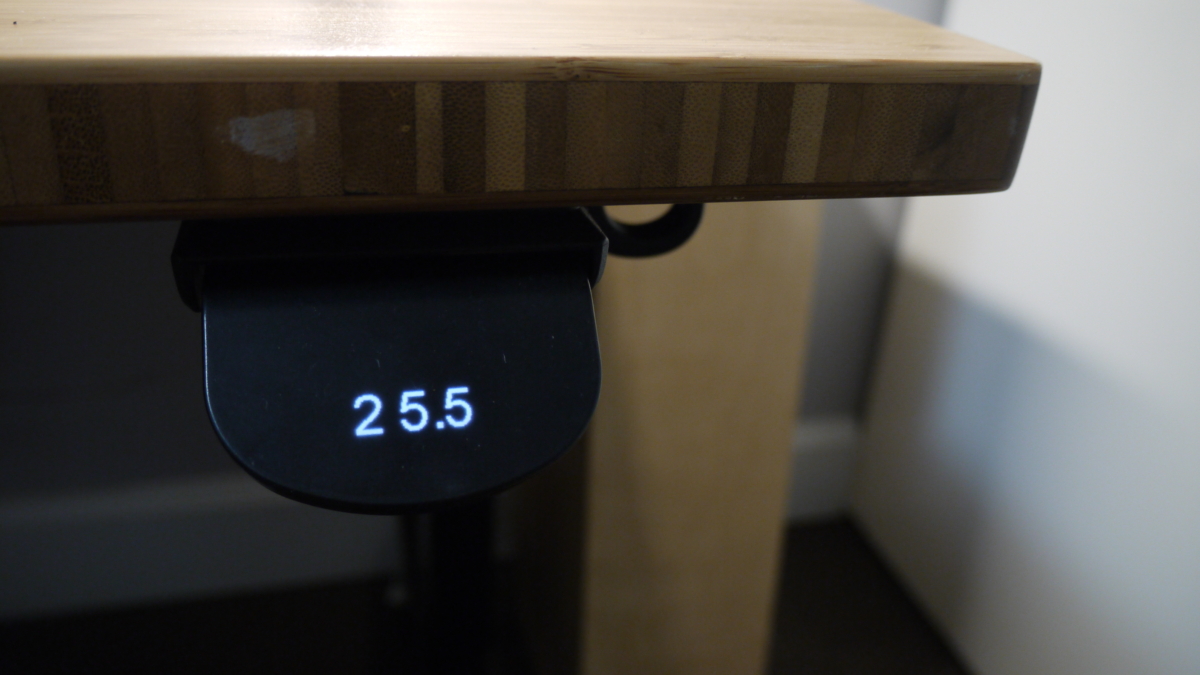 It is a distraction-free design that seamlessly fits into your workflow. There is no fumbling around finding the right button or recalling what setting is what height. You just reach over, double tap, and you're on your way! 
Setting your preferred heights is easy as well. Once you are at a preferred height for either your high or low limit, click the right side control button, once a heart appears, click the side button one more time, and you're done! Anything below 35.4 on the display defaults to your low setting (or #1), and 35.5 or above defaults to your high setting (or #2).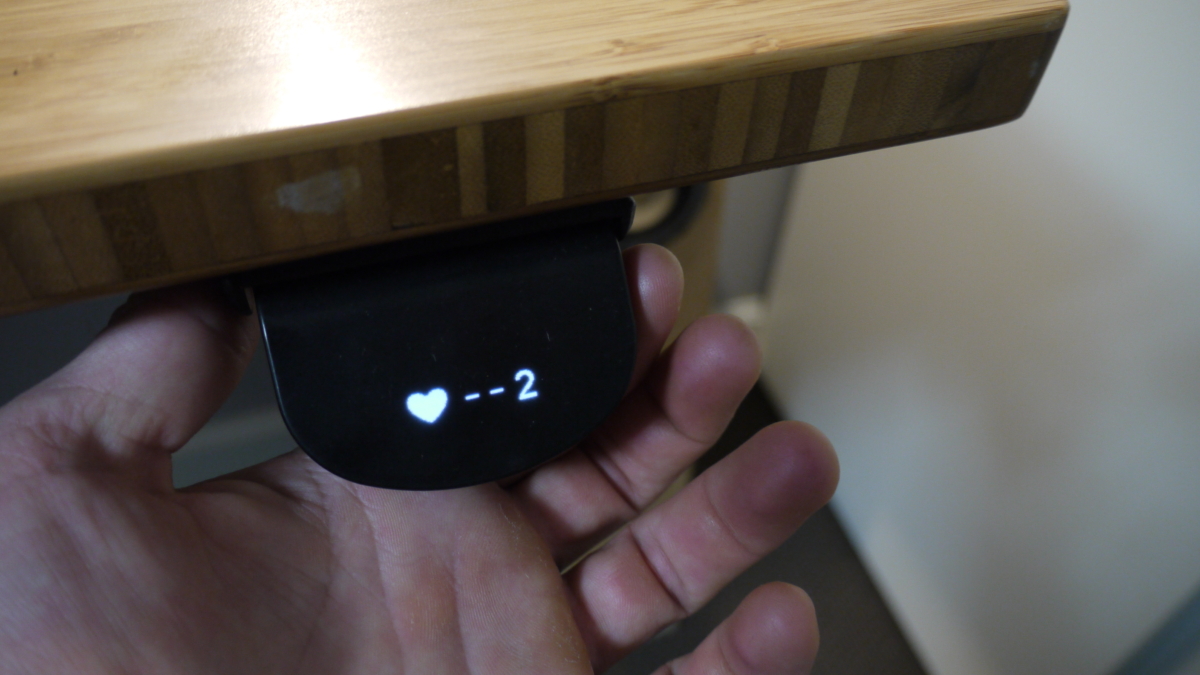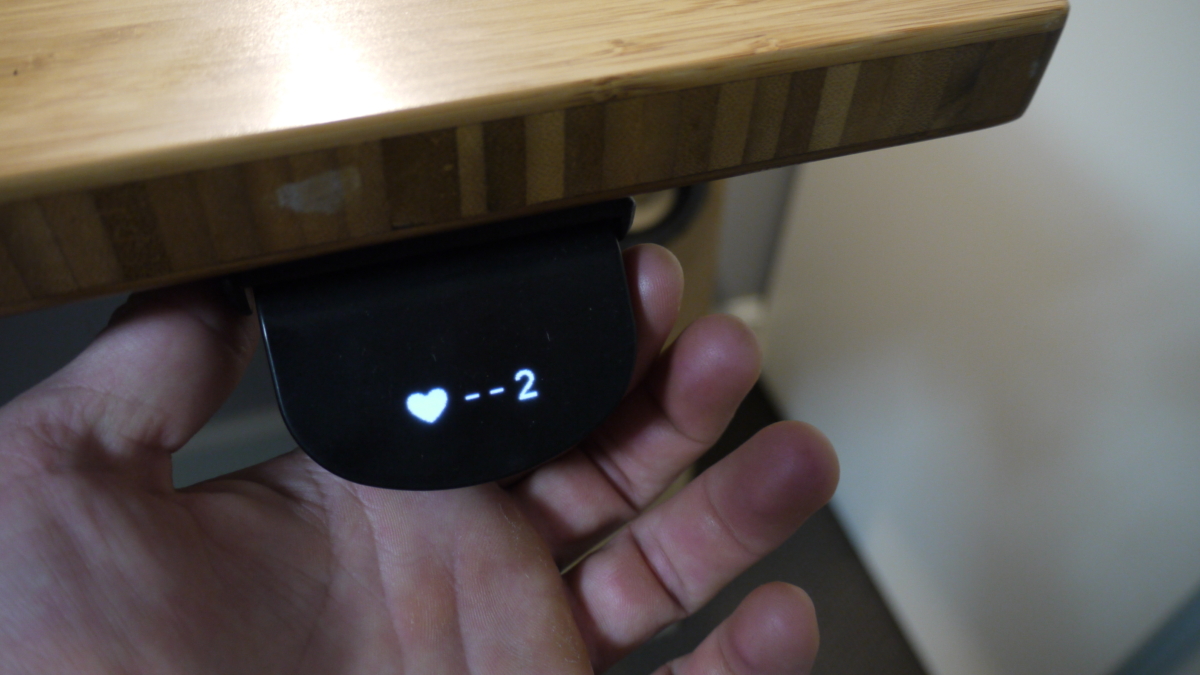 For those of you who are wondering about your balance boards or stools, have no fear. Double tap to the height that is closest you need to be to use your accessory and then press and hold (upward or downward) until comfortable. Sure, it is more manual than a keypad with 4 memory settings, but how often do you really use those accessories anyway?
Beyond raising and lowering, there are some features the Paddle Keypad is equipped with that I didn't mess with too much, including stand reminders. I usually stand during meetings and sit during mentally taxing work, so I didn't need much of a reminder. You can also lock the paddle from kids hitting it, but no kids for me to worry about there!
TL;DR: paddle keyboard is sweet and only has two settings, but the double tap functionality to raise/lower is less distracting to your workflow.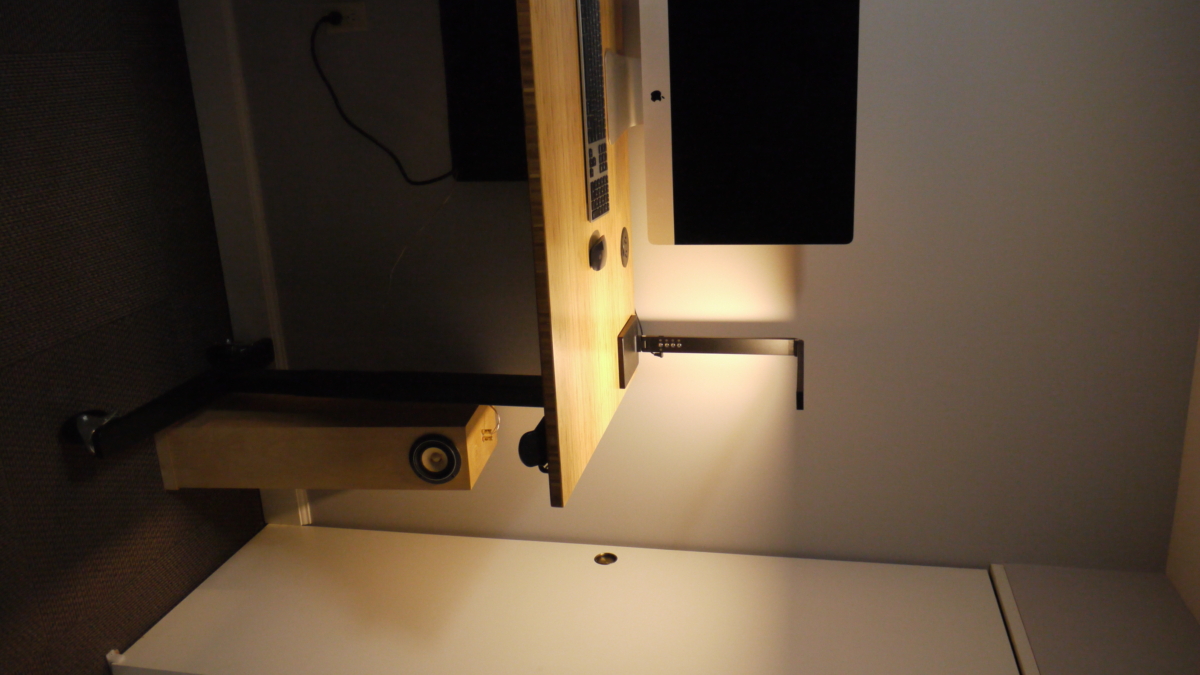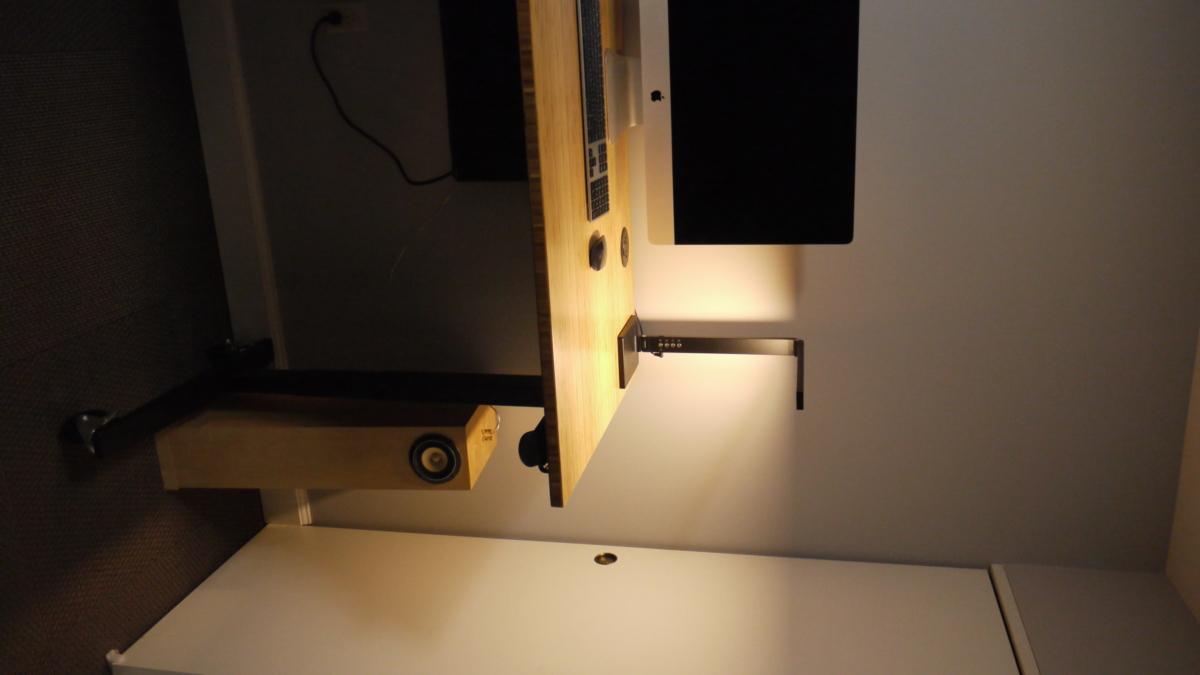 The Transition
The UpLift Desk V2 switches between your high and low settings in less than 10 seconds (for either direction, up or down). By the time you stand up and roll away your chair, you'll be ready to get working again. 
Not only is the transition quick, but it is also quiet. There is a mellow electric motor whine, but that is about it. The motor whine is ever so slightly louder on the way up than down, but the legs do not rub, creak, or squeal while in motion. 
The desk also has two nice safety features that aid in raising and lowering: anti-collision and auto slowdown. The control box is outfitted with an accelerometer and a 6-axis sensor that will stop the desk in its tracks if it registers an object in its path. 
The auto slowdown might not be as much of a safety feature as it is satisfying to watch, but when the desk is close to the memory setting, it will slow its movement before coming to a rest at the desired setting. 
All in all, there's not much else to say. It works! 
It raises and lowers quickly, quietly, and with no danger of ever hitting your valuables. 
The Build Quality
The frame itself is solid. It is heavy-duty, structurally sound, and imperfection free. With a lifting capacity of 355lbs, I could easily lay across the desk while it is rising, and it would do its job. (I didn't do this, but sounds kinda fun). 
UpLift Desk is so confident in their frame design, they include a free hammock that attaches to the legs of desks larger than 72" – now that's something you don't see every day. 
The legs are legs – they're strong and do their job. 
Where I did run into some quality issues was the desktop itself and the electronics. I opted for Carbonized Bamboo, which to be honest, I had no idea what that meant. After a quick Google search, I realized it is just a process of changing the color of the natural shade of Bamboo. Anyway, the desktop is heavy just like the legs. There are no structural issues or concerns, but the final surface treatment knicks easily and arrived scuffed out of the box. 
The Bamboo is absolutely stunning and looks fantastic with the color palette I was going for, I'd just recommend a desk pad and/or mouse pad for high traffic/high touch areas is all! 
Regarding the electronics, I did get a faulty control unit that did not properly allow my desk to raise and lower according to the memory settings. I'd double tap, and it would just move a bit and stop. Shout out to Jamie on the support team that got this sorted for me with a new control unit and extra paddle just in case. The electronic issue was nothing short of a minor inconvenience and did not affect the long term use of the desk. All is perfect now! 
The Chair
I opted for a chair during this desk upgrade so I could have a nicely coordinated, all-new setup. I picked the Pursuit Ergonomic Chair, a modern take on a classic office chair. The mesh back panel is very breathable and contours your back with ease. The mesh and foam combo for the seat is plush but supportive and is not suffocating or sweaty like other chairs I've tried before. 
This is the first desk chair I've had with a headrest, and I have become fond of the ability to press back into the chair, recline, relax, and rest my head to take a mental break or a thinking moment. 
The arms swivel and raise and lower. The seat is height adjustable, the backrest is reclinable, and the recline resistance is adjustable. The wheels roll quietly, and the backrest and headrest adjustments are easy to use.
Simply put, UpLift Desk got this chair right. It takes a bit of fine-tuning to get it perfectly suited to your body, monitor height, and comfort preferences, but once you're happy with the adjustments, you're set! The chair rocks – all-day comfort & breathability. 
Check it out, $329 – if you buy with a desk, the chair is discounted a bit. 
Value
Anyone looking for a new desk and chair setup knows what they are getting into, especially those looking at standing desks. A quality standing desk is an investment, and my setup was certainly no exception.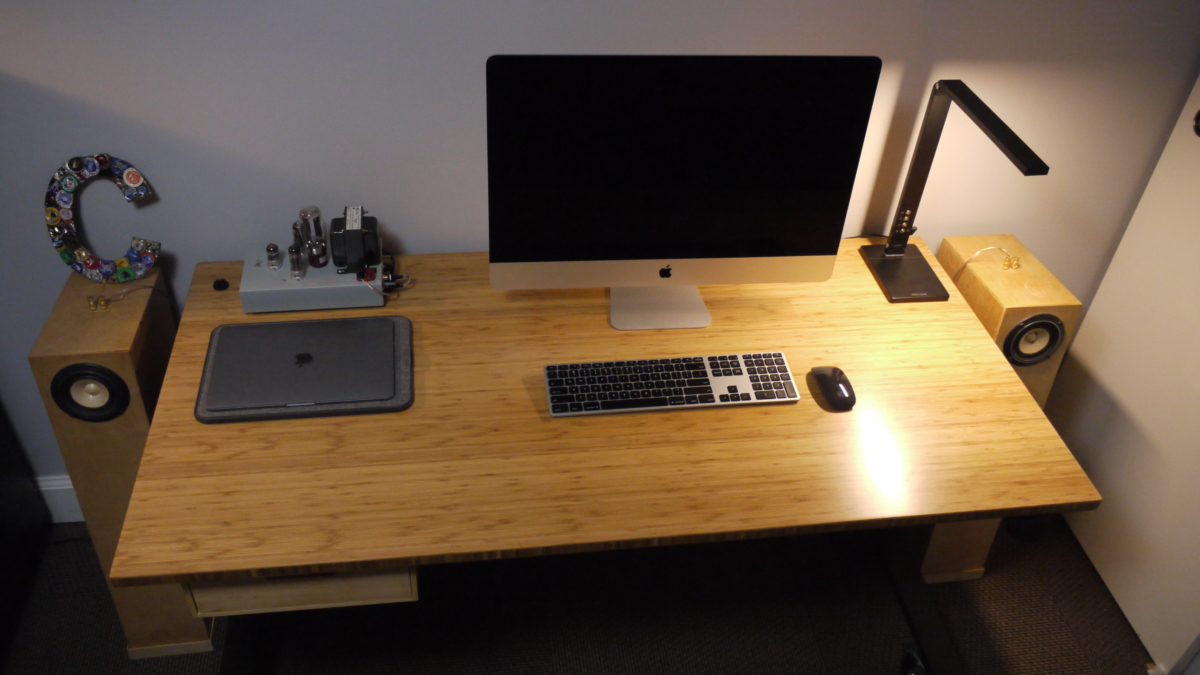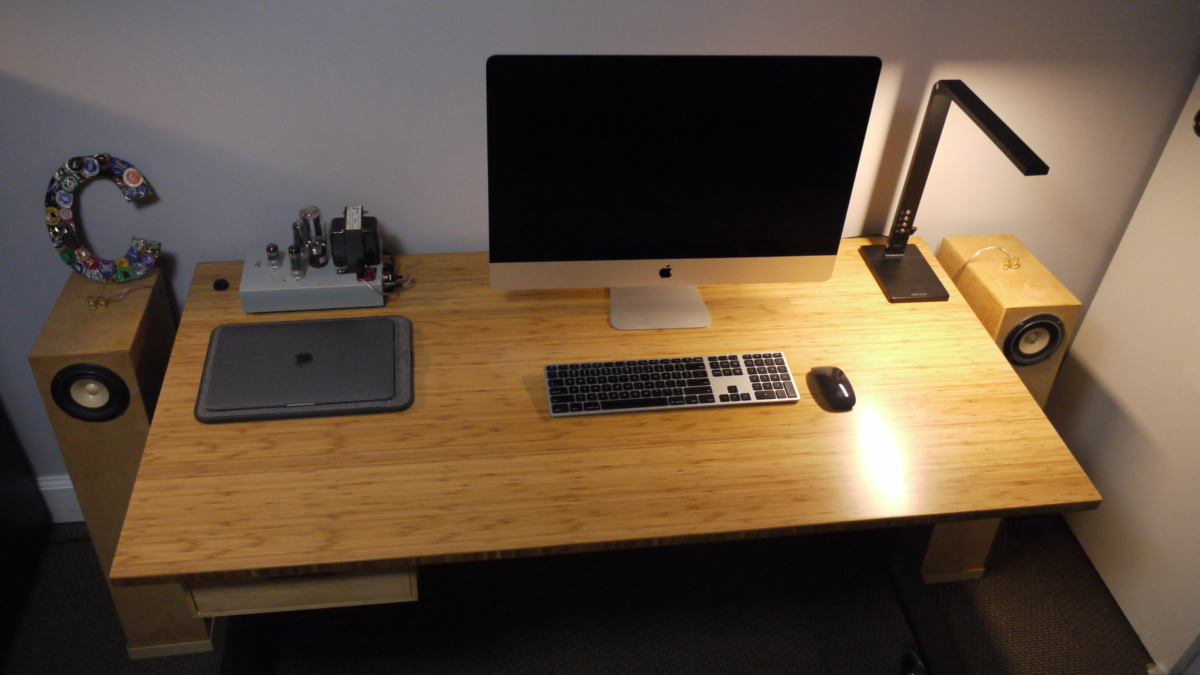 As configured with desktop color, size, accessories, and chair, my setup rounded $1,500 before tax. While some of you might be squirming, I really decked this guy out to future proof my investment. The future looks to be full of work from home days, so I wanted something I would be happy with long-term. 
There are certainly ways to get the cost down – laminate desktop, smaller desk width, fewer accessories, and of course, no chair if you have one, but for the price of my package, I am certainly satisfied and confident I will enjoy it for years to come. 
UpLift Standing Desk (V2) Review
A phenomenal option for those in search of a quality standing desk. Highly customizable for a range of budgets, UpLift Desk sets the standard for those to match.
THE GOOD:
Quiet operation
Heavy duty build quality
Highly customizable
THE NOT SO GOOD:
Carbonized Bamboo finish is a bit too easy to knick
Wiring can be tricky, need to follow instructions in order