UPLIFT Standing Desk offers top notch build quality, functionality, and configurations that make them a top contender in upgrading your workspace. Whether you are looking for personal or commercial, curved or straight, standing and/or sitting, UPLIFT has a configurable solution that will work. After upgrading my home computer system, I started looking for a standing desk big enough that would work for my needs. Also, not knowing exactly how I wanted it set up just yet, having a library of accessories to browse and select from made it easy and sparked some ideas I haven't thought about. I worked with their support to help build a configuration that not only looks great and functions great, but it also has the capacity to be modified in the future if/when I change my layout.
Curved Corner UPLIFT Standing Desk
The UPLIFT Curved Corner UPLIFT Standing Desk is an excellent choice if you're looking for a shape that fits your office layout with more desk space for monitors and accessories.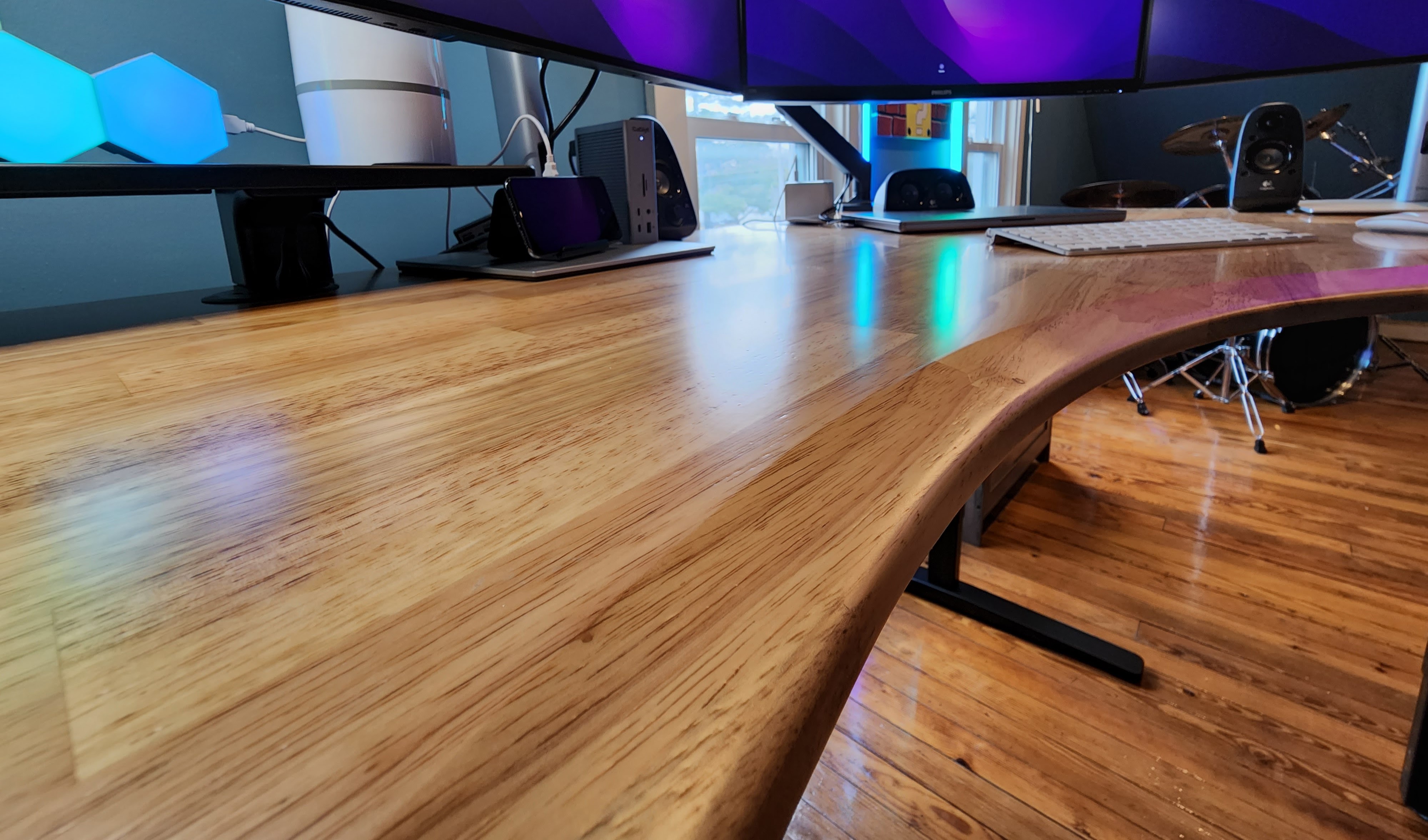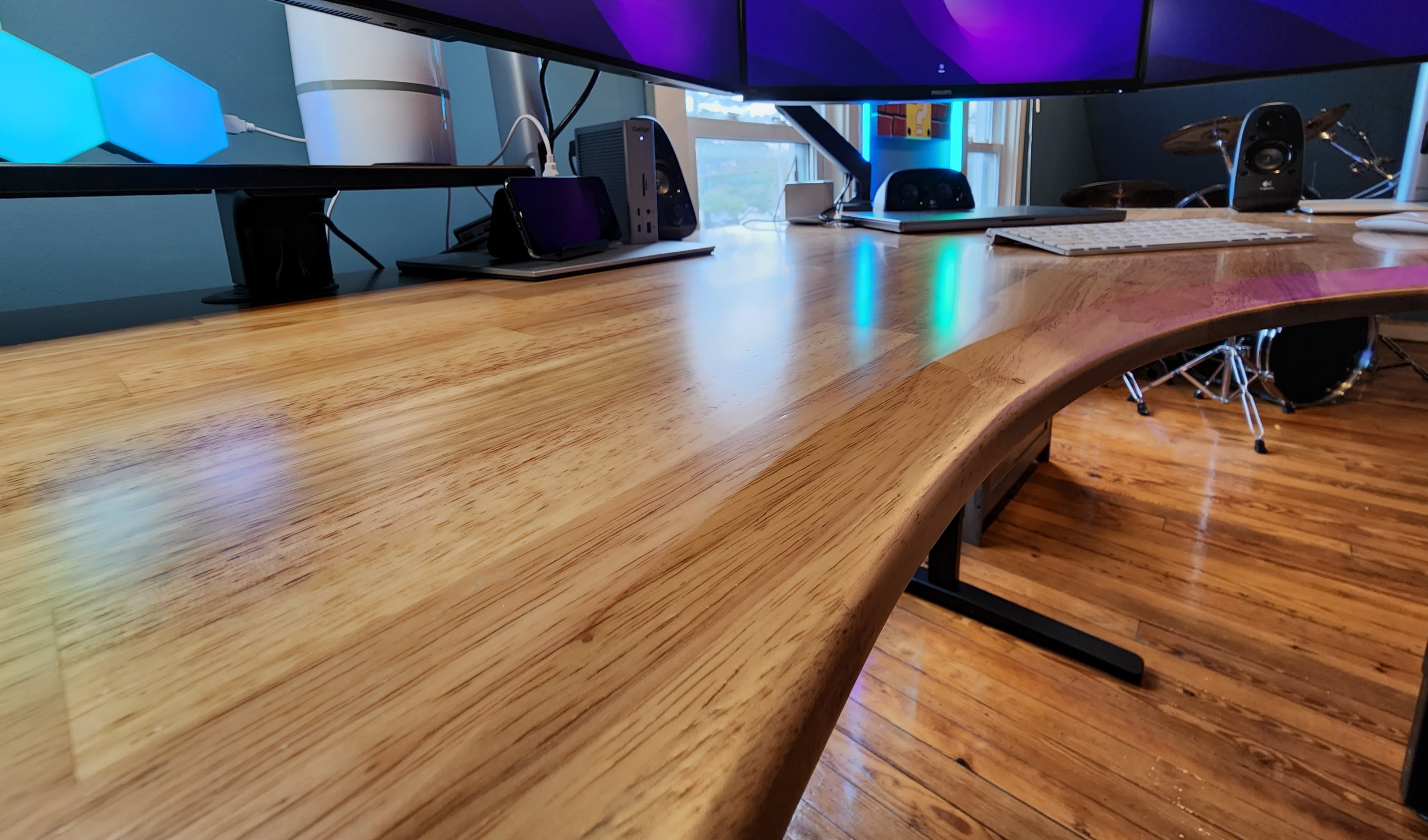 Configuration
Desktop Style: Rubberwood Solid Wood
Return Side: Return on Left Side (also avilable on Right Side)
Frame Color & Type: V2 C-Frame – Black
Grommets: Two Power Grommets
Keypad: Advanced Comfort Keypad
Ultimate Wire Management Kit
Bamboo Rocker-X Board with comfort mat
LED Desk Lamp E3 – Black
Standing Desk Mat with Heel Grab
Zipped Cable Sleeves
Power Up Wireless Charging Hub
Crestview Single Monitor Arm
Desk Shelf / Monitor Stands
As you can see from my photos, I have three 32″ monitors that take up a lot of space. However, the curved layout and Crestview Monitor Arm made it easy to adjust and layout everything for the perfect viewing and comfort position. There was still plenty of room to add a single 27″ desk shelf for the LED Desk Lamp E3 and the Desktop Air Purifier. Having two Power Grommets were very useful as well as the Power Up Wireless Charging Hub for even more power. With all that power, I needed a way to tuck away all the cords. The Ultimate Wire Management 28.5″ Modesty Panel made it easy to slide all of the excess cords inside along with an included surge protector power strip with a 15′ cord length. The wire management kits also includes adhesive clamps that help align and secure the cords under the desk and route them where they need to go. The design and accessories made it easy to create a clean look for optimum focus.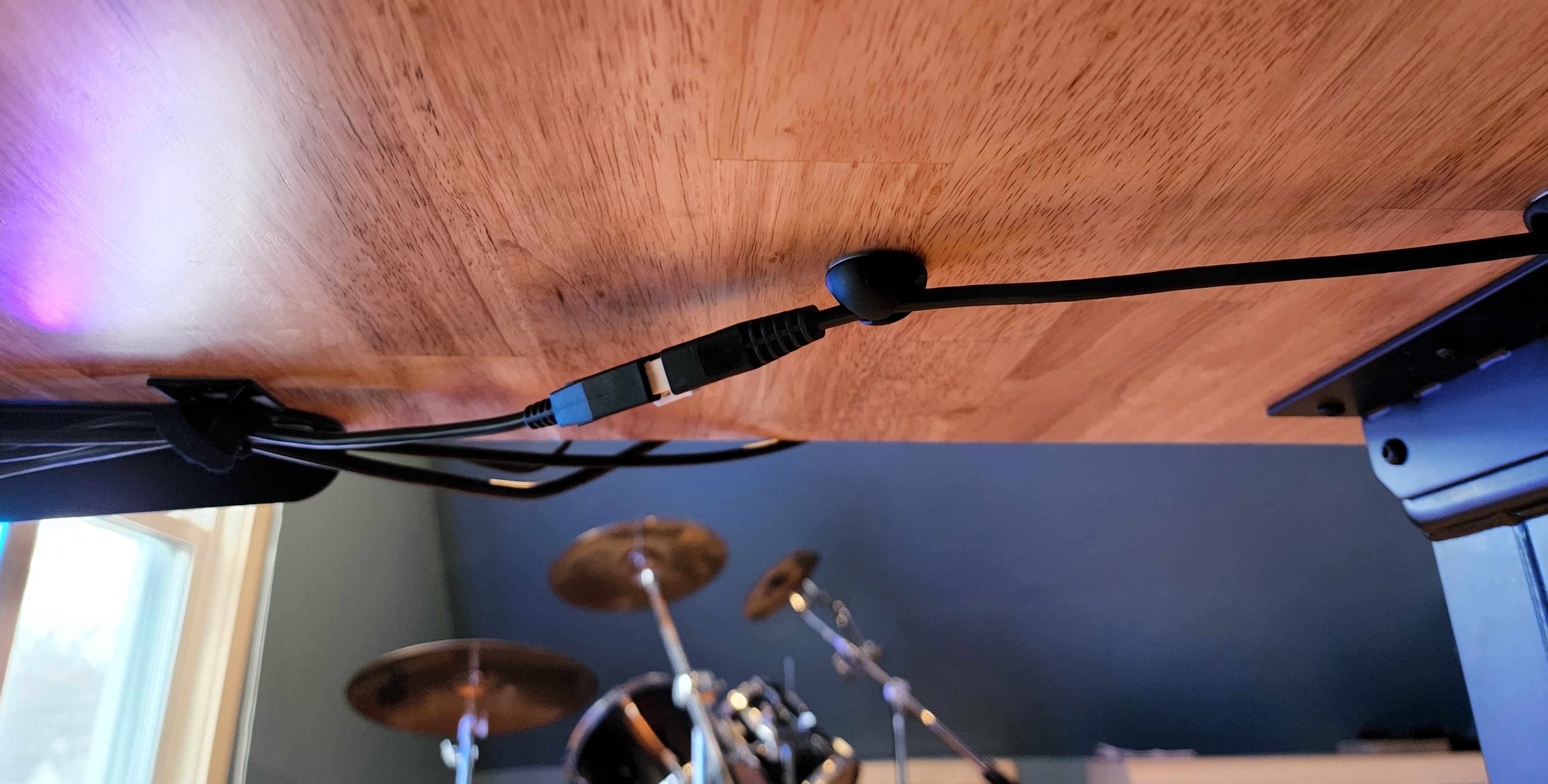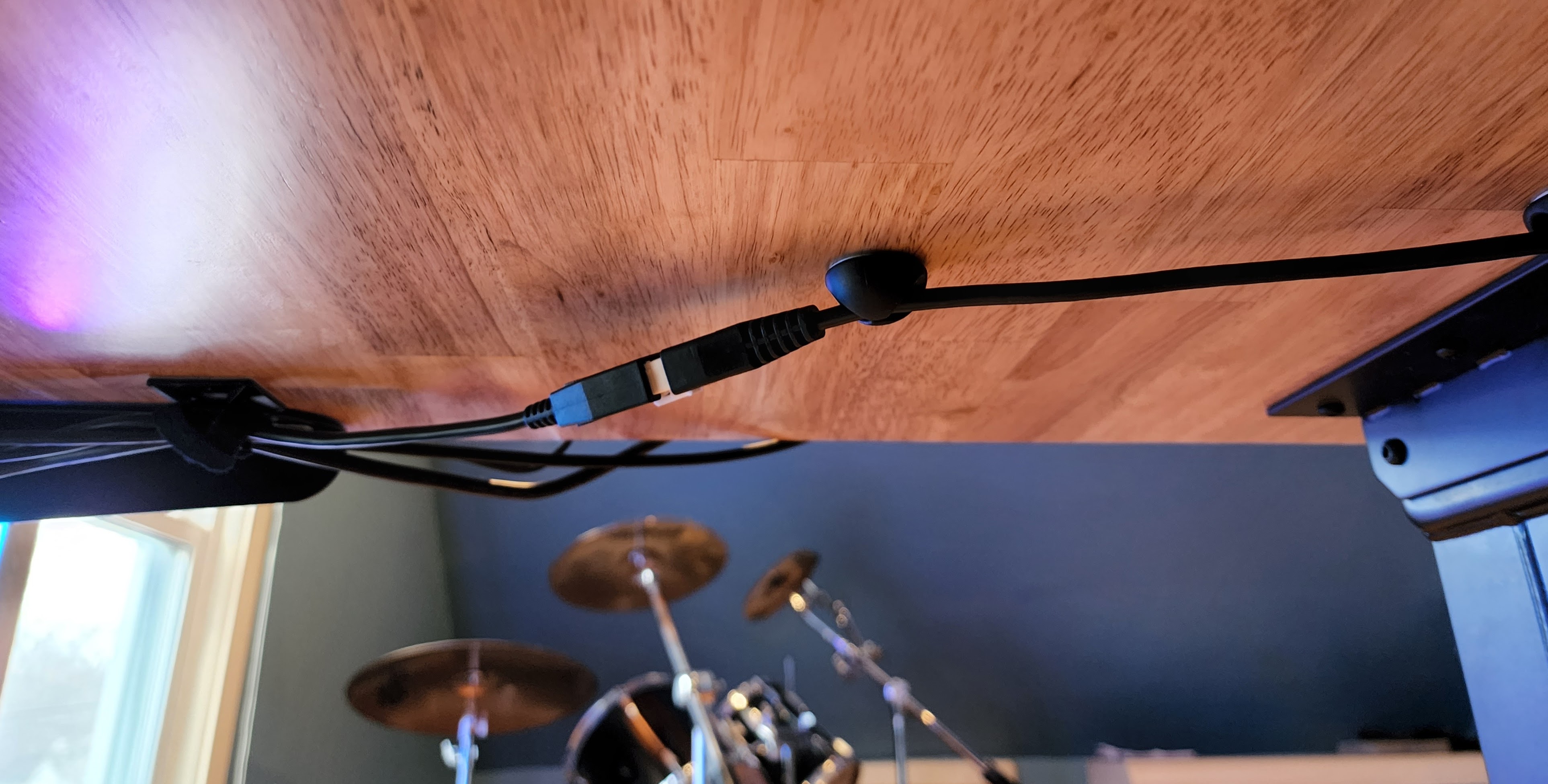 Functionality
The Advanced Comfort Keypad is what brings the functionality of this Standing Desk to the next level. The molded rubber face with raised dividers and angled design improves keypad face viewing. This keypad connects to all UPLIFT Desk control boxes (excluding first generation) and is compatible with height adjustable 2, 3, and 4-leg desks. The one touch (soft-touch) buttons move the desk to 4 programmable positions and can be manually adjusted with the up and down arrows as well.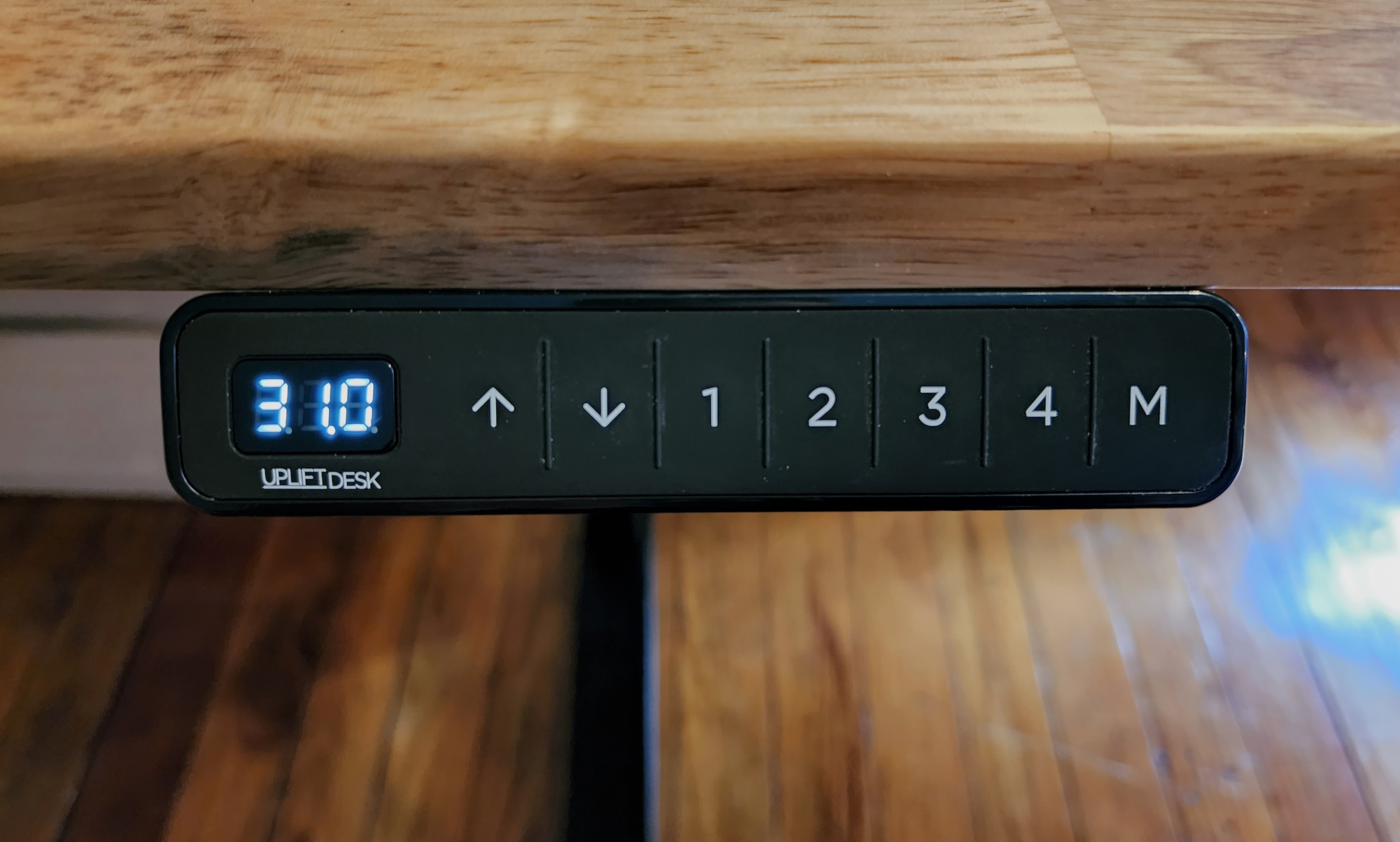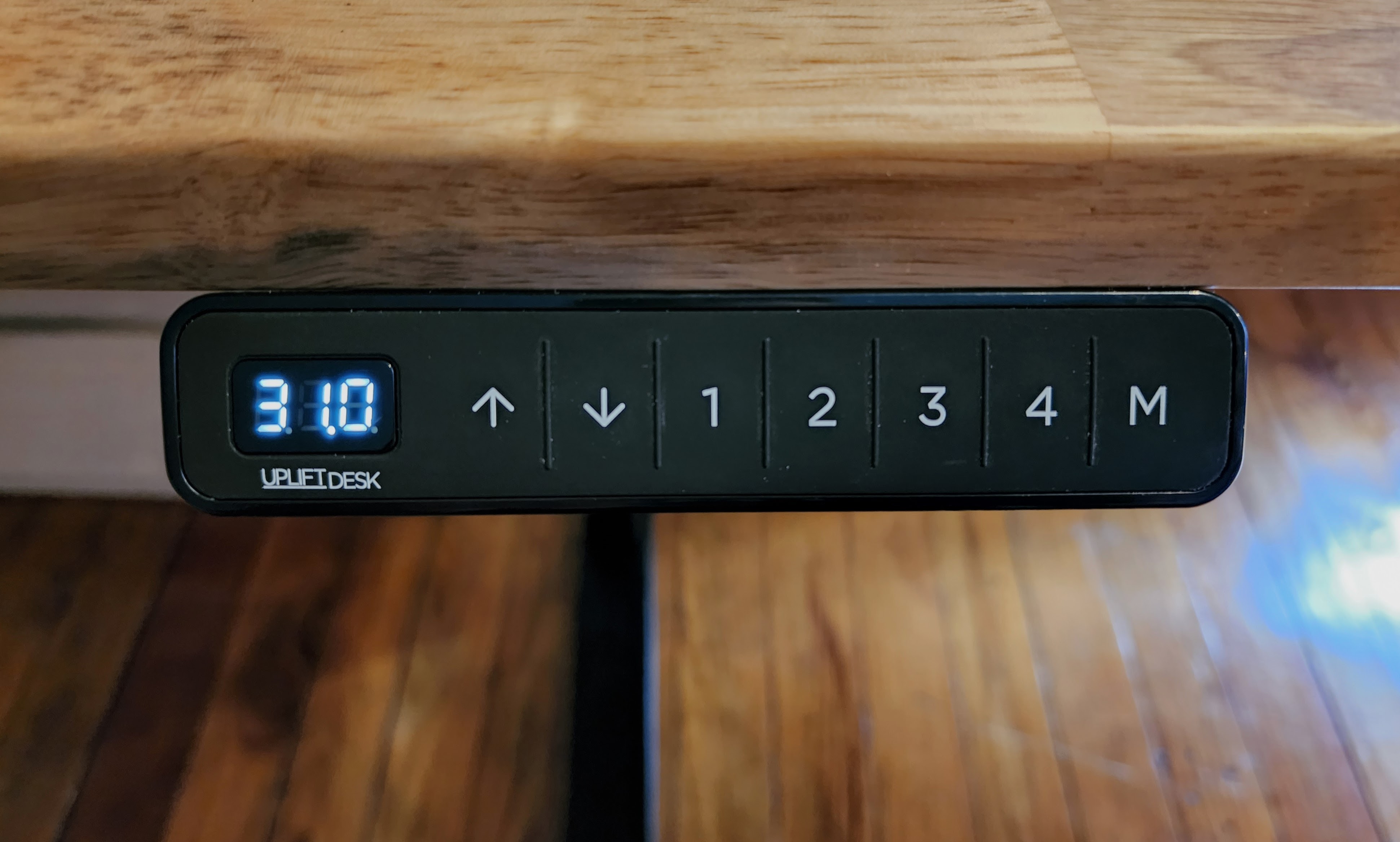 LED Desk Lamp E3 is a nice addition for some added light. The simple design allows the light to be maneuvered in several positions. The lamp uses a simple touch feature so you can adjust the intensity of the light. The Desktop Air Purifier is a nice accessory that improves the air quality surrounding your desk by removing airborne particles from the air you breathe such as dust, allergens, and odors. I have mine plugged right into the wireless hub using 1 of the 3 provided usb ports. With one tap it runs for a full cycle then sleeps until the next.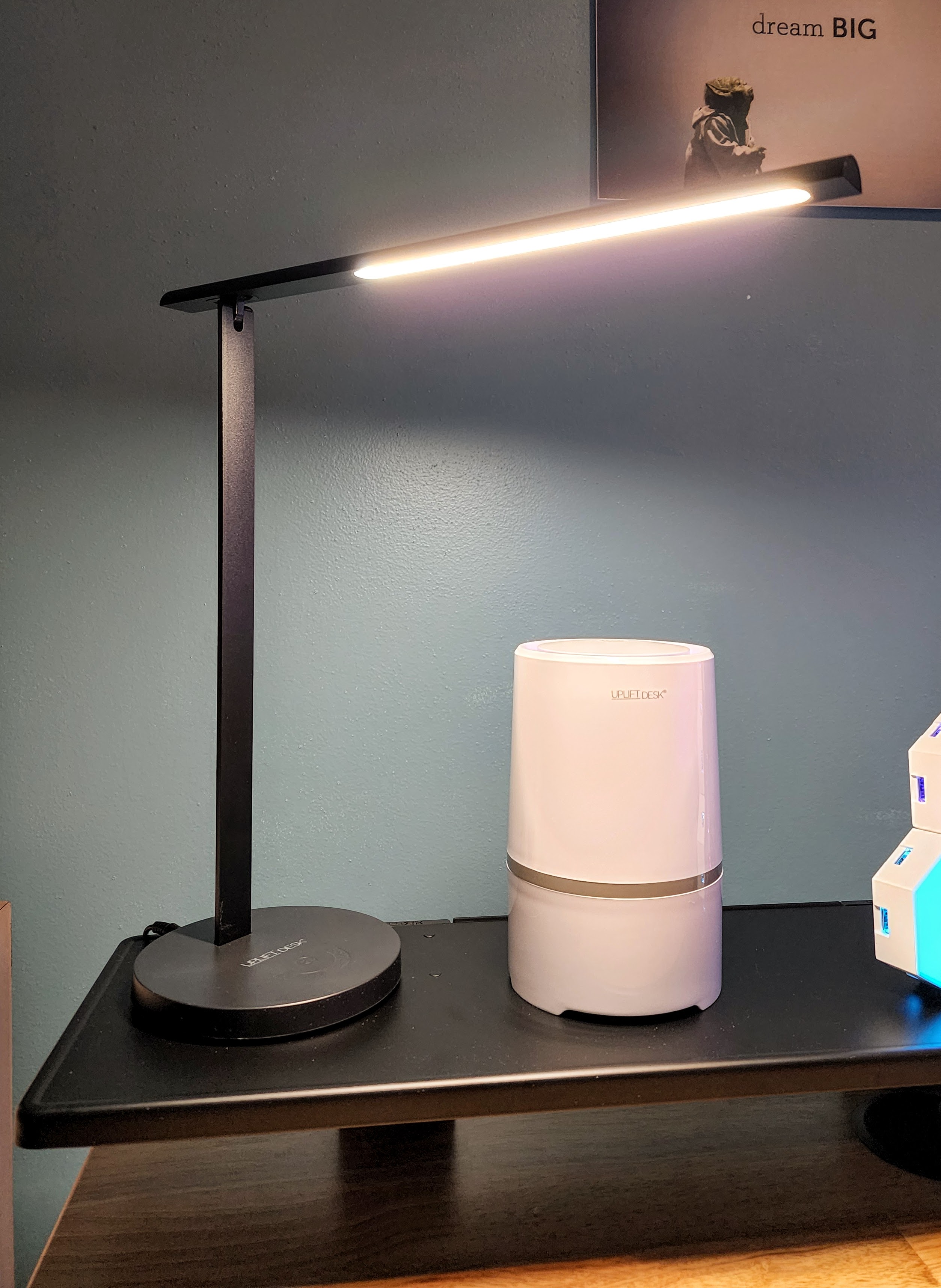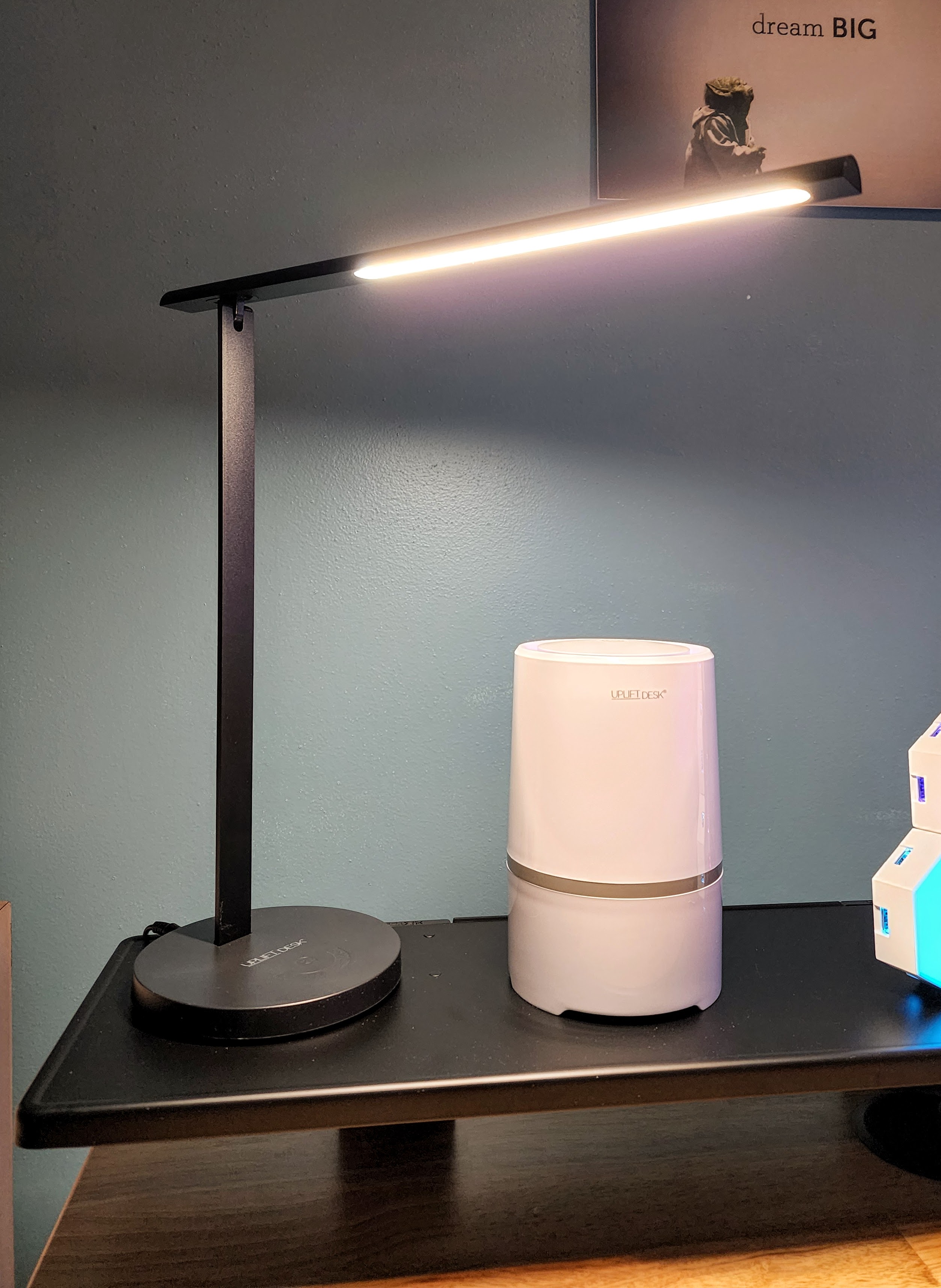 The Bamboo Rocker-X Board is a great way to keep a good posture while standing. I'm definitely a fan of introducing a "healthy" way of working at a desk job. The Rocker-X helps promote good balance as well as develop a better muscle stabilization without over exerting yourself. After an hour of standing on the Rocker-X, the Standing Desk Mat is perfect for settling back in to your work groove. If you want to kick off your shoes but still have that comfort while standing, the Standing Desk Mat is a great add on.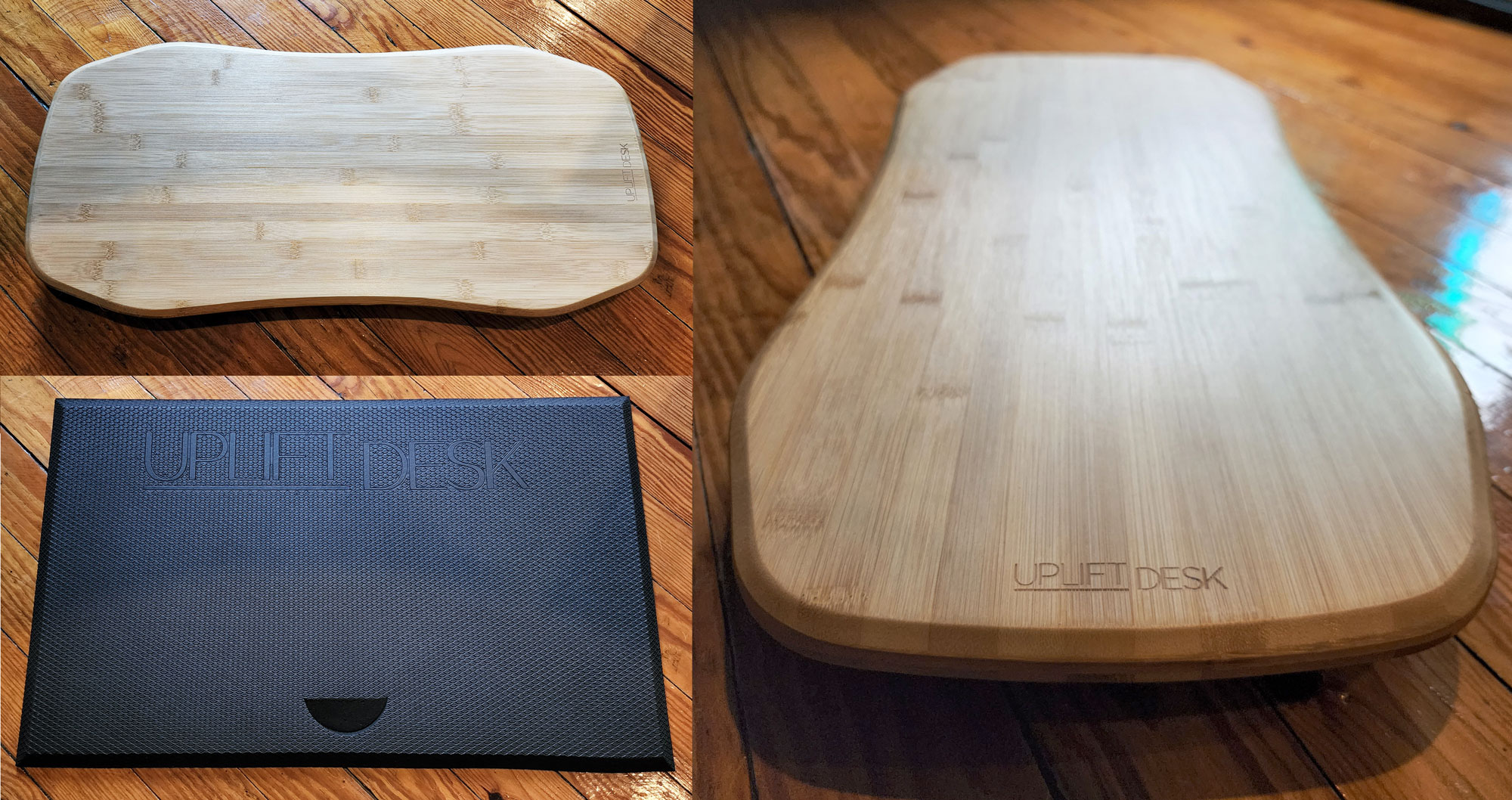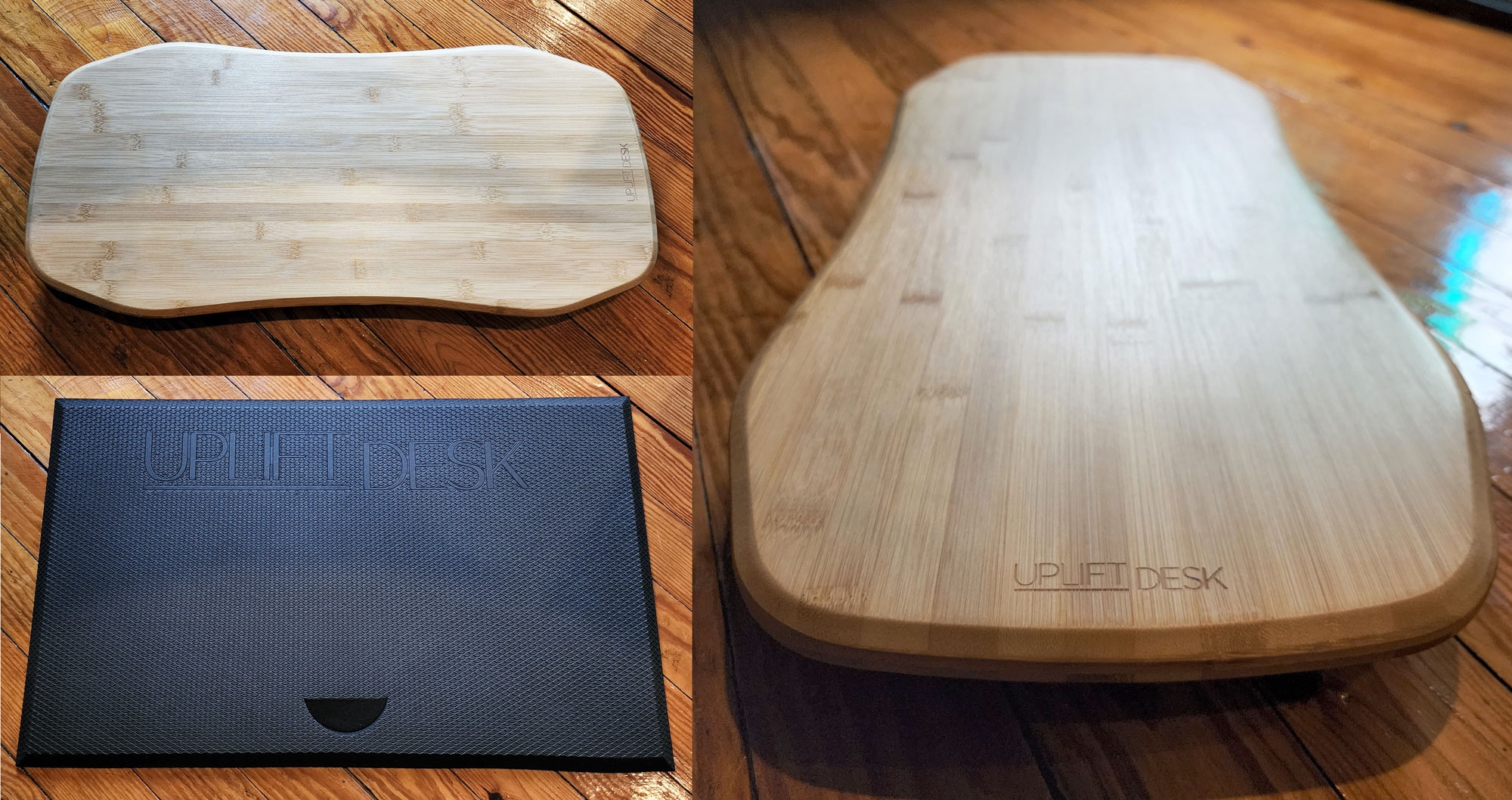 Quality
The Rubberwood Solid Wood style was just the look I wanted. After years of working on plain white commercial tops (which are also available through UPLIFT), I wanted something different that still had style, yet provided a more "home office comfort" look and feel. While the actual build quality is extremely durable, there were a couple of noticeable blemishes in the finish (small bubbles) that may have been a result of the manufacturing during the sealed air-friendly finish process. So just be aware of this when they deliver and make sure to check everything before they leave. Besides that, the desktop and height-adjustable 3-leg UPLIFT V2 frame provides an even greater weight capacity of 535 lbs. I actually had to change a lightbulb right above my workspace and used the desk to stand on. Even after it was loaded up with 3 monitors, 2 computers, a tablet, multiple hard drives, and myself, it barely budged while I stood and walked on it.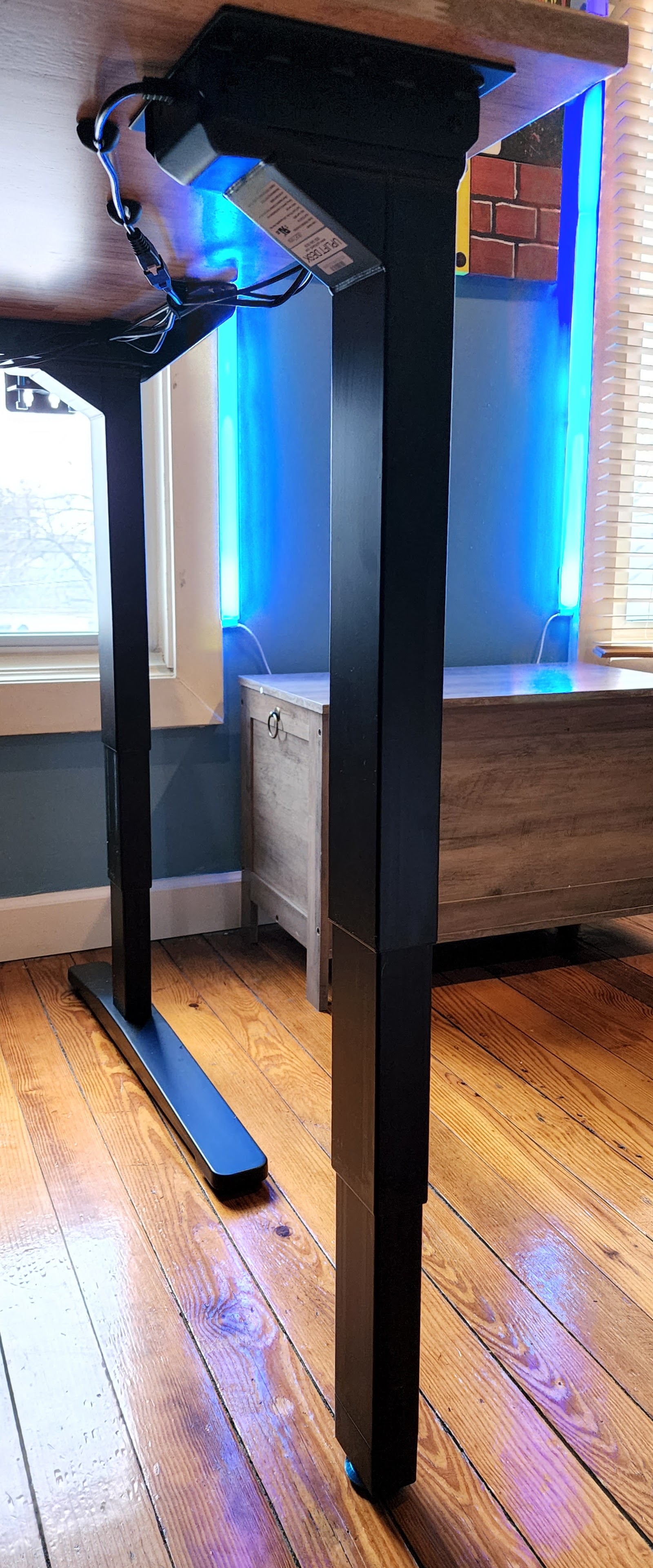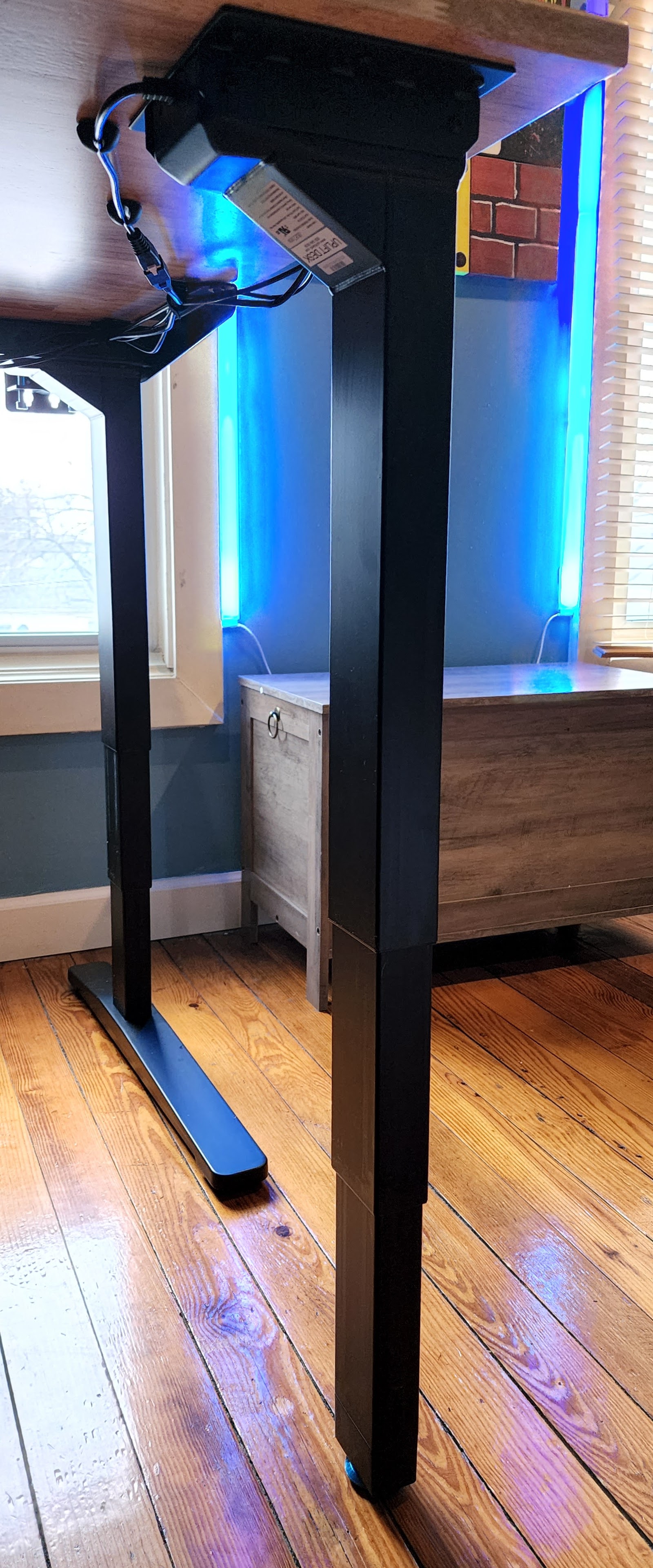 The curved corner desktop has a smooth inside corner ergo edge to improve reachability and comfort while you work. Finding the perfect height position while standing and sitting allowed me to rest my arms down on the curved corner for even more support. When you combine the 1 piece top with the heavy duty frame, you get an extremely durable and stable home workspace with commercial grade quality.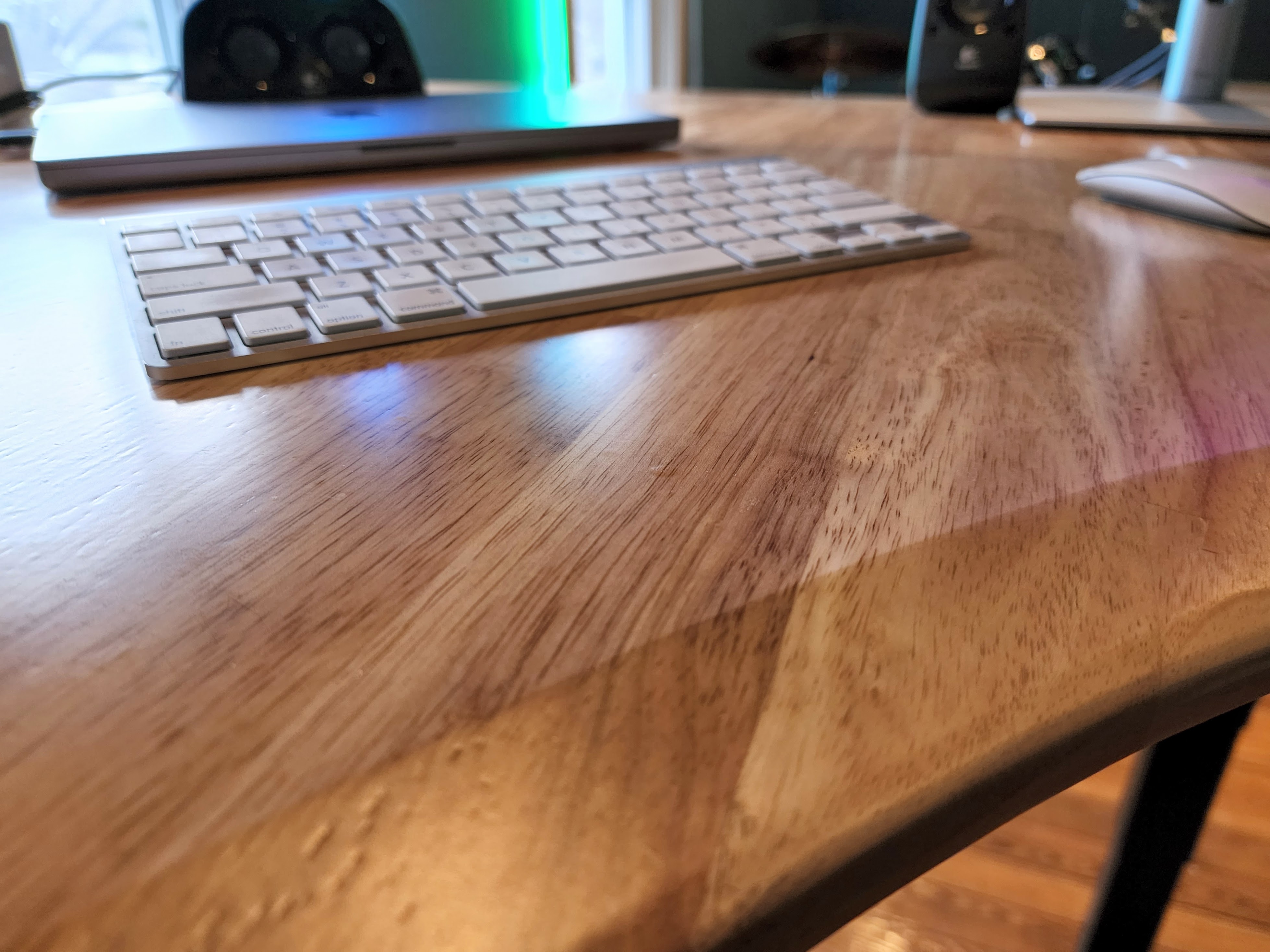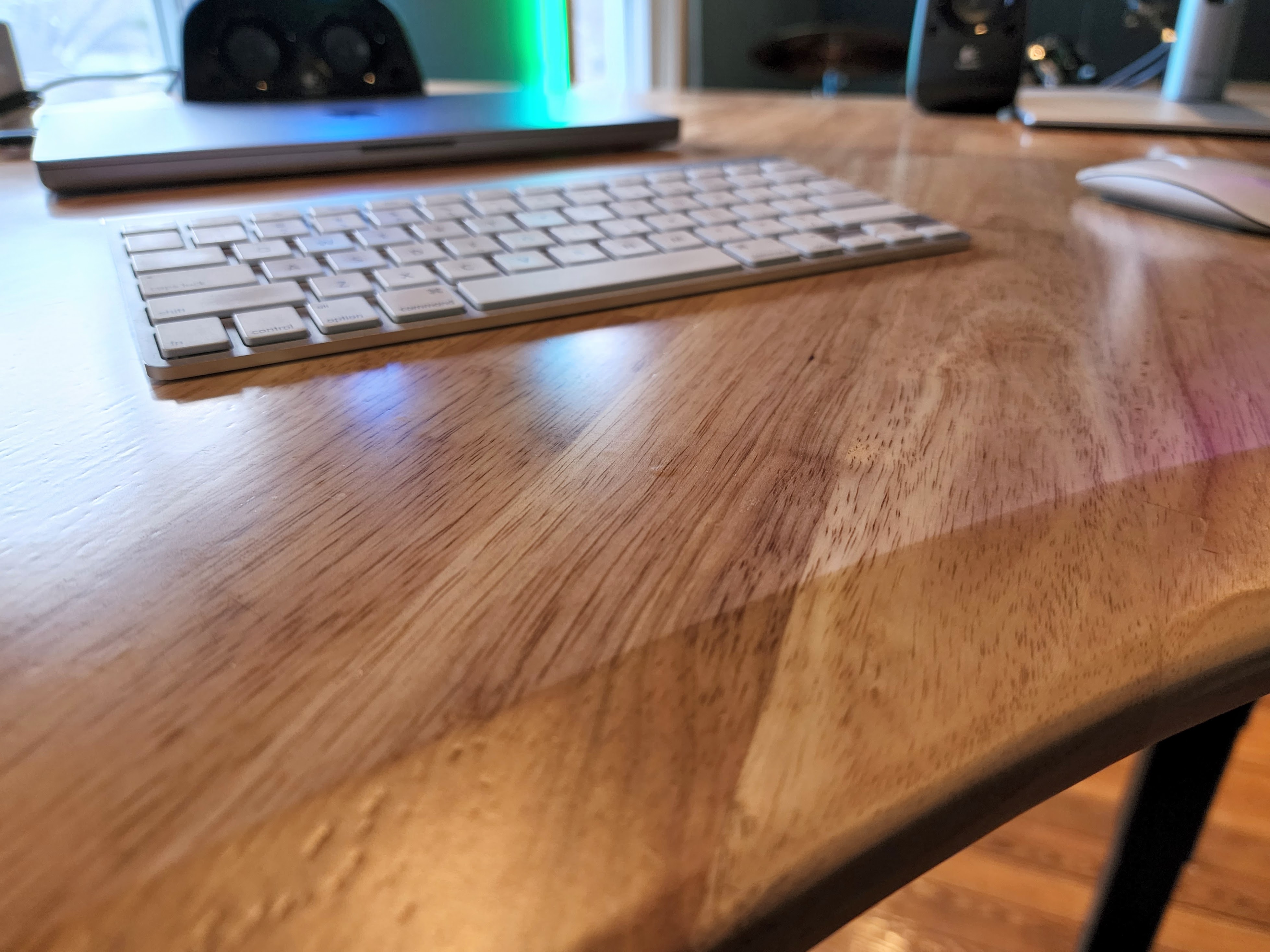 The Chair
The J3 Ergonomic Chair was surprisingly easy to put together. Simple assembly, with a very smart ergonomic structure, makes this one of the best office chairs to sit in for hours at a time. While it's not exactly healthy to sit on your butt for hours on end, at least your bottom will thank you for selecting a chair that will allow you to tackle those "working through the night" projects. Living in west Michigan "The Furniture City", home to some of the biggest names in office furniture, I've sat many hours on different models. The UPLIFT J3 Ergonomic Chair is one of my favorites with the comfort and adjustability I need.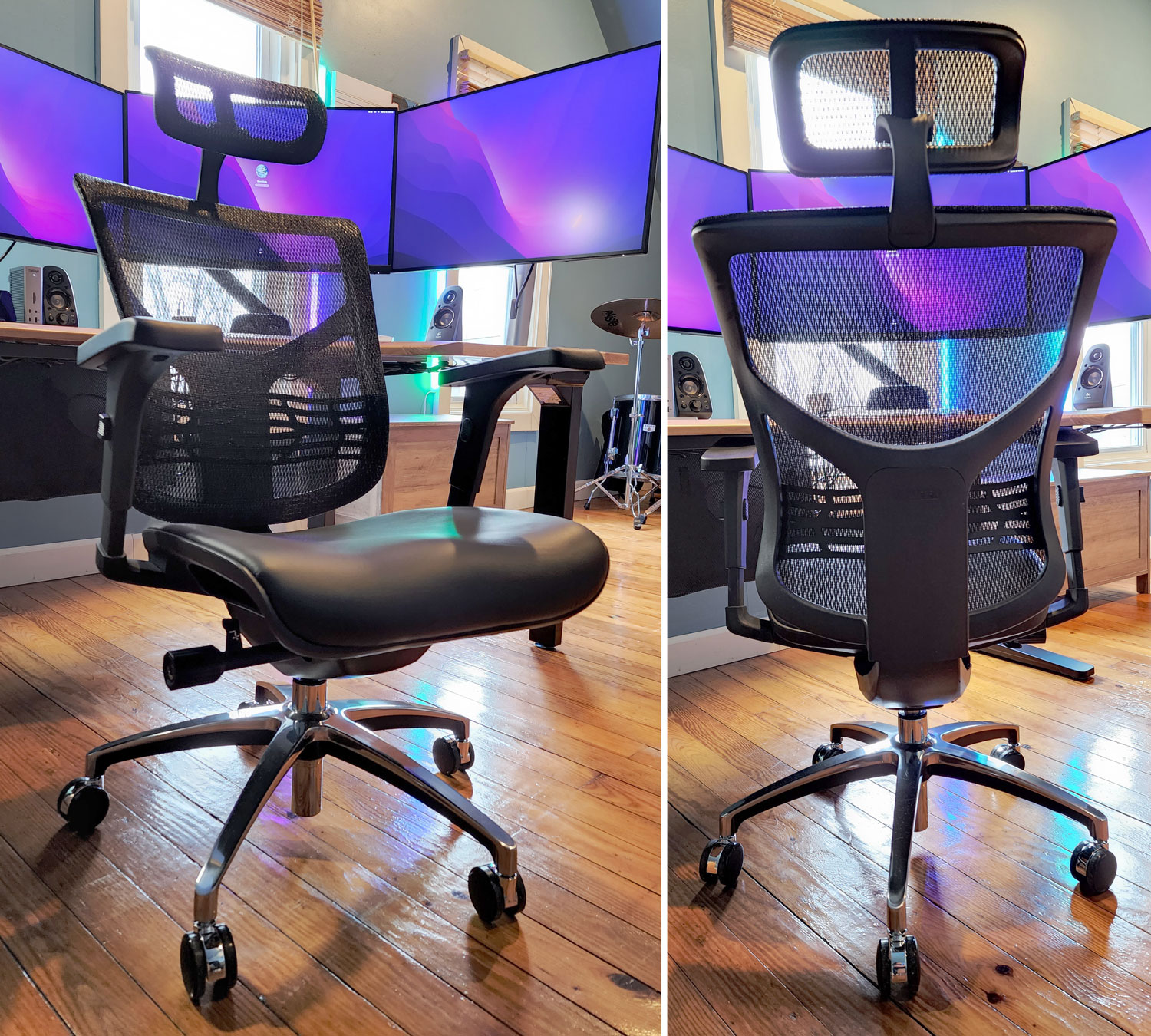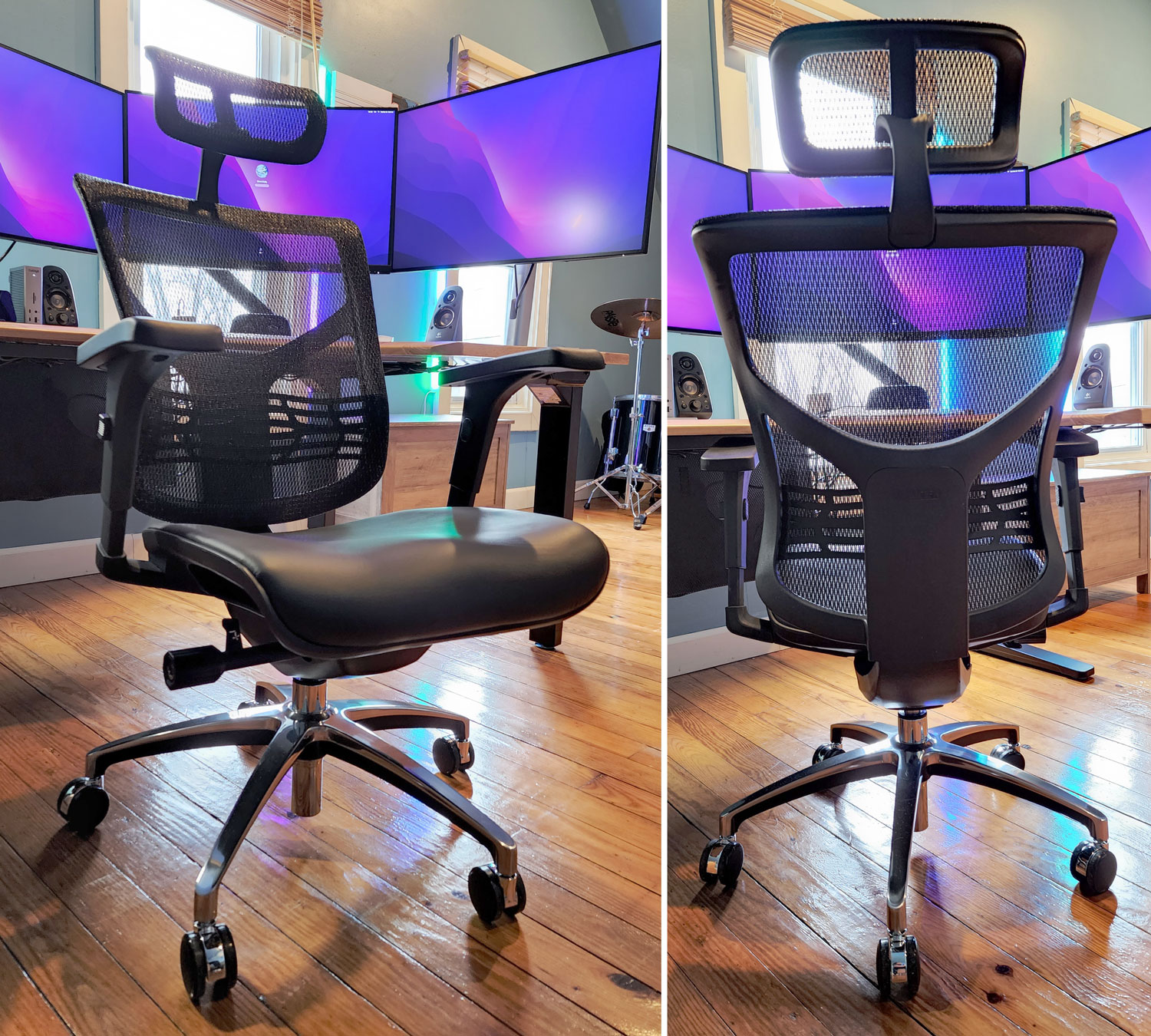 Key Features:
Sturdy ergonomic office chair with premium features at an affordable price
Contoured design fits most body types
Leather seat with comfortable high-density foam cushion; Waterfall edge front of seat
Adjustable seat height, seat depth, armrest height, headrest position, back height, recline and tilt tension, and lumbar support
Mesh back and headrest improves airflow for comfort
Sturdy base and casters
15 year warranty – all UPLIFT Desk products include a 15 year warranty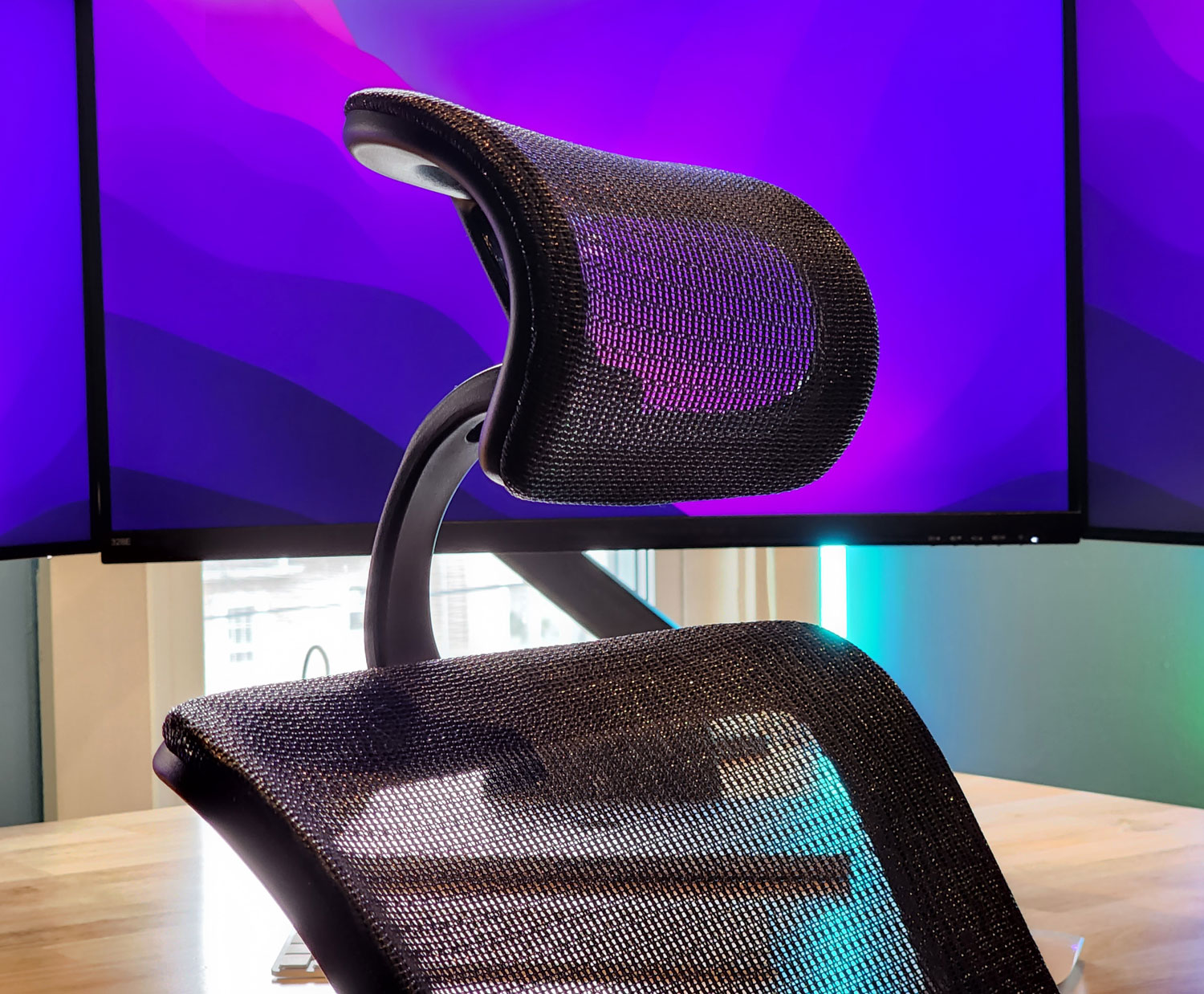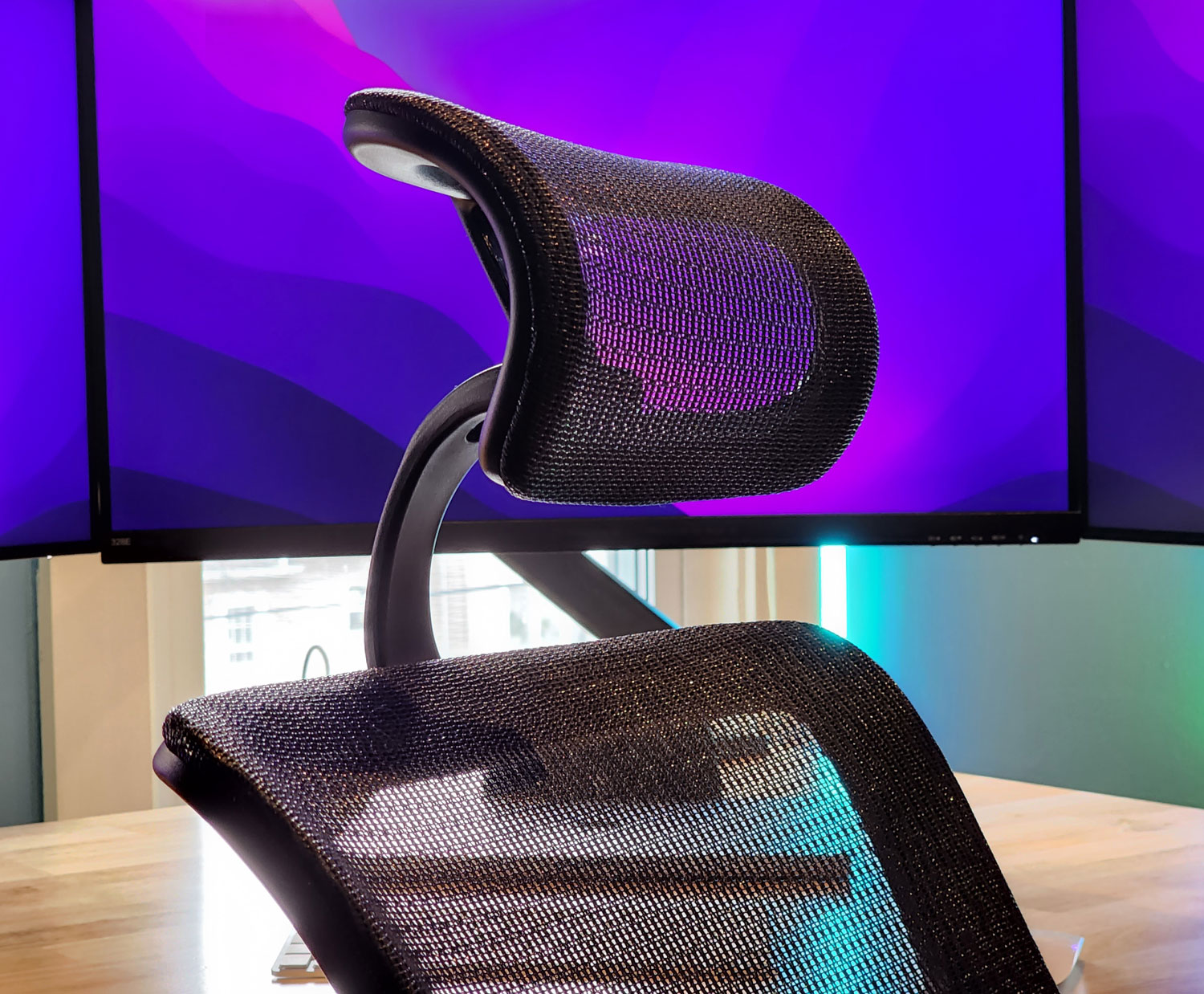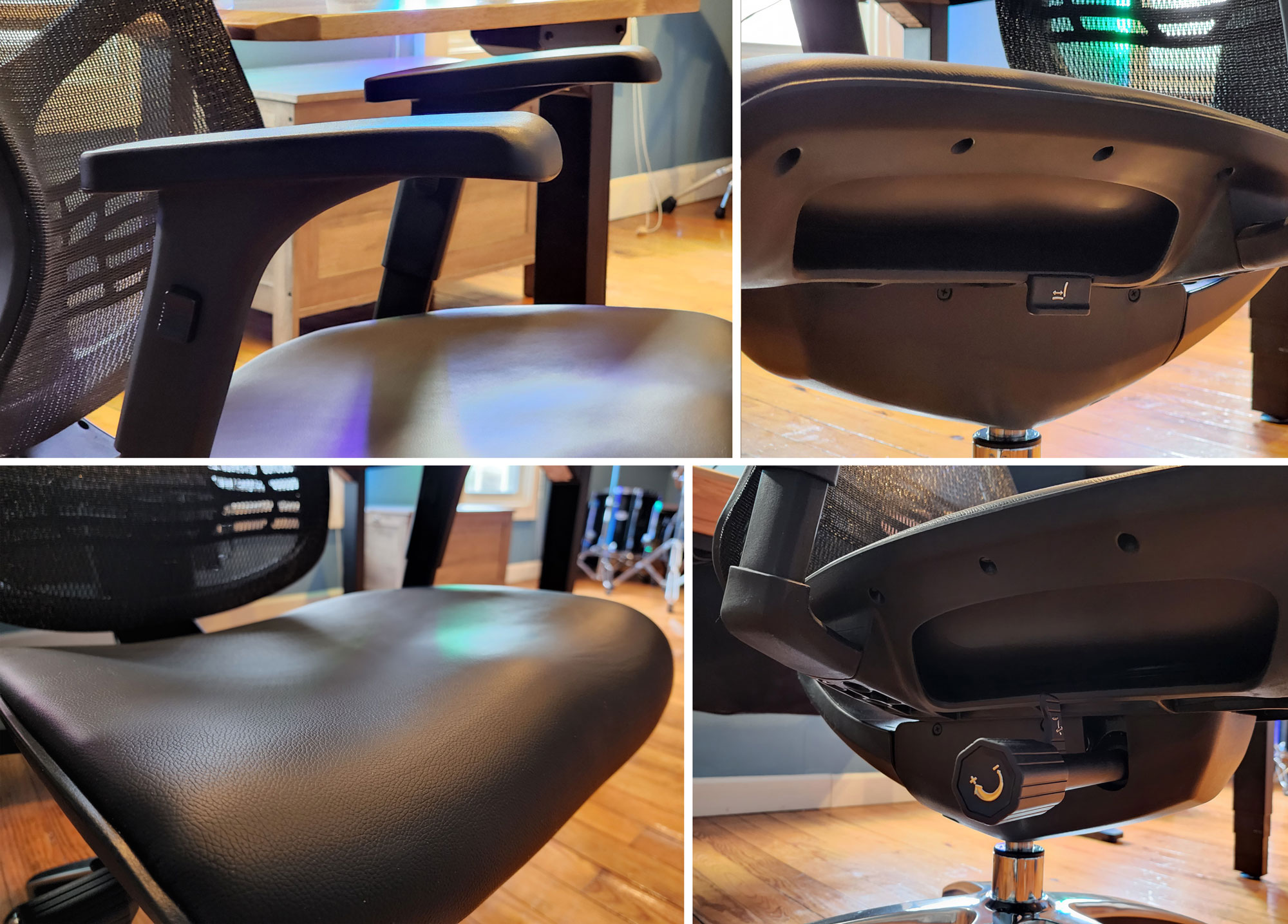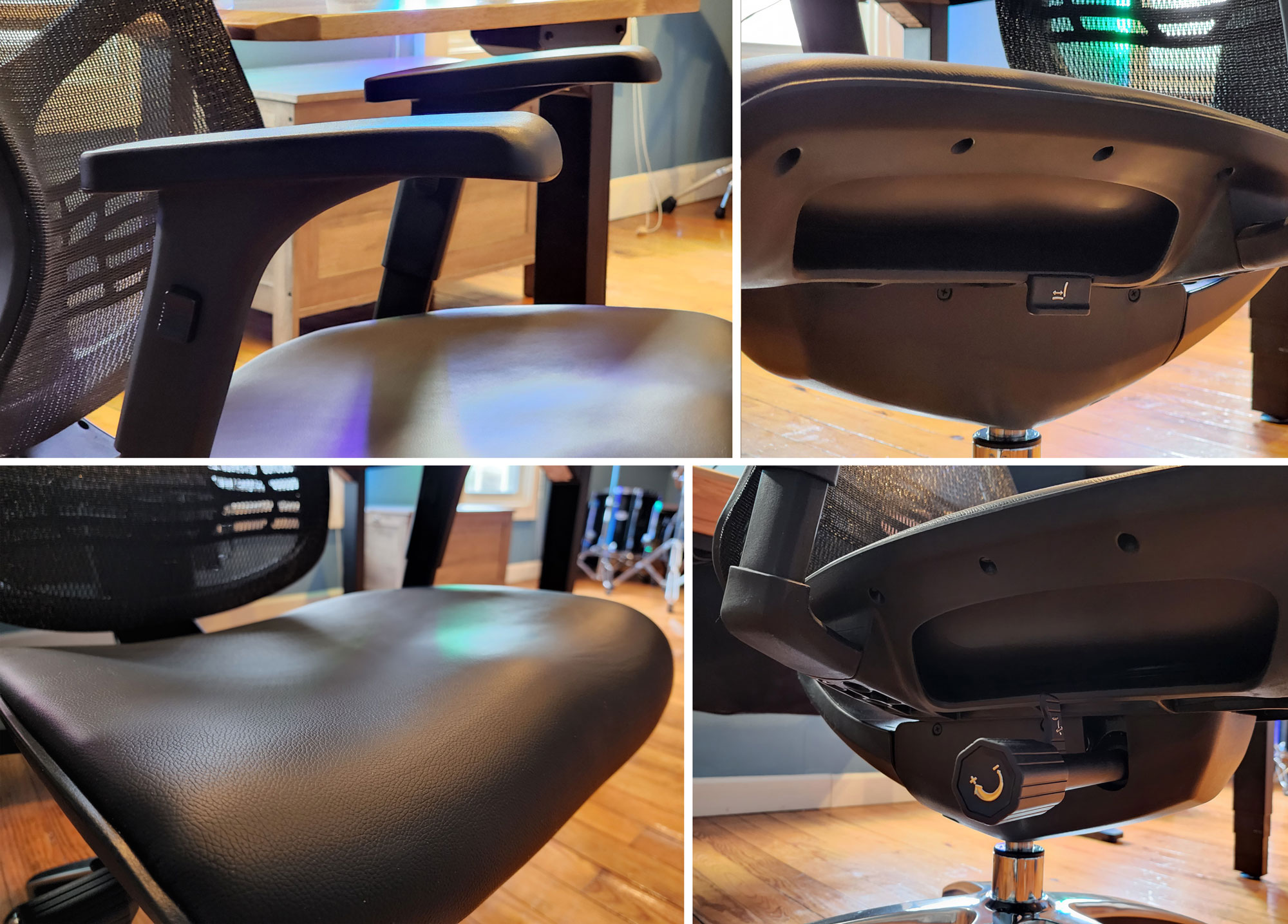 Buy Now: $359.00 or to learn more, check out: www.upliftdesk.com
Value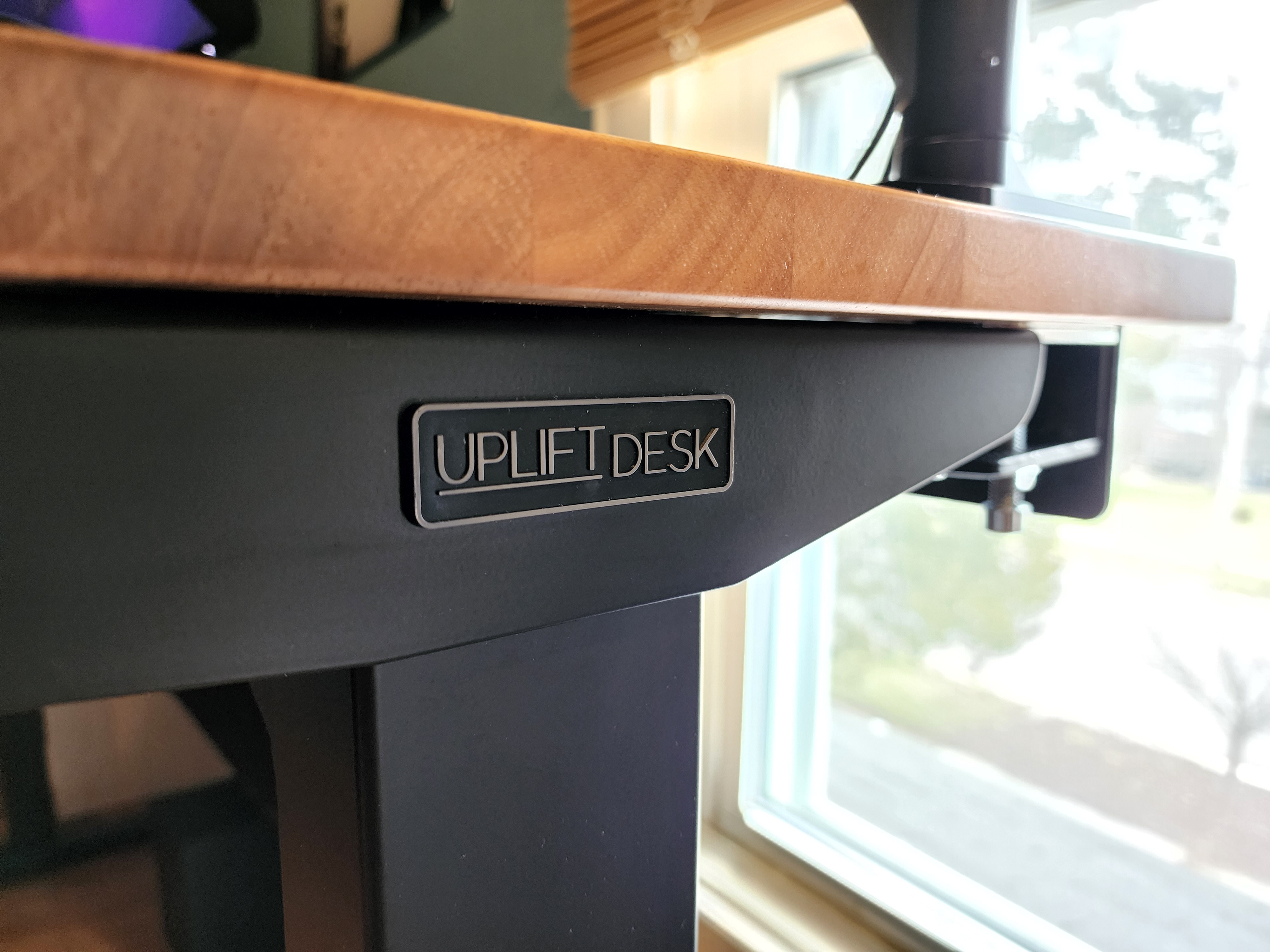 UPLIFT offers a variety of excellent standing desks, chairs, and accessories that have a commercial build quality with configurations and pricing that work in your home office. If you are looking for a commercial grade quality setup with a home office budget, then I highly recommend UPLIFT for their desks, chairs, and accessories. Each item integrates very well with each other and have the adjustability, durability, and quality to keep up with your daily work life.
Buy Now: $1,449.00 or to learn, check out: www.upliftdesk.com
UPLIFT Standing Desk
UPLIFT has top notch quality configurations and materials that make investing in a better workspace easy and worth every penny.
The Good
Excellent build quality
Sitting to standing with a touch of a button
Easily configurable
The Negative
Pricier than other options, but the value in what you get is worth the extra money