Wrapping a beautiful cut of beef into a plastic bag to be cooked in water might seem outrageous. However, our friends at ChefSteps are dedicated to finding new and innovated ways to make awesome meals for everyone in their own kitchens. While the sous vide method isn't new, it has really taken off in the United States in the last few years. Recently, ChefSteps gave us a peak at their sous vide, the Joule. If you are avid followers of Busted Wallet, you know that we are huge fans of this style of cooking with previous reviews you can read here and here.
ChefSteps is a smart kitchen product company that are building tools to help people cook more, have more fun cooking, and get incredible results, every time. In 2016 they launched Joule Sous Vide, which they tout as the smartest, smallest, and most powerful sous vide tool on the market. Built in-house by a team of chefs, engineers, and videographers, Joule's app is designed to reflect their commitment to creating content-rich products that educate and inspire.
For those of you new to the sous vide world, be prepared for the best food you have produced. Sous vide, which means "under vacuum" in French, refers to the process of vacuum-sealing food in a bag, then cooking it to a very precise temperature in a water bath. This technique is designed to produce food consistently as you can't over cook the food in this controlled environment. How did the Joule work in our test kitchen? Read on for the full review breakdown.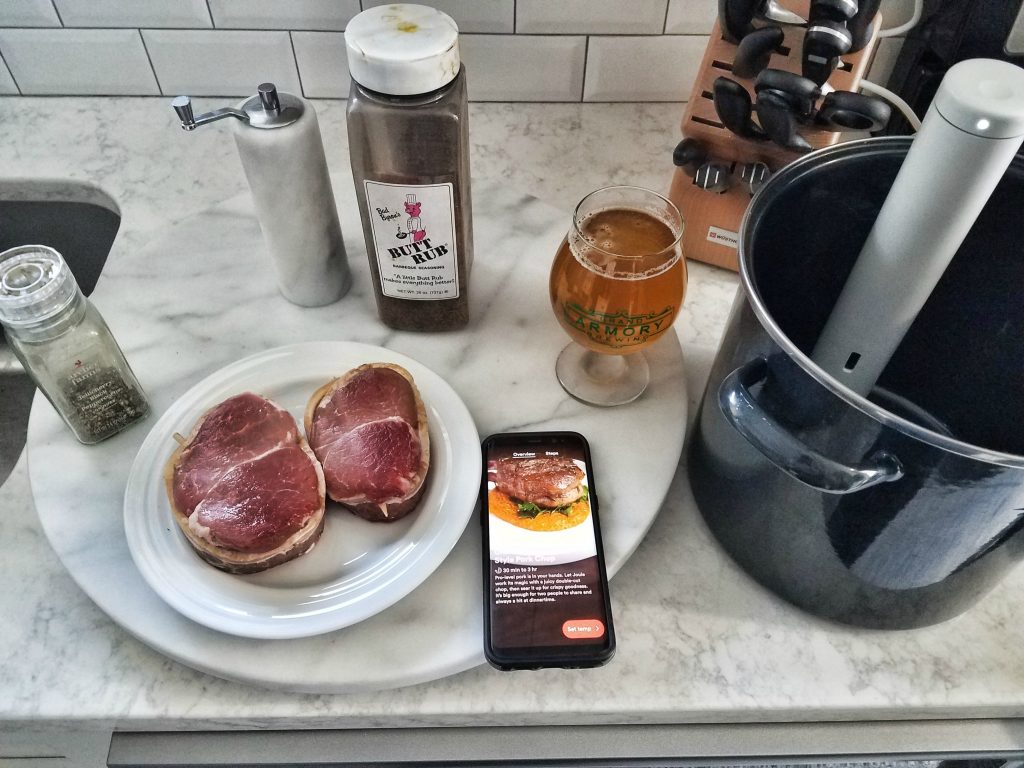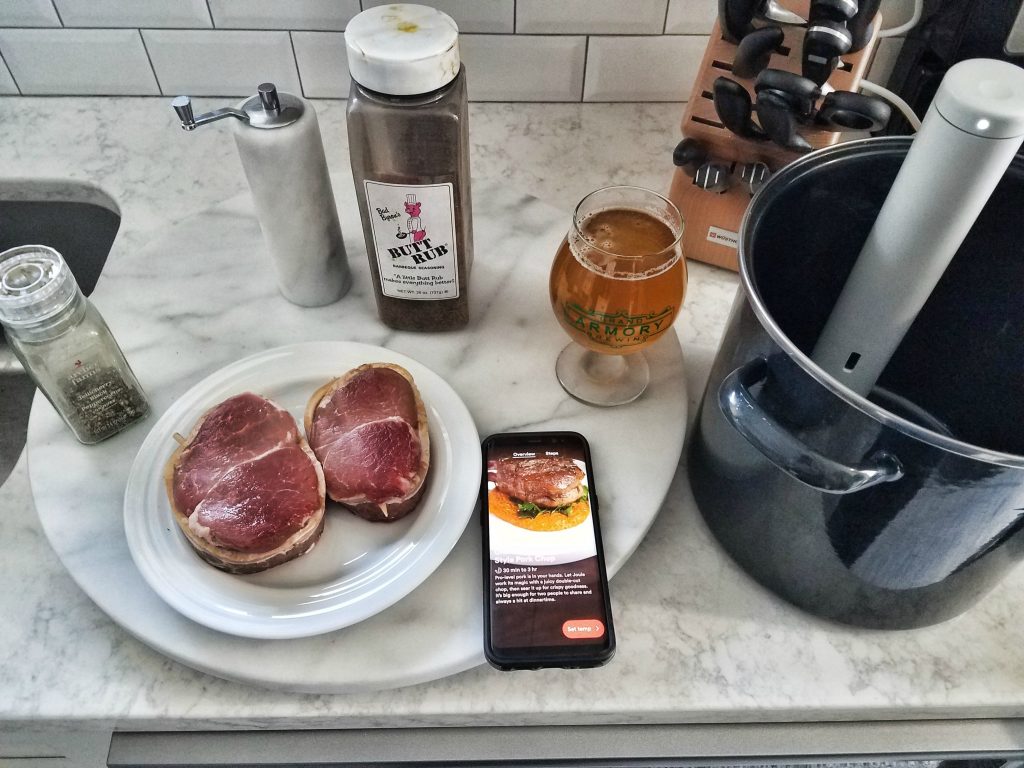 Key Features:
Magnetic Base- no more need for clips
WiFi Enabled App- allows you to control the unit from anywhere in your house
App features hundreds of guides to help you find the perfect recipe for any cut of meat, veggie, or fish you can find
Voice control- Works with Amazon Alexa to ask Joule questions while your hands are working on meal prep.
Length- 11 Inches, making it one of the smallest units on the market
Weight- 1.28 lbs
Joule Sous Vide Review Breakdown
Design:
ChefSteps touts the Joule Sous Vide to be small, sleek, wicked and powerful. After spending a couple of months with the unit, we are in no position to deny these claims. Compared to the other units we have reviewed; the Joule is by far the lightest and smallest on the market. Why does this matter? It allows you to more space in pot or tank for food. Also for storage purposes this is a lot easier to fit in conventional spaces in your kitchen. Our favorite feature is the magnetic base which allows the unit to stick directly to the bottom of the pot. You can also use the small clip on the unit if you prefer or have a non-magnetic pot. If you are using a very large pot with a big rim will want to buy their big clamp to supplement the unit.
Amazon Alexa users will appreciate the integration so you can ask Alexa for recipe help, check the time remaining, change the temperature or simply to start cooking. This allows you to keep your hands on the food prep for the other portions of the meal and not have to worry about checking your phone for a status update. One feature we miss is the ability to manually control the temperature. This is nice if for some reason you have connection issues.
App/Website:
I found myself getting lost in the App and the website of ChefSteps. Other sous vide companies have some guides and some recipes available but what ChefSteps is doing is very unique and very mouthwatering. At ChefSteps, chefs collaborate with data scientists to determine the best recipes to serve the users. Writers team up with software engineers to create conversational-driven products like their custom Amazon Alexa skill. Hardware engineers and marketers dream up products that will prove central to the kitchen of the future. Meanwhile, chefs, food scientists, and manufacturing experts explore new ways to connect cooks to the ingredients and equipment they want—as well as each other.
The result of this work by ChefSteps is reflected in the creativity on their web page and app. For example, I never would have thought to use the sous vide for Pumpkin Pie in a Jar. The Joule Sous Vide and ChefSteps are built to test your creative culinary boundaries.
Another great feature of ChefSteps is the classes that they have on their website. You can take anything from knife sharpening, ice cream making and how to do a clambake. ChefSteps is committed to enhancing your home kitchen experience and help you produce the best food you have tasted while in the comfort of your house.
Connectivity/Functionality:
The first thing you will do is download the Joule app in either iOS or Android format. You will need to setup an account and after that you can connect via Bluetooth or WiFi. The app will walk you through the prompts to connect with the unit. ChefSteps created this video to walk you through the process in case you have any issues. While we will still would like to manually control the temp on the unit as a failsafe option, we had very few connection issues. Occasionally, we would get an alert saying our app lost connection with the unit but by going back into the app we were able to regain connectivity.
ChefSteps said the Joule would be the fastest heating unit on the market and they were not joking. We were amazed by how quickly this little unit could get the pot of water to cooking temperature. One of the draw backs to the sous vide can be the length of time it takes to cook. Since we are cooking to perfection, it takes time. By cutting the prep time significantly you can get the food in the water bath faster.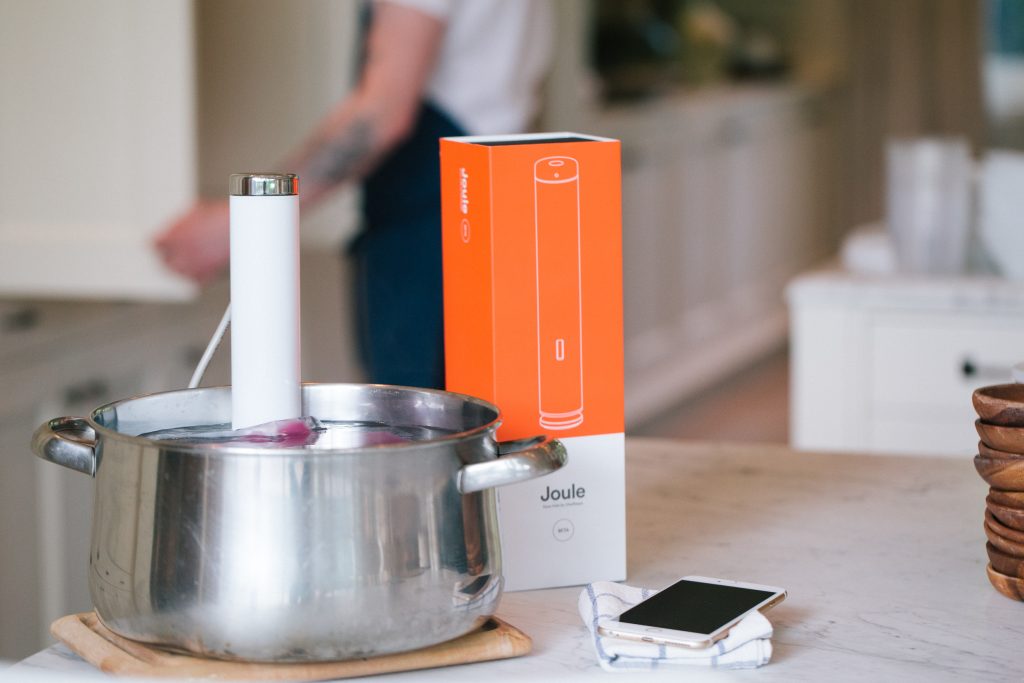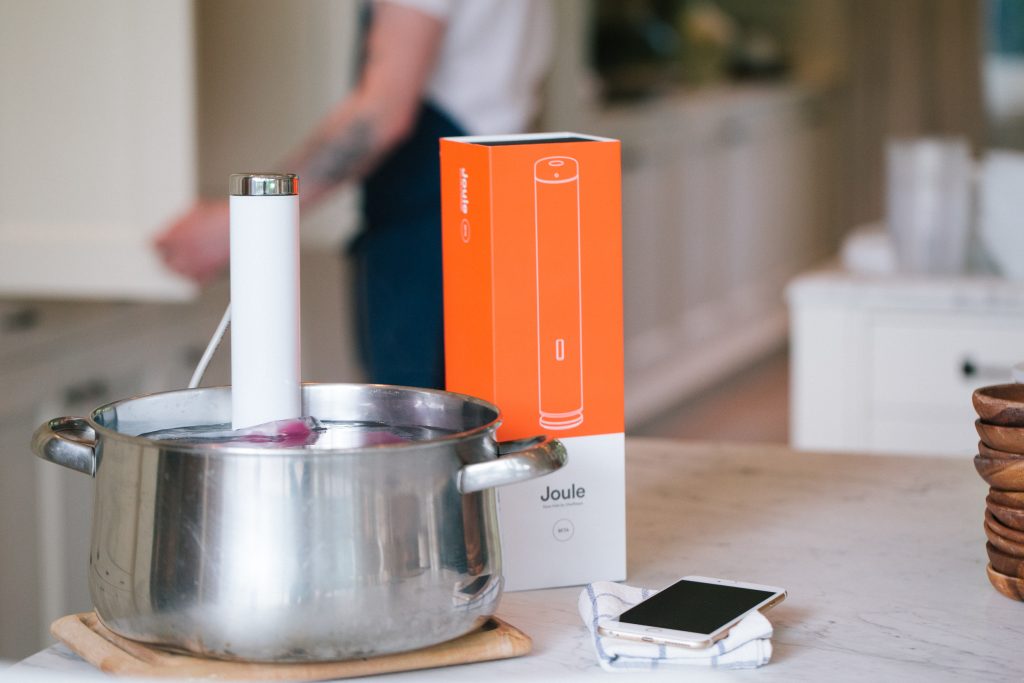 Value:
Priced at $199, the Joule sous vide cooker will be a pricey addition to your kitchen. However, if you are in the market for a sous vide, this is a very good price point. Sous vide recipes are really starting to expand beyond just cooking perfect meat and fish. The units can cook anything and they always cook it perfectly. The Joule Sous Vide is a great choice given its sleek, lightweight design, and it's ability to heat up extremely fast. We highly recommend the Joule sous vide cooker and anything can cook a ribeye perfectly every time is worth the investment.
Buy now for $199 or for more info, visit: ChefSteps.com
Joule Sous Vide - Tech Review
The ChefStep's Joule sous vide is a great addition to any kitchen. You will be enthralled by the amount of recipes and ideas that you can glean from their website and app. The Joule will help you prepare perfectly cooked meats, fish, and anything else you can think of. If you like perfect food, then you will like Joule.
Connectivity/Functionality
9.5
The Good
Magnet bottom and sleek design make it usable with any size pot or pan
Excellent app and website to help you with recipes and ideas
Heats to cooking temperature extremely fast
The Not-So-Good
No manual control to set temp in case you connectivity or app issues
Have to purchase the big clamp separate