Anova was founded in 2013 by Stephen Svajian, Jeff Wu, and Natalie Vaughn. The Anova founders were motivated by two ideas; (1) Use science and technology to change the way people cook, and (2) the devices they make should be accessible to everyone. Since that time, Anova has focused  on making the best precision cooking devices in the world and selling them at an affordable price-point. Sous vide cooking has slowing been expanding in the United States over the past few years and if you are yet to try it, get ready for an interesting cooking experience that will change the way you prepare your food.   Sous vide is a method of cooking in which food is sealed in airtight plastic bags then placed in a water bath or in a temperature-controlled steam environment for longer than normal cooking times at a precisely regulated temperature, much lower normally used for cooking, for meat and higher for vegetables. Sous vide style is designed to cook the food evenly, ensuring that the inside is properly cooked without overcooking the outside, and retain moisture.  Our Friends at Anova sent us over their new Sous Vide WiFi cooker and we hit the kitchen, cooking up everything from steak, seafood, chicken, lamb and even eggs! Read on for the full breakdown!
Tech Specs:
Connectivity- Android and iOS apps, and WiFi
Temperature Range Min- 77°F- 210°F maximum with .01° variance
Polycarbonate electronics encasements
Stainless steel skirt
Polycarbonate bottom cap
Dimensions: 14.8 x 2.8 x 2.8 inches
Heating power: 800W
Anova Sous Vide Precision Cooker Review Breakdown
Design:
In researching what is sous vide cooking you will come across many different types of units but also different styles of sous vide cooking and the Anova is in the immersion circulator category.  The Anova is designed to continuously circulate the water to prevent hot and cool spots from forming in the water which should ensure that your food always is cooking at the proper temperature.  The immersion circulator style is generally considered the easiest and most cost efficient style.  The Anova comes with WiFi capabilities and you can control the temperature and time right on the device itself in case you can't connect via WiFi.The Anova is well-built with the skirt being stainless steel and features a polycarbonate electronics encasement and bottom cap.  The whole device is 14.8 inches long and weighs in at about 2.5 pounds.  It is easy to store and overall a well-built and durable device.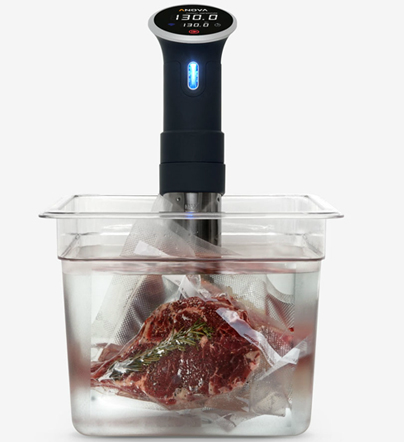 Setup/Connectivity:
Upon pulling the Anova out of the box you will begin to connect to your WiFi.  This was kind of painful process as it was not registering the WiFi on the device and we had to repeat a few times.  Once you get that going, everything else is pretty much smooth sailing.  You simply clip the device to your pot full of water and go into to the app and find the right temperature setting for your food and boom! For the first 5-7 times, we had issues getting the device to connect to our app and had constantly unplug the Anova and re-open the app to get it to sync.  However, our last attempts seem to have this issue resolved.  We did sometimes lose connectivity with our App to the Anova but this seemed to be on the rare side (like our steaks!).
Functionality/Results:
Using a sous vide cooker is really quite simple.  Take your meat, put it in a sealed bag, drop it into the water and let it the sous vide cooker do the work.  Once your timer has expired, you will want to pull out your food and pat dry and then finish it off in either a skillet or grill, depending on your food type.  For steaks, we heated up a cast iron skillet and added butter and garlic to get a nice char on the outside and get that nice texture.  The end result is one of the best steaks you will ever eat.  From top to bottom you get a nice color of red and cooked to a perfect medium-rare temperature.  Critics of sous vide will point out t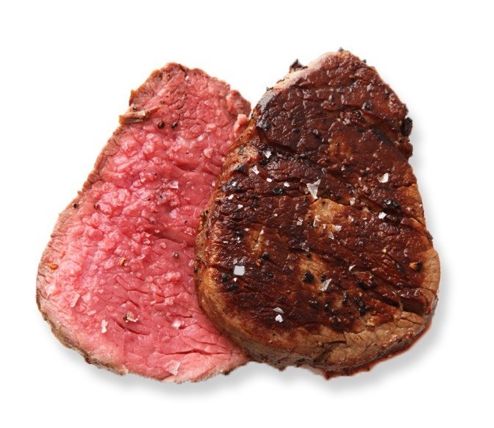 hat it can be more time-consuming on the sous vide, which is true.  However, whether you use a grill, broiler, or skillet for your steak, there is no way you can match the precision cooking of the Anova.  The biggest problem with cooking meat, fish, etc is temperature control.  One slip up or just too long on the grill can ruin your food.  With the Anova it takes the guess-work out of the equation and you get a perfect piece of food every time.  The chicken breasts were always moist and tender and we even made poached eggs, which is much easier than doing it on a stove top.  If you like a perfect meal, then look to the Anova for the assist.
Value:
Priced at $199, the Anova sticker price may be surprising to some but we think it has tremendous value.  The problem I encountered with the cooker is that I very rarely use my grill now because I know it will turn out better in the Anova, so I feel like I have lost the value in my grill.  We had read some reviews with issues of durability on the Anova but we used ours over 15 times and have seen no problems with performance and the unit still looks brand new.  When preparing a meal for a grillmaster they told me that while it is a neat process, it still isn't grilling.  They were right, it is not grilling, it's better! You can't put a price tag on the perfect piece of meat.  If you like cooking and great food, then you need to look at the Anova precision cooker.
Buy Now: $199 or to learn more, visit: AnovaCulinary.com
Anova Precision Cooker WiFi - Tech Review
Perfect meal after perfect meal is the only way to properly describe the Anova WiFI precision cooker. The folks at Anova have made it so easy to cook a fantastic piece of food that comes out great every single time. If you like to cook and make great food, then check this device out!
The Good:
Results are perfect
Easy to use
No cleanup and stores easily
The Not so Good:
Setup was kind of a pain
Price point will be a concern for some