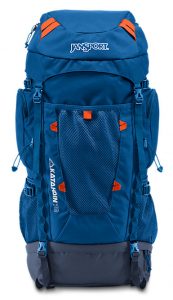 When camping, if your tent is your house, what is your backpack?
It holds your tent, clothing, water, cook system, bedding and more. It ties everything together. It's a step below a van loaded with gear and a pop-up camper. It enables you to become a 1 person Recreational Vehicle where your hiking boots are your tires. It's arguably important to the success of the journey, almost as much as the right socks to prevent blisters, the right tent to keep you dry, and the right sleeping system for comfort.
JanSport started making packs and gear in 1967, you've probably had (or still have) a JanSport backpack from school. The backpack I used in college for books, is still my go to backpack for scout nights. I graduated college 16 years ago. Think about that. So when they offered to let Busted Wallet take out the Katahdin 70l Backpack on the trail, I laced up my boots and here is what we discovered.

Key Specs:
Capacity: 4270cu in / 70 L
Dimensions: 31in x 14in x 10in / 79 x 35.5 x 24 cm
Fabric: 600 Denier Polyester
Weight: 3lbs 10oz / 1.6kg
Adjustable suspension accommodates torso lengths 13″-19″
Key Features:
Dual density padded hipbelt
Dual side compression straps
Large top loading main compartment with compression lid
Vented Contour back panel
Zippered Hood Compartment
Dual trekking pole loops
Heavy duty zippers, clips and straps
JanSport Katahdin 70l Review Breakdown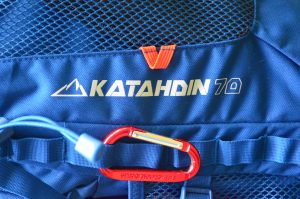 First, let's get this out of the way: quality backpacks last. Since I got my first Kelty pack as a new Boy Scout, This is my 4th pack, and I still own the other 3. My oldest is about to go into a Boy Scout troop and he'll get my original pack my grandparents bought me. The next one I move on to was a HUGE pack that let me carry too much stuff, but we didn't 'hike' anywhere much so that was o.k.. The third pack I have is the North Face Terra 35 we reviewed last year, versatile as a day pack, an overnight, or a weekend if you have a partner. The JanSport Katahdin 70l incorporates the size of my first packs with a lot of the tech from the Terra 35.
Comfort:
From my first pack to the JanSport, all the packs have had a hipbelt and straps. The North Face wins for comfort for 2 reasons, it's a small pack size so you are limited on weight, and it's vented back is the most comfortable I've ever worn. It's really overkill on such a small pack. The JanSport Katahdin has the right mount of padding. It does allow air to flow, but in the warm or humid country, I'm going to sweat. They struck a balance between weight and comfort. I wouldn't want less, but I don't need more either. I've mentioned it before, I had back surgery in 2012 so this is something I pay attention to.
For reference, the Katahdin 70l pack weights in at 3lbs and 10 oz. The 35l North Face? 3lbs and 10.5oz.  That's right, the JanSport has twice the capacity at the same pack weight. What separates the JanSport Katahdin from my first two backpacks is the number of adjustments and fine tuning you can do to make it fit 'just right'. We've been hiking with packs as a troop every Thursday night prepping for Philmont this summer in July and I've taken this on 3 weekend outings. just about every hike I readjust something to make it better. I'm not going to say it feels like nothing, but my current pack weight is at 29lbs, including the 5lb Sierra Designs Nightwatch 2, ~4 quarts of water (2 qts in a bladder and 3.75 qts split between side containers) at 8lbs, and the bag itself at just under 4lbs. Properly adjusted it feels 10x better than my college backpack filled with books. A solid 9 for comfort. For a 10 they'd have to improve the venting like the Terra 35.
Storage Space:
The JanSport Katahdin 70l is HUGE. how huge? Well, 70l huge. That's right up there with two other packs we've reviewed; the Thule Versant 70L and the Gregory Deva 70. That's a lot of room and the temptation to overpack is always there.
"It's directly related to my chronic overthinking. What could go wrong on this trip? No, wait-what could go horribly wrong? Like so wrong that they make a "inspired by actual events" movie out of it…"
The question isn't if there is enough room, because there is, it's if I can resist using it all. I'm planning a 12 day trek in New Mexico in July covering 60+ miles. Beyond personal gear, we'll be transporting group cooking gear, first aid kit, and food/trash for 3-4 days between resupply. My plan is to aim for under 30lbs with water, but before the group gear we are splitting up. Right now, I'm close.  I've got a Helinox Ground Chair (bought it on sale!) coming to round out my packlist: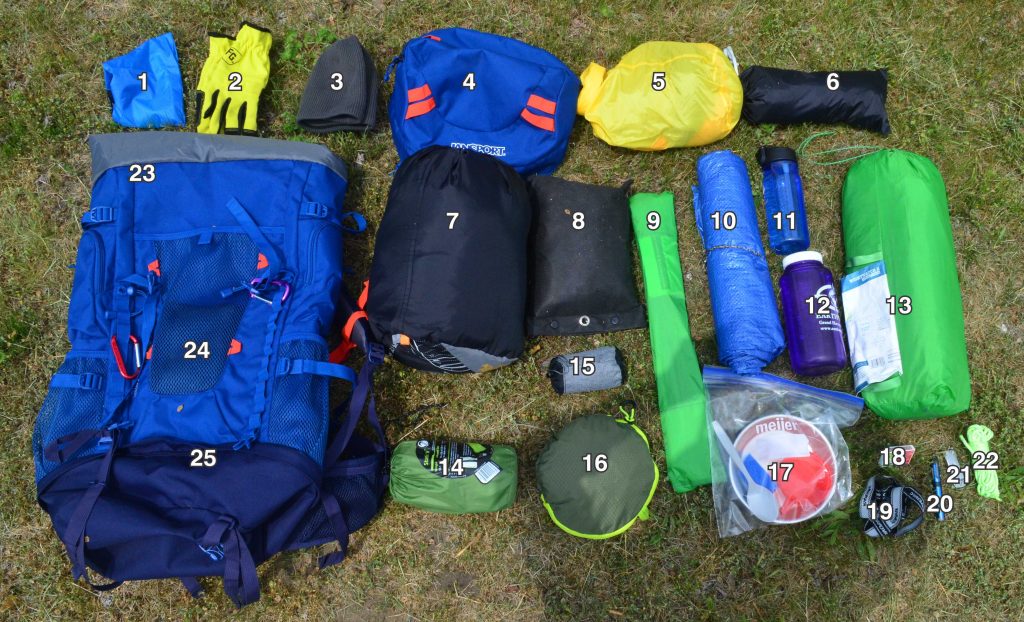 "Camp suds" soap and bug spray in a waterproof bag in case it leaks.

Work/trail gloves

Knit hat

Top to the backpack, can hold cooking gear/food

Full second set of clothing in waterproof bag – convertible pants, shirt, long sleeve shirt (might take just one), underwear, socks

Sleeping clothes – shorts, shirt, underwear

Sleeping bag – North Face Aleutian 35


Full rain suit – might repackage smaller

Tent poles and stakes

Tarp/groundcloth

.75 quart water bottle, cooking and in tent at night

1 quart water bottle, cooking only

Tent- Sierra Designs Nightwatch 2

Inflatable Sleeping pad – Klymit Static V

Inflatable Pillow – Trekology Ultralight Inflating Travel


Day Pack for side trips where we don't need our whole pack. My main pack water bladder fits in it as well.

Bowl, cup, sponge (cut to 1/3rd) and spoon. Who needs a fork?!


Matches

Headlamp

Flashlight – might leave behind and bring extra batteries for my headlamp

Multitool/knife

Extra Line

Inside Pack, 2 qt bladder for drinking

Microfiber Camp towel – hard to see, but it is there.

Backpack

I'm going to add a light hoodie/jacket, a patch kit for my sleep system, a small amount of duct tape, pack cover for rain (if the weather is predicting something harsh), water filtration/treatment, and a Helinox ground chair. Not pictured is my trekking pole, wool socks, boots, wide brimmed hat, and first set of clothing. I plan on switching clothing each day and rinsing out the set I'm not wearing. Feel strongly or have a question about a choice I've made? Did I forget something obvious? Leave a comment below, I promise I read them all.
That leaves me plenty of room for the group gear (see bottom of page for group gear list). From a purely size stand point, it gets a 10 out of 10, but what it's missing is convenient ways to access the gear. I'd love an access point at the back above the sleeping bag compartment. Right now, to keep my balance, I'm packing the tent basically on my spine, but every time I pull it out, I have to repack to get it to fit in again. Thankfully everything is in bags already. A set of dividers inside would be killer. Then I'd complain it was too heavy. I could move the tent below the sleeping bag on the provided straps where a sleeping pad would normally go but I'm not using. Decisions, decisions. Even lacking the extra access or internal dividers, there are options, so it gets a 9 out of 10.
Design: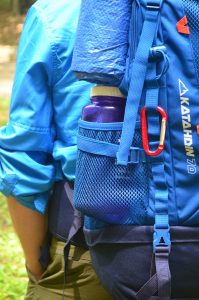 On the outside, the Katahdin 70l has 2 zippered pouches, 2 mesh pouches on sides, the main mesh pouch on the back, a daisy chain for tying stuff on, and a few straps for attaching more (like my tarp or trekking poles) to the outside. It is a huge gaping hole inside with a moveable divider at the bottom from the sleeping bag compartment. There is a space near the spine for a water bladder. and a flap at the top left and right for routing a water tube. It says it holds a 3 qt, but my 2 qt is a tight fit once you have gear in there, if you loaded the water first, I think you could get a 3 qt in there. The reason I carry a 2 qt is that it will also fit in the day pack I'm bringing for side trips. I've got own ideas for how to design a pack, but they are personal issues. For each one, I can counter it: I'd like more zippered pouches, but would I fill them with useless stuff? I'd like an internal divider or two, but would another hiker see it the same way? I'd like a zippered access to the gear area above the sleeping bag compartment, but how much weight would that add? I'm big on having access to things. The North Face Terra 35 has 2 flat pockets on the back. It's a day pack, so I can live with that, but I crave more.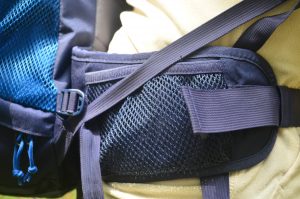 Not all packs can be all things to all hikers. I think JanSport has made some great decisions and good compromise between access, options and weight. The color is great, bright enough to find, dark enough to not be annoying. The mesh pocket on the hip belt is just about useless to me and I could use daisy chain down the front straps like on the back to clip on small gear. 9 out of 10.
Durability:
I've hiked more than 40 miles with the Katahdin, and slept out 5 nights and it looks brand new. The zippers are great. How great? great enough that I noticed. The sleeping bag compartment especially, it doesn't bind or get caught on anything. The clips, buckles, and straps, are all functional and top notch. With the Lifetime Warranty I'll be passing this pack down to my children someday, if I ever stop going camping myself. I still won't let my kids use my JanSport college backpack because I'm still using it. 10 out of 10.
Value:
Buy it. Done. That simple. If you've gotten this far in the review it's because you are looking for a backpack or you are related to me and are afraid I'm going to quiz you on my writings. I'm super happy with this pack and at $130?!? That's $9 less than the North Face Terra 35, and less than half the cost of the Thule Versant 70 or Gregory Deva 70. It might be a 'budget' backpack, but it certainly doesn't feel budget. If you need a day pack, this is overkill, so maybe rethink it, but if you are looking for a weekend pack or longer, this will get you where you are going. 11 out of 10. Honestly we need to fix our review system to include 11s just because of this pack. I love that I can recommend it to parents of scouts (if they can fit in it) because it will grow with them and it's affordable.
Buy Now: $130 or read more about all the JanSport backpacks on JanSport.com
JanSport Katahdin 70L - Gear Review
At $130 this is a bargain starter hiking backpack that performs well above its price-point, that will also please people who've been hiking and camping for years. Even our complaints are outweighed by the cost of this pack.
The Good:
Great Value
Huge
Well Built
The Not So Good:
Lack of dividers
Lack of access to bottom of pack
Lack of attachment points on the sholder straps