Designed for lightweight backpacking and minimalist camping, the Sierra Designs Nightwatch 2 tent looks like a tent, but it's really a giant mesh net with a fly. Over the past month we've grown to love it.
Sierra Designs has been in business since 1965 making innovative camping and outdoor products. They've won gear awards from Outside magazine, National Geographic and Backpacker Magazine. After spending a few weeks with one of their tents, we can see the reason why. Recently they let us spend a few nights out in a Nightwatch 2 and here is what we discovered…
What's in the Box:
Nightwatch 2 tent with integrated fly
10 Aluminum stakes
Tent bag
Stake/pole combination bag
Instructions for setup (they're in with the poles)
Specs:
3 pole setup
9mm poles
Fly Fabric: 75D Polyester Tafetta, WR/PU1500mm, FR
Floor Fabric: 70D Nylon Tafetta, WR/PU3000mm, FR
Body Fabric: 20D Nylon, No-See-Um Mesh
3 doors
86″ long x 56″ wide, x 43.5 high
5lbs.
Sierra Designs Nightwatch 2
Design:
Sierra Designs really thought this one out well. It's basically a floor, with no-see-um mesh for the 'tent' portion, with an integrated fly that covers everything else including your gear.  There is a main door at the head end, with a zippered window, and a mesh window by your feet. Then two more doors, one on each side of the tent structure. When the fly is retracted half or fully, you can use a side door to get in or out of the tent. When the fly is down, you can use the door to get to the vestibule created on each side by the extra wide fly. It's green, gray and black, and looks as big as it feels when setup. Zipper pulls are cords, that are easy to grab and zip or unzip with. While everything was designed to be light weight, it wasn't designed to be cheap or flimsy. We never got the feel that we had to be more careful than with any other tent.

One cool feature that other tent makers should look at was what they call the night glow. It's a white-ish bag suspended from the ceiling that you can put a flashlight or headlamp in and it lights up the entire tent with the glow. Easy and very convenient. It's smart ideas like this, that appeal to us as a campers.
About the only complaint we can find to the design of the preattached fly is that even fully down, you can feel 'exposed'. You're in a giant mesh tent and then the fly has a gap, although not a big one, along the entire bottom edge, and the window by your feet can't be closed. That isn't to say it's a flaw, it perhaps feels more exposed then you really are from the outside, it's a matter of perspective. I've never felt more like I was sleeping out under the stars while still covered.
As for being covered, that's where this tent gets its name from. The fly has 3 positions, fully covered, half and full retracted.
Weight & Size: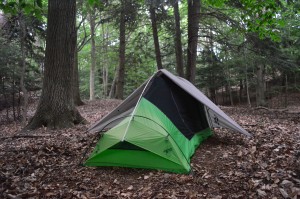 At 5lbs in weight there is only so much you can ask for, but they delivered more than our expectations. The tent fit me comfortably in my North Face Aleutian 35 bag. As a single camper, I could keep gear inside the tent with me, or with a partner there is enough room for boots and a backpack under the fly on each side. No, there aren't acres of space outside, but there is enough for a something like the North Face Terra 35 or maybe slightly larger pack on each side. It packs down to 2 bags, a tent bag that is 17″x5.5″ and a pole/stake bag that is 21.5″x4″-ish. The poles are kept separate from the stakes, but the bags are attached to each other, so one end is a bit lumpier than the other giving a weird dimension to measure. It isn't an issue for packing though. There are straps that can keep the poles on the tent bag or you can separate them to share the weight with a partner. This whole tent will fit inside the Terra 35 which at the time I considered a day or overnight bag. With a tent this small, I can see going out for longer as long as you have a way to get or carry enough water.
Setup: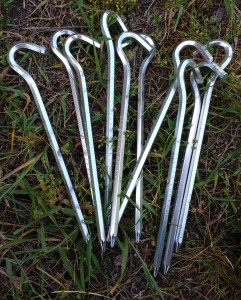 We figured it out without the instructions, but they should be looked at. The polls are tight fitting, but not impossible or frustrating. Everything stays tight and just about everything has a strap on it to tighten it further or open up for adjustment. Corners and the fly are staked down not through the material, but with cords that are all on quick set cleats. This is great for terrain where it is harder to get a purchase right where the corner of the tent falls. The cleats adjust with a simple pull of the cord and release by pulling down and back. Other tent manufactures could learn from this setup.
The aluminum hex shaped stakes are amazing. Strong, sturdy, light weight and hooked. I can't tell you how excited I am that this tent came with quality stakes. at $14.95 for 6 replacement stakes, I'll be replacing the stakes I carry for my other small tents soon.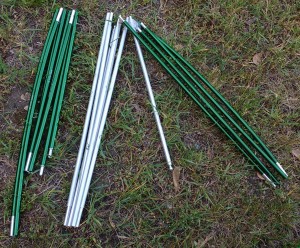 There are three poles and two of them are already connected on a swivel. They also come pre-bent, which at first I thought was a mistake, but quickly saw it was to make it easier to hold up the tent in the right shape.
Setup and take down didn't take longer than any other small tent we've setup before. It was nice having the fly integrated onto the tent so that it was easier to fold without any help. The poles snap together quickly, the ability to place the stakes where they find purchase is helpful, their just aren't many places to go wrong during setup.
Usage:
What ever temperature it is outside is what the temperature will be inside the tent. It's a big mesh net with a tarp. For the spring, summer and fall I'm going to be using this over my other small tents, and not just because of the weight savings either. I hate a stuffy tent, and when it rains, my normal 1-2 person tents have to be completely closed up. This tent is open, yet protected. It weathered through 2 very severe storms while set up in my back yard and didn't budge an inch even without the guy lines staked out for added strength. The integrated fly did a lot better than expected at keeping rain from blowing up under it.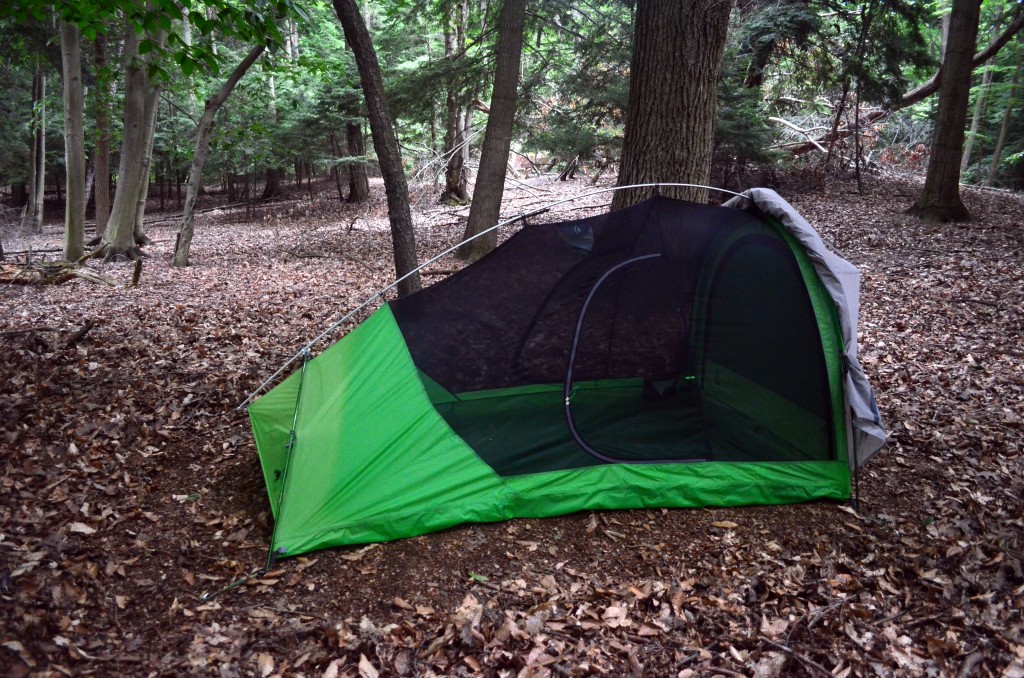 If you want to spread out for a weekend camping in a state park, this isn't the tent for you. This is for the hiker, the backpacker, or the person that wants to be just above the bare necessity, without going ultra light. However, they do also make the Nightwatch 2 FL that shaves another full pound off the weight of the standard Nightwatch 2.
Value:
We're impressed. At $249.95 it's an unbelievably small package that sets up into a full size tent. There aren't a lot of extras, no power port, or pockets, but that isn't why you'd use this tent in the first place. This is a quick, small, sturdy, light weight tent built for 1 or 2 moving from site to site every day or two. I'm not ready to replace my boy scout troop's weekend tents with this model, but when we go hiking, this will be the tent I reach for on the shelf, and you should too.
Buy Now: $249.95 (w/ free shipping), or to learn more, go to: SierraDesigns.com 
Sierra Designs Nightwatch 2 - Tent Review
The bottom line is this tent is great for hikers and people moving sites frequently. It provides all the comfort of a normal tent, with the portability and packability of an ultra light tent, all while not making you wish it was more, or less.
The Good
Well built
Well ventilated
Light weight, small package
The Not So Good
Can make you feel exposed