Being outside is the majority of what we do here at Busted Wallet so keeping track of our gear while traveling is important. Whether that be cameras, a GoPro, camping gear, or snowboard, we want to get there with it all intact. This last fall and winter we've been using the Terra 35 backpack from The North Face to do just that.
Since 1966, The North Face has been providing top of the line gear for athletes and modern day explorers. From backpacks that will get you there, to tents that will keep you in comfort during your stay, The North Face has what you need. Most people are aware of their outerwear and expedition famous gear, but don't realize there is a whole series of camping gear for all budgets.  Here at Busted Wallet, we are also concerned with budget friendly durable gear that doesn't bust your wallet. It was a refreshing change to get an up close look at the Terra 35, a budget friendly day pack that provides top level durability. Here's what we discovered…
Specs:
35+ liters of pack space (2319 square inches, 38 liters)
Internal, adjustable frame
Internal pouch for a water bladder with port for a drinking tube
Padded, VENTED, air mesh back
Padded shoulder harness
Hip belt with air mesh padding
Zippers access top and bottom
4.5 zippered compartments

2 flat compartments on the face of the pack
1 main compartment, access on the bottom for a sleeping bag separated with a center flap from the main bag. The top of the main compartment is a drawstring and top zippered flap is clipped and cinched down over it.
1 on the top flap, with 1 mesh zippered compartment inside of that (hence the .5)

2 open top, elastic side pockets.
So many adjustments, they need their own list:
Adjustments and straps:
2 belt adjustments on each side
2 shoulder adjustments on each side
3 chest adjustments
2 side cinch adjustments on each side of the bag
2 cinch adjustments for the top
2 Velcro topped trek pole holders
4 loops on the bottom for external gear attachment
4 loops on the top for external gear attachment
Terra 35 Review Breakdown
Comfort:
In a previous backpacking review, Busted Wallet's own Beth Mallo said "Comfort is the most important feature of any backpack." With the Terra 35 there is no shortage of comfort. It is by far the most comfortable pack I've ever worn. With 11 different adjustments on the straps, it is borderline confusing to wear, but not short on comfort. The padding that at first seemed overkill is awesome at distributing the weight on your hips and back. The straps keep it snug giving you contact the full length of the pack. It might take a while to adjust, and to know how to adjust it, but the pay off is, it will fit just about anyone. During the time I've had the pack I've dropped about 30 lbs, and it has adjusted with my body type. It fit me at 6′ tall and my wife at 5'6″.
The internal frame is removable and you can bend it to mold to your body, although that might be considered super-expert mode, and not recommended for your normal camper. The air mesh padding used is amazing. and the vented back channel running up the sides and the middle of the back isn't just for looks. It really keeps the air moving and keeps you dry.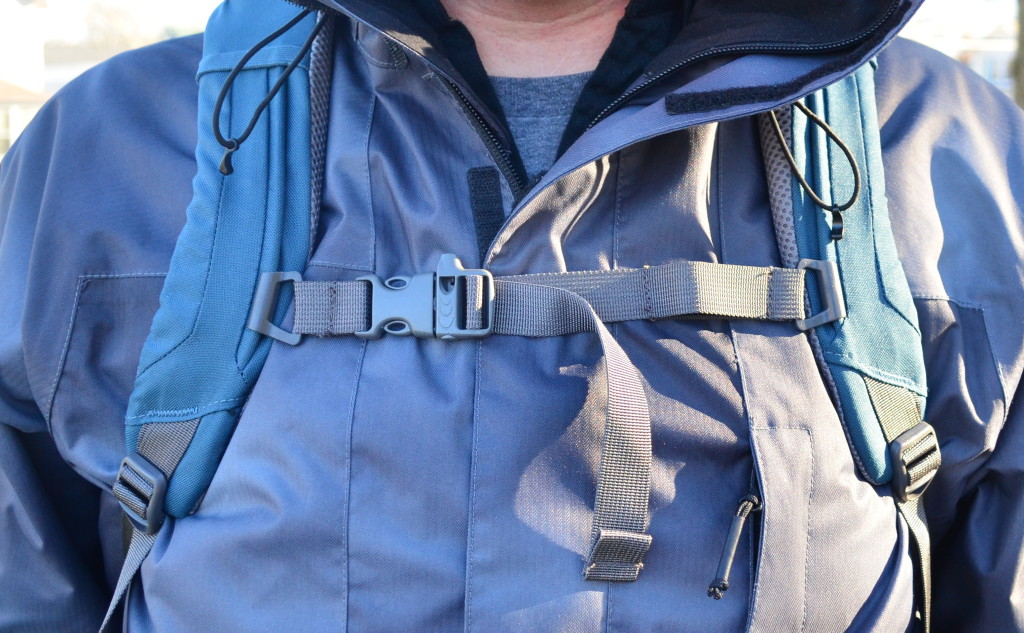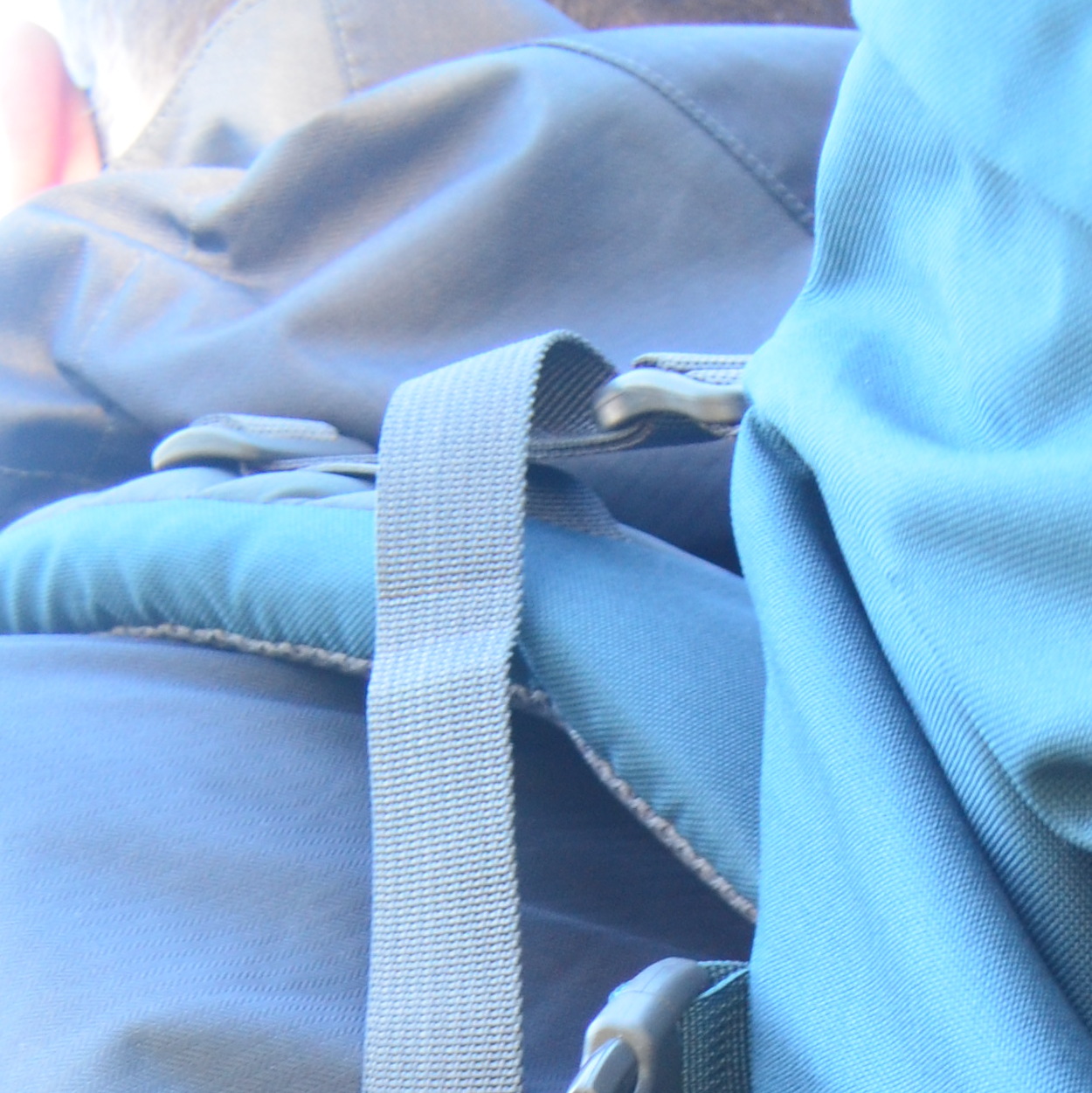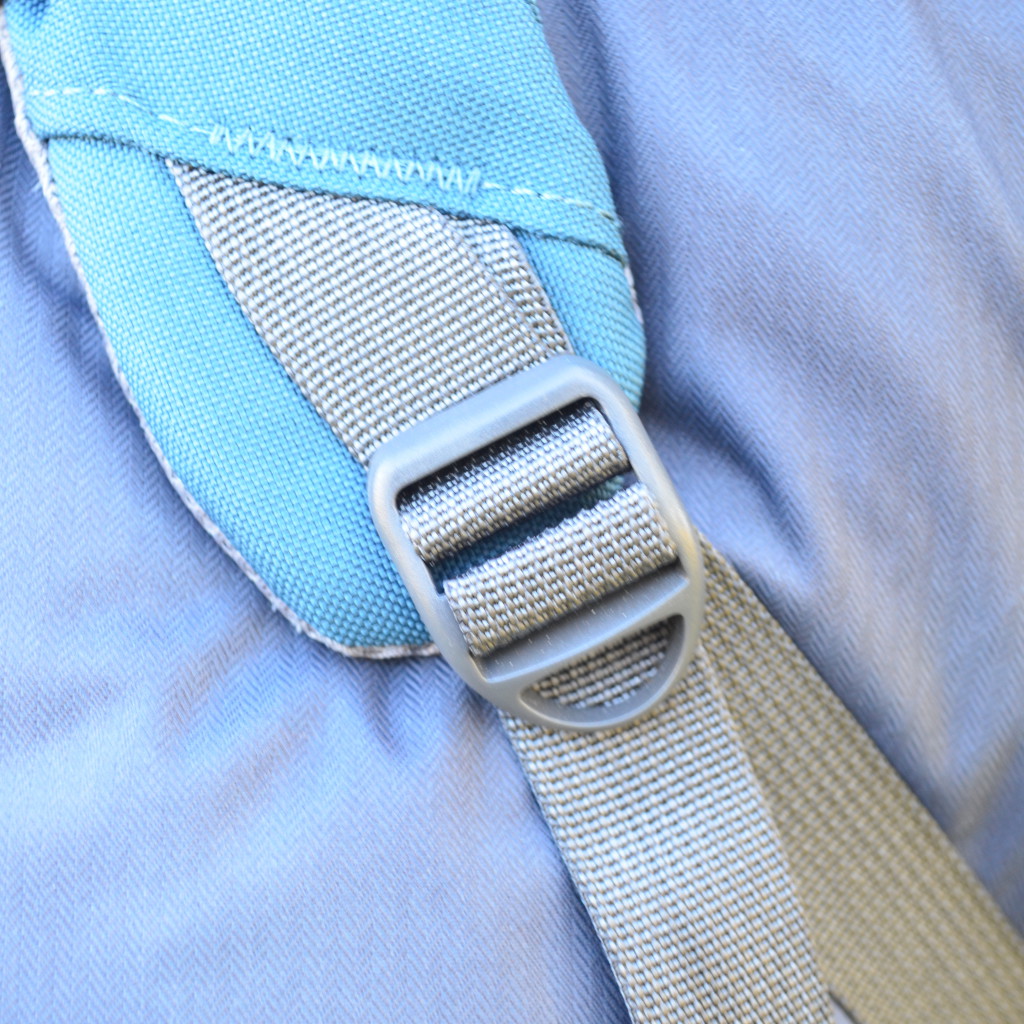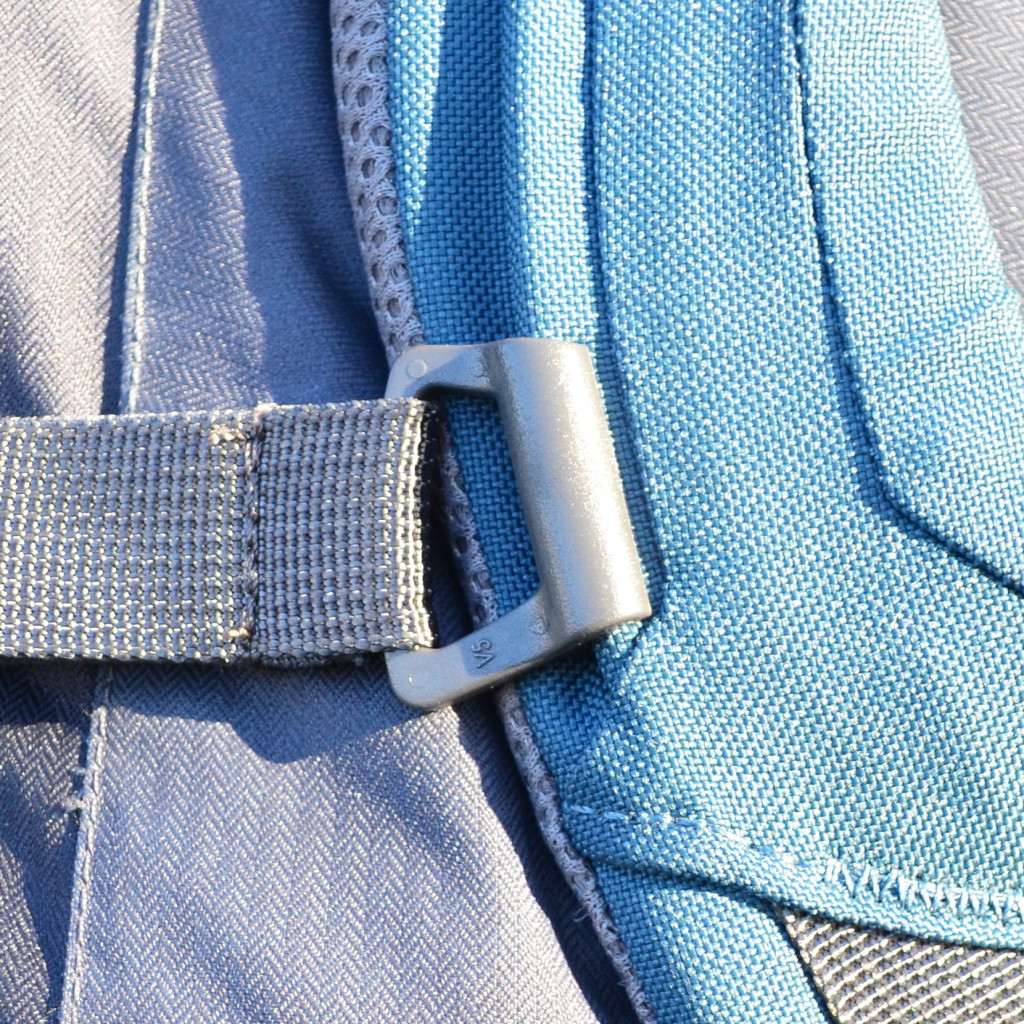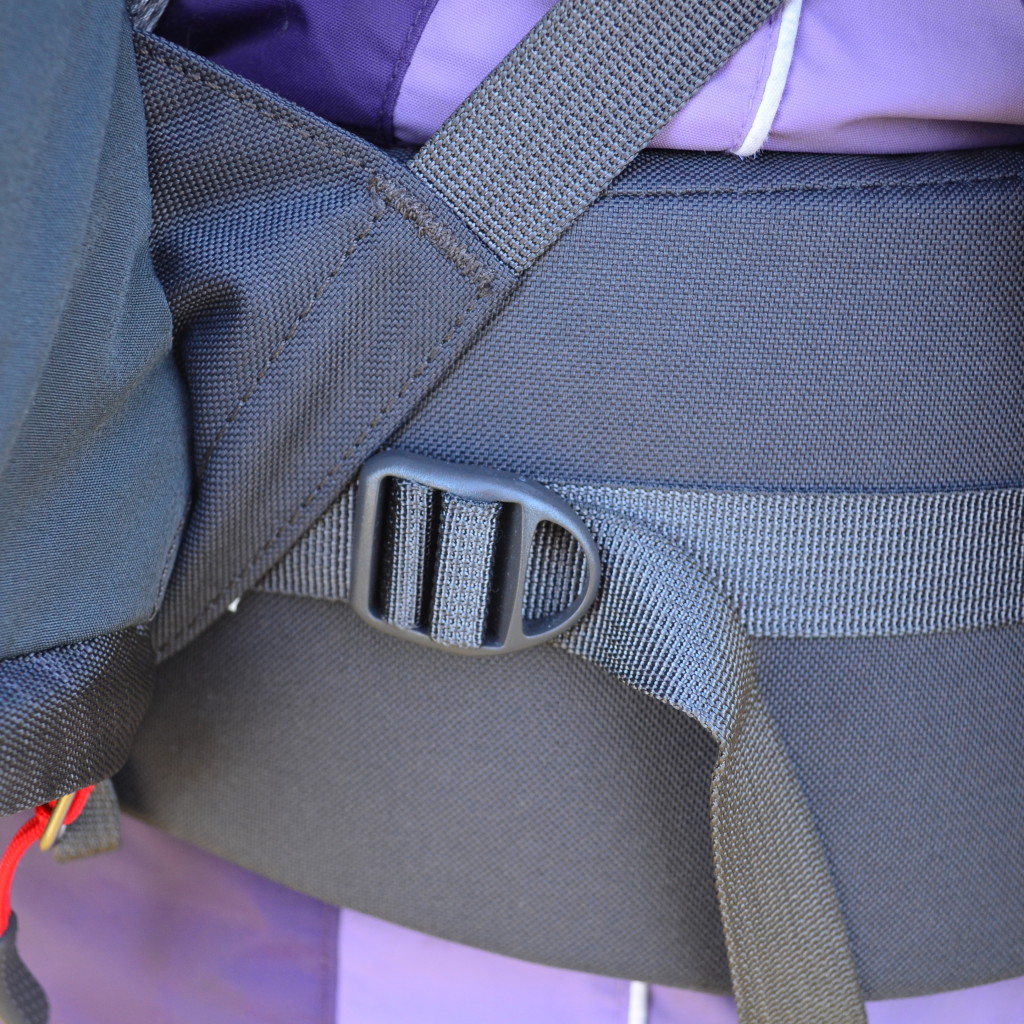 The number of adjustments might really be overkill on a pack this small, while it should lead to something that is more comfortable, done wrong, it won't. A guide line or set of instruction for adjustment would be nice to include with the bag.
Design: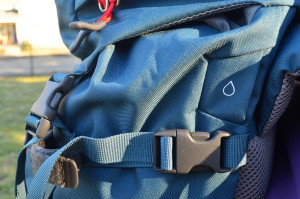 This is a day-pack killer. It's like The North Face starts each pack with the same ideals in mind for durability and versatility, then sizes it for different uses. The amount of adjustment, the quality of the fabric, the sewing, the YKK zippers, the buckles and drawstrings are all something you would expect to find on the top end multi day excursion packs, and yet here they are on the Terra 35.  There is nothing but quality in the build of this bag. The North Face is able to use their almost 50 years of experience building backpacks to make this a quality entry level bag. From the internal bladder pouch, to the removal back plate, to the whistle on the chest strap, you can see the attention to detail all over this bag. Available in several colors, and a few different sizes, there is a Terra pack for most any use. This pack comes in at just under 4lbs, so you'll be carrying your gear, and not your bag.

Storage:
35 liters (actually closer to 38) provides enough room for use as a day pack, and even a few nights if paired up with another hiker. Attaching a tent is possible to the top or bottom, but isn't as secure as we'd like for a multi day hike, it'll get you there for an overnighter though. If you were ultra-light hiking and brought a small bivy sack or hammock, you'd be set for a couple days on the trail, assuming you have access to water along the way. The bottom access fits an Aleutian 35 perfectly and leaves room above the internal flap for 2-3 days of clothing and food, but then you'll be maxed out. The outer-most facing pocket is your flattest and perfect for a map or papers, the next flat pocket fit 2 dehydrated dinners and some tea/oatmeal. The top flap fit a JetBoil perfectly with room for another dehydrated lunch and utensils. A zippered side storage on each side for small items, like matches, a knife or phone would be nice, there is a lack of outerpockets which make this more a backpack then a hiking pack. In the end, it's a long tube with a top flap.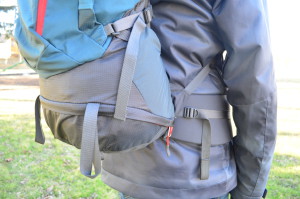 This wouldn't be our first choice for a week long hike. It's a day pack so it is meant to be small, but over nights or a weekend are possible with the right gear or a partner.
It would be an easy choice for a day hike or one night out though. It could double as a quick travel bag instead of a suitcase for a weekend trip on the train or in a car ride too.

Durability:
In one word, the Terra 35 is overbuilt. It's made with a combination of 600D polyester, 420D nylon mini-ripstop, 1200D polyester. Not to say it is bulky, but it's going to last for a lot longer than a day pack has any right to. It's like The North Face built something worthy of an expedition, then just shrunk down the capacity for a day hiker. To top off the quality of the build, The North Face doubles down by giving you a lifetime warranty too. We didn't find anything weak or lacking about the quality of the bag and we aren't worried about tearing through it at the wrong moment on a hike. It's built to last.
Value:
At $139 you'll be hard pressed to find a better built day pack. We think one of the hardest part of the testing was not realizing what the bag was built for because there isn't any reason a bag this well built at this price should only be a day pack. We are going to enjoy years and years of use out of this pack.
Buy Now: $139 or find out more at: TheNorthFace.com
The North Face Terra 35 - Gear Review
The bottom line is this: If you are looking to get out on the trails this spring for some hiking and are considering a new day pack, get this one. For the money, you get a comfortable, quality pack that will serve you for years,
The Good:
For the price, you get a lot
Super Durable
Comfortable
The Not So Good:
Lots of straps gets confusing
Lack of small pockets
Limited space makes it mostly a day pack