Life is full of those little moments. Whether you're actively seeking out the adventure, or the adventure finds you, you never know when that urge to document the moment may become very necessary. Thanks to modern technologies, we've been given access to an arsenal of devices that can record life's moments in a variety of ways. For those of us who have experimented and explored the range of ways we can get the best shot possible, we've accumulated a good variety accessories to use with our gear, and we now need a way to get them all from Point A to Point B. That's where the new Ogio Access Pack comes into play. Made to carry (but not entirely specific to) the GoPro Hero lineup of cameras and their accessories, we took the Ogio Access Pack with us on all of our little adventures in the hope we could get that perfect shot when the right moment presented itself.
Key Features:
Made to be used with GoPro® Hero (1-4) cameras and accessories
Mid-sized adventure backpack with multiple storage compartments for action cameras and accessories
Adjustable, removable storage compartment
15″ laptop sleeve with dual zippered pockets
Ventilated air mesh back panel
Zippered stash pocket
Specs:
Dimensions: 18.25″ H x 11.75″ W x 6″ D
Weight: 4 Lbs.
Capacity: 1200 Cubic Inches
Laptop Pocket: 14.25″h x 11.25″w x 1″d
Ogio Access Pack Review Breakdown
Design:
Aesthetically, this is actually quite a nice pack. Although it is only available in the Black/Burst color scheme, the Ogio Access Pack makes a fine statement for any wearer. The look is basic enough, but with a touch of added texture in the material and bright orange zipper pulls to add a little pop, this pack will provide a good look for any photographer, male or female.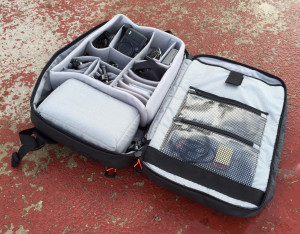 Upon opening the pack, we first observed that there were a number of adjustable compartments for all of the smaller mounting accessories that would be associated with a GoPro Hero setup. On top of that, there are ample zipper pockets on both the exterior and interior that could be used to store flatter items you might need along the way.
We did notice some difficulty re-closing the Access Pack, as the padded inner wall could easily protrude out and become an obstacle for the zipper after it has been closed. Upon a more thorough inspection, we also noticed what could be considered an overuse of materials on the inner lining of the internal zipper stash pockets. While this promotes durability, we question the necessity of so many materials that may have otherwise been a cost saver.
Storage:
When it comes down to it, this is a pack primarily designed to carry GoPro Hero Accessories, and it has done that job very well for us. After packing all of these accessories into our Ogio Access Pack, we soon learned that we were able to also fit a large point and shoot camera, all of its accessories, an array of charging cords, as well as other flat hardware such as e-readers or smaller laptops up to 15″. One issue we had here, is that most of us that would carry around all of this gear are already photographers, videographers, or graphic design geeks of some nature, and we generally prefer computers on the larger side of the spectrum. If we want to carry all of our camera gear with us, being able to carry our computer as well has not proven to be an option with this particular pack.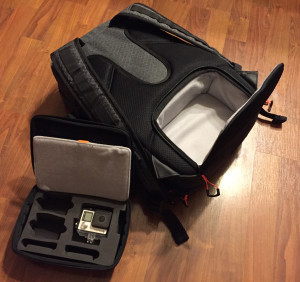 One interesting feature with the Ogio Access Pack is the adjustable, removable storage compartment in the lower area. This compartment is equipped with a shoulder strap, and is meant to be removed and carried by itself when the Access Pack is more than the photographer is going to need. The odd thing about this compartment is that it can only be accessed from the outside of the pack, it is difficult to get in and out of, and when not in use it takes up about 1/3 of the total Access Pack space.
The rest of the storage space in the Access Pack is made up of flat zippered compartments on the interior and exterior…and flat is the key word. There's very little in the way of expansion to add extra gear to your pack other than your camera and its accessories. If you're on the go and you have a need to carry more than your photography tools, you may need a little more than the Ogio Access Pack has to offer.
Comfort: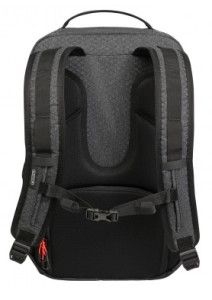 The Ogio Access Pack, being designed to securely hold high end hardware, is very boxy in its design and therefore flatter on the back than most day-journey style backpacks you'll find. However, the flat nature is not as bad as one might think, thanks to the soft mesh back panel. This panel is also ventilated, so the wearer has less chance of overheating on those hot days. The straps are easily adjusted, and there is a chest strap for extra support for the longer outings. All in all, the relation of comfort versus functionality is beyond acceptable in this pack.
Durability:
We discussed earlier that Ogio made some choices with the materials used in the build of the Access Pack that may have been somewhat over the top, and it's for that very reason that this pack will remain reliable to its owner for a very long time. The stitching is thick and sturdy, and everywhere we look throughout the pack there are reinforcements within the design structure. When you're carrying potentially thousands of dollars of equipment, the durability of the carrier is of utmost importance, and we don't see the Ogio Access Pack letting us down any time soon.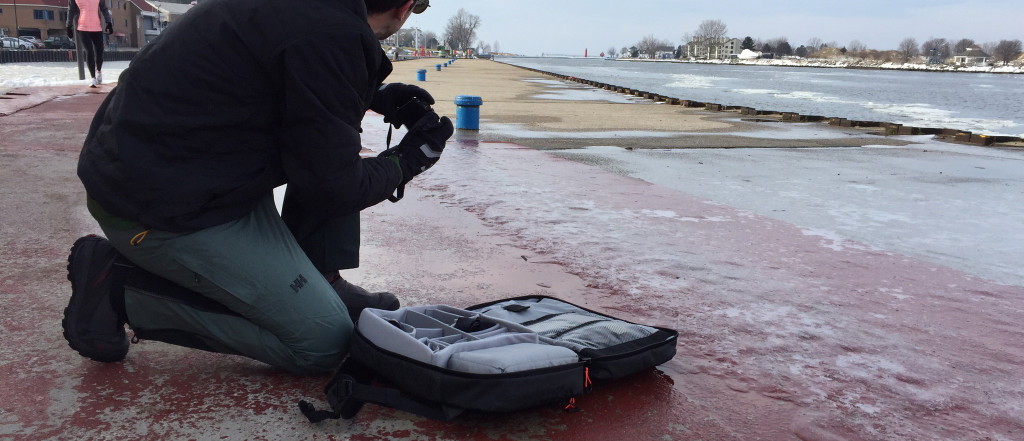 Value:
The biggest benefit here is in keeping some of our most expensive equipment secure and safe while we're on the go, and hopefully find the opportunity to catch some of those key shots along the way. The Ogio Access Pack handles this job particularly well with the added benefit of comfort and style. compared to a lot of the options out there, the Ogio Access Pack may be a bit on the steep end, but add the years of use you'll get out of a pack this durable and it's not hard to see the worth it has to offer.
Buy Now: $199.99 or to learn more, go to: Ogio.com
OGIO Access Pack - Gear Review
The days of carrying our photography gear in a clunky shoulder strap bag are over. Wear it like a normal backpack, and take your camera and all of it's accessories with you on any journey. You never know when you might stumble upon life's next great memory, so be ready to document it with the Ogio Access Pack.
The Good
Holds GoPro and Accessories With Ease
Comfortable For A Camera Pack
Super Durable
The Not So Good
Not Much Room for Extra Gear
Removable Storage Takes Up Too Much Space
A Tad on the Pricey Side