If you have a GoPro, chances are you are an adventure seeker looking to capture life as you experience it.  This also means, you've probably collected a handful of GoPro accessories along the way.  Having a backpack to organize your gear, which is also functional, convenient, comfortable, and easy to travel with – is a must.  Thule has created a backpack that does just that.
Thule has been in the business of helping active families and outdoor enthusiasts transport their gear safely, easily, and in style since 1942.  Their Legend GoPro Backpack is a testament of their ability to not only create gear to protect, but also function in a way that actually enhances your experience.
Features:
Crushproof, padded compartment holds 3 GoPro cameras
Removable die-cut foam pad
Integrated mounts (Chest & Back)
Lid pocket
Sleek shape and lightweight construction
Dedicated storage for hydration reservoir
Oversized zipper pulls
Waistbelt and sternum strap
Easy-access side pockets on waistbelt
Thule Legend GoPro® Backpack Review
Design

The Swedes know design.  Known for their clean and simple style with an emphasis on functionality, Thule embodies all that is best about Scandinavian design with their Legend GoPro Backpack.  This bag is packed with features (inside and outside) that make it the perfect GoPro home base.  Thule integrated a crushproof SafeZone compartment to protect your GoPros.  Because when you're out there on your bike, board, or other means of adventure seeking transportation, you need some re-assurance that your gear is protected and can take a hit even if you miss the landing.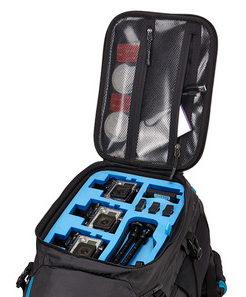 As far as functionality, there are two integrated GoPro mounts (1 chest mount, 1 back mount).  You'll want to make sure the chest mount and the shoulder straps are tightened down to get rid of any camera wobble.  However, the back mount feature is something that we haven't seen integrated right into the base of a backpack before.
There are plenty of compression straps to make sure everything inside is nice and tidy as well as to give you a better feel for when you are on the move.  The hideaway detachable waist belt is another great feature that makes for a snug and secure fit when you need it, or easily removable/hide-able when you don't.  Plus there are two side pockets integrated into the waist belt for more easily accessible storage.
Storage

One of the great features of this bag is the amount of storage, or rather smart storage for that matter.  The removable die-cut foam pad has 3 dedicated spots for your GoPros (compatible with all versions), along with spots for 3 batteries, GoPro remote, LCD BacPac, and a mini tripod (or other attachments that fit, we've also placed in a GoPro floating Hand Grip).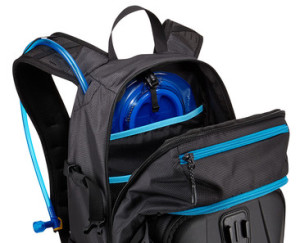 In the same zipper compartment there is room for all your adhesive clips, screws, and more.  There are also two other smaller compartments at the top of the bag for more mounts and accessories, or your keys, wallet, and phone.
The biggest compartment can hold a hydration system or a small laptop or tablet.  There's still room for a shirt or two and some more mounts (I keep my head mount and selfie stick in there as well).
Comfort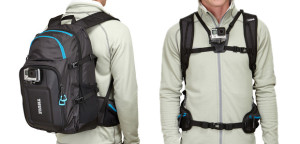 For the amount of gear you can stuff into this pack, you want to make sure it can securely move with you, while not being restrictive.  The padded back is really comfortable, but the straps and waist belt need some breaking in.  The straps are thin and flex with my contour, but they have some ridged edges that needed a few weeks of wear before they felt comfortable.  With the amount of adjustments you can make for a proper fit, this bag is now my go to pack for my GoPro adventures.
Value
While there are a variety of GoPro bags available on the market today (some with a cheaper price), most do not have the level of design and functionality that the Legend GoPro Backpack has.  For the amount of storage and versatility this bag has, we believe that the Legend GoPro Backpack has a great value.
Buy Now: $199.95 or to learn more, check out: Thule.com
Thule Legend GoPro Backpack - Gear Review
If you're looking for a backpack to protect your gear with the functionality to help enhance your experience, then check out Thules Legend GoPro® Backpack.
The Good
Removable Die-Cut Foam Pad
Hydration Port Compartment
Hideaway Detachable Waistbelt
The Not So Good
Shoulder straps have a break in period