We like to get out and enjoy nature here at Busted Wallet.  There is no better way to do that than to hit the trails for a multi-day hike with a good backpack on your back.  We all like our packs to work with us, not against us.  One man with a passion for backpacks figured this out.  Wayne Gregory, founder of Gregory Mountain Products, tried his hand in the backpack market shortly after designing his first external frame backpack.  He realized he was unhappy with the limitations of the external frame and took some time away from the backpack scene.  He once again became intrigued with the direction that backpacks were going with the internal frames and jumped back into his passion.  It wasn't until 1977 that Wayne finally founded Gregory Mountain Products.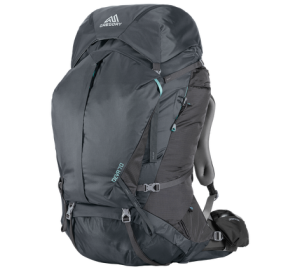 Released in spring of 2105 and winner of the Editor's Choice Gold Award from Backpacker are the newly redesigned Baltoro and the women's version Deva from Gregory.  I was given the opportunity to test out the Gregory Deva 70 recently.  Check out all the added features that you think you don't need, but you'll love that you finally have them.
Key Features:

Vented, formed back panel features LifeSpan foam & silicone lumbar grip zone
LumbarTune removable 10mm insert offers user-customizable contouring for a precise back panel fit
QuickSwap 3D interchangeable pre-curved LifeSpan EVA foam harness & hipbelt in multiple sizes to precisely fit each body
SideKick ultra-light, removable daypack doubles as hanging reservoir sleeve
Included removable rain cover stowes in its own zippered pocket
Top-loading design with front U-zip panel access
Double Barrel lid design with dual zippered pockets on top and security pocket underneath
SideWinder stowable ergonomic bottle holster
WeatherShield PU-coated hipbelt accessory pocket with YKK AquaGuard zipper
Girth-hitched compression MultiStraps on bottom double as hipbelt for SideKick daypack
Dual ice axe loops and upper shock locks for ice tool and trekking pole attachment
Twin side-mounted zippered gear pockets
Stretch mesh water bottle/trail stash pocket
External access sleeping bag compartment with removable internal divider
Comfort:
Comfort is the most important feature of any backpack.   The perfect fit took some adjusting of straps, but it is so nice to be able to have a pack that is made specifically with the female body shape in mind.   The backpack moved with me perfectly through the varied terrain.  Most of the comfort is due to the award winning design features mentioned below.
Design:
Where do I begin.  This pack has so many great design features.  The simplest things make all the difference.  Such as a silicone lumbar grip which is great for keeping the pack from sliding around.  It also has a removable insert in the lower back panel for a more precise fit.  The harness and hipbelt are pre-curved and interchangeable.  No more "one size fits all".  On the inside of the pack there is an ultra-light removable day pack.  The day pack can also be used as a water reservoir sleeve.  On the outside of the pack you will find some girth hitched compression straps on the bottom.  These straps double as the hipbelt for the daypack.  On the sides there are also more compression straps, but they reversed the buckles so that you can pull them around front and buckle them to each other if you needed more front straps.  The pockets on the hipbelt are greatly needed, yet many packs don't come with them.  One was mesh and the other was a thick weather shield pocket.  Another great feature is the stowaway water bottle pocket.  It folds up and can be tucked away if you don't need it.  Reaching your water bottle was easy to do with this holder due to the location and angle.

The front zipper for the main compartment allows you to access the entire center pack contents.  No need to pull everything out from the top with this awesome feature.  There is also a separate bottom zipper that accesses the compartment for your sleeping bag or anything else you want to stow in there.  They included an internal divider so when you remove your sleeping bag the rest of your items stay put.  Included in this pack is its own rain cover that has a special storage pocket.
Storage: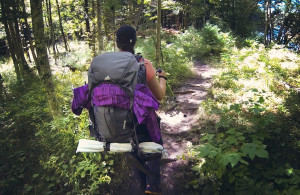 I felt like Mary Poppins and her bottomless bag.  Looking at the pile of stuff that I had to somehow fit into my pack, I didn't think it would be possible.  Maxing out at only 35lbs of weight, I still had room for much much more.  The main compartment holds a plethora of gear.  There are pockets inside of pockets, dual ice axe loops, water bottle pockets, removable top lid, removable day pack and probably even things I haven't found yet.  The one single thing that I noticed it didn't have, but would come in handy, is a couple of cinch straps on the top of the lid.  There is really no lack of storage.  I had a place for everything, but in the future might need some extra external straps to tie gear to.
Durability:
When you're out on the trail, the last thing you want to do is worry about being careful with your pack.  If they can't handle being put through the wringer then they most likely won't work for me.  I gave this pack a good beating on our latest hike.  There were no signs of major damage anywhere on it when I got back.  If it wasn't for some spots of dried mud, nobody would even know that it was used.  The seams are all strong enough to handle the pressure, and the buckles never showed any weakness.
Value:
At only $319, you need to add this backpack to your hiking collection.  When I compare it to other packs, it has more handy features that make it my go to hiking pack.  It's no surprise that this pack, and the men's Baltoro version, won the Editor's Choice Gold 2015 from Backpacker.
Buy Now: $319 or to learn more, go to: GregoryPacks.com
Gregory Deva 70 - Gear Review
Designed specifically for women. Loaded with features that will make others jealous.
The Good
Great design features
Comes with day pack and rain cover
Multiple size shoulder straps and hipbelts available
The Not So Good
Nothing! It's a wonderful pack.