Granite Gear has been busy creating an award wining pack that has proven its worth to many already hitting the trails, including us.  We've had the Nimbus Trace Access 70 in our hands (or rather on our backs) for a few months now while doing some thorough testing.  After 30+ miles of hiking with this pack it is easy to see why it's the pinnacle of the Granite Gear's Nimbus pack series.  It's plenty big enough for longer trips, yet lightweight, durable and functional.
Features
60 LB LOAD RATING
ADJUSTABLE TORSO LENGTH
DUAL ZIPPER FRONT ACCESS PANEL
DUAL DENSITY HIP BELT AND SHOULDER STRAPS
4 SIZES OF SHOULDER STRAPS (S,M,L,XL)
4 SIZES IN MEN'S HIP BELT AVAILABLE (S,M,L,XL)
SIDE COMPRESSION
TOOL LOOPS
HYDRATION PORT & INTERNAL SLEEVE
STRETCH SIDE POCKETS
MASSIVE FRONT STRETCH POCKET
10MM COMPRESSION STRAPS
HIP PACK LID
INTERNAL NIMBUS TOPOFLEX™ FRAMESHEET
CORDURA® HIGH TENACITY NYLON (100D AND 210D)
Nimbus Trace Access 70 Review Breakdown
Design: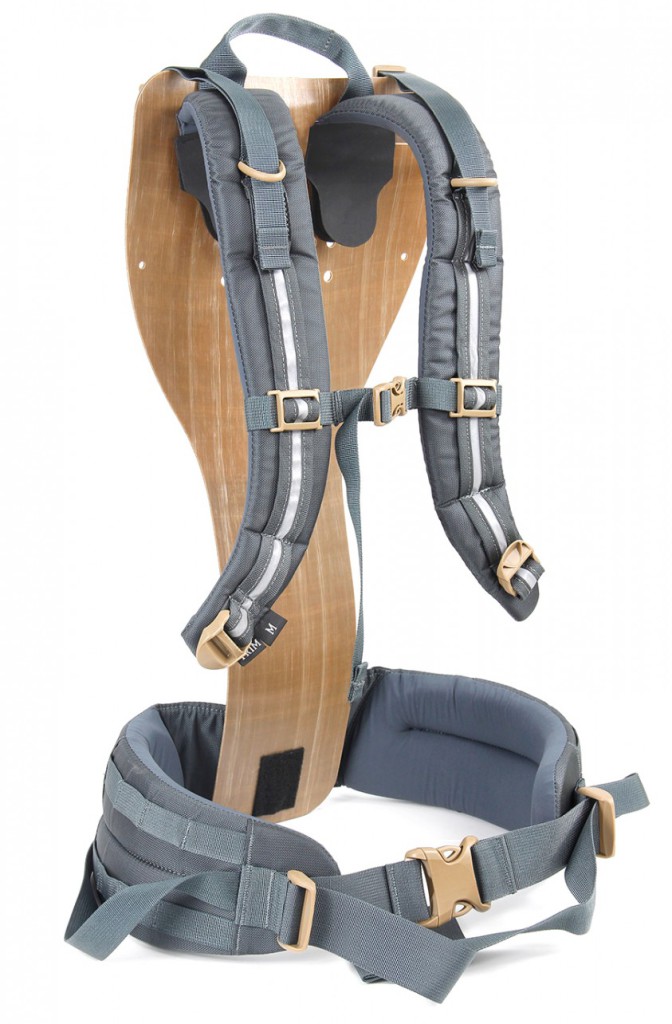 The first noticeable difference we saw when looking at this pack compared to others on the market was the 3D molded TopoFlex framesheet. Designed to mimic the way your back naturally flexes, the composite material remained stable while naturally following the topography of my back AND without adding a whole lot of extra weight to the bag. The padding that extends over the framesheet is designed for extra breathability which was definitely noticeable after several miles into our expeditions.
The shoulder straps and hip belt are padded very well, however, I did notice some rubbing along the edges when I had a lighter shirt on (less to no rubbing noticeable with a thicker shirt or fleece).  The adjustability on both the hip and shoulder straps are really nice.  You have the sliding adjustable sternum strap and the load lifter straps plus a single "Pivot Point" attachment system that allows for a more precise fit and wider range of motion.  While hiking all day I noticed that my posture changed several times, so I was able to easily readjust on the fly to help redistribute the load along my hips, shoulders, and back without having to stop and take the pack off.  This helped tremendously since we had plenty of ground to cover.
Storage: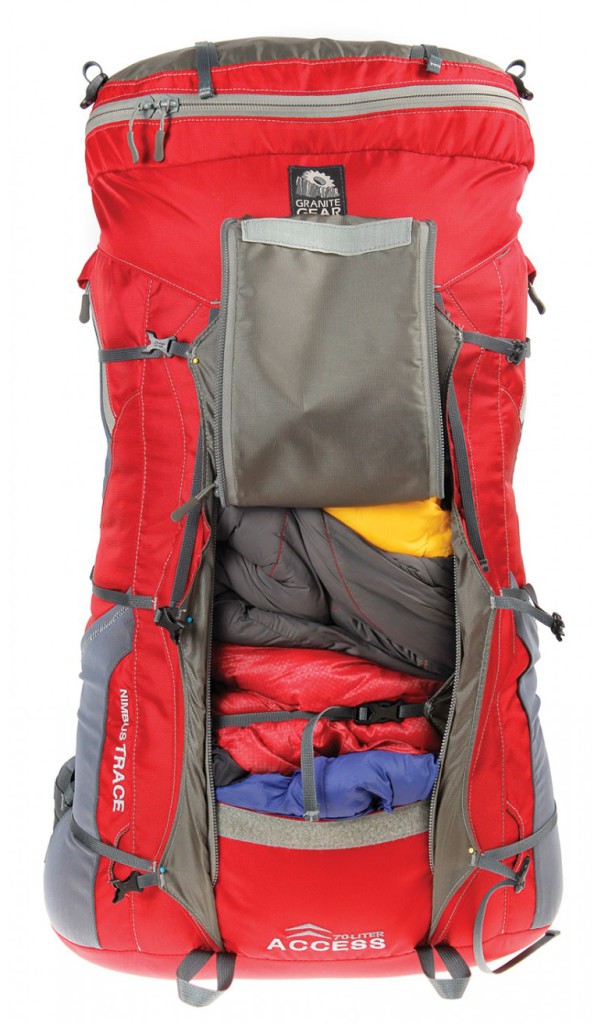 Compression straps galore! With a variety of items scattered throughout this pack it was great having an abundance of compression straps to help cinch down the payload so there was very minimal movement in the pack itself as we hiked some tricky terrain. The center face of the pack features a big stretch pocket, while the sides each have an additional stretch pocket that are great for water bottles and other items for quick access.  These are nice pockets but I do wish one of the side pockets had an open lip so it would be a little easier to toss a water bottle back in there after use.  Above those pockets are two more stretch mesh side pockets near the top, which include a zipper to secure your items.  And of course, more compression straps along the side and more opportunity to latch gear to the exterior of the pack.  The Nimbus Trace Access 70 also features a zip open access panel (from the bottom up) and internal compression straps which made it much easier to grab random gear at the bottom of the pack without having to take items out of the top. With the plethora of storage space on the inside and outside, you still have more, with the roll top spin drift collar that expands even further for more items and clothing.  The amount of storage and organizational options for a pack this size is very impressive.
Comfort: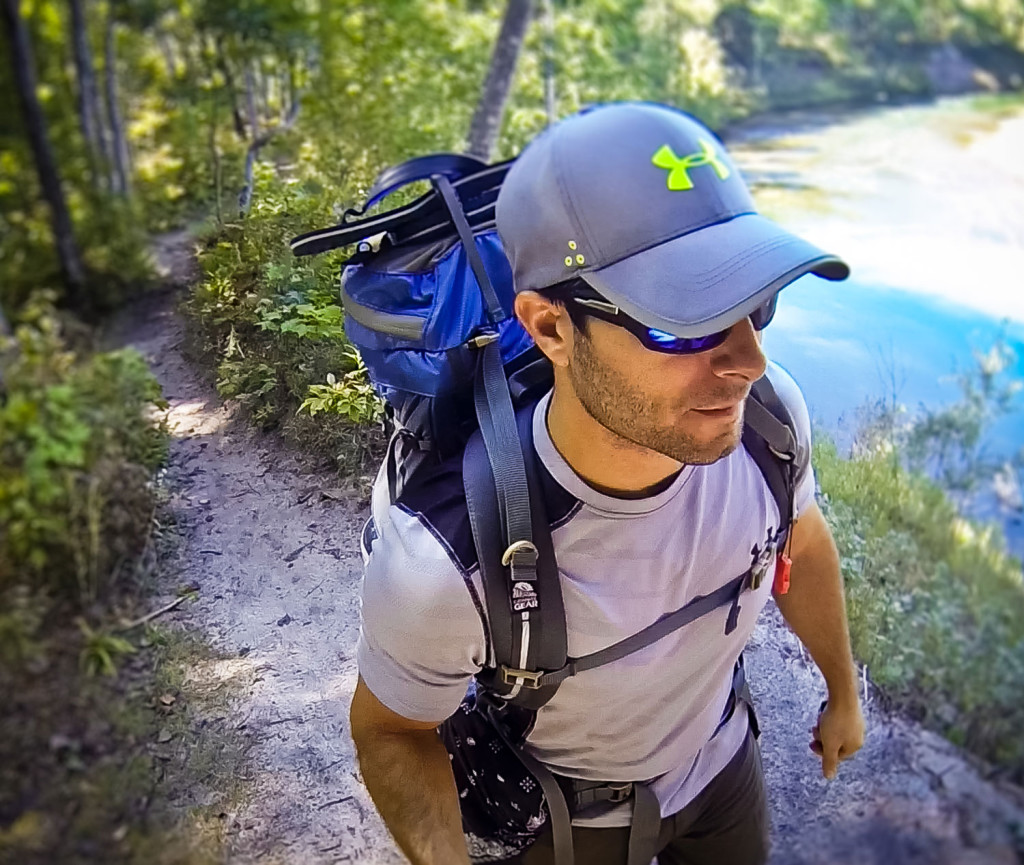 The first trip out with this pack we covered 27.07 miles / 56,237 steps  (to be exact).  We had about 37 pounds packed nicely into the Nimbus Trace Access 70 with a few items hanging on the outside loops.  The first hour is always a breeze but the following seven gradually became tiresome.  Luckily the comfort level for this pack was better than I had expected.  The ability to utilize all the compression straps to cinch down all the gear made life much easier.  The overall balance was good, however, it did take some time to get just right.  Once I was able to dial it in, the pack seemed really stable.  Of course taking the pack off after hiking 5 straight hours is a different story.  Let's just say I had a hard time not tipping forward into a tree after instantly loosing 37 pounds from my back.
The TopoFlex frame and padded back fit comfortably with my contour.  The shoulder straps, although padded, still rubbed my shoulders a bit and left my collar bone feeling weak after several miles.  I was able to tighten them down a bit more and I found that wearing a thicker shirt (in my case a fleece) helped enhance the comfort level.  It did take a bit of adjusting to get the fit just right, plus I had to keep adjusting along the way as the terrain and my posture changed.  The waist straps were quite comfortable and had enough padding to rest securely on my hips to help distribute the weight.
Durability:
Fortunately we did not have any terrible weather to deal with on our hikes, but that also means we didn't get a chance to test this pack in any harsh elements.  So once the fall weather hits and the snow starts to fall, we'll check back with a followup to let you know how the pack really holds up.  Besides the weather, the pack was able to withstand some heavy drops and weight without any issues whatsoever. With the amount of stitching and reinforcement on this bag, I can't imagine it breaking down anytime soon.
 
Value:
Overall, the Nimbus Trace Access 70 is a solid pack for longer hikes and expeditions.  There's plenty of storage and compression straps to keep things in place and organized.  If it came with a few pockets on the waist belt and a rain cover that would put the cherry on top, but besides lacking those minor things, this pack will get you where you want to go comfortably and securely.
Nimbus Trace Access 70 - Gear Review
After 30+ miles of hiking with this pack it is easy to see why it's the pinnacle of the Granite Gear's Nimbus pack series. It is plenty big enough for longer trips, yet lightweight, durable and functional.
The Good
TopoFlex framesheet works great
Zip open access panel for easy bottom access
TONS of compressions straps
The Not so Good
No waist band pockets
No rain cover