In the early 2000's, I spent the better part of two summers and winters in Colorado running the ski lifts used to haul alpine sliders, hikers, and extreme mountain bikers in the summer, and skiiers and snowboarders in the winter, to the top of the mountain. I worked outside all day every day, and when I wasn't working, I was hiking, camping, playing disc golf, hunting, or many other outdoor activities that the mountains have to offer! Through this job I bought my first CamelBak hydration pack (an '02 Blowfish) at Winter Park Resort's company store – it was one of the best things I've ever purchased, I used it daily for a number of years, and still use it to this day, so I was incredibly excited when the crew at CamelBak offered us the chance to test and review one of their newest winter-ready hydration packs – the CamelBak Tycoon.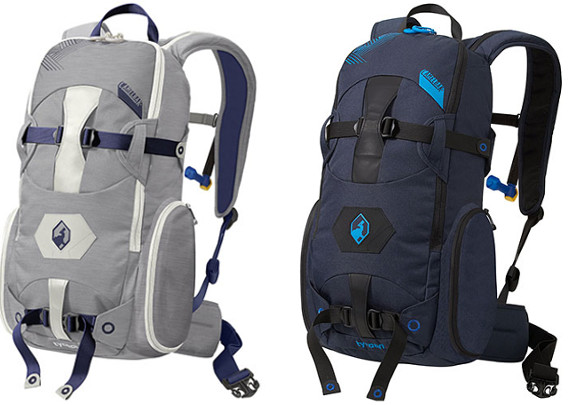 Key Features:
100 oz (3 liter) Antidote Reservoir
Snowboard / Ski Carry (Diagonal, Vertical or Horizontal)
Glove-friendly zipper loops
Pack compression straps
Snowshed back panel
Patented Big Bite Valve
HydroGuard technology
Insulated PureFlow water tube
Goggle pocket
Essentials pocket
Drop-out Probe Pocket for instant probe access
Available in two colorways: Greypes and Total Eclipse
    Overall, I love this pack – it is functional, comfortable, and stuffable.  However, I do have my gripes…  
– The Review –
Storage: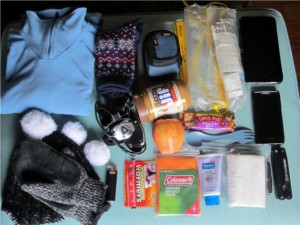 (10 out of 10) Boasting 946 cubic inches of storage space, I fit everything I would take on a typical day hike in the mountains, or on a snowshoeing trip on a mid-western winter day: extra socks, gloves and hat (year round necessity in the mountains), extra thermal shirt, snacks, knife, utility tool, toilet paper, emergency rain poncho, emergency blanket, hand warmers, compass, phone, and a few other odds and ends. When backpacking anywhere – even if it's just what you are expecting to be a day hike, and ESPECIALLY if you are in the mountains – you should plan for an overnight trip in the rare event that you are injured, get lost, or your arm gets trapped by a boulder (have you seen the movie 127 Hours?!). If I were using the Tycoon pack for a backcountry ski or snowboarding trip, I would also include my goggles, an avalanche probe (which it has special pockets for both – more on that later) and a beacon.   The fact that I could've stuffed more in there with all that I already had makes me confident I could have fit everything I would've needed for a backcountry ski or riding day, or for a day hike.
Comfort: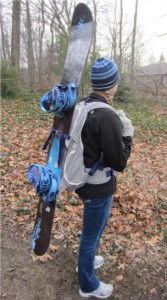 (10 out of 10) Even with all of this stuff crammed into the pack it was comfortable, and I was able to adjust the straps so that the weight was well distributed and not pulling on my shoulders. In addition, I was able to easily strap my snowshoes onto the back (which I would need to do if I were hiking to the backcountry with my snowboard – unless I had a split board) of the pack, and my snowboard.   I was expecting the pack would be unsteady, sag, and be uncomfortable once my tall board was added to the back (I have an older Heelside board, 157 cm), and I was pleasantly surprised to be mistaken! Other than noticing a bit of added weight, once I tightened down the straps I barely noticed it. I wasn't top heavy or unsteady, I was able to walk without any problem and felt very agile. It was advertised as having a low-profile design, and it definitely does!   All the straps were adjustable, including the sternum strap which could be raised or lowered, to make it fit to my body. The hip strap has a bit of padding to make it more comfortable, and the shoulder straps are very well padded and comfortable. Additionally, the back panel is padded to provide some cushion between your back and the bladder.  
Performance: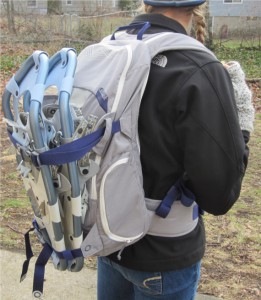 (7 out of 10) The Tycoon pack was built with winter trekking in mind, and specifically for winter backcountry skiing or riding treks. The zipper pulls are glove friendly, and the drinking tube is insulated AND stored inside what CamelBak calls the "Therminator" – an insulated shoulder strap with a storage area for the hose that connects to the bladder.   Speaking of the bladder, this is an area that has vastly improved from my 2002 model. In my old model I had to slip the bladder into a pocket through a small opening at the top of the pack. In the Tycoon, the whole back panel zips down in like a turtle shell for easy placement – there is also a place to hook the bladder to so that it doesn't slouch to the bottom putting all the weight at the bottom or causing a kink in the hose (problems I had on occasion with the old model). I also notice that it didn't leak near the bottom where the tube connects (my old one did, but it's also 10 years old), which is always good! The only downside is that I had a hard time getting the cover back on – it should be easy, so maybe it's just me!   Additionally, the pack has a "Waterproof Snowshed" back panel to keep everything inside dry. I was not able to test this, however, as we have no snow this far south in Michigan (boo!).   While this isn't a huge thing, it's a very nice touch – all the straps were long, and all had ways to secure the excess strap. This is nice as it's a pain the in the @$$ to have those things flapping around – especially if you plan to be going down a mountain through some trees, you don't want that getting caught on something!   Another nice touch, internally there was a small "essentials" zipper pocket at the top of the compartment that could be used for things that you do not want squished or buried (i.e. phone, compass), which was great.   Finally, all of the zippers seem very heavy duty. My last CamelBak, which I used daily for a couple years, then weekly for the years after, got a lot use, was thrown in the dirt, and put to the test constantly, and I have never had a problem with the zippers or the buckles. These packs are made to be worn in rugged conditions!   I was a little disappointed in the outside side pockets – they were created for their specific purpose, and I'm not sure they would be that useful for any other purpose, at least not on the go. I missed the ability to shed layers on the move. Also, the straps to hook the snowboard on where not as long as they could have been; I had wanted to hook it up higher (versus in the middle of the board) so that the bottom wouldn't drag if hiking through deep snow, but the straps weren't long enough to fit around the bigger end of the board.
Design: 
(10 0ut of 10) During our testing and review sessions the Tycoon we were supplied with the "Greypes" colored pack, and I love it – there is also a dark blue, or "Total Eclipse" color that might be more practical (not going to get dirty), and appealing to the guys. It's cute, it fits close to your back so it's not obnoxious, and classy (yes, a pack can be classy . . . but maybe "swanky" is a better word)!  
Accessibility: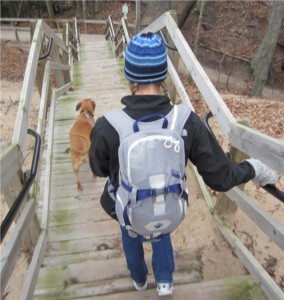 (5 out of 10) There were only two outside pockets, neither of which were exceptionally functional for any use outside their intended purpose. The pocket designed for goggles does have a soft lining, and I really had to squeeze my goggles into it, which made me nervous about breaking them (I have a pair of old Smith goggles). Also, the pockets were not user friendly for storing anything but a probe and goggles, because of how the zippers are arranged – with the way they zip, I would not have been able to shove my hat or something (shedding layers while hiking is a common need so that you don't get sweaty) into one of the pockets easily, I would have had to stop and either have my husband (hiking partner) put them in the pack for me, or remove the pack and do it myself. With my old pack, there was a pocket in the back that I could just stuff things into on the go, it was very useful.  
Durability: 
(9 out of 10)

Overall, I believe this is a durable pack, but there are a few things that I'm questioning. First, the sternum strap can be moved up or down by just sliding it on the cords on the shoulder harnesses. My concern is if these cords are going to fray, and eventually you won't be able to move the strap anymore. Second, the slide clasp is small and looks like it could break easy – if it's cold, and you're shredding the knar on a sick mountain face, and that plastic slide gets too cold and you take a tumble, it is going to shatter? Having lived in a wickedly cold environment, I know that plastic gets weaker as the temperature drops. Again, I was unable to test these concerns as it's been too damn warm in Michigan, and I didn't have the pack when I was visiting family in frigid Minnesota (ya)!

  The other concern I have is the zipper pulls – as nice as they are being glove friendly, I wonder how they will hold up to being zipped and unzipped with some force over time. They are just a thin little cord.  
Value: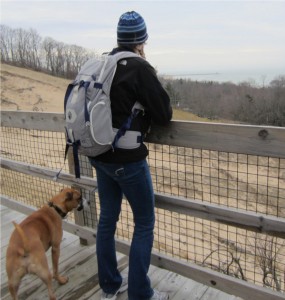 (9 out of 10) The list price is $115 – pretty standard for a day pack, which this definitely qualifies as.  While I am always one for a bargain, and try to get the best deal I can, if I were living out west, or some place where I would get a lot of use out of a pack (and doing some backcountry skiing/boarding), I would totally drop $100+ on a good pack.  That, and the fact that my 2002 model is still kicking after the intense amount of use it got, and I'd definitely say this is worth the cost – you get what you pay for!  
The Bottom Line:
The CamelBak Tycoon is stylish, swanky, functional, and comfortable . . . not to mention that it's made by a company that is well known for its heavy duty and reliable gear, my last pack is a perfect example (10 years old and still works great, and that's after a LOT of use). In short, this pack is "all that and a bag of chips!" (uh oh, I just dated myself with that phrase!) and we highly recommend it to winter sports nuts who are looking for a well balanced hydration pack for all-day excursions.

Buy Now: $115 or go to: CamelBak.com